Introduction:
When we think of sarees, pattu sarees are the first things which pop up first in our mind. A priced possession of every woman is a pattu saree. Produced mainly in Tamil Nadu, Karnataka, Andhra Pradesh, West Bengal and Jammu & Kashmir, this saree is the pride of India.
Gujarat is famous for the gold and silver zari used in silk sarees. World's most expensive silk saree which reproductions of paintings of Raja Ravi Varma was sold for 40 Lakhs.
True silk has a smooth texture, natural shine and bright appearance. Silk of moth caterpillars are mostly used for saree manufacturing. The prism like structure of the silk fibre gives the silk saree its characteristic shimmer.
Silk is also extremely light weight yet strong. One filament of silk is stronger than one filament of steel. Silk sarees are comfortable to wear both in summer and winter, due to their absorbency and low conductivity respectively. Silk is a regal wear and gives the wearer a rich look.
How Pattu Sarees Are Manufactured:
The cultivation of silk is called silk farming or sericulture. Bombyx moth is the most widely used variety of silk worm for manufacturing silk sarees. China and India are main producers of silk who produce more than 60% of world's annual production. Silk is produced by silkworms which are fed with mulberry leaves.  Silk is produced in various stages.
The female moth lays about 300 to 500 eggs at a time. It  is collected and then used for cultivation. The eggs hatch and form caterpillars which are also known as silkworms. These worms are given a lot of mulberry leaves to eat, after eating which they grow several times large and weaves silk fibre in the form of cocoon around itself. The cocoon is spun by the larva by swinging it body in a 8 shape by distributing its saliva. The saliva solidifies when it comes in contact with air.
A silkworm spins about a mile of filament in just two or three days. Though a large amount of silk is produced by the worms, the amount of usable silk from the cocoon is less. The cocoon is then boiled which is fatal for the silkworms. The silk is obtained from the cocoon by brushing them . This silk filament is then wound on a reel and then spun. This is called raw silk, which is then processed, coloured and woven in different patterns. 
Why Pattu Sarees Are Popular:
Pattu sarees are not only popular in India, but in many foreign nations Europe, Japan, UK, US, France and many other countries. The reason for this immense popularity is the easy wearability, lustre, smoothness, sheen and availability. It is a rich piece used or raping which further increases its importance. It is not just worn as saree, but also redesigned as lehengas, kurtas and even gowns.
The gleaming piece of cloth can be worn both in summer and winter and is elegant as well as comfortable. They also come in a variety of price range, depending o the silk used, design and pattern. Pattu sarees are popular also because of the traditional custom and value associated with it. The spiritual reason for the immense popularity of silk sarees and the reason it is worn specially during festivals and rituals is that it is believed that silk absorbs the energy from pujas and transfers it directly to the wearer.
Various Types Of Pattu Sarees:
1. Kanjivaram Pattu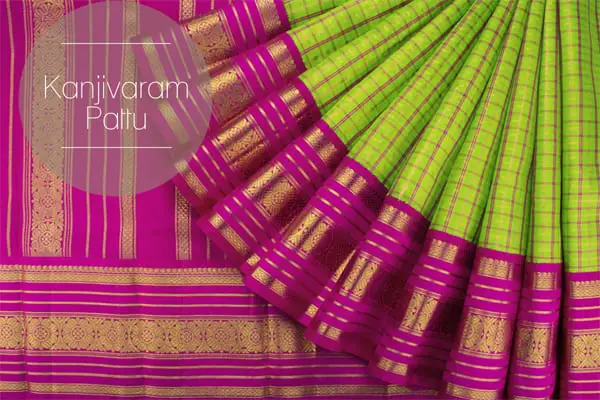 This is the most  popular type of pattu saree from South India. It is the first choice of brides due to the rich design, golden and silver zari work and grand look. Floral weave, temple border and traditional bridal sarees are the most popular Kanjivaram pattu saree types.
These sarees have distinctive bright colour combinations and are definitely the pride of Tamil Nadu. They have a rich look and you can never go wrong with your dressing style, if you chose to drape a Kanjivaram saree. Simple jewellery and some jasmine flowers can turn heads when the woman has a Kanjivaram pattu pudavai draped.
2. Banarasi Silk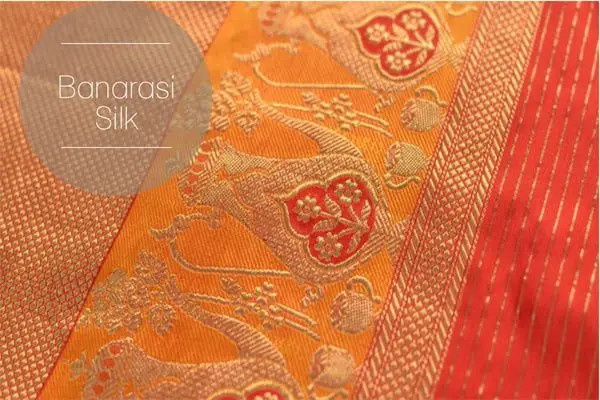 Banarasi silk is a silk saree which originates from the holy city of Benaras and is equally popular as the Kanjivaram saree. Bright and colourful designs and high quality are the words to describe this beauty. They also have a luxurious embroidery which makes this saree a must have in every woman's wardrobe. Depending on the type of work, Benarasi sarees can take from 15 days to 6 months to complete.
3. Raw Silk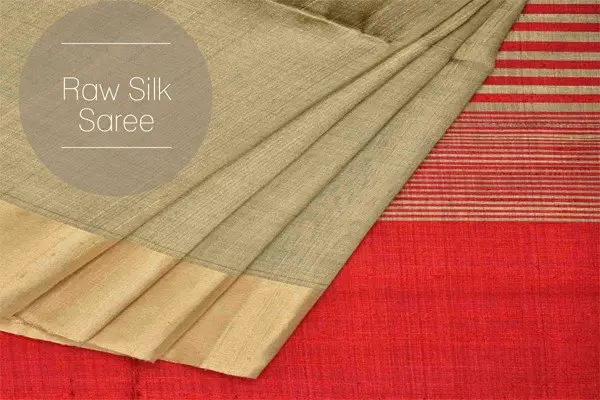 Raw Silk Sarees are also called as Paat in Eastern India. It is the most natural form of silk which is obtained directly from the cocoons. They can used for office ear and when paired with proper an heavy accessories, they can be worn for festive seasons and even by brides.
4. Mysore Silk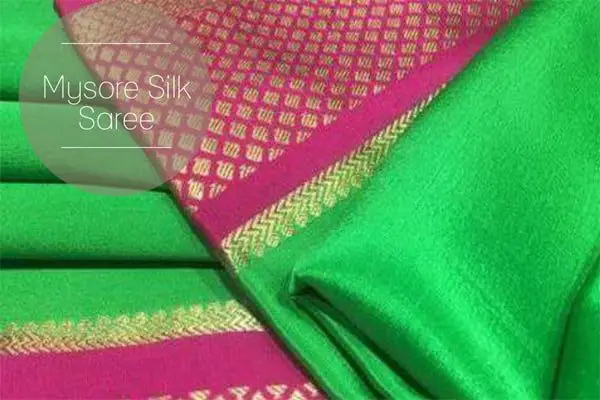 Mysore silk are highly popular during religious ceremonies and are common among the masses owing to their affordable price range. They are moderately priced yet come in spell bounding designs and patterns.
These sarees are famous for their temple borders and plain design. KSIC have patent rights on Mysore silk sarees. They are mainly produced in the state of Karnataka. Mulberry silk is mainly used to produce Mysore silk sarees.
5. Chanderi Silk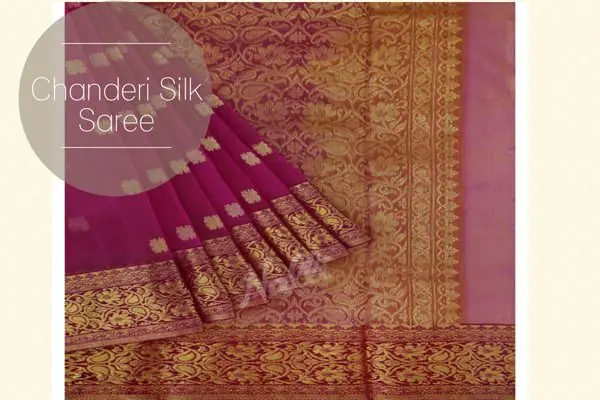 The combined culture of Malwa and Bundelkhand from Chanderi of Madhya Pradesh are depicted in Chanderi silk sarees which have designs of peacocks, coins, geometric designs and floral art. They are fine silk sarees which have gold zari borders and opulent embroidery. Chanderi silk sarees are available in pure silk and silk cotton.
6. Mekhla Silk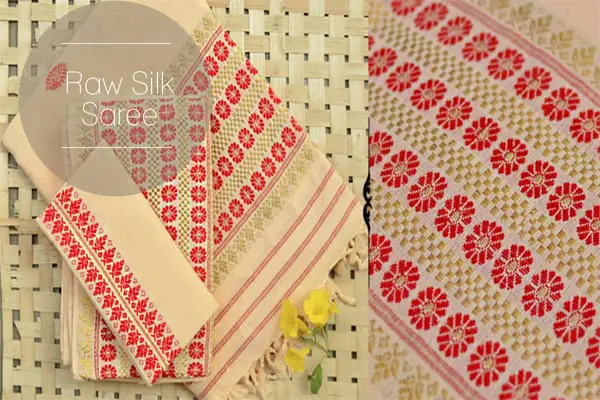 Mekhla silk is famous for the traditional temple motifs, peacock, butterflies and rhinos too. They are woven from Muga silk and originate from Saulkuchi which is near Guwahati. They are oven by village weaving communities and are usually sold directly to the customers by the weavers.
7.Paithani Silk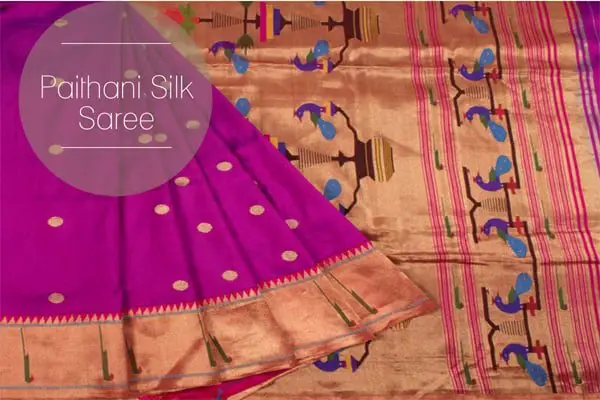 Paithani silk is a royal saree a must have in the trousseau of every Maharashtrian bride. It gives an aristocratic look when draped and is also known as the Queen of Silks. The best feature of Paithani Silk Sarees is that they look same on both sides, front and back. The border and the pallu are also same on both the sides. The Paithani silk sarees have two shades, one on the border and other on the pallu.
8. Baluchari Silk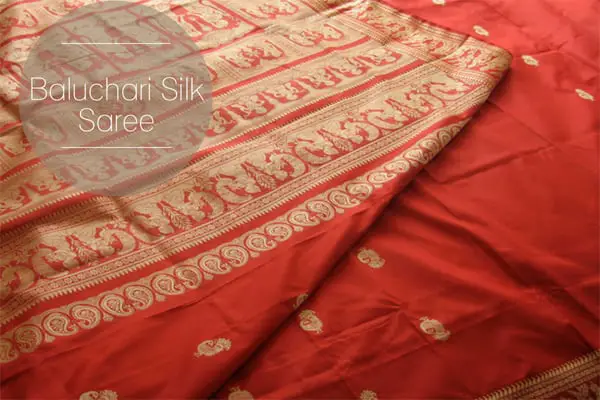 Hailing from the humble town of Baluchar of Murshidabad district of West Bengal, these sarees have a silk base and depict Indian epics, and figures like women smoking hookah, court scenes, horse riders etc. These often tell the tales from Mahabharatha and Ramayana. Baluchari sarees tend to avoid strong contrasts.
9. Thanchoi Silk Saree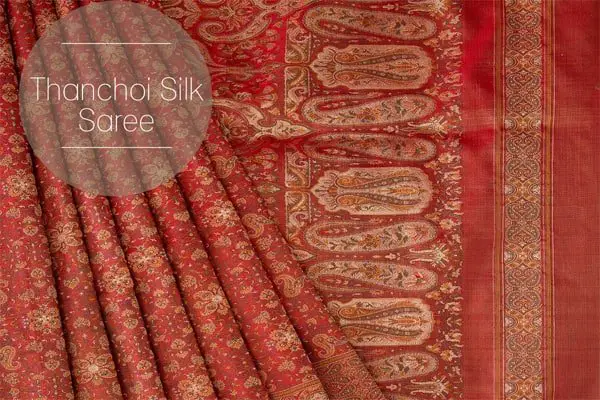 These sarees have a weaving style similar to Benarasi sarees. They are famous for their floral motifs which give them an elegant look. These sarees have a raised waved pattern which gives the effect of brocade.
10. Patola Silk Sarees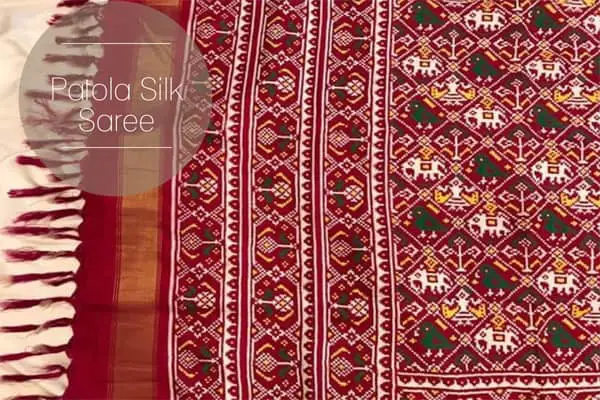 These sarees from Patan of Gujarat have intricate geometrical patterns and bold colour combinations. They look the same from both sides, even on border and pallu. These are one of the most expensive silk sarees.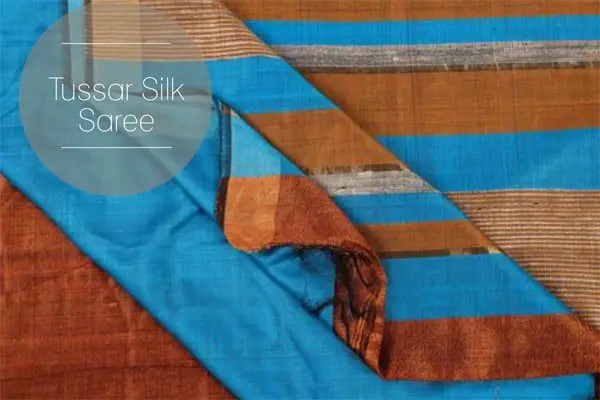 Tussar silk sarees are from the land of Roshgullas, are famous for their natural motifs and designs. They also have an extremely soft texture and hence make the first choice of designers to try out their inventions. They are available in a variety of colours and these sarees are also considered to be very auspicious and are generally worn during festivals.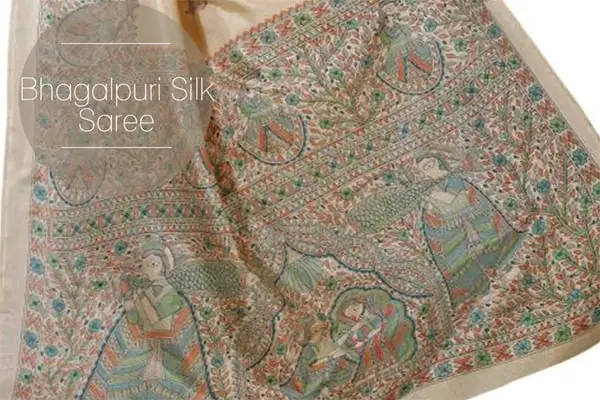 Bhagalpuri silk sarees stand out from other silk sarees due to their unique weaving pattern and dyeing technique. Bhagalpur, located in Bihar is also called the Silk City of India. These sarees are durable and easy to wear and have gained the interest of renowned fashion designers who are using these sarees for their innovative ideas.
13. Kornad Silk Saree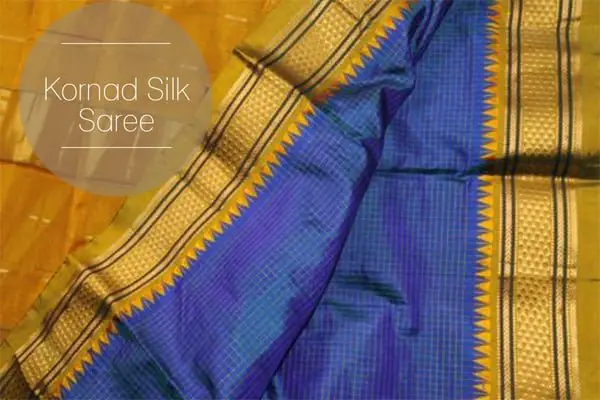 Another popular saree from the South is Kornad Silk Saree which is primarily oven to adorn the deities in temples. Their borders can be 10 to 14cm wide and are usually plain with warp pattern. The body o the saree contains stripes or checks. The pallu contains zari or elaborate weaving with depictions. The most famous colour of Kornad Silk saree is the classic Arakku, which is a reddish maroon shade.
Other famous types of pattu sarees are:
Vasundhara Pattu Saree
Vastrakala Pattu Saree
Parampara Pattu Saree
Brocade Pattu Saree
Dharmavaram Silk Saree
Patola Silk Saree
Samudirka Pattu Saree
Popular Colour Combinations for Pattu Sarees:
Pattu sarees look astonishing in no matter what colour they come in. Owning to the fact they are generally traditional, they are available in classic colour combinations like:
Red With Gold Zari
Green And Gold
Burnt Orange Combinations
Yellow Shades With Golden Effects
Magenta With Light Colour Border
Pale Golden With Maroon
Mustard With Purple Border
Orange And Pink Combinations
White with Red
Blue With Orange Border
Parrot Green With Dark Pink Border and Pallu
Cream Or Beige With Dark Borders
Red With Green
Pink With Golden Work As Bridal Wear
Blouse Designs for Pattu Saree:
The blouse of your silk saree plays a very important role and can either make or break your look. With so many trending styles to pick from, women are spoilt for choices. Here are some styles for sleeves, necklines and backlines to choose for your traditional pattu saree:
Slevees:
The sleeves of the blouses can be experimented with and there a lot of variations to try. They are the most visible part of the blouse and you would definitely want to make the best of it. Try out these sleeve ideas for your next blouse:
Big Border Elbow Length Sleeves
Cold Shoulder Blouse
Cut Work Sleeves
Floral Motif Elbow Length Sleeves
Full Sleeves
Off Shoulder Sleeves
Heavy Kundan Work Sleeves
Elbow Length Net Sleeves
Double Border Blouse
Classic Puff Sleeves
Neckline:
We have moved on from the classic round neck for blouses and load of neck designs have evolved in the modern fashion era, such as:
Boat Neck
Halter Neck
Sweetheart Neck Design
High Neck
Collar Neck
Backline:
It is not the neckline designs that have evolved, but also the back designs. Women are spotted with embroidered designs of monuments on the backs of their silk saree blouses, proving that tailors can create as much awe and wonder as architects can. Some of the backlines and designs that are in vogue are:
Deep Back With Bow Tie
Pot Neck Back With Tassels
Open Back With Double Strings
Embroidered Back Blouse
Tulle Back Blouse
Back Buttoned Blouse
Material of the Blouse:
Gone is the time when we used to rely on the running blouse material which used to come with the saree. There are different materials to pick for the blouse of your priced pattu pudavai, and some of them are:
Floral Print Blouse
Gold Embroidered Blouse
Patchwork Blouse
Lace Blouse
Sequined Blouse
One Side Off Shoulder Blouse
Digital Print Blouse
Crop Top Style Blouse
Hand Painted Blouse
Velvet Blouse
Cost of Pattu Sarees:
The cost of pattu sarees depend on the quality of the silk used, design and type of the saree. The general starting price is from 10,000 and it can go up to lakhs. Here is an average price list of popular types of pattu sarees:
| Type | Starting From (Rupees) | And Above (Rupees) |
| --- | --- | --- |
| Kanchipuram Pattu Saree | 10,000 | 50,00,000 |
| Raw Silk | 6,500 | 1,00,000 |
| Benarasi Silk Saree | 4,500 | 10,00,000 |
| Mysore Silk | 1,000 | 10,000 |
Conclusion:
Pattu sarees are a symbol of the rich culture and tradition of India. In her lifetime, every woman would definitely have worn at least one silk saree and will be the proud owner of one. There may be so many designer sarees and western outfits, but nothing can match the elegance and regal nature of a classic pattu saree. These sarees are extremely durable and must be carefully stored. Take precautions wile washing them. Dry cleaning is recommended.
Even if you hand-wash them, dry them only in sun. Too much exposure to sun may dull the brightness and colour of the gorgeous saree. With proper precautions, these sarees can be passed down to many generations, and what is better than a granddaughter wearing her grandmother's bridal saree at her own wedding?