Sarees are a must for every Indian woman whenever it comes to any occasion. Moreover, it is known-as the signature of an Indian lady. It is one among those traditional dresses which women favour wearing. Women from all region of India crave for sarees whenever any special occasion comes. Not only occasion but sarees are also worn by maximum women regularly.
Apart from this, with the vibrant and cheerful saree colours available nowadays, women crave for sarees even more. Saree with perfect color combination and beautiful matching blouse will make you feel amazingly special in any occasion. Let us check out all the available saree colour combinations in the latest trend market nowadays.
Below are the best color combinations for Sarees
1.  Blue Saree with Golden border
The vibrant combination of the aura of blue and golden makes a women look even more prettier than she actually is. No wonder beauty lies in whatever is inside a woman, but this particular combination is the sign of divinity and royal look. One can wear it for any occasion purpose which includes a wedding ceremony to a bridal shower.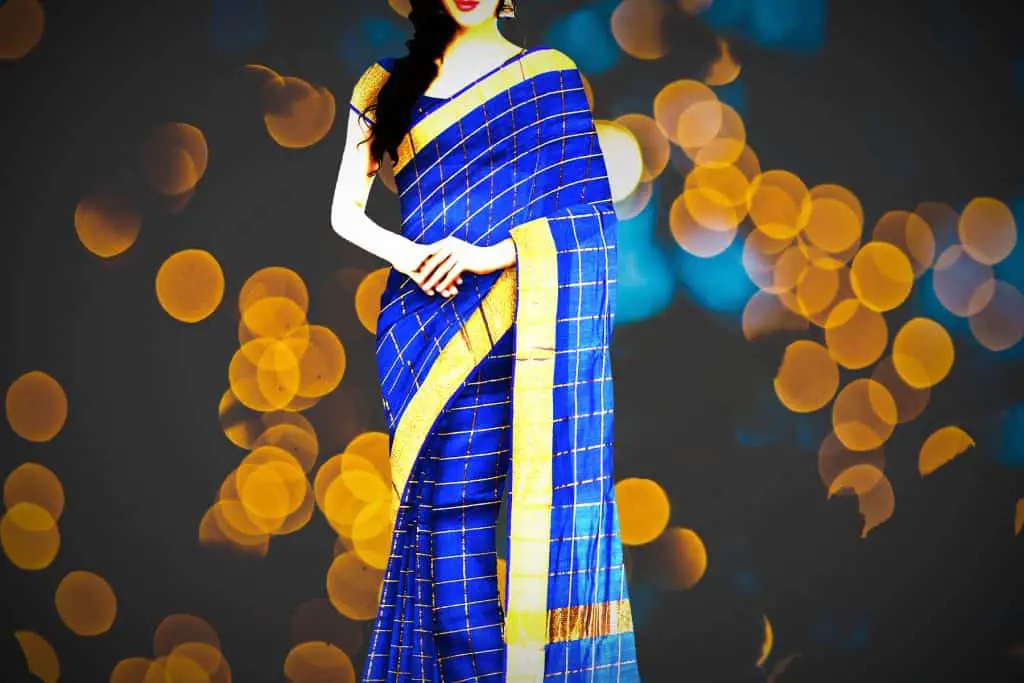 2. Pink Saree with Golden border
This combination is perfect for a wedding ceremony. Whenever it comes to a bridal look, you may always select this combination as it will catch a lot of attention. This combination is in fashion nowadays among women as well as young girls. You can even choose this combo for your own wedding too. Hurry up! Grab this look now.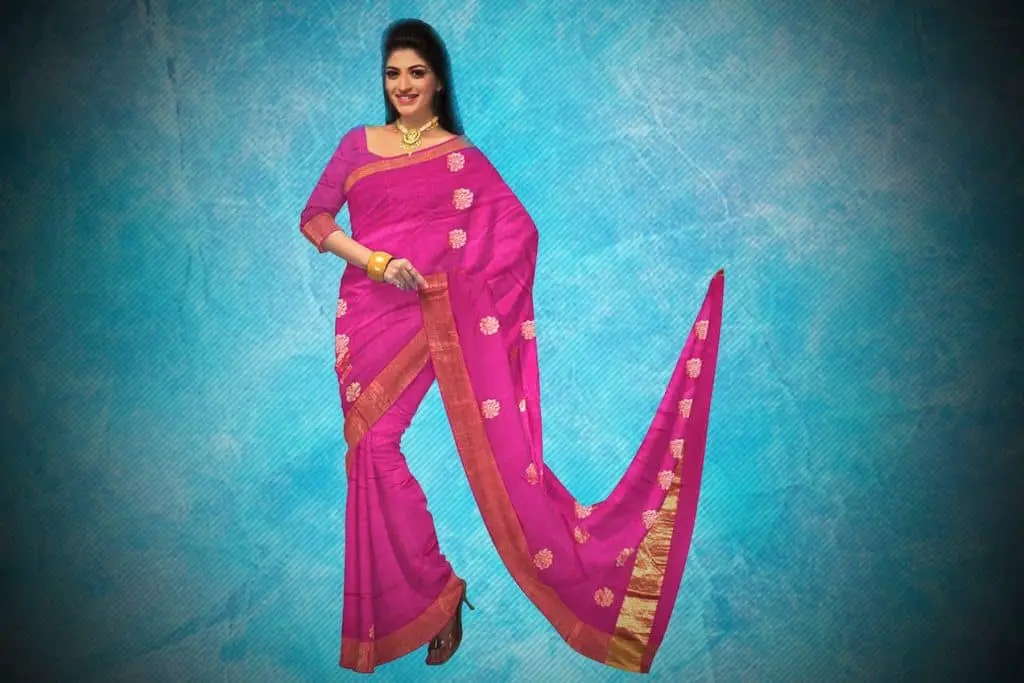 3. Bottle Green color Saree with Golden border
Green is one of the most vibrant colours of all. When it comes to a combination of bottle green and golden, it will look very elegant and homely when you wear this saree. You can choose this combination for almost any Indian occasion and flaunt it naturally as it is preferred by most Indian women. On the other hand, this combination is best suited for a fair skin tone. That does not necessarily prevent dark skinned women from wearing one. If you are a dark skin skinned lady, you can still go for it highlighting your best features.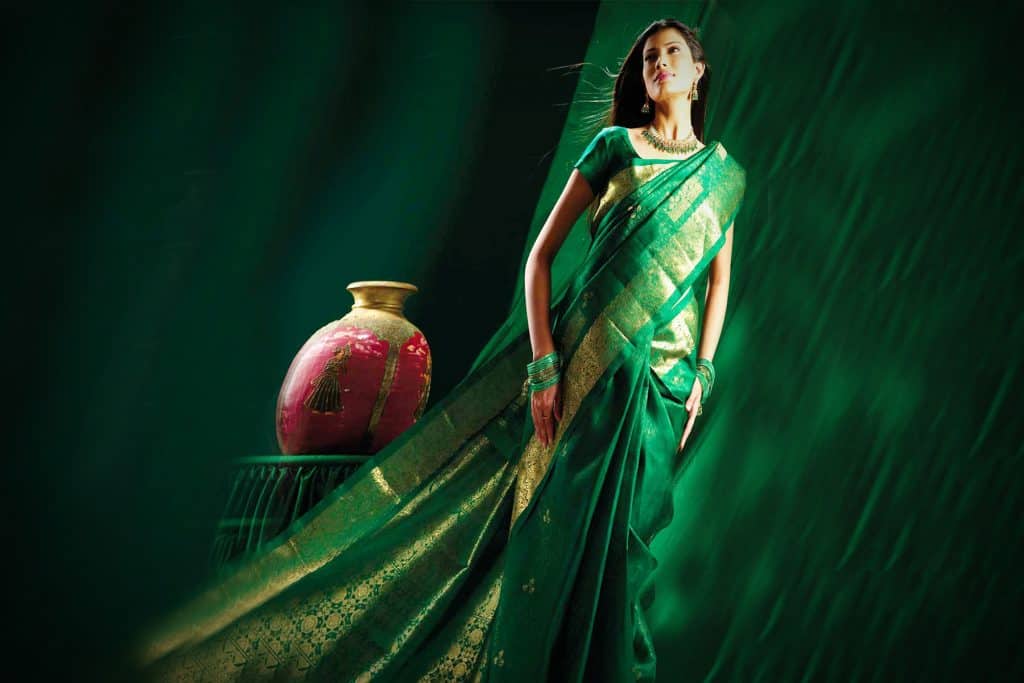 4. Light Blue Saree with Golden border
This combination is the most preferred among the young generation. Young girls and ladies crave for this combination whenever it comes to a light or a heavy daytime occasion. No matter whether it is your pre-wedding or your child's birthday, you can always go for this combination whenever the occasion is during the day time.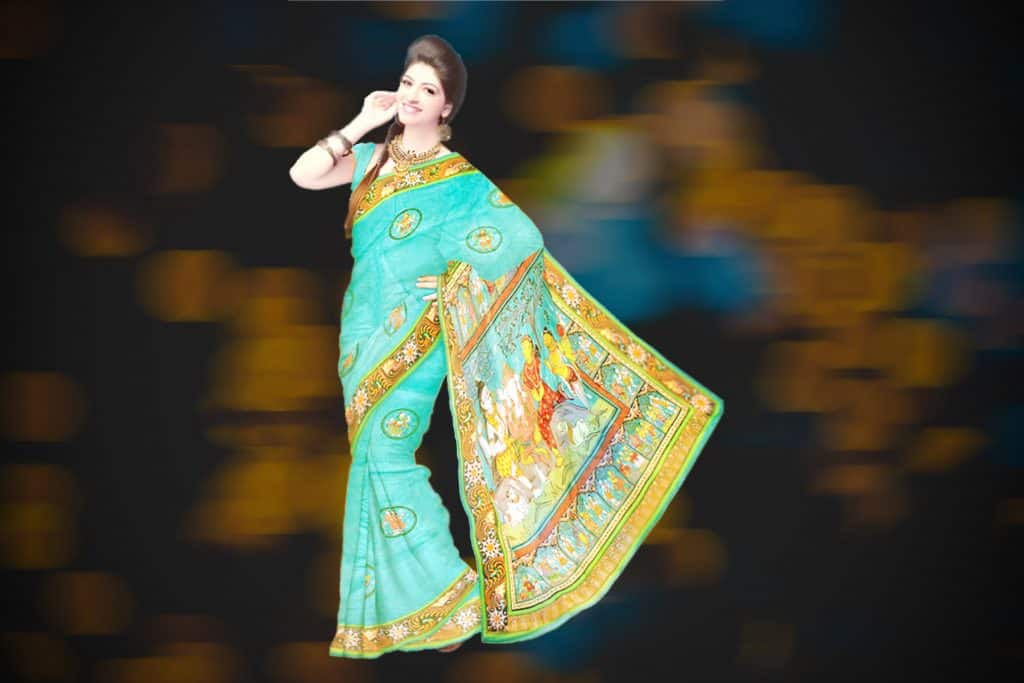 5. Red Saree with Golden border
This classic red and golden combination made its way since the olden days and still it is in fashion whenever it comes to a bengali wedding ceremony. Being the perfect colour for a bengali bride, it looks stunning when a woman wears it. A bengali wedding is incomplete without this saree colour combo.
If you are a bengali saree lover, you will know the importance of this colour combination as this combo first comes to your mind whenever you hear about a wedding ceremony or whether it is your own wedding.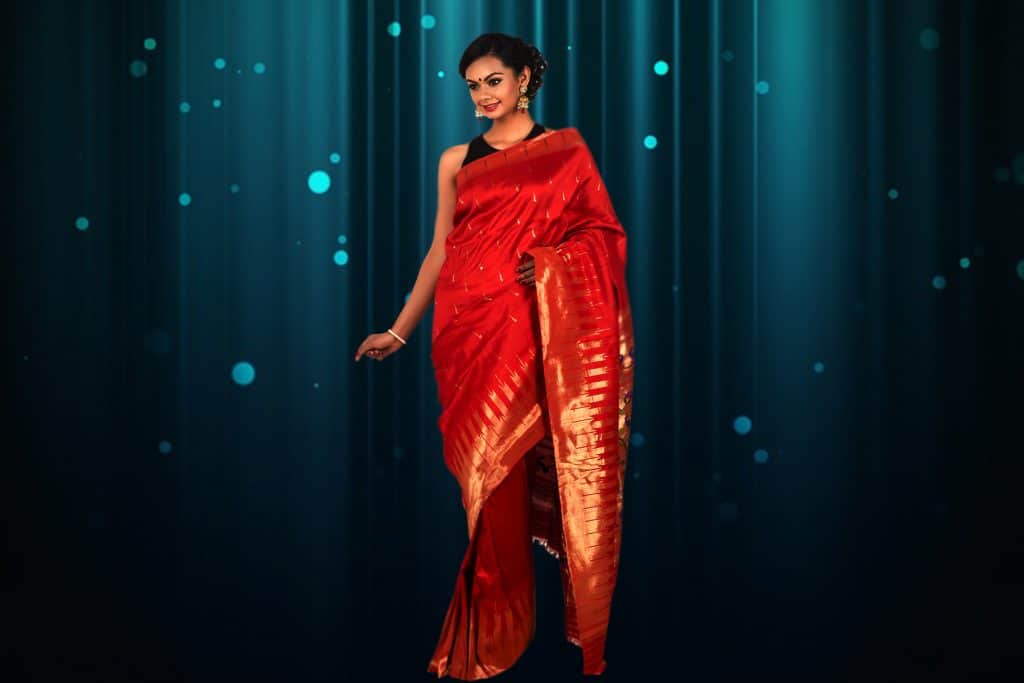 6. Red colour Saree with Green border
This red and green combination of saree is best suitable when you are attending a heavy occasion at night, It will look absolutely vibrant and bright in under the skylight and also you can carry it with confidence as the colour itself is so vibrant and bright.
Moreover, after the "Kala Chasma" trend many women opt for the same when attending weddings and other ceremonies. Many people might call it old-fashioned but this popular among young and fair ladies all over India and many of them wishes to dress like Katrina Kaif in a wedding. It gives you one of the best photographs due to the colour and you should surely try this.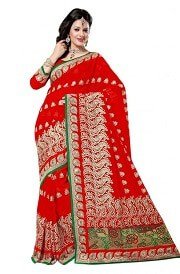 7. Sea Green Saree with Red border
The sea green and red combination is the ideal choice for all dark skinned women in India. It brightens up your skin tone and brushes up your confidence because it helps you look a bit fairer and bright. Moreover, you can wear this colour for any purpose. Whether it is a wedding or a small occasion, the sea green and red combo can always help you out.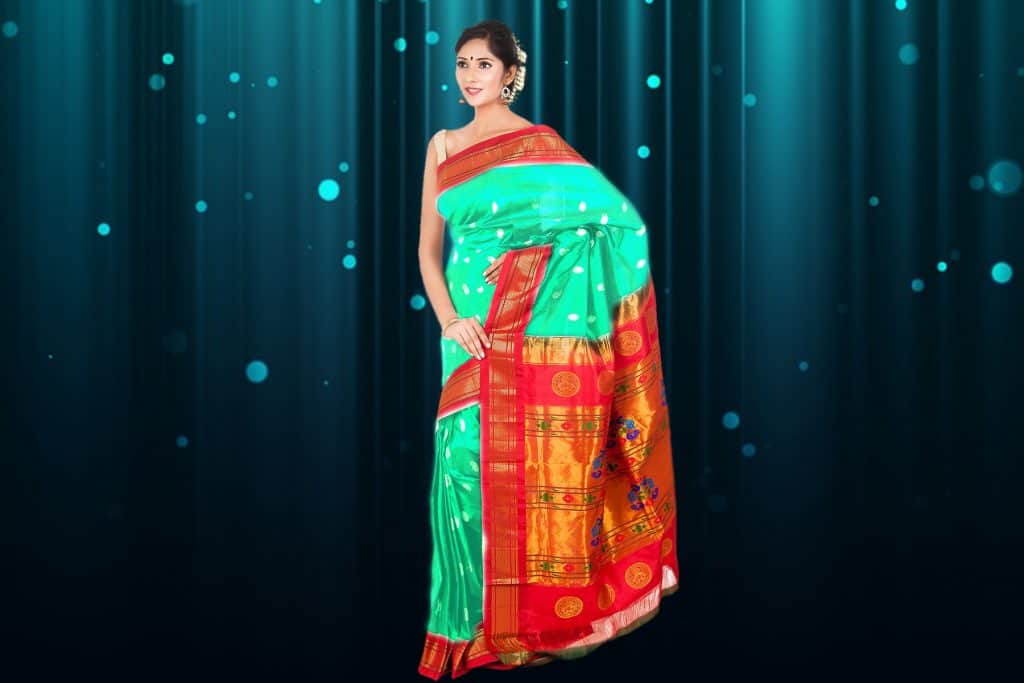 8. Sky blue Saree with Red border
This colour combination is the ultimate choice for all Indian women. The red and blue aura gives women a signature of attraction as well as a sense of vibrancy. Therefore, you can always go for the red and sky combo. No matter what the occasion is you can always choose this combination whether it is a marriage or a small occasion.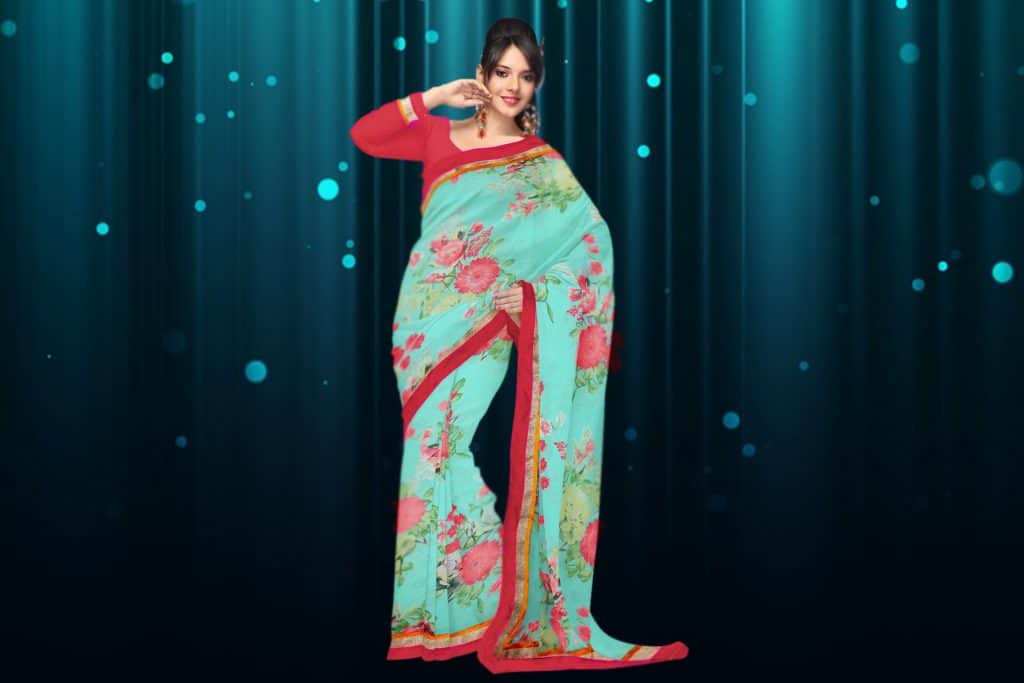 9. White and Golden Hue Saree
The brilliant colour combination of white and golden is a must for every south Indian occasion. You may notice in the movies nowadays that South Indian occasions are always wrapped up with golden and white sarees. It looks very elegant and aesthetically pleasant. Therefore, if you are a South India lover, you must try this combination as this will look gorgeous on you.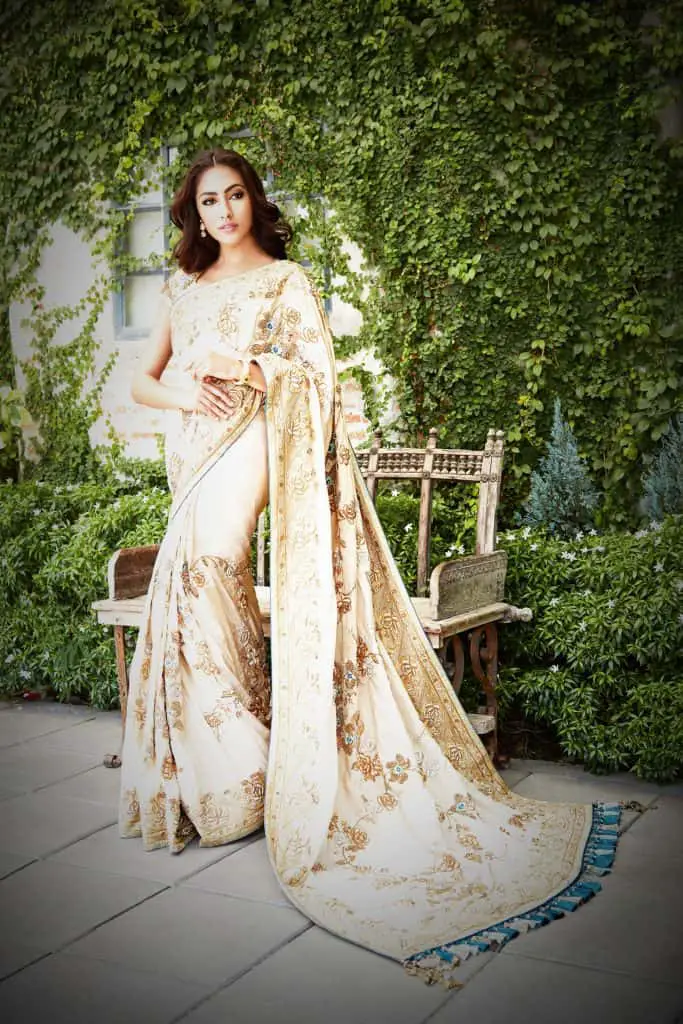 10. Bright Gold color Saree
The best way to match up with your husband our spouse would be a golden saree and a golden sherwani. It will look breathtakingly beautiful if you hold your better half's hand and enter into a party wearing a golden saree. You will definitely grab some eyes on you. Don't you want that attention? We all want it right. So, dress up and get ready for the show now.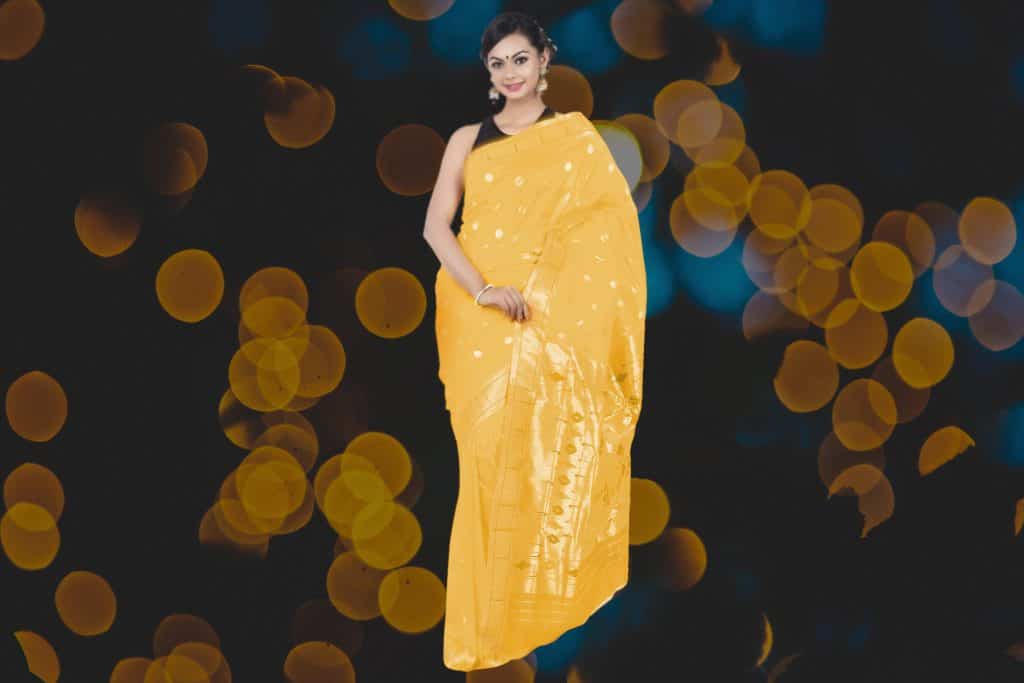 11. Blue Saree with Golden Yellow border
Don't you feel happy when look in front of the mirror and feel like you are the most beautiful person on earth? Well, that is what a golden yellow and blue combination will do to you. You can drape the saree in any style when you are choosing this colour. You can even drape in the form of a lehenga. It will absolutely turn up to be a stunning choice for you.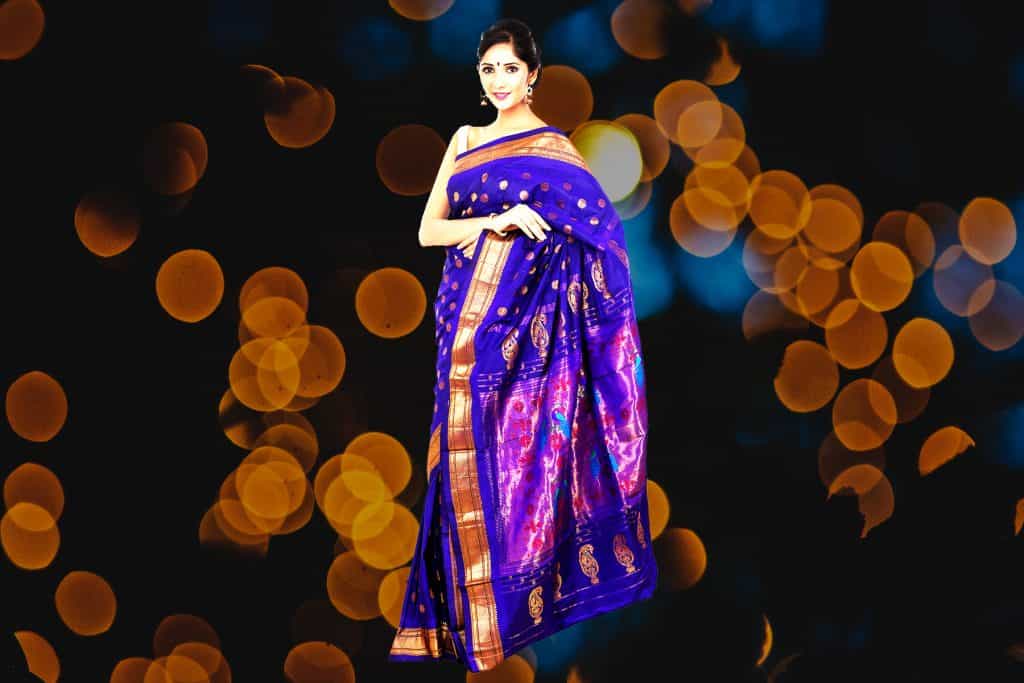 12. Orange Saree with Maroon border
The orange and maroon combo has come all the way since the good old days. This is a perfect and accurate combination for you when you are hosting an event or you are up for a dance program. It will accentuate all your features properly and help you carry a vibrant and good-looking appearance. With hairs tied into a tight bun or a loose wavy hair may be the best to look good along with this colour.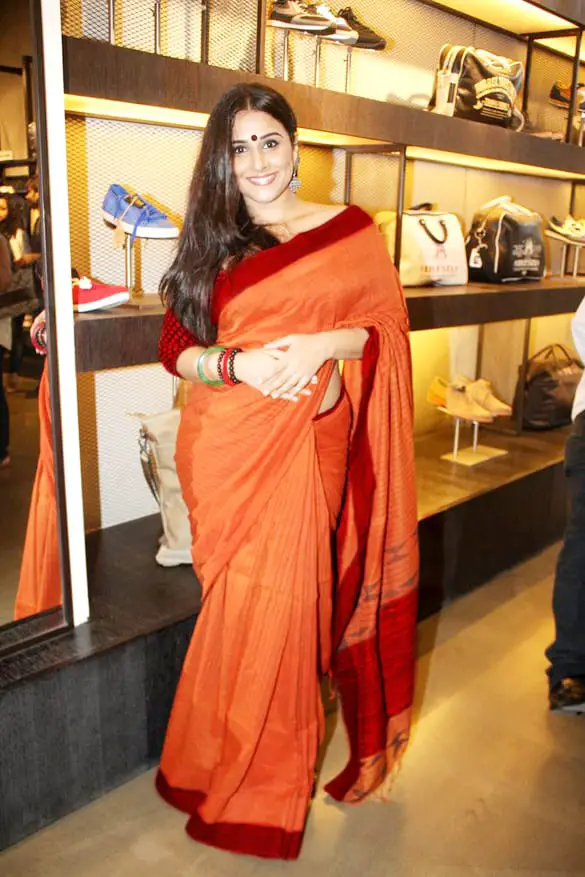 13. Multi color saree with Blue, Pink, Green and Golden
Here comes another perfect combo from our closet. It is a mix and match of the four different colours which include blue, pink, green and golden. It is an exact attire one looks for while purchasing a wedding dress. With all vibrant colours all over around in a wedding ceremony, this will your perfect one-stop choice to choose among all the colour combinations out there, and dont forget about a perfect hairstyle that matches on saree for wedding.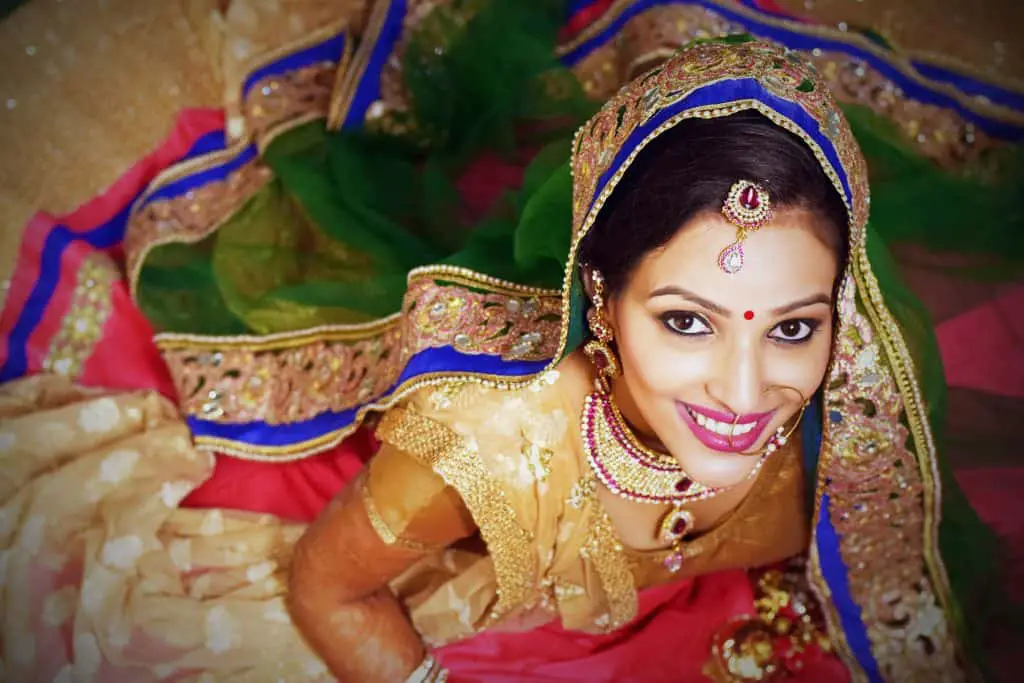 14. Maroon Saree with Green border
Being a signature in fashion, the maroon and green combo came all the way down from Rajasthan. Rajasthani people mostly prefer this colour due to the vibrancy and elegance of this particular combination. If you ever visit Rajasthan, you will see that most brides wear this specific combination at their weddings.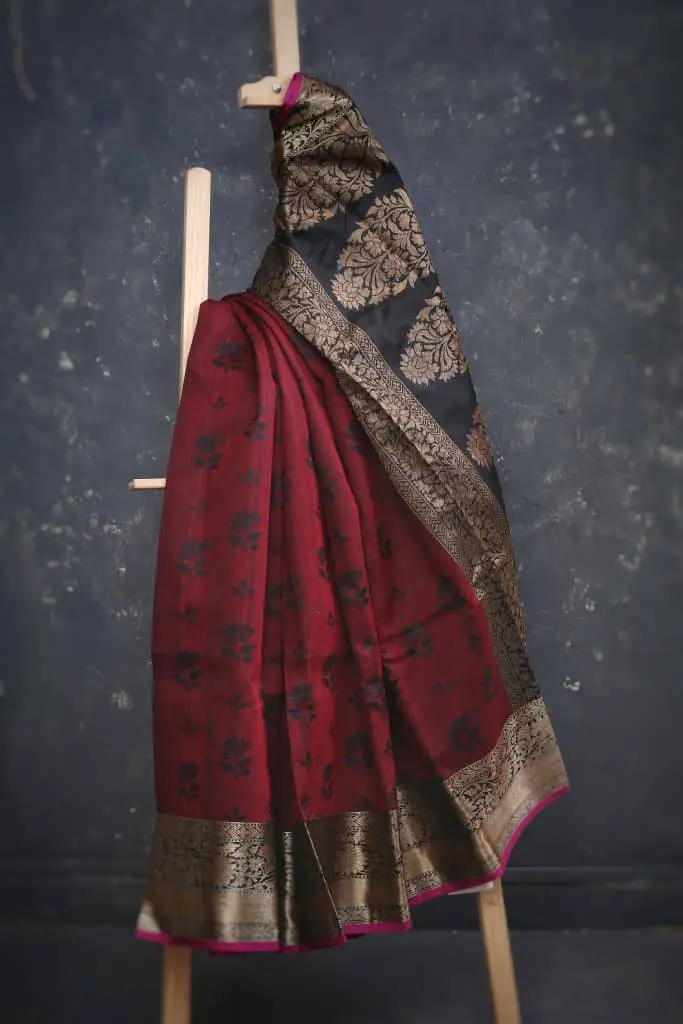 15. Plain Orange Saree
The bold colour orange gives you a spirited and lively look. If you are a teacher or a housewife, this colour will spice up your wardrobe. You will feel beautiful whenever you look at your closet. Wear an orange saree for a meeting or a get together. It will change your appearance entirely and it will give a natural glow to your face.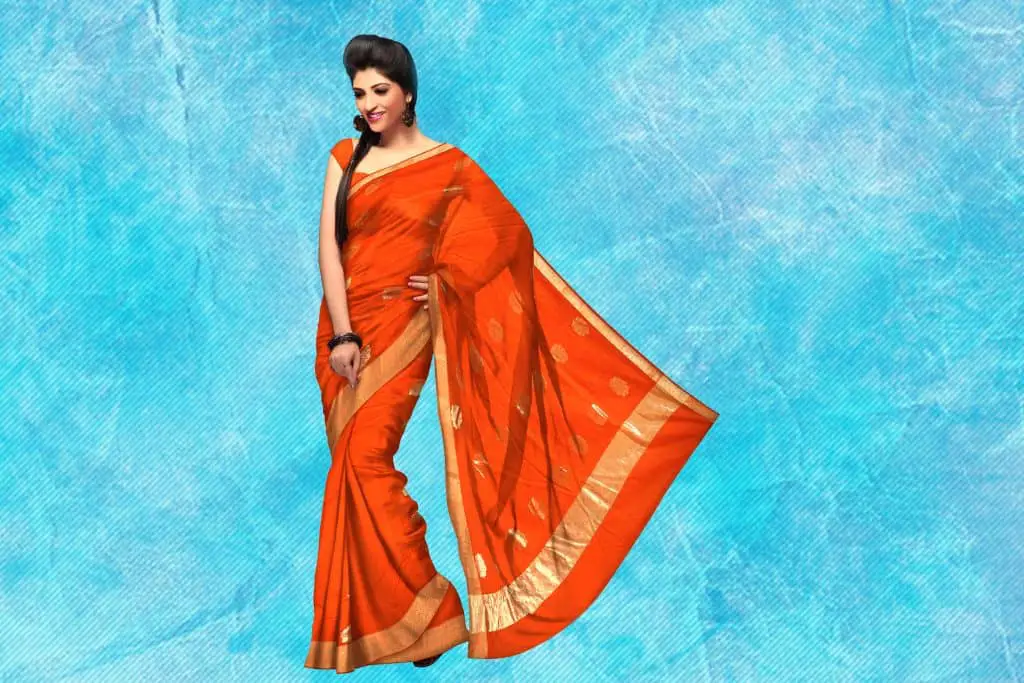 16. Yellow Saree with White stripes
The yellow-white striped sarees are now in fashion. In 2018, it has been a trend among young ladies to choose this striped pattern sarees. Therefore, you can wear it for a college day festival or a school farewell party. You can add up junk jewelleries to spice up your look and look a bit prettier than you are.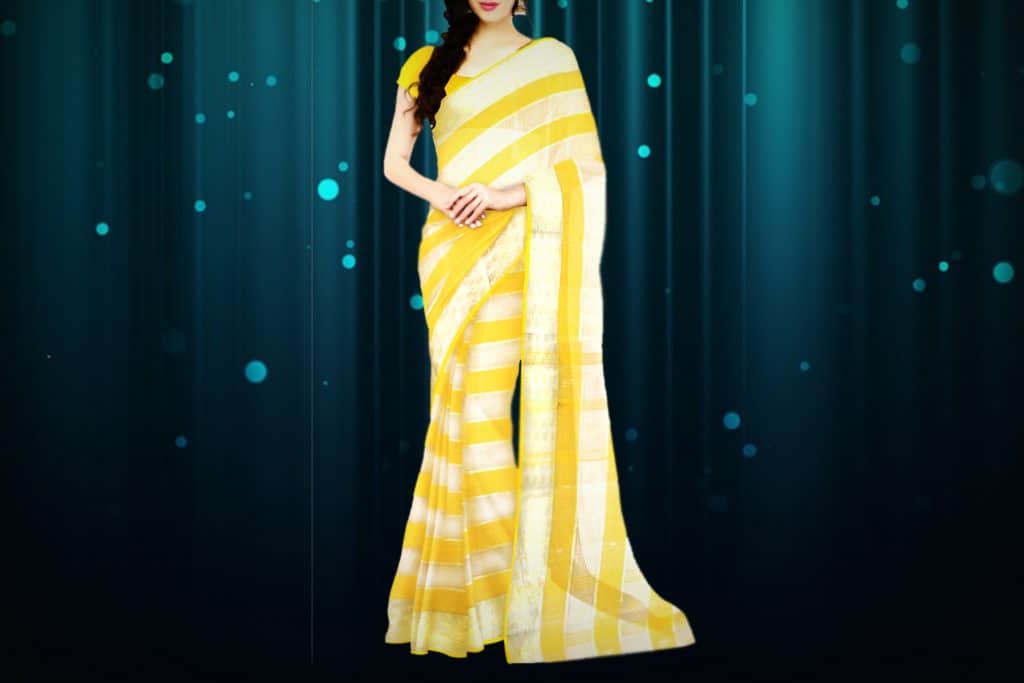 17. Multi color Saree with Pink, Green and Orange
The combination or the blend of pink,green and orange will bring about a dazzling look when matched up with a pair of junk golden coloured earrings. This colour is best suited in Kollam sarees and women from Kerala mostly prefer this colour combination sarees. Go for it if you want to add some touch from Kerala in your closet.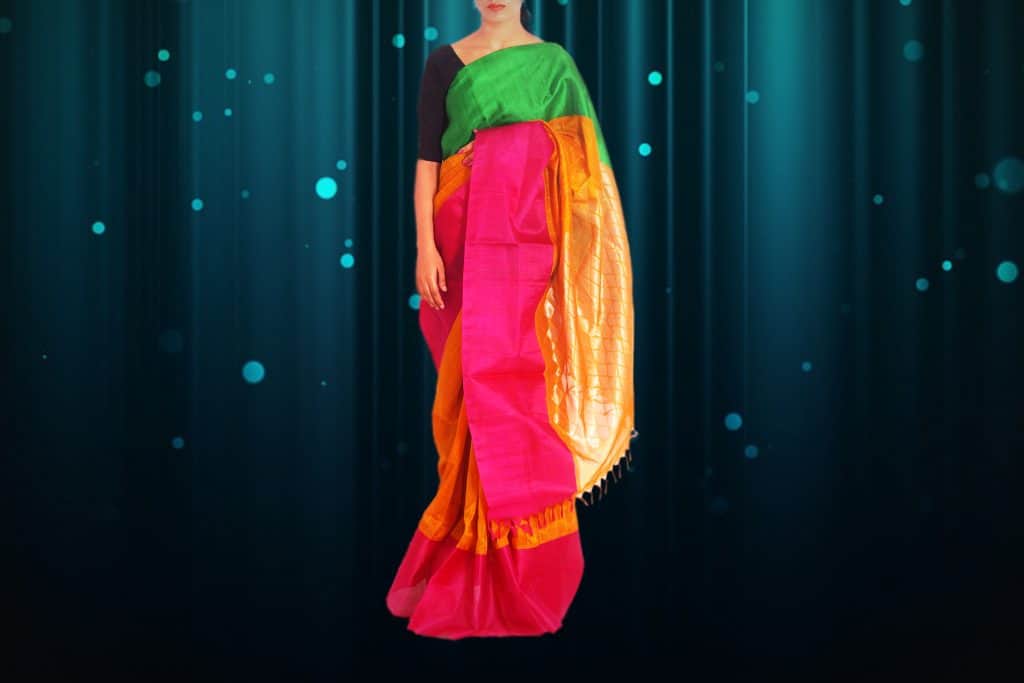 18. Teal and Golden Hue Saree with tint of Pink
The teal and golden hue will give you a flamboyant and dashing appearance when you wear it. This colour combination is full of vim and vigour and thereafter you can can undoubtedly go for this combination if you are looking for your wedding outfit. If it is your best friends wedding, also then you can opt for the same as it be an important occasion to you.
Additionally, matching the combination up with some gold jewellery can bring out the vivacious look in you. You can unquestionably switch to this combination other than anything else as it is itself so vivid.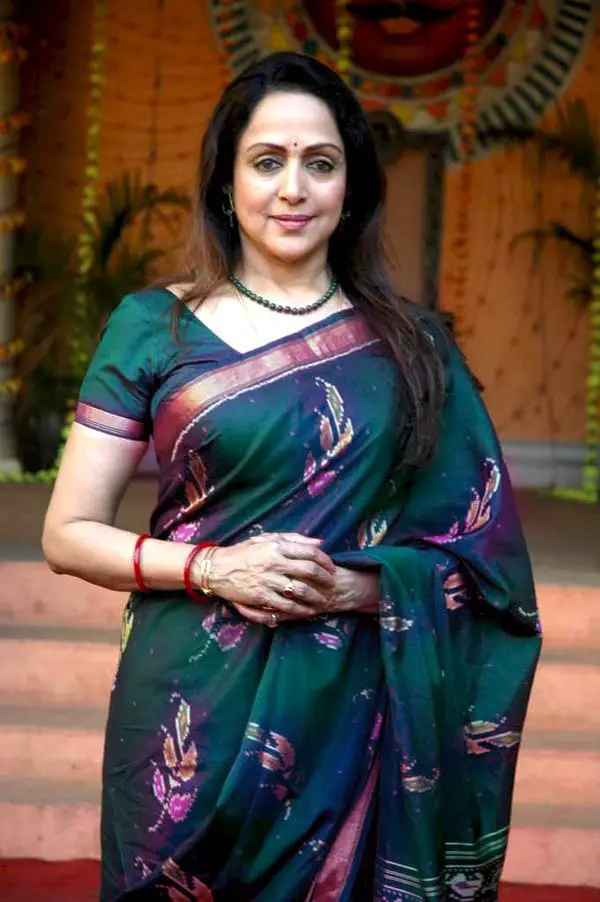 19. Multi color Saree with Green, Pink, White and Orange
The vibrant combination of green, pink, white and orange will add a sparkling vibrance to your look. Opt for the look during the summer time when sun is high above your head. It will look amazingly beautiful in the golden aura of the sun and those vibrant colours. This colour combination acts as a have-a-go style for every women.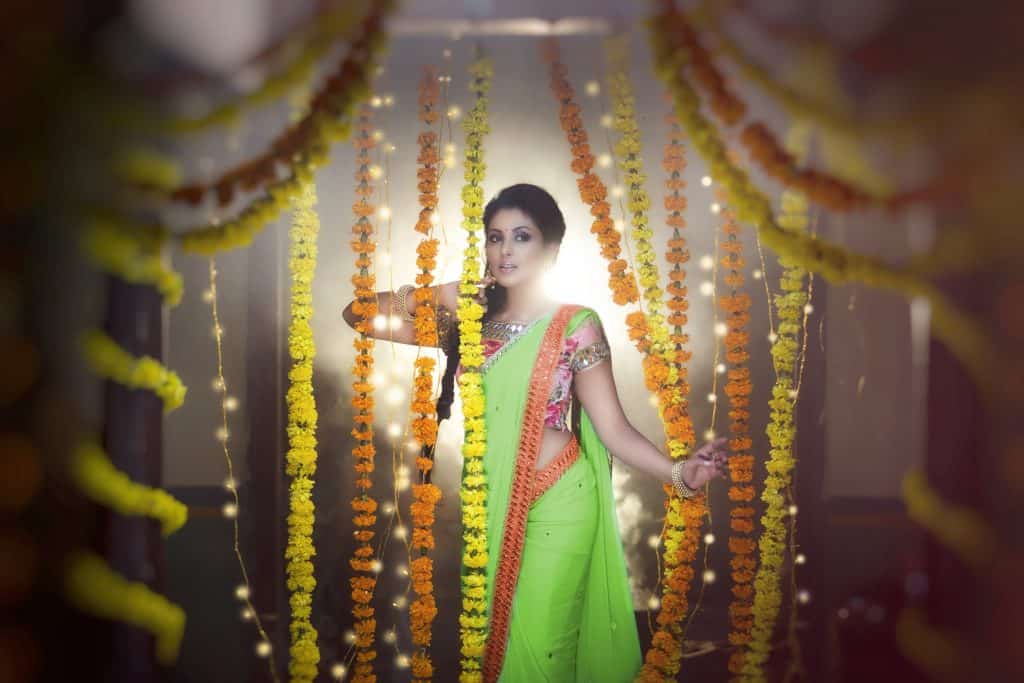 20. Multi color Saree with Blue, Pink and Gold
The saree combination of blue, pink and gold will bring out the woman in you if you opt for this combo. It looks vibrantly pretty and will add up a royal touch to your beautiful face. It is suggested that you should opt for this look once in a while. It is one among the latest trends.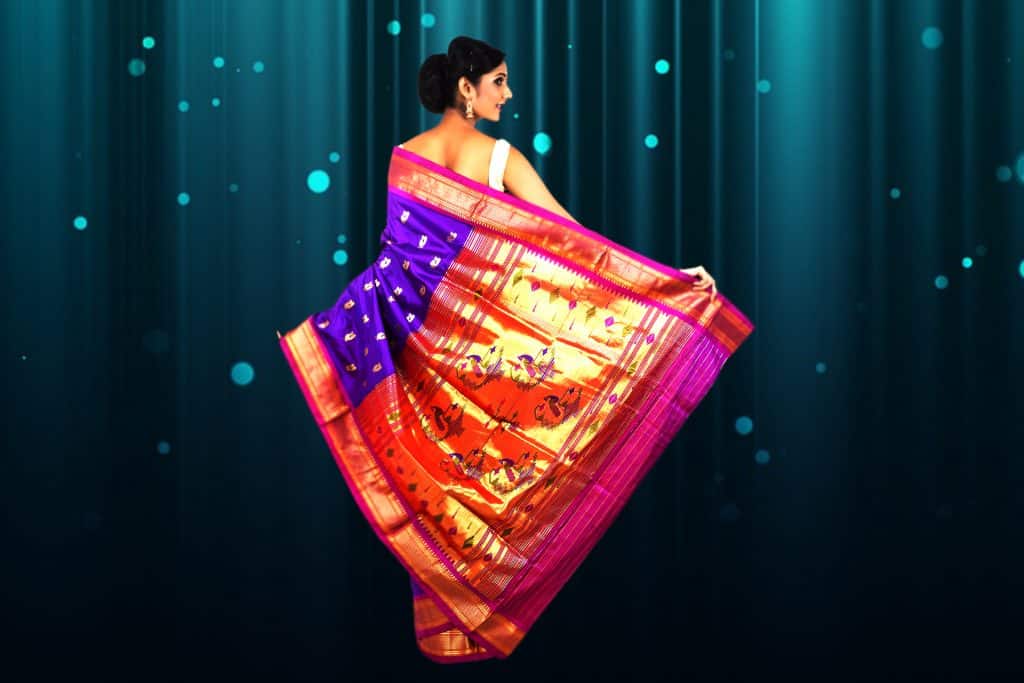 21. Off White Saree with Sea Green border
This off-white and sea-green combo is extremely coruscating and brings out the elegant lady in you. You can try this costume combo for a light party. Heavy parties won't suit this colour. Therefore, you can try this while attending a parent teacher meeting or a client meeting.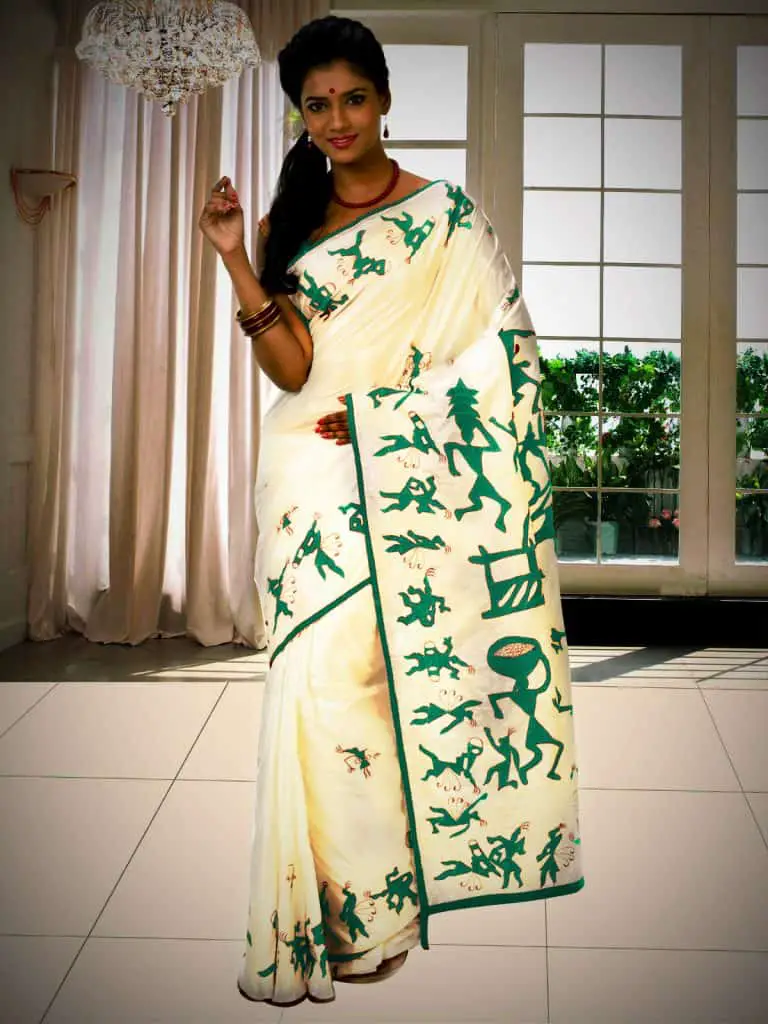 22. Peach color Saree with a Tune of Gold
This peach tone with a tint of gold is absolutely mesmerizing for any weather and any occasion. Hit the floor with the rocking party themed colour. You can even go for a merry festival with this colour. People usually opt for this colour combo during Diwali and other such occasions.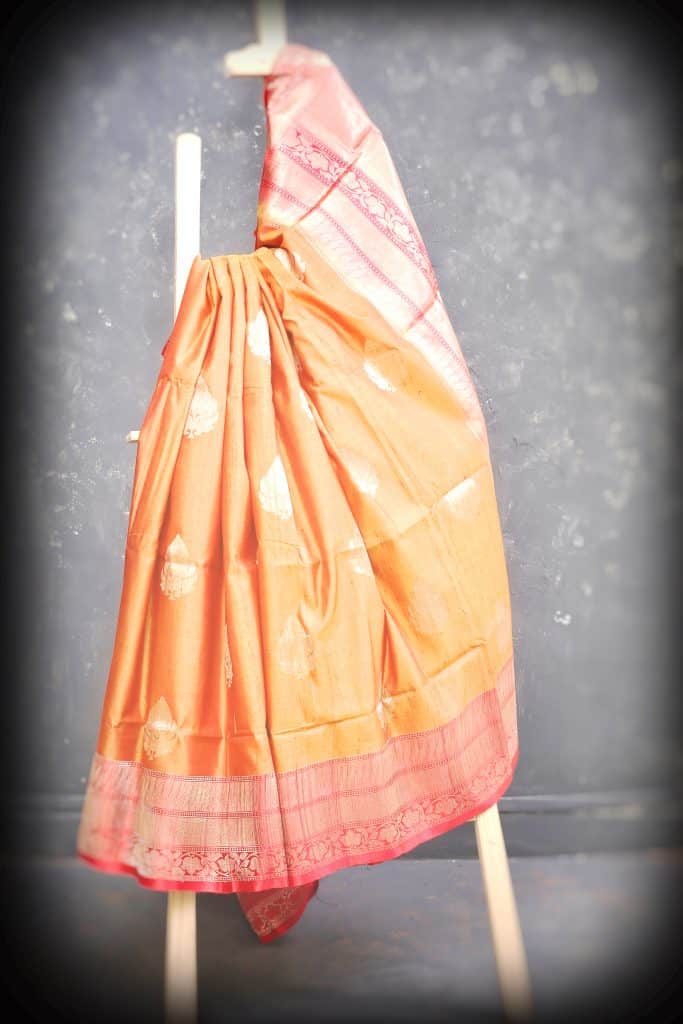 23. Blue Saree with Black border
Do you remember the saree of Deepika Padukone in the song "Badtameez Dil" from the movie "Yeh Jawani Hai Deewani"? Yes, that was the colour combination she wore. Being the best combination for a party, this is a must for every ladies out there.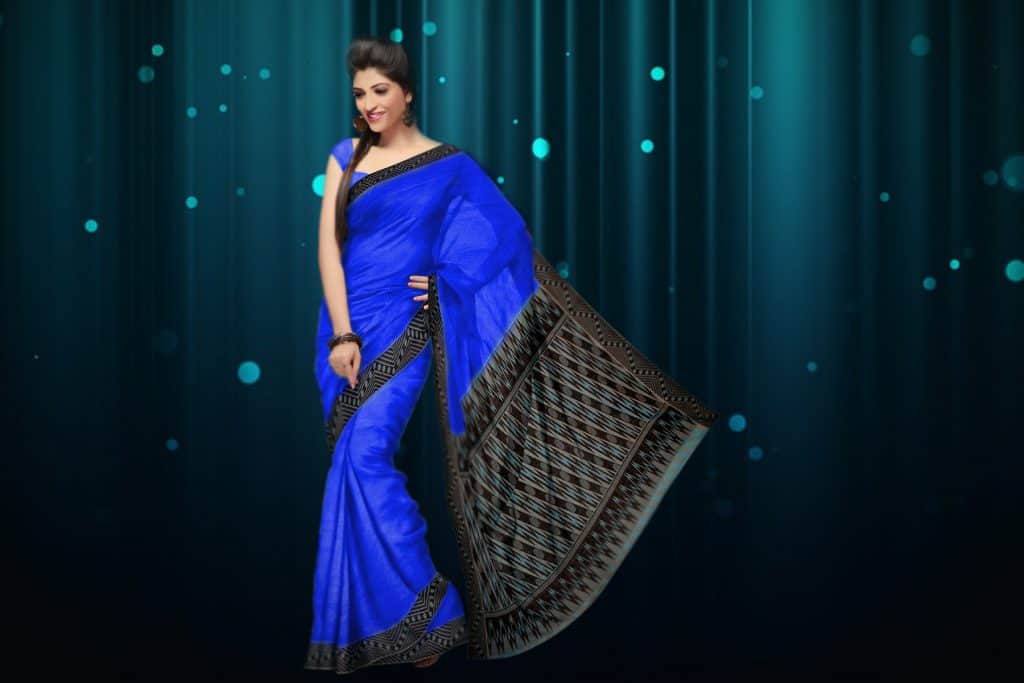 24. Grey Saree with Pink border
The grey and pink blend is a must for the ladies who work. This is the best colour for offices and workplaces. It creates an elegant ambiance. Apart from this characteristics, it has an own appeal of itself. The colour itself is dull but looks beautiful when worn in a proper way.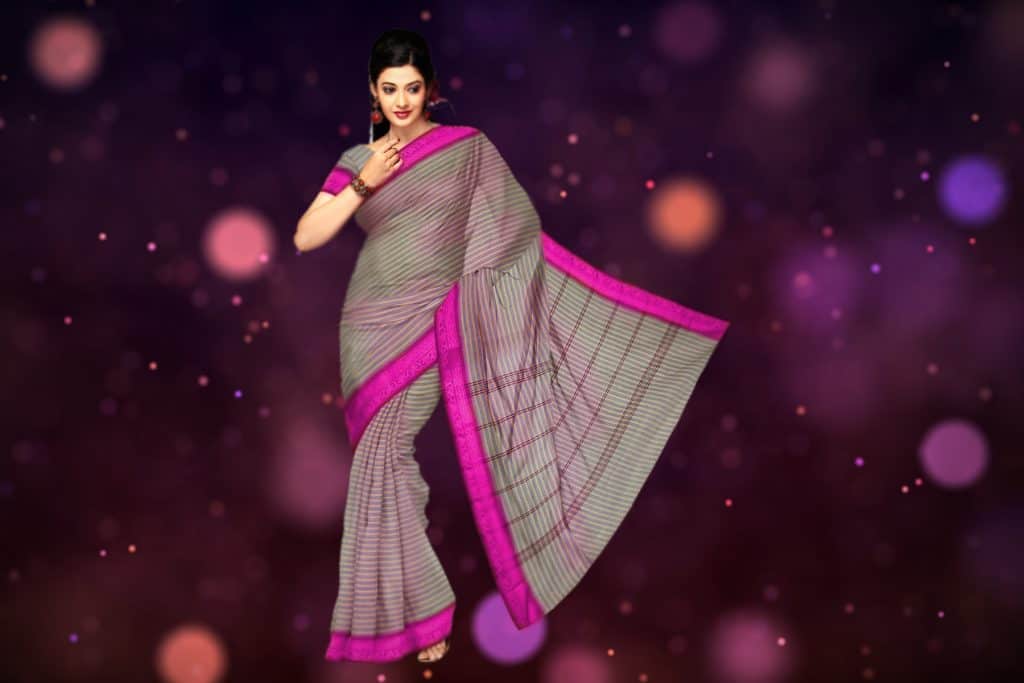 25. Peach color Saree
Shades of pastel and peach are the best when chosen for a light party. Even you can wear this combo for your work if the saree is not too much detailed. If you want details in it, you can go for embroidery work along with the peach colour. It will look amazingly stunning if you do so.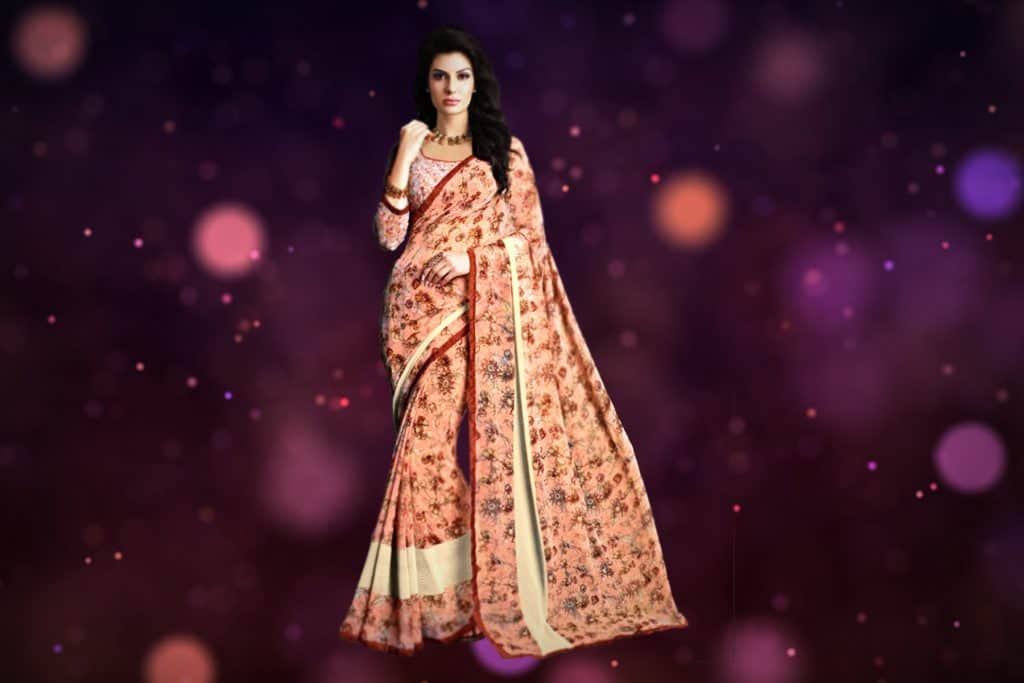 26. Yellow Saree with Maroon and Green touch
This yellow, maroon and green touch will look beautiful and gorgeous when you are getting ready for a night party. Heavy jewelleries will look good with it if you drape it up properly. You can choose any style of wearing the saree if you go for this combination.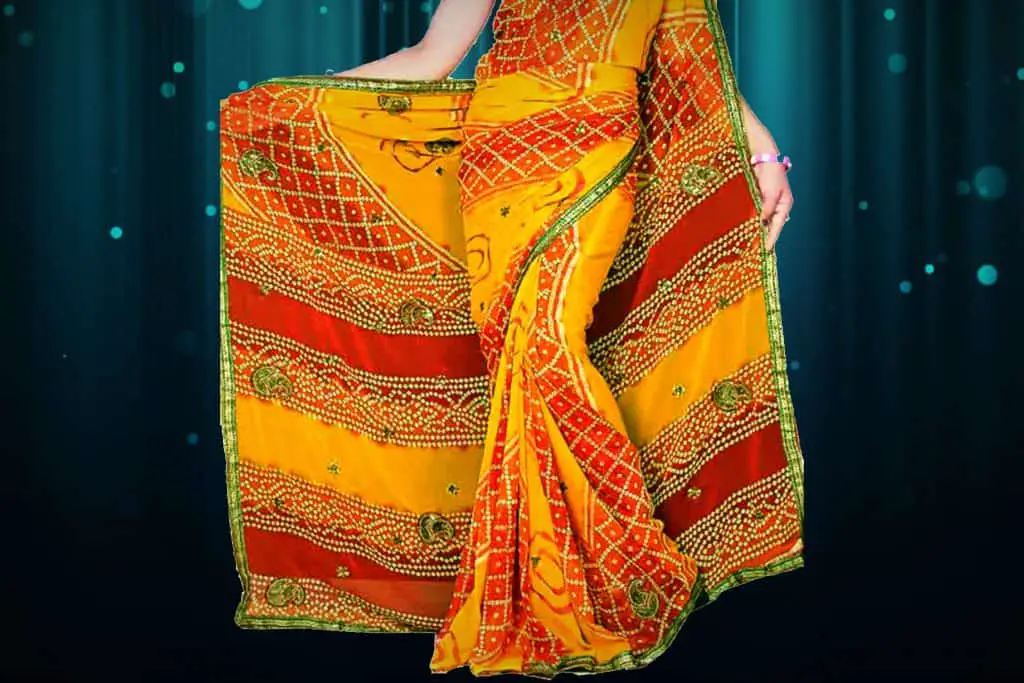 27. Olive Green color Saree with Orange blend
This mild touch of orange along with the olive green colour will add to your elegant look. If you are a teacher, then this combo will be the best for you as you can easily carry it and flaunt it with confidence. This is one of the leading combinations in 2018 which looks best on a saree.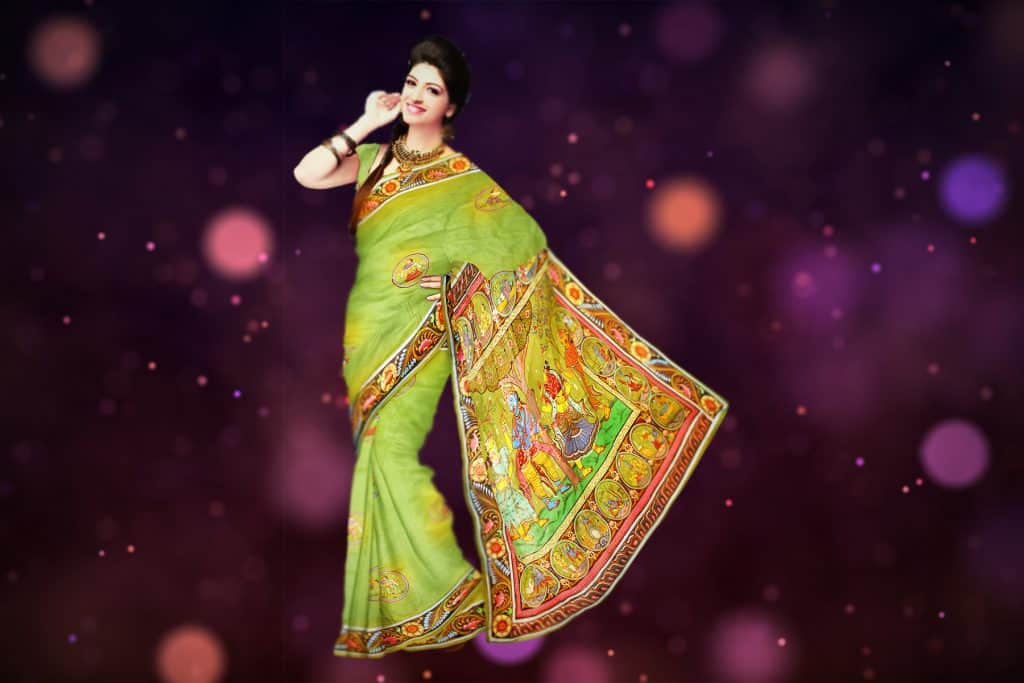 28. Chilli Red Saree with Golden border
This red and gold combo looks the best in Madrasi ladies. The way they drape up their sarees has some magic in it. If it is worn in the Madrasi style, it will look the best among all other combos. Also, this is the most popular of all dual color combination sarees.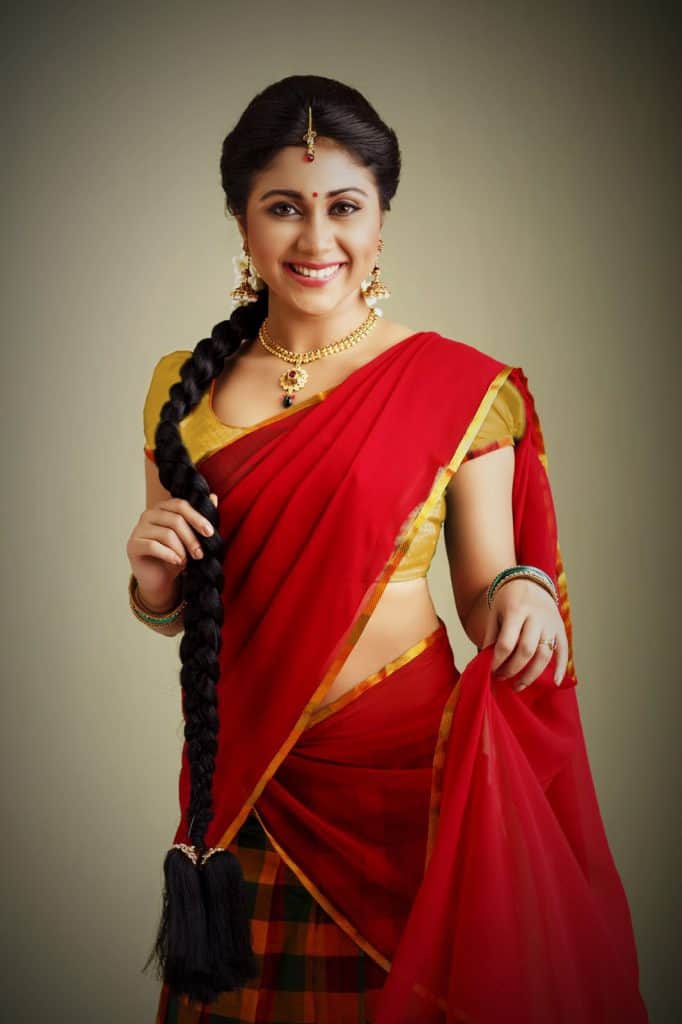 29. The Maroon Saree with Gold border
The latest trend among ladies is wearing a maroon red saree. This looks the best when you are up for any work purpose. This also is better if you are travelling. You can definitely mix and match up your luggage bag colour among with your saree colour.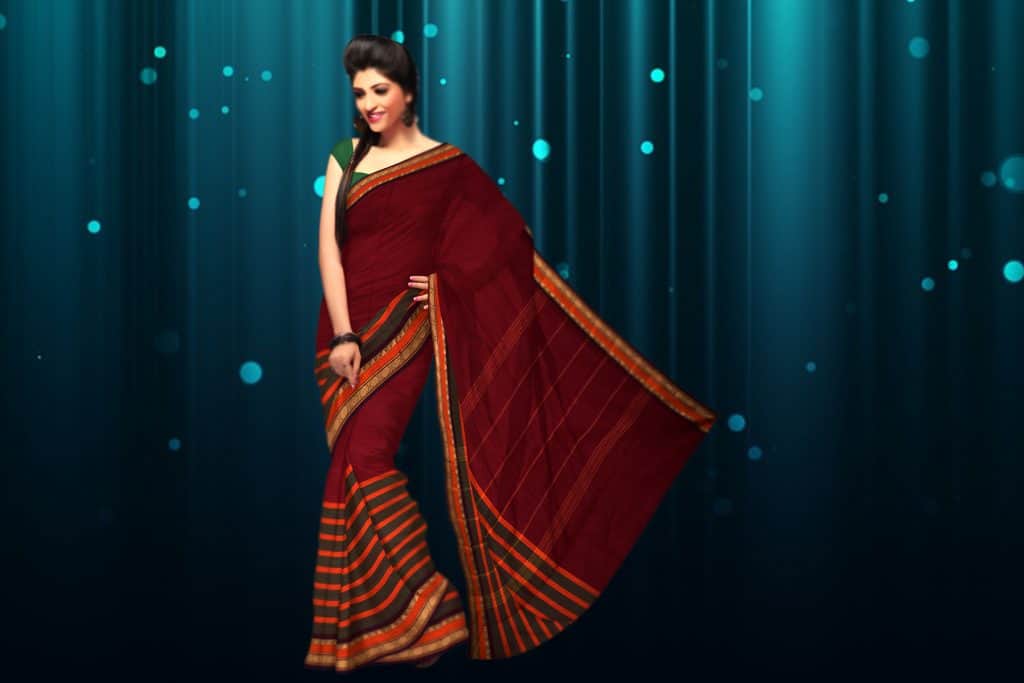 30. Royal Blue Saree with Silver border
Royal blue looks absolutely beautiful in any skin tone. When it comes to a royal blue coloured saree, you can always wear it with gold jewellery matching up with a golden bag. You can go for this look for almost any occasion.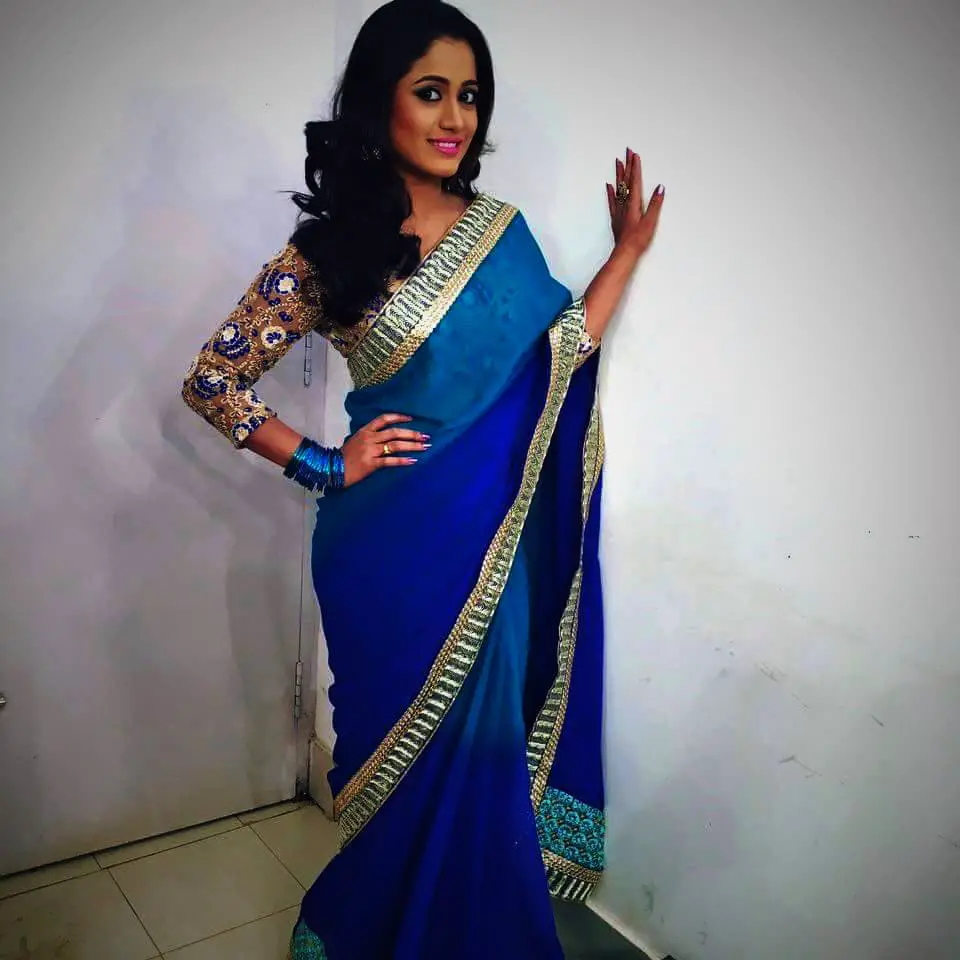 31. Pink and White Saree
Pink is one of the sweetest colour among ladies and girls out there. When you mix and match with a combo of pink and white, it will sometimes feel like a barbie girl look. But, other things aside, you can wear this combination perfectly for any occasion type no matter what it is. Embroidery work will best go with this combination.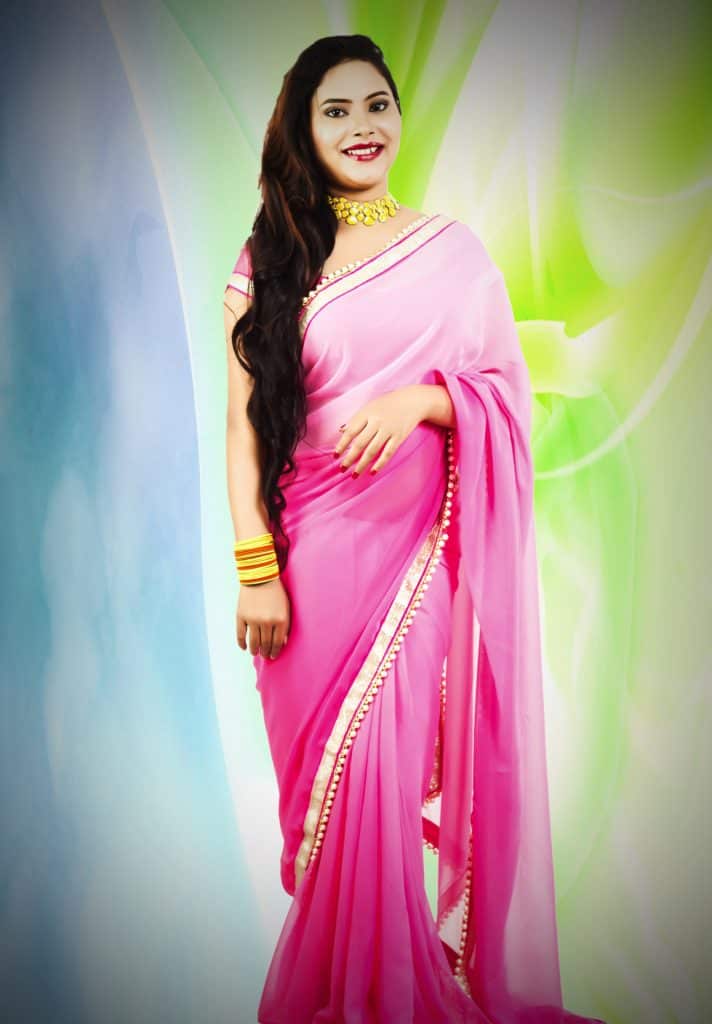 32. Multi color Saree with Yellow, Green and Pink
A yellow saree with pink and green borders look absolutely fine on simple occasions. There are lots of simple occasions in a year which we come across and we always end up thinking what to wear. Here is the perfect solution for you-the yellow saree with pink and green border. No matter what type of occasion it is, this combination will look absolutely stunning on you.