Saree, the ethnic traditional wear, is worn in all the parts of the country. The Indian women dress themselves in elaborate and colourful sarees on almost all occasions. The vivid colours, light weight material, rich texture and excellent drape etc. have made sarees  the irresistible and inevitable companion of Indian women.
"Indian sarees are popular all over the world due to the wide variety of unique designs and captivating patterns."
However, there are a few basic fabrics that are used for making this fine ethnic garment.
6 Different types of popular Saree material
Below listed are the most famous and popular saree materials used to manufacture the beautiful attires for draping women.
Cotton
Silk
Crepes
Georgettes
chiffon
velvet
Cotton sarees
This fabric is considered the best due to the comfort, convenience and grace it affords. It is light, cool and easy to wear and that is what makes it an appropriate fabric for sarees.
Various styles can be tried with the cotton fabric and it is easily blended with other fabrics to produce better, stiffer and more appealing fabrics such as Chanderi, Chikankari, Tant, Dhakai, Kanjeevaram, etc.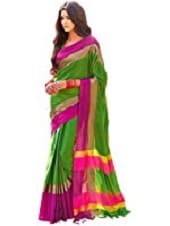 Cotton and its blends are the most common fabric used to make beautiful sarees all across the world.
Cotton sarees are very famous in India due to their use during long summer months and the versatility of the fabric.
From casual to formal, cotton clothing are a must have for every woman's wardrobe.
Silk sarees
Silk has become a household name in India because of its close association with sarees, the most loved Indian garment amongst women.
Silk symbolizes luxury and richness. Silk fabric is considered special due to its luxurious feel.
Super good looking silk sarees available at Amazon, please check
Silk sarees are comfortable and light weight and that is why silk has occupied a predominant position in garment industry all across the world.
It looks superb when used for making sarees and lehengas.
Silk sarees are a common sign during weddings and festive seasons as they instantly bring a very formal look to any silhouette.
Make sure you store your silk saree in a cool dry and dark place so the sun and moisture do not have adverse effect on it.
Beautiful pallu has great significance while selecting a perfect silk saree.
The famous silk types in India are Mulberry, Muga, Eri and Tassar.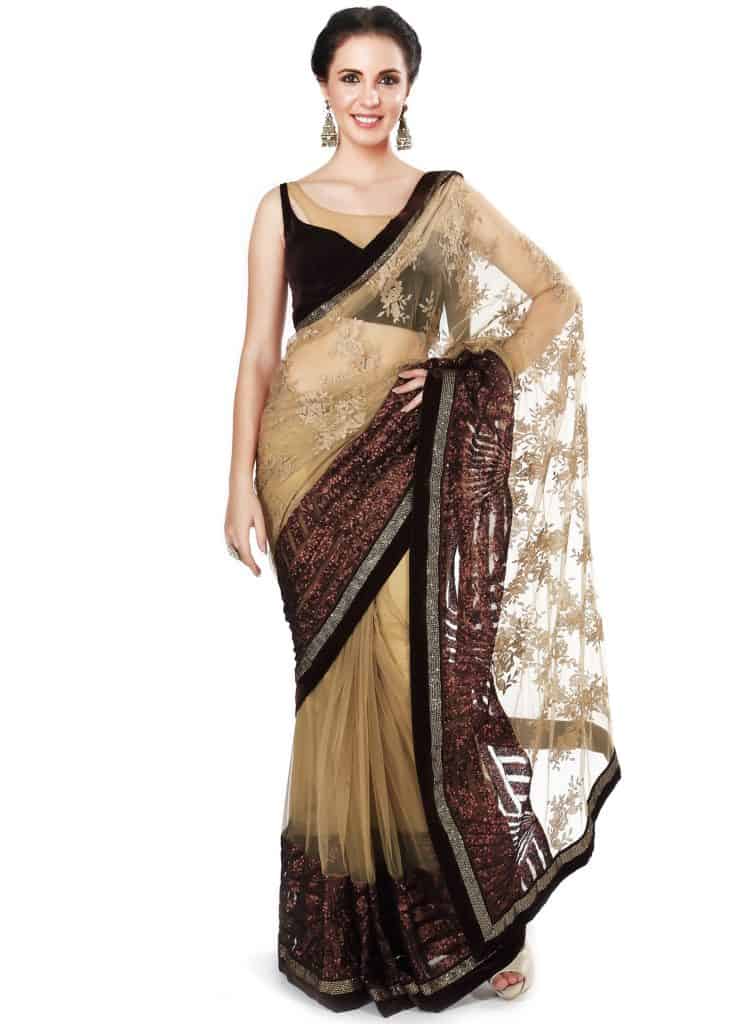 Crepe Saree
These are either called as Crepe sarees or Crape sarees. The crepe sarees are suitable for any occasion. These sarees also have seasonal importance, these are more preferred in summer.
he manufacturing process of crepe sarees gives them a distinctive crisp appearance. The fabric for crepe sarees is woven using hard spun silk and wool, the fabric is woven in natural condition to get a crisp appearance.
Check huge collection of beautiful crepe sarees:
Georgette Sarees
Originally Georgette was made from silk. It is woven in two forms: Pure and Faux. Pure Georgette is woven out of Silk yarns, while the Faux Georgette is woven from Rayon and Polyester.
Check Amazon for latest collection of Georgette Sarees.
Modern Georgette is mostly made with the use of synthetic filaments.
This fabric has become quite popular with women because it has a graceful, soft, delicate and bouncy appearance.
Georgette is a light-weight and easy to dye fabric with an elegant look.
The tendency of the fabric to drape very well makes it an suitable choice for many women who love the soft silky yet comfortable look.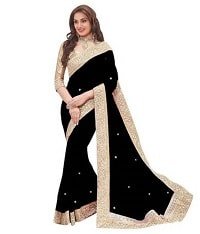 Chiffon Sarees
The word 'Chiffon' is derived from an Old French word for rag. Chiffon is a fabric made from cotton, silk, nylon, rayon and polyester. It is thin fabric with a faint shimmer and a simple weave.
You can buy chiffon sarees online at Amazon for reasonable price.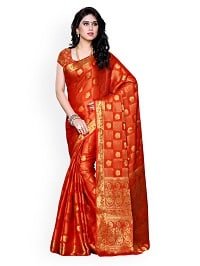 This fabric is generally used in evening and formal wear, since it drapes well and can add a flowing look to sarees.
Its slippery texture makes it a very difficult fabric to work upon. Chiffon sarees are best known for being airy, translucent and light weight.
Chiffon comes to its best in summer due to its seasonal appeal. It is also preferred for its graceful feel and fine texture.
Velvet Sarees
Velvet has always been associated with royalty and affluence. Vevet is an elegant and ostentatious fabric like silk. It is an extremely soft fabric suitable for all body types and that makes it a suitable fabric for sarees.
Please check wide variety of Velvet sarees at Amazon
Velvet was once worn only by the rich as it was very expensive but now it has  become a common fabric that is very delicately used with other fabrics to create scintillating outfits.
Velvet yokes with other flowy fabrics and velvet blouses are a winter staple for sure. All types of velvet can be effectively dyed with deep colors and are most popular in dark shades that highlight the rich pile of the fabric.
Silk/rayon blend velvet is most often used for flowing dresses and evening wear which emphasize its soft drape.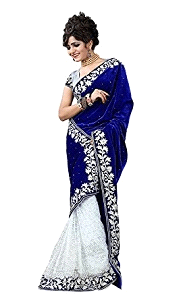 Saree manufacturing process
Indian women have an incomparable craze for sarees. Be it any part of the country, Sarees have a special place in the hearts of Indian women.
There are also different styles of wearing a saree. There are lots of options for saree loving women before them nowadays, thanks to the technological advancement and specialized techniques of weaving sarees.
The process of making sarees is quite complex as the fabric has to go through a long process before getting the final shape of a beautifully designed saree. Let us acquaint you with the step by step process of manufacturing a saree both through a machine and a handloom.
Saree making using a machine
To make the long process of making saree a short and easy affair, machines have replaced weavers. Now the task of manufacturing sarees has become a lot easier, thanks to the machines specifically designed for making this ethnic garment. The raw fabric is used to make the end product of saree. The fabric has to pass through the following process:
All the pieces of raw fabric are combined into one large cloth or fabric.
This large fabric is properly washed and made clean.
The saree fabric is dried by means of a huge dryer machine.
The fabric is not cut as per the required size.
The saree cloth is not made wrinkle free.
Saree designs are created and invented by the master designers.
The designs are tested and, if found proper, printed on the saree fabric by a printing machine.
The printed fabric is processed in the loop machine to make designs last long.
The saree fabric washed, dried and folded to be ready for finishing touches.
Bundles are made of the printed saree fabric and sent to the vendors.
Handloom sarees weaving
The craze for the sarees made on handlooms is not at all less than the ones manufactured by machines. The handloom industry has flourished because of the production of exceptional quality of the sarees.  A handloom is a loom that is used to make sarees without using electricity.
https://www.youtube.com/watch?v=_spVaKmE5lY
A handloom is a simple machine used for weaving. The process of manufacturing a saree on a handloom is a tricky one. Lets see step by step process of handloom saree weaving.
In a wooden vertical shaft looms, the heddles are fixed in place in the shaft.
The yarn after warping is prepared into warp sheets by rolling the length of yarn to an iron rod.
In the process of beaming, the strands of yarn passes through the reeds and healds.
Each silk strand is joined to the old warp threads manually.
The image of motif is first scanned and the image is transferred to the punch cards.
The punch cards are attached in the form of a chain and loaded into the jacquard machine to start weaving.
The warp threads pass alternately through a heddle and through a space between the heddles or the shed.
Raising the shaft raises half the threads that pass through the heddles and lowering the shaft lowers the same threads.
The threads passing through the spaces between the heddles remain in place.
In this process, shedding is done by pedal and picking and beating is done manually.
The weaving is a complex process. The unwoven stands are cut out with a small metal blade and sari is folded in a traditional manner for the marketing. It takes about  4 to 5 days to complete one sari. The weaver may need 1 or 2 persons to help him while working.