Banarasi sarees are one of the most beautiful icons of India. When draped it makes us feels like an angel from    the heaven. Banarasi sarees are made usually in Varanasi, which is also known as Banaras. These are originally manufactured from Varanasi, Azamgarh, Jaunpur, Bhadohi, Chandauli and Mirzapur.
These are exclusively known for their works with gold and silver zaris, extraordinary embroidery and finely woven silk with precise designs with intricate details. Banarasi sarees are usually heavy. Silk is used for weaving Banarasi sarees.
Banarasi sarees has a mention in the Mahabharata and Buddhist scriptures in the first millennium. These sarees were used to be manufactured to show the craftsmanship of the artists and royalty of the King during those days.
The patterns on this sarees seek its inspiration from the string of upright leaves, intricate designs and Persian motifs mixed with Indian designs.
An Ideal Banarasi saris consist of 5600 threads (at least 45 inches wide).Usually, 24 to 26 meters of the base is created for weaving. More than three people are involved in weaving a complete Banarasi silk.
This weaving process takes 15 days to 6 months. At times it even takes a year for completing.
Due to the increase of machine made sarees from the factories, these handloom sarees are depleting because of delayed delivery. In 2009, weaver association of punjab secured a copyright stating sarees from any districts other than six identified districts will not be considered as Banarasi saris.
HISTORY OF BANARASI SAREES:
Earlier traces of Banarasi saris can be found in scriptures of Mahabharata (as they were mentioned in scriptures). During Mughal period around 14th century, brocades with intricate designs earned its fame that became specialty of Banaras.
It was due to efforts of Mughals, Banarasi saris were accomplished in India. As Mughals were interested in art of weaving and designing, they inspired few craftsmen to concentrate on art of intricate weaving.
Therefore, art of weaving started during Mughal period. These were inspired during Mughal and Pre Mughal era. The traditional Banarasi saris are popular today as it was among the royal Mughal families.
These were outstanding because of their sheer weight and intricate designs with gold and silver borders inspired from flowers and leaves are spun throughout with the gold and silver threads.
Due to severe famine in 1603, weavers of Gujarat migrated to Varanasi. They started weaving and accomplished their exemplary talents in 18th century.
In current scenario Banarasi silk are manufactured by combining two different cultures. Earlier silks for Banarasi saris were imported from China and now they are available in South India.
Persian motifs are being mixed up with designs of Indian silk for creating unique and extraordinary patterns. The design of these motifs and pallus is a difficult task. These designs are first drawn on wax papers for the same pattern, punch cards are designed by another craftsman which are placed into the machine obtain a specific pattern.
Each card serves a single line of weaving. Many punch cards are used in obtaining the desired motif or pattern. Pure silver is first melted and machined as thin as hair strands. This is further flattened and wrapped around a silk thread which is electroplated to obtain gold yarns.
There are around 1.2 million people associated with handloom silk industry of the region around Varanasi consists of districts like Gorakhpur, Chandauli, Bhadohi, Jaunpur and Azamgarh.
TYPES OF BANARASI SAREES :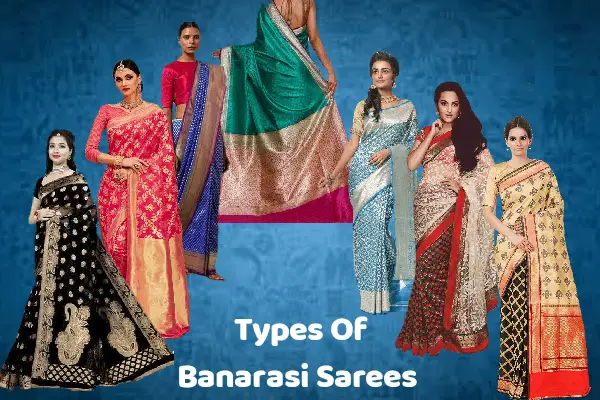 There are 4 main types of these saris. Basically they are differentiated only on the basis of decoration and designs.
However there are wide varieties of other Banarasi sarees that are listed below ;
Pure Banarasi Silk Saree :
Pure Banarasi silk are crafted using gold and silver threads and created with rich silk fabrics. Combining Persian motif and Indian culture these are usually decorated with small booties or motifs across the entire length. They are identified with their intricate zari work and delicate embroidery work.
They are made with beautiful flower motifs or interesting creeper designs borders. This design is called Jhallar. It takes more than a couple of weeks to weave a saree.
They simply look glamour without adding any attire to the costume. It is easy to buy pure banarasi silk sarees online nowadays. This also serves as a great festive occasion. To meet the needs of today's young women lehenga sarees are also made.
Banarasi Cotton Sarees :
Banarasi cotton silk is one of the most luxurious fabrics; this is created by twisting together filaments to create a sturdier and more durable fabric. Because of its creation, it also makes an interesting textured background. Because of its unique appearance, it makes outstanding from other sarees.
This is called Katan saree comes along with stripes and checks that add modernity to the designs. These are available in various vibrant colours and various places. They are popular in Bangladesh.
Below are some of popular types of katan Saris.
Katan butidar, is a fabric with gold butis pattern on it.
Katan butidar Mina, is a fabric where design works are made with zari threads.
Katan butidar Paga, made of resham and contains butti work that is spaced 4 inches apart all over the body of the garment where it has 12 to 22 inches pallu which is wider than other sarees.
Katan Brocade, where warp and weft are made of Katan and figures on this garment are made with gold thread.
Katan Buti Zari Resham is a fabric with little modernity that is more aesthetical.
Katan Jal,known as Jangal is a fabric with floral motifs or patterns .
Georgette Banarasi Sarees:
This is a lightweight, semi-sheer cloth with a grainy feel. Strong and tear-resistant, it is easily dyed in any colors and is one of the most popular fabrics for printing.
They are woven in highly twisted manner that makes it lighter and rough to touch. These sarees are intricately woven with silver floral motifs and ornate designs on the pallu and the border.
Banarasi sarees can be further divided into six more segments like Jangla, Tanchoi, Tissue, Butidar, Cutwork, Vaskat and most importantly Banarasi Silk Jamdani.
JAMDANI,is variation of figure muslin where silk sarees are made with cotton zaris.
JANGALA,are designed with colourful silk threads.
TANCHOI,uses colourful extraordinary silk to form outline, they look kaleidoscopic because of their designs.
TISSUE SARIS,are designed in a way such that zari look like golden cloths where these are combo of zari and silk.
CUTWORK SAREES are product of cut work technique on plain textures usually done after removal of plain textures.
BUTIDAR SARIS are dark blue silk sarees with threats of silver and gold in a unique manner. This is also called Ganga and Jamuna because of dark and light shades of gold and silver.
Chiffon Banarasi Saree:
Chiffon banarasi sarees are known as heavy sarees. Most of Choffon banarasi sarees come with zari borders and heavy work on body as well.
Silver zari border Chiffon banarasi sarees are very popular and most preferred by several women for important occasions.
BENGALI BANARASI SAREES :
Saree is the national wear of Bangladeshi women. Usually Banarasi saree is preferred costume for married women and unmarried women who wear sarees as an occasional dress. Dhakai Jamdani is worldwide famous and worn almost by all Bengali women.
This is a handmade saree like Tanta cotton saree, Dhakai Banarasi Saree, Rajshahi silk, Tangail tant saree, Tussar silk, Manipuri saree are most popular among Bangladesh Air hostesses of Bangladesh airlines wear sarees as dress code.
BRIDAL BANARASI SAREES:
One of the most precious moments of everyone's life is marriage. And Banarasi saree is the one of the best options as wedding saree. Irrespective of your skin tone and physical appearance, banarasi saree always leads the options for wedding saree.
They come in wide range of varieties. These sarees are carefully woven and handcrafted by hand loom process.
These sarees are weaved with 5600 threads. There are four fabric variations namely Katan, Georgette, Shatter and Organza that come in various designs like Jamdani, Jangla, Tanchoi and Tissue.
For occasions like wedding there are several opportunities to drape in Banarasi sarees , even Kanchipuram wedding saree looks bright in bold colours. When blended with elegant jewelry, makeup, perfect hairstyle and hopeful smile what else a bride needs to look more gorgeous.
POPULAR BANARASI SAREE COLOURS: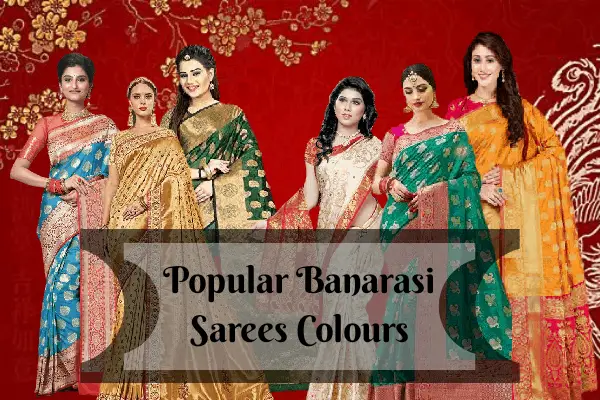 Banarasi sarees come in various and vibrant colours that suit everyone, one can choose any color to their wish and outlook. These sarees come in colours ranging from primary to complementary. Here are few colour
Golden Banarasi Saree:
If you want to try something unique, this golden and Ochre Banarasi saree is made just for you. The antique Banarasi saree style is now in huge demand and is richly made with intricate geometrical motifs inspired by the Mughal architecture.
The golden color of the saree complements well with the hints of color across the saree. The Pallu is deliberately kept simple to not overdo the design. This is one of the best varieties of Banarasi Sarees.
Banarasi Georgette Sarees with Turquoise and peach color:
For women who wish to add a touch of color to their wardrobes, this Turquoise and peach colored saree is a refreshing change from reds and maroons.
The saree is intricately woven with silver floral motifs all over the body and ornate designs on the pallu and the border. The combination of these two colors works wonderfully to make you look stunning.
White Banarasi Sarees:
This white and golden Banarasi saree speaks of style and class! The saree is made with premium quality georgette and is intricately woven with golden leaf motifs all over the design.
The highlight is the Pallu and the border which displays beautiful array of flowers. You can style it well by opting for simple golden accessories and a nice fitted blouse.
Green and Gold colour Chiffon Banarasi Saree :
The light weight chiffon saree in green and gold is exquisitely done with golden motifs and a rich pallu to complement the design.
It comes with a matching blouse and a golden weave on the sleeves. This saree can be worn for special occasions to grab some eyeballs. Wear it with some emerald based jewelry to stand apart from the crowd.
The Sky Blue Banarasi Saree:
This comes with a bright color coming out of something really light. The sky blue color is basically a light color and when you wanna make it so eye-catching then you have the finest material for letting that color be expressed properly.
This saree comes with small and intricate designs done on the front portion of the saree along with some traditional as well as authentic designs done the pallu portion.
This is probably one of the best traditional ethnic pieces for Indian women that can be kept aside for special occasions. Because of all the right causes, this can be said to be the best Banarasi saree of all time.
The Yellow Banarasi Saree:
Here is a Banarasi saree that can be sported with blue blouses. The edges of this saree are beautifully decorated with patterns that you probably haven't seen before.
The prime attraction about this saree lies in the yellow portion. If you look carefully, you will see that there are some small transparent patterns which makes saree more beautiful.
POPULAR BANARASI SAREES BLOUSE DESIGNS:
Banarasi Sarees are quite ornate and heavy. They are best paired with plain and solid color blouses to keep the elegant factor on! If you have a half-half style saree, you can go for a rich brocade to complement the base design of the saree.
Silk sarees are best paired with blouses made in pure silk or cotton silk. Elbow sleeved blouses are the most happening trend in the market. We hope these sarees gave you some serious Fashion goals.
A lot of people associate Banarasi sarees with old school designs and by-gone fashions. But, these modern designs have definitely brought back the glory of the famous weave and restored its position in the market.
Once made exclusively in green, red and gold, Banarasi Saree now come in a plethora of colors, including the power pinks and blues to suit the taste of the millennial.
So, if you are looking for a perfect wedding drape, what are you waiting for? Time to buy one of these timeless beauties!. Here are combinations for you to choose among,
Contrasting silk saree blouse design with minimal embellishments.
Heavy zardosi work silk saree blouse design.
Plain silk saree blouse design to offset a printed saree.
Silk saree blouse design made in velvet and embroidered with zardosi.
Silk saree blouse design with mirror work and hand embroidered sleeves.
Maggam work silk saree blouse design.
Printed raw silk saree blouse design.
Sheer sleeves gold embroidered silk saree blouse desig
BANARASI SAREE PRICE:
Banarasi sarees are usually available from rupees 700 onwards. The price depends on the quality and material of the sarees. Also, these sarees are available in various colours and materials.
POPULAR PLACES TO BUY BANARASI SAREES:
In today's scenario these sarees can be bought from anywhere, even we can buy it in online. But as mentioned above authentic sarees can be bought only from Varanasi as per UP Government.
Time and Tide waits for none, so don't waste your time start shopping Banarasi sarees and feel like Queen.