Juda hairstyle is the go-to style while wearing a saree. It is simple, neat and the perfect hairstyle for every occasion. There are so many types of buns to choose from which makes this a good alternative for loose hair style or braids.
Judas also give you a casual look and keeps your hair away from your face and lets you work freely. Juda hairstyle can be enhanced with a string of Jasmine flowers and you can rock the ethnic look.
Juda is nothing but a Hair Bun. They are simple and yet look very elegant while wearing sarees. They help to create a fine balance between formal and casual look.
The Popularity of Juda Hairstyle
Juda hairstyle is equally popular in the North and South of India among women. The reason for the immense popularity of this hairstyle is its versatility and adaptability. Juda hairstyle, which was once regarded as Granny's hairstyle has now gained popularity  even among the youth.
With so many options like messy bun, half bun, braided bun and many more to pick from, the women of this era are spoilt for choices. This is a preferred hairstyle for heavy sarees as they can show of their grand blouses with deep backs.
It also helps to stay cool in silk sarees and prevents sweating. This style is also easy to carry off with a saree and it is a great option to flaunt your saree, hair and body. Juda hairstyle is a cool combination of comfort and elegance.
Juda Hairstyle Types
Try these juda hairstyles with sarees to steal the limelight of any Indian festival or wedding.
1. Jasmine Juda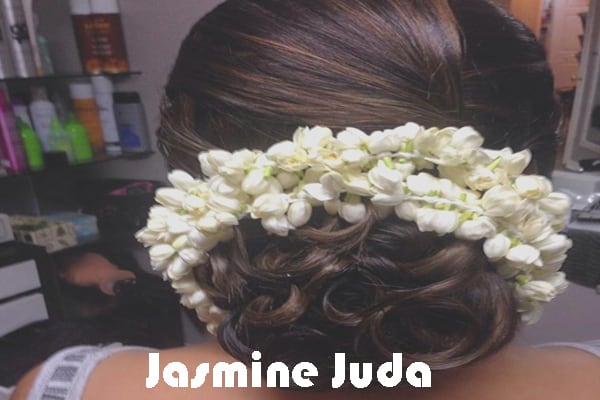 This is the most elegant juda off all. Beautiful as well as fragrant style. Make a simple bun and pin it up near the nape of your neck. The front can have a middle partition and you can wear a maang tikka to increase your traditional quotient. Take a string of Jasmine flowers and wrap it around your bun and secure it with hair pins. You can also insert small roses in the bun to make the juda look even more elegant.
2. Pouf Juda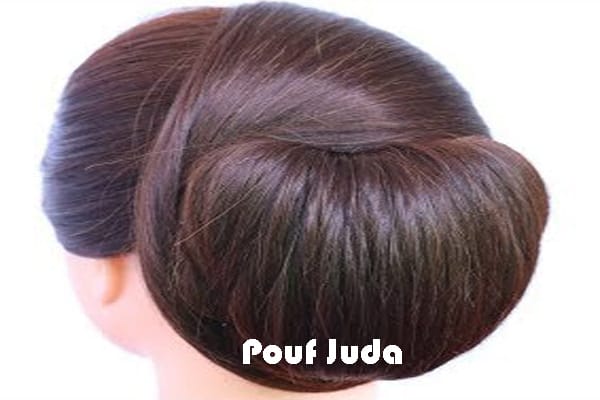 This is one of the most photogenic hairstyles. Make a pouf at the front and secure it at the crown of your head. Put your hair into a bun at the back of your head. The pouf will give you a chic look while the bun will keep your hair in place and provide comfort.
3. Braided Juda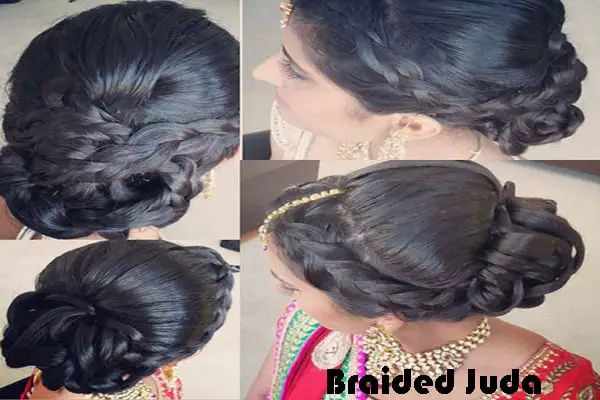 Make small braids from the crown of your head towards the back and pin it at the side of your head. Pull the rest of your hair into a low ponytail and braid it. Roll the braid into a bun and secure it well. Place the bun neither high nor low  at the back of your head. This is a very manageable bun and looks very elegant. It can be worn with a saree as well as a Anarkali dress.
4. Half Juda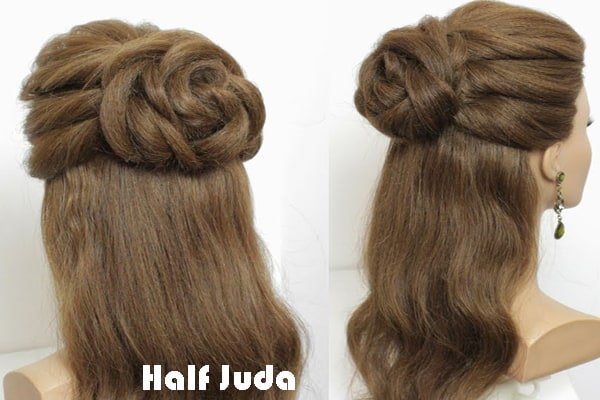 This is a latest style in which the hair is divided horizontally into two. The top part is rolled into a bun, while the lower part is braided. Decorate the braid with flowers to enhance the look. This is perfect hairstyle for bridal sarees.
5. Low Rose Bun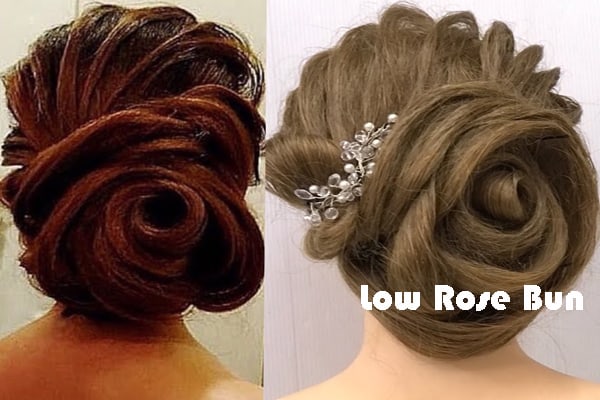 A low rose bun is one of the most elegant judas ever. Decorate your bun with curls and pin rose embellishments or even a real rose. This looks great for gowns and is an extremely elegant style.
6. Sectioned Bun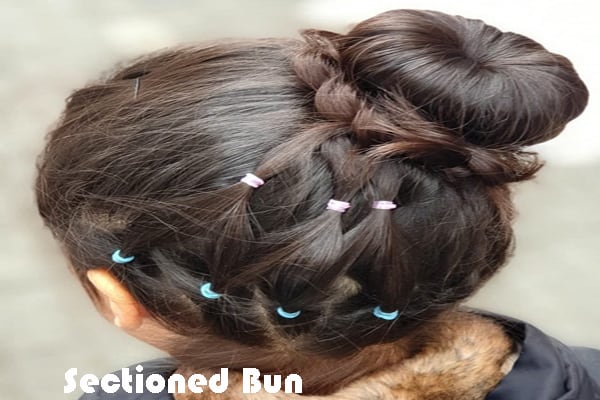 In this type, a small bun is created over which a small portion of hair is twisted well to create the impression of a second bun. This can be enhanced by adding special clips and embellishments made for juda. This is great for functions and occasions in which you want to look outstanding.
7. Princess Juda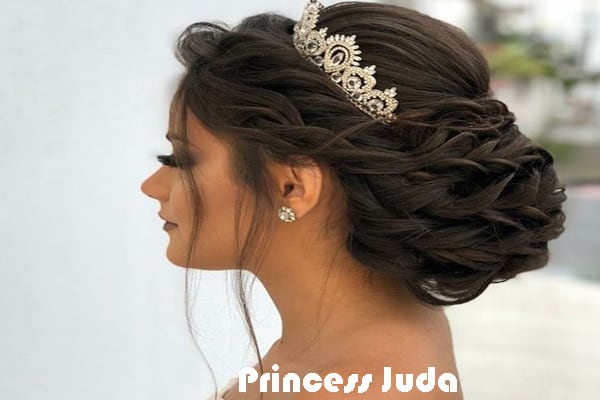 If you are looking for a nice and rich juda for your wedding reception, then this one is for you. Create a tiara braid at the crown with side parting at front. Then, you may use hair extensions to create curls over your bun which will give a sophisticated look. A pearl or stone maang tikka and a other embellishments will really give you a Princess look. This juda looks amazing with lehengas.
8. Messy Juda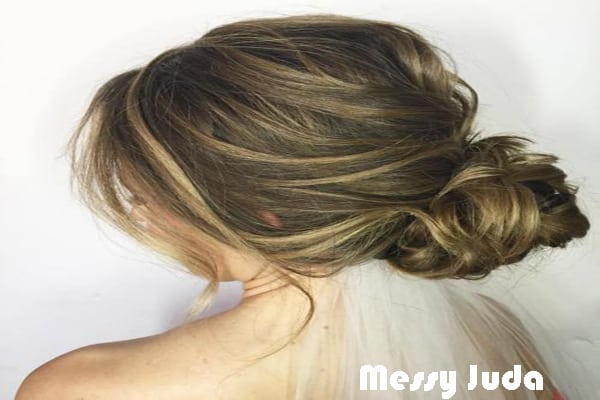 Messy buns are recently in vogue. Carefully made careless buns never fail to steal the show. If you light coloured hair, then you can rock this style. It is made with curls which merge seamlessly into a high bun at the back. They go well with western gowns and party wear sarees. Leave some bangs on your forehead to get an effortlessly stylish look.
9. Simple Juda
If you have long hair but less time, then take a neat side part and pull your hair into a smooth low bun above your neck. There are many bun sponges and supports available in market, using which you can create a perfect round bun. Pin a string of flowers around your bun to finish the look.
10. Twisted Juda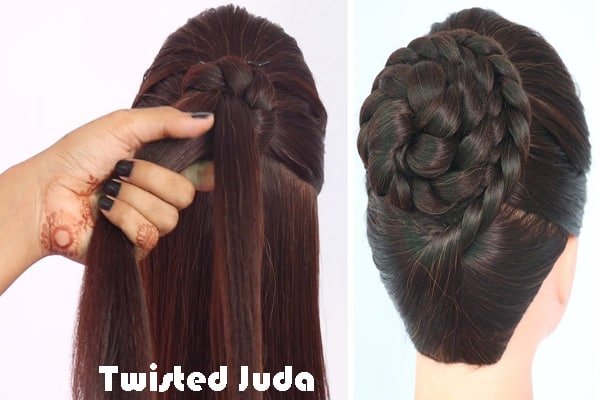 This one is similar to the braided juda, except the fact that it has twists not braids. Twist small sections of your hair from the front till the back of your hair and secure it with a hair pin. Twist the rest of your hair into two and the roll it to form a bun. A low bun will look good. This juda looks elegant for long gowns for evening parties.
Juda Hairstyle Step By Step
Juda is the to-go hair style if you are in a dilemma or just don't have the time for some intricate hairstyle. Juda is a simple hairstyle which gives you and sophisticated look. Follow these steps to make a classic juda hairstyle.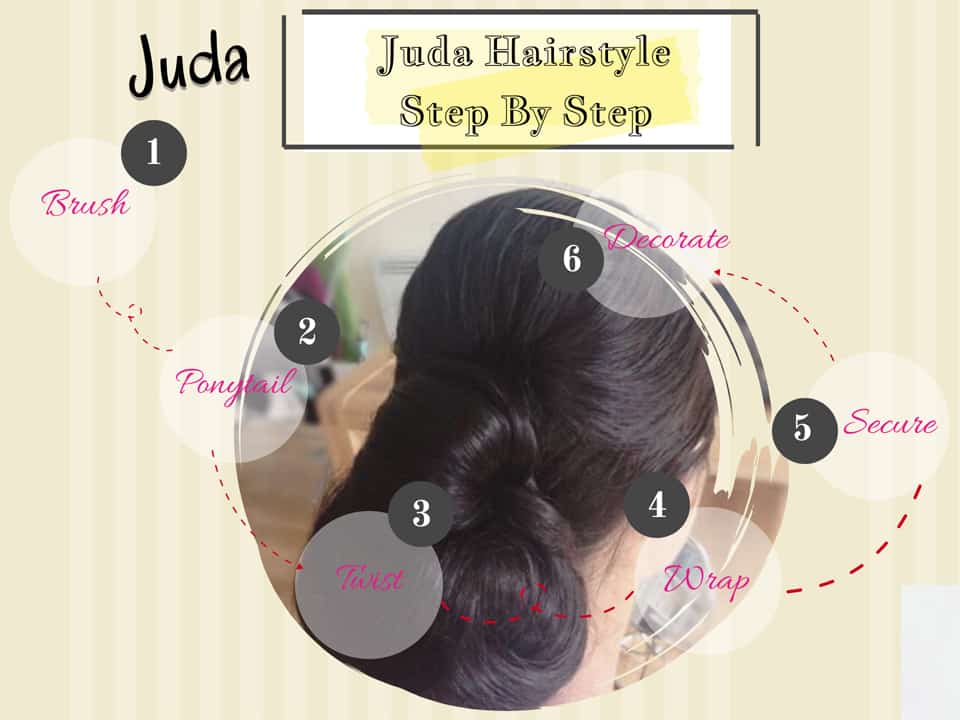 Step 1: Brush
Brush your hair properly free of all tangles. If you have frizzy hair, then use a conditioning serum. Ensure that your hair does not have any knots or tangles.
Step 2: Ponytail
Tie your hair in a low ponytail using an elastic band at the nape of your neck.
Step 3: Twist
From the base of the ponytail, twist your hair loosely till you reach half way. Then, roll that twisted portion into a bun and tuck the rest of the pony through the bun and let it hang from it. Secure the bun using hair pins. Let the bun rest at your nape and is not too loose.
Step 4: Wrap
Now, take the half pony hanging from the bun and wrap it around the bun tightly for a formal look, and loosely for a voluminous look.
Step 5: Secure
Secure the entire bun with hairpins. You can also use hair spray to ensure your bun stays the same way all day long.
Step 6: Decorate
Finally, you can use many hairclips made for buns to decorate it. You can also use string of jasmine around your bun if you are attending a traditional event. This would increase the beauty of the bun. You can also experiment with the front, by making your bun with a pouf, centre part or a side part. You can also braid the pony tail to get a braided bun.
Conclusion:
So if you want an elegant saree which will help you rock thee traditional saree look, then the juda style for your hair is your saviour. It is simple, beautiful, versatile, easy to make and maintain and thus, it ticks all the right boxes and without any doubt is the favourite hairstyle for women.