Onam sarees are recognized and loved nationwide. People from outside India also adore its simplicity and looks. The saree originally hails from Kerala. People from the south refer to it as Kasavu saree. Kasavu means gold thread or zari. Kasavu is the main identification of Onam sarees.
Onam is one of the most auspicious occasions for the people of Kerala and Onam sarees are mainly worn during Onam festival.
The other reasons why people collect Onam sarees are when there is someone's wedding, engagement, or other religious ceremonies. Let's find more in detail about everything related to Onam sarees.
HISTORY OF ONAM SAREES: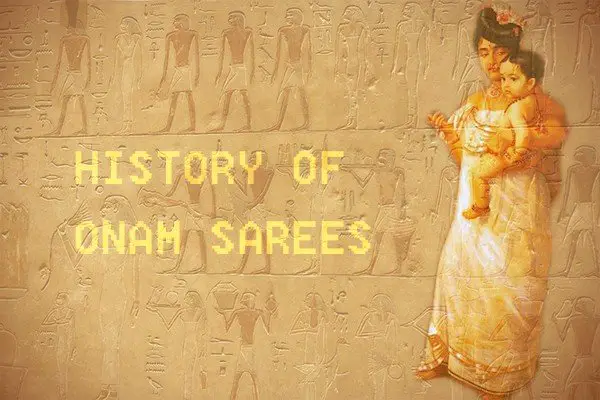 As we stated, Onam sarees are originally from Kerala. These came into existence under the attention of His Highness, Maharaja Balaramavarma, and his chief minister, Ummini Thampi.
The invention was made in the early 19th century. It can be said that the style of draping the saree earlier was different and the styles kept changing with trend and time.
One interesting fact to know how Onam sarees gained a global presence in less time was due to Vaso Da Gama. When he reached Kerala, barter was a prominent system to close business deals.
Women from the royal and upper-class families traded these sarees in barter. If you read some Buddhist pieces of literature, you will find references to these sarees referred to as 'Sattika'.
Presently, Onam sarees are not just religious attire for women from the south; these are fashion statements to many celebrities and artists from the entertainment industries.
ONAM SAREES SPECIALTY AND FEATURES :
The Kerala Kasavu Saree is a hugely popular traditional saree that represents the beautiful state of Kerala and its rich culture.
One of the best ways to identify Onam sarees is the white or cream crisp six yards cotton with a golden border. Onam sarees have a unique texture and elegant look.
Due to their specialty, these sarees have always been a great opportunity to trade-in business. Onam sarees are symbolic cloth that represents Kerala's tradition and culture.
If we talk of history, women in the past wore two-piece cloth named 'Settu Mundu'. Kasavu or Sattu is added to a mundu which is referred to as Dhoti and together the term is known as Settu Mundu.
Kasavu sarees usually take 4 to 5 days in the making, however; the heavier the border or work, the more time it will take. Thus, the price may also vary as per the work and motifs.
ONAM SAREE DESIGNS :
One of the best ways to identify Onam sarees is the white or cream crisp six yards cotton with a golden border. Onam sarees have a unique texture and elegant look.
Due to their specialty, these sarees have always been a great opportunity to trade-in business. Onam sarees are a symbolic cloth that represents Kerala's tradition and culture.
You can combine the white or cream Onam saree with a different-colored blouse as well. The designs can be checked online and inspired.
From traditional weavers to today's designers, Onam sarees have come a long way. Gladly, these sarees are in oodles of designs available today.
ONAM SAREE HAIRSTYLES :
Before we discuss the designs, let us remind you that Gajra and lots of flowers are a must to go with Onam sarees. As these are worn on special occasions, the hairstyle has to be well thought of too.
You may try some of the most preferred hairstyles like the Donut Bun, Gajra Bun, Wavy Floral Thick Bun, Open Curlz with some flowers, Braid (long or short) decorated with flowers, Mogra braid, Bubbles Braid, Partitioned Braid, Fishtail Braid, and more. Let's discuss these a bit more in detail.
Gajraa Bun:
The classic gajra bun is an all-time favorite for women on Onam saree! To add more style, you can make the bun a bit puffy and accessorize the bun with gajra like a crown.
Donut Bun:
One of the easiest and quickest hairstyles is Donut bun. This traditional bun goes amazing if you wrap it with a floral wreath. Donut buns go well on Onam saree and floral jewelry.
Wavy Floral Thick Bun:
Wavy buns can be breathtaking as these create an oomph effect on the looks. As the color of Onam saree is white or cream, you can make a perfect match by adding some white flowers on the bun.
Open Curlz:
If you wish to break free from the monotony in looks, you must try the open curlz hair style on Onam saree. Add real flowers or a combination of curls and puff on the crown area to get a graceful look.   
Braid (long or short):
Long or short braids can anytime come handy to flaunt the best looks on bridal Onam looks. The hairstyle can knock down any person with beauty and grace. Add some accessories to make it look perfect.
Mogra braid:
A braid completely covered with Mogra makes the best choice on Onam saree. We bet this is surely going to turn some heads towards you at the venue.
Bubbles Braid/Fishtail Braid:
Bubbles braid is one of the most innovative hair styles that go amazing with Onam saree. To add a twist, you can also try a fish tail and create small bubbles to add to the looks. This style is loved by women in Kerala during family events.
Partitioned Braid:
Partitioned braid can make anyone fall for you! These look amazing with flowers added. We bet the hairstyle looks a chic look on Onam saree.
ONAM SAREE ACCESSORIES :
Onam sarees are incomplete with flowers and jewelry. These also have some well-thought combinations that women die for. Jhumkas are perfect on the modern contemporary Onam saree designs.
You must look for keywords and search for celebrities like Kangana Ranaut and Sonam Kapoor for the jhumka example.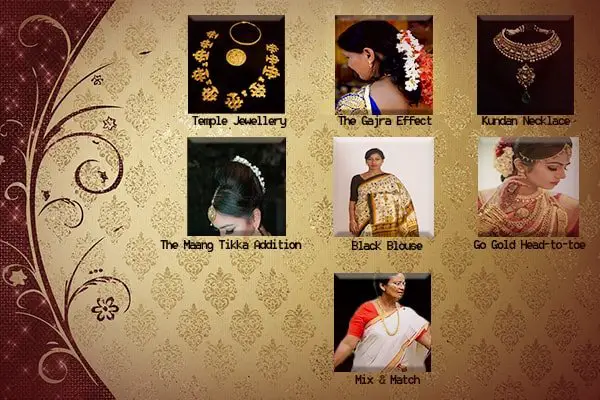 Gold is another metal that goes as a perfect match with Onam sarees. Any happy occasion is incomplete without some glitter and gold. A few examples in gold jewelry with Onam sarees include bangles, necklace, maang teeka, and earrings.
Some more accessories to keep in mind are anklets, rings, hair accessories, and waist belt. We suggest keeping it simple and select few of these so that the beauty of Onam saree is sustained.
ONAM SAREE BLOUSE DESIGNS :
Onam sarees are known for their classy and elegant style. Thus, the blouse cannot be neglected either to make a perfect look.
Kasavu sarees (Onam sarees) give you a confident look if you go for the same traditional blouse. The classic white and golden blouse is all about rich culture and tradition.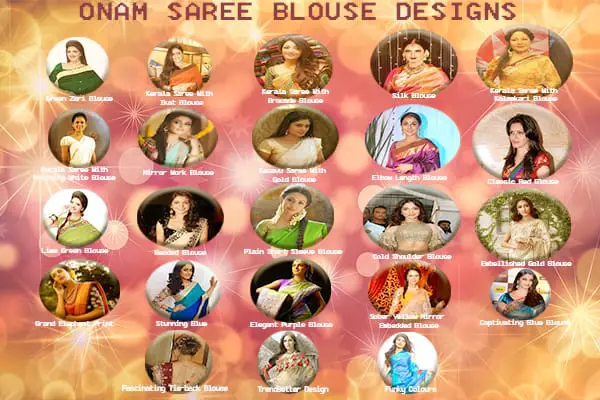 Other options to consider in Onam blouses are if you think of an offbeat design. Some even love the idea of Kundan work or stonework on the blouse sleeves and borders.
Also try the puffed sleeves, sleeveless design, or a contrasting blouse for a magical change. We bet it will transform your complete personality.
PRICE OF ONAM SAREES :
Original and traditional Onam sarees range from INR 2200 and may go up to higher range if the designer has his/her creative touch.
As we discussed, the higher you customize the work on these sarees, the more it will cost you. Few Onam sarees online make an amazing deal as these range from few hundred bucks to a thousand rupee too.
The other reasons why there would be price variations is as per the quality, hand work, machine work, and more… You may think of what type of Onam saree design you prefer before you decide to finalize one. Also keep a budget in mind so that it is better to select either a traditional or designer-made.
FINAL COMMENTS:
There are array of ways you can mix and match to make a perfect Onam saree attire look for you. Kasavu sarees are best to make you look graceful, elegant, and classy regardless of how you experiment with it.
Their ravishing designs do not look for any reason to put your confidence down; in fact these are going to nail it when it comes to looks and appearance!