One of the biggest festivals in 'God's Own Country', the state of Kerala, Onam is traditionally celebrated to mark the return of King Mahabali, whose spirit, as the legend goes, returns to Kerala during the Onam period.
Onam is well renowned for the grand feast called, Onasadya. Traditional sarees are the first thing that comes to mind when speaking of Onam celebrations. From Kerala Kasavu sarees to handwoven Kanchipuram silk sarees, these Onam dresses bring a vibrant and colorful touch to the occasion. You can never go wrong with an Onam saree as you deck yourself in traditional jewelry and ethnic accessories for Onam celebration this year.
The thick or thin golden border is known as kasavu sarees. These sarees are perfect to grace up every occasion. Generally, these sarees are paired up with a colorful blouse. Over a period of years, there are a lot of variations added up in this sarees. These designer sarees do look good when worn with minimal jewelry.
In contemporary times, the motifs are inspired out of the floral designs or generally are nature inspired. Kasavu sarees are generally based on earthy designs that reflect the true work of the artisans. In this form of sarees, even the minute's aspect is well covered. You may often find Kerala sarees in pastel shades. When it comes to fashion, this state is well recognized for its true taste and pure elegance.
HISTORY OF ONAM SAREES: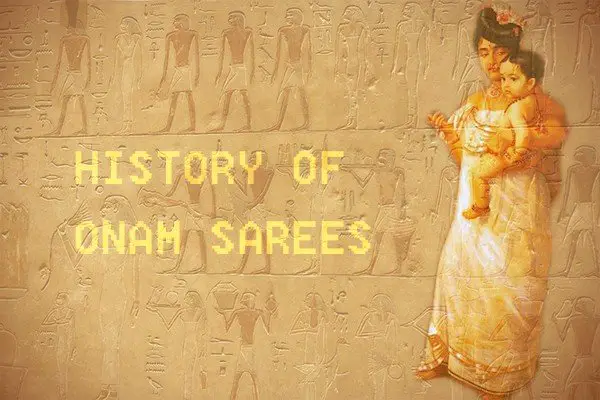 Kerala Kasavu that was originally called 'Mundum Neriyathum', traces itself method back to the Buddhist era. Slowly and bit by bit this ethnic cloth unfolded its essence to the southern elements of the Republic of India and have become richly outstanding in Kerala. However, the design of the material conjointly finds its original essence from the Graeco-Roman culture that was called 'Palmyrene'.
Golden borders on onam sarees have currently been replaced with completely different sorts and color of zaris and therefore the work and styles that represent the standard culture, currently crafted within the essence of Resham, enhancing the design and glamour of the sarees.
This design bestowed on the sarees symbolized and outlined the temperament and cultural roots deep within the soil of Kerala. The initial essence of this cloth felt an obvious presence delineate through the outstanding sketches of Painter Raja Ravi Verma.  
The look of this cloth conjointly found its quality within the mythological epics like Mahabharatham that delineate Shakuntala in several Kerala Kasavu attires. Kasavu embroidery has gone on the far side saris by acquisition themselves onto clothes like trousers tunic, fashionable 'Onakkodi' apparel, that could be a mix of recent and ancient look, skirts, kurtas etc., 
Kasavu borders have conjointly been creatively replaced by Diamonds and check formed motifs and styles. 
ONAM SAREES SPECIALTY AND FEATURES :
● The Kerala Kasavu Saree is a hugely popular traditional saree that represents the beautiful state of Kerala and its rich culture. The highlight of this magnificent garment is the saree border, a dazzling golden thread work that makes the Kerala Kasavu saree one of the best regional Indian sarees.
● These timeless sarees have a long history, are considered auspicious and are worn by women during Kerala's New Year. The sarees are well known for being hand woven with off white or cream color cotton threads.
● White and gold is always considered a traditional combination and is uniquely blended in the creation of Kerala Kasavu Sarees. Made with the use of off-white cotton, Kerala Kasavu Sarees have a classic traditional appeal. Gold zari work has primarily been used to create an exciting pattern on the border of the Banarasi silk saree. The brocade work on the bridal saree works as a fine accent that accentuates the richness of the attire. The border is an important part of the saree. A well-designed border gives a royal and unique appeal to the saree.
● Kerala Kasavu sarees, like other festive sarees, are worn during important festivals and religious events. Many artists and designers are working to help the traditional weave grow and are giving it a modern twist. They are experimenting with different weaves, colors, and designs. The weaving process of this saree type has now evolved from the traditional method where the golden zari threads are used along with a variety of designs, works and zari colors to bring more contemporary diversity. Calico mill is that the oldest manufacturer of Kerala
ONAM SAREE DESIGNS :
Coming to the material of the Onam sarees collections, they were at first designed in materials plain-woven by hands like cotton silk or cotton. However, nowadays, they're on the market in numerous different materials like pure silk that provides it a designer look. In conjunction with the material, the sarees are additionally given a thick golden border that is formed out of gold threads.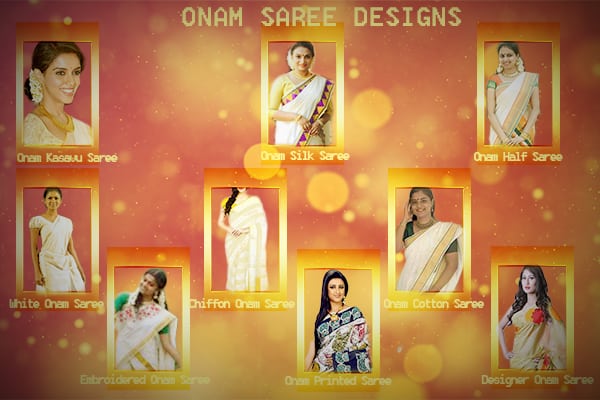 ● Onam Kasavu Saree
● Onam Silk Saree
● Onam Half Saree
● White Onam Saree
● Chiffon Onam Saree
● Onam Cotton Saree
● Embroidered Onam Saree
● Onam Printed Saree
● Designer Onam Saree
ONAM SAREE HAIRSTYLES :
Kerala sarees are characterized by their serene white color and easy borders. there's not abundant you would like to try and do so as to appear stylish in an exceedingly Kerala sarees. 
They're therefore distinctive in their simplicity that they're going to cause you to look beautiful anyway. however if you'll be able to attempt the correct hairstyle with Kerala sarees, then you'll be able to gain some brownie points.
Long Plait, Neat Bun, Side swept Hair and Loose Pony. Mostly, ancient South-Indian hairstyles look nice with this sort of sarees. the standard pony or roll hairstyles adorned with flowers look nice with this ancient apparel. However, not all hairstyle with Kerala sarees ought to be ethnic South-Indian hairstyles. you'll be able to additionally attempt some fashionable or innovative hairstyles with Kerala sarees.
ONAM SAREE ACCESSORIES :
'Onam', a competition that's widely celebrated in Kerala witnesses the wonder of Kasavu decorated attires among the young and also the older ladies particularly whereas collaborating in their folk dances. Now, with the trendy patterns and styles in these attires, it will be treated as a joyous costume further as everyday outfit ever occasion and season throughout the year. 
Ancient Copper jewelry and even pure Gold jewelry with a chromatic tinge go well with this material. When one accessory with gold jewelry and matches it with a classy combination of shoes or heels, they enhance the wonder of those sarees.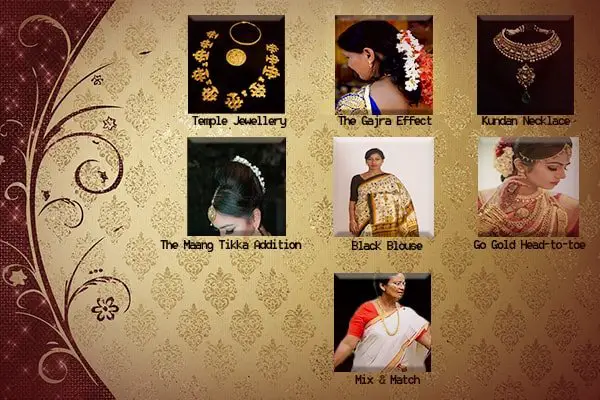 ● Temple Jewellery: If you are planning of your Kerala sari with the clever use of Temple jewelry. you'll be able to even add a Bengali bit to the ensemble with a giant red bindi. Wear your gold jewelry in layers and keep your hairstyle easy.
● The Gajra Effect: If you do not need to flaunt your jewelry, attempt a straightforward nevertheless effective accessorizing tool Gajra. Rather than the regular red blouse, get an inexperienced blouse to wear together with your Kerala sari. it'll amp up the planning of your sari. and also the open gajra vogue can additional intensify your look.
● Kundan Necklace: Attempt the bridal jewelry charm. Matcha multi-layered Kundan jewelry together with your Kerala sari. Add ornate earrings and gold bangles. Wear your hair accentuated breadstuff.
● The Maang Tikka Addition: You'll be able to build your Kerala sari a small amount a lot of ancient by adding a complete Kundan jewelry set thereto. Add matching maang tikka, jewelry, and earrings to the sari. decide matching bangles over gold.
● Black Blouse: Whereas everybody matches their Kerala sarees with a red, golden and white blouse, you go a small amount out of the box and match a black blouse together with your white and golden sari. Add a radio carpal joint watch and a bedded gajra to accessorize well.
● Go Gold Head-to-toe: If you're keen on gold, then this look is therefore for you. Drop all colors and solely assume gold. Wear a golden blouse together with your sari and add classic gold jewelry set to the present ensemble.
● Mix & Match: You'll be able to conjointly attempt going easy with combine and match. Go vibrant rather than plain white. Add an inexperienced blouse and inexperienced bangles. Wear your hair center-parted and half-pinned. This look is simplest of all
ONAM SAREE BLOUSE DESIGNS :
Whether you select one from the latest Onam sarees or go with a traditional one, the saree can be worn with both simple blouses in silk or cotton silk material, or given a designer look too. The sarees are mostly combined with red blouses or green blouses, yet today they are given golden and decorative blouses that enhance the look of the saree. The simple blouses are now given fancy neckline work with beads, mirror work, etc. That gives the saree a gorgeous outlook. Here are a few suggestions from which you could pick one.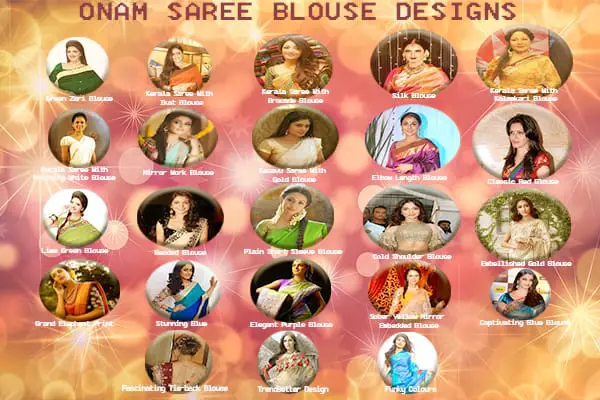 ● Green Zari Blouse
● Kerala Saree With Ikat Blouse
● Kerala Saree With Brocade Blouse
● Silk Blouse
● Kerala Saree With Kalamkari Blouse
● Kerala Saree With Matching White Blouse
● Mirror Work Blouse
● Kasavu Saree With Gold Blouse
● Elbow Length Blouse
● Classic Red Blouse
● Lime Green Blouse
● Beaded Blouse
● Plain Short Sleeve Blouse
● Cold Shoulder Blouse
● Embellished Gold Blouse
● Grand Elephant Print
● Stunning Blue
● Elegant Purple Blouse
● Sober Yellow Mirror Embedded Blouse
● Captivating Blue Blouse
● Fascinating Tie-back Blouse
● Trendsetter Design
● Funky Colours
PRICE OF ONAM SAREES :
In today's scenario, the price of the sarees depends on the quality and style. The Onam Sarees price starts from Rs.400 and goes higher depending on the material and design.
STYLE YOURSELF WITH THESE ONAM SAREES :
Confused? this saree for Onam can be wrapped in various different ways. They can either be worn in the traditional style worn in Kerala or be wrapped with pallu on the left side shoulder. Another popular style the saree is worn in is the Namboothiri style which is carried out in the Southern part of India. For a finishing touch, the gold jewelry is added to the hands, neck, ears and of course, the maang tikka.
These kinds of sarees come with different colors, designs, and styles that leave you confused while selecting one for you. No doubt, the sarees for Onam generally come in white, but, off late, different colors and printed sarees with birds, God, natural scenes, etc. printed on it are very much adopted. So, Onam sarees are now available with the blend of traditional and modern designs.