Introduction
Amid the marvelous history of the land of Maharashtra lies a picturesque little town which is known as Paithan in Aurangabad. It is a place rich in cultural heritage, and the small town holds a mighty legend of creating Paithani sarees which are similar to the Marathi etho sarees.
It is a pure silk saree with a zari of silver and gold traces. It is a treasured heirloom of all Maharashtrian ladies. Being a gold saree with embroidery work all over it, it is available in incredible patterns and woven borders. No machine-made fabric is worth compared to the Paithani hand-made sarees.
Today, the art of creating handmade real Paithani sarees are dying, and it is time that we must keep it alive through our words. The uniqueness of this particular saree lies in its hand-made texture and skill by the master craftsmen of Maharashtra. Read on to know more about Paithani sarees.
History of Paithani Sarees
The art of creating hand-woven Paithani sarees dates back to 200 years ago. It came into light from the old city of Pratishthan which was under the control of the Satavahanas ruler Shalivahana who are now popularly known as Paithans. The Paithani sarees also drew the attention of the Nizam of  Hyderabad who formerly executed various trips to Paithan for this sole reason.
The Paithani saree symbolizes the spirit of the real Maharashtrian culture. Back then in the Satavahana Dynasty, the precise Paithani silk sarees were prevalent among the Paithans of Aurangabad.
It is a sad fact that the Paithani weaving business was seen to encounter a setback with the Industrial Revolution along with the origination of British Rule.
However, in the 17th century, the Peshwas gained control over themselves to support the craft and finally made way for a settlement of Paithani weavers in Yeola, which is now the prime manufacturing hub of Paithani sarees. Since the inception of Peshwas, the Paithani sarees Yeola tradition was said to witness a new lease of life.
Where are Paithani sarees made and materials used?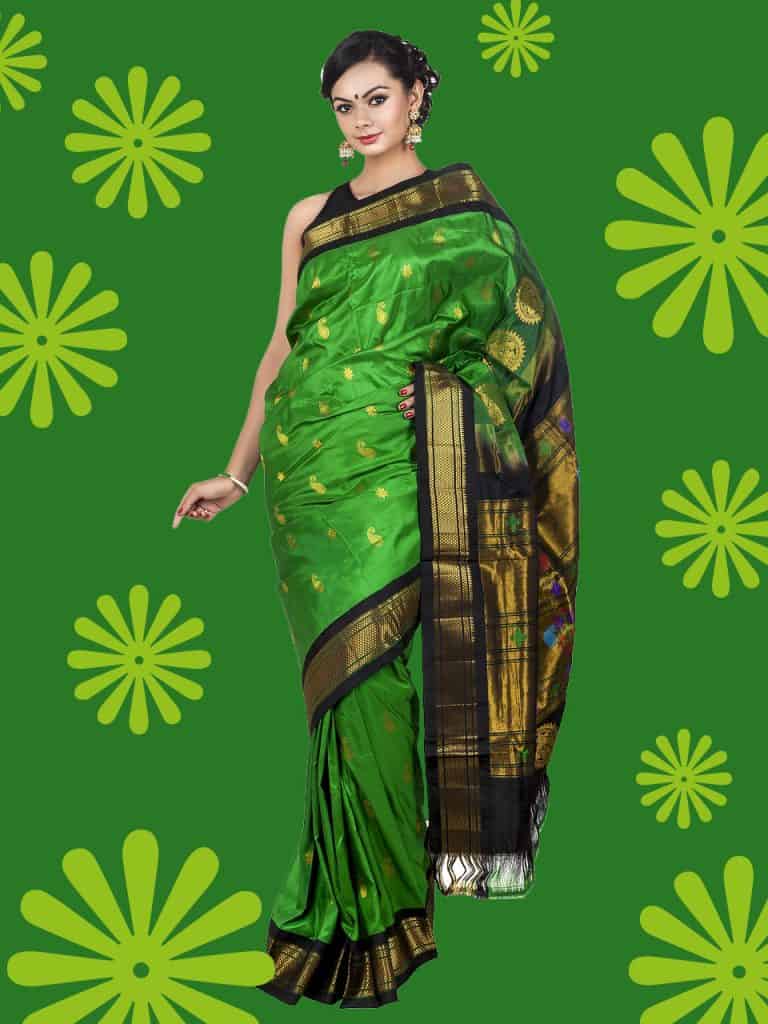 One can see the making of Paithani sarees in Aurangabad, Maharashtra where the weavers weave them with hand. They create it using very delicate silk, and one can consider it as one of the expensive sarees in India.
A Paithani saree comprises silk thread and zari work and resemble the same on both sides. A saree which is not the same on both sides and displays reverse threads on the opposite side is unmistakably not a Paithani saree. The popular Motifs weavers use in a Paithani saree are peacocks, lotus, parrots, flowers and vines.
Moreover, this saree available in some specific colors ranging from red Paithani sarees to blue, purple, yellow, magenta, peach-pink and green Paithani sarees. It uses a distinct weaving process, and that is why no two sarees can be the same. You can always notice the minor variations in designs and patterns. Furthermore, weavers use vegetable dyes to color the threads.
Types of Paithani sarees
There will be a never-ending list if we start describing each Paithani saree type. There are countless designs, patterns, colors and variations of Paithani sarees in the saree industry. But, to provide you with an idea of the types of Paithani sarees, here is a list of some beautiful sarees which we have curated for you:
Tathastu Paithani sarees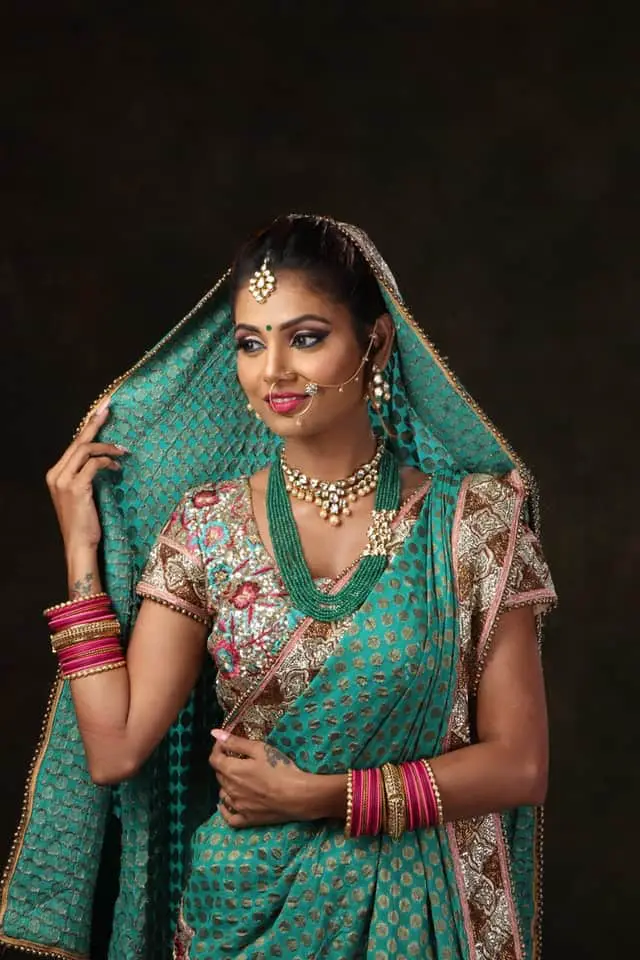 Tathastu is a label as well as a market leader who creates unique bridal Paithani sarees. It is a one-stop solution for all bridal necessities and demands related to sarees. The exclusive Tathastu showroom in Pune is famous for selling handmade Paithani sarees in Pune. It is a prime shopping destination for every bride in Pune.
All you need is to catch a glance once at the store, and you will know it is a Disneyland for every bride. The brand is famous for making wedding couture for women of all ages. If your marriage is nearby, you must visit the store once before your wedding arrives.
Cotton Paithani sarees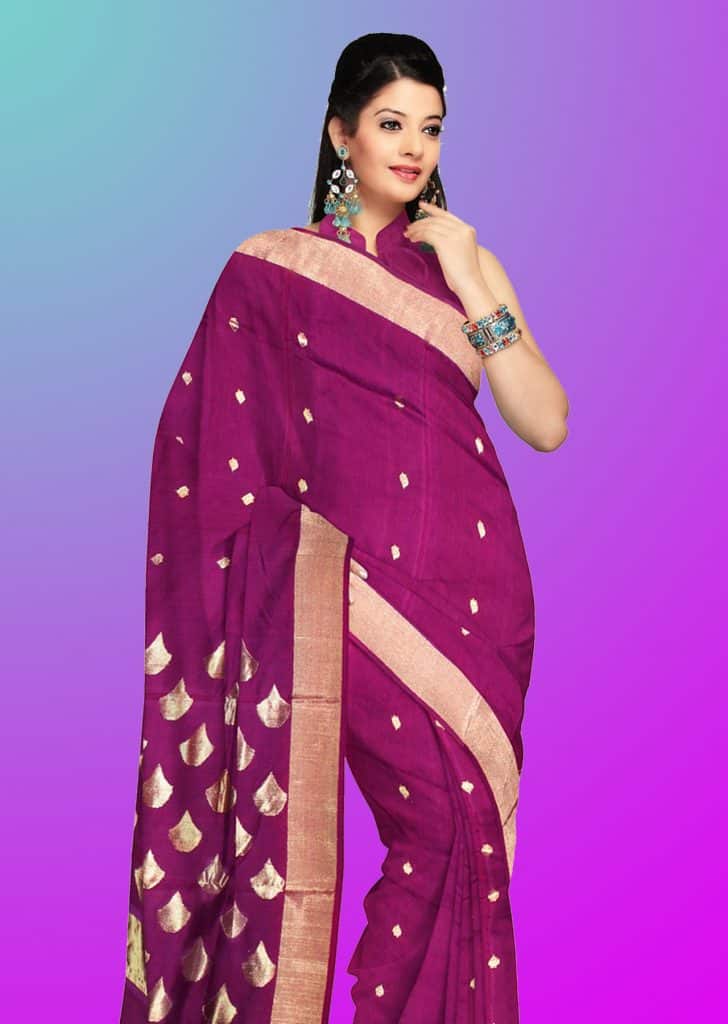 The cotton Paithani saree comes under the simplistic Paithani sarees. They are handwoven and makes you look ravishing and beautiful if you wear it with a matching blouse. Moreover, it resembles condescending and vivid with light zari borders and minimal design.
Generally, the designs weavers apply in a cotton Paithani saree is either a peacock or a parrot. But, it is the peacock most of the time. These are available at any saree store all over India, but it will be a wise decision if you think of purchasing it from  Yeola which is the original business hub of Paithani sarees.
Semi Paithani sarees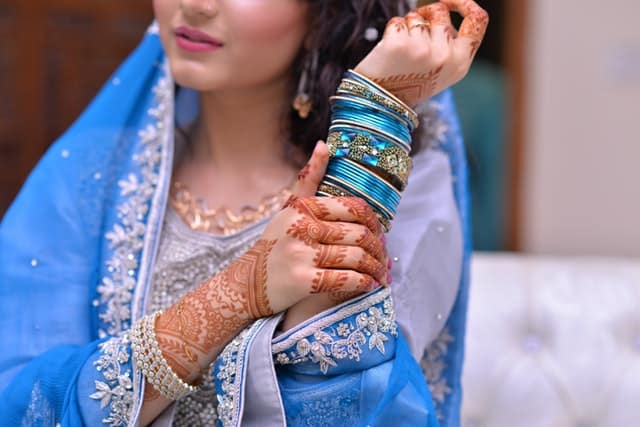 Semi Paithani sarees are sarees which are half Paithani and half other material. Usually, the other element is zardozi work or a heavy pallu. These saree types are mainly for party wears or festive wears. However, if the work is remarkably dense, you can likewise prefer it as bridal wear.
These sarees generally come with blouse-pieces of almost 6 meters length. It is one of the best quality sarees at an affordable price.
Peshwai Paithani sarees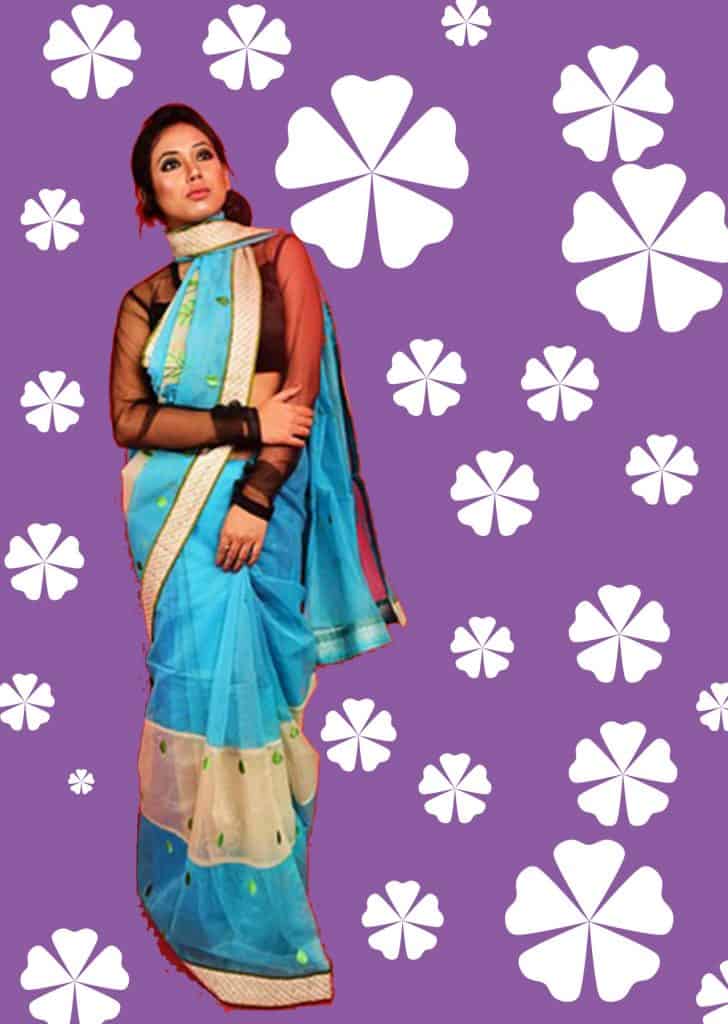 The Peshwai Paithani saree is the most beautiful saree from the heart of Yeola. It is further famous as Daagina silk. The name is given due to the intricate silk thread work at the borders and pallu of this particular saree. Generations of Yeola use their magic and creation to develop these beautiful sarees, and that is why they are so famous among the ladies of Maharashtra.
Furthermore, it has always been possible to draw the bride's attention by the wonderful creation of Paithani work by the weavers of Yeola. Therefore, you must consider purchasing one when you visit Maharashtra.
Paithani sarees Speciality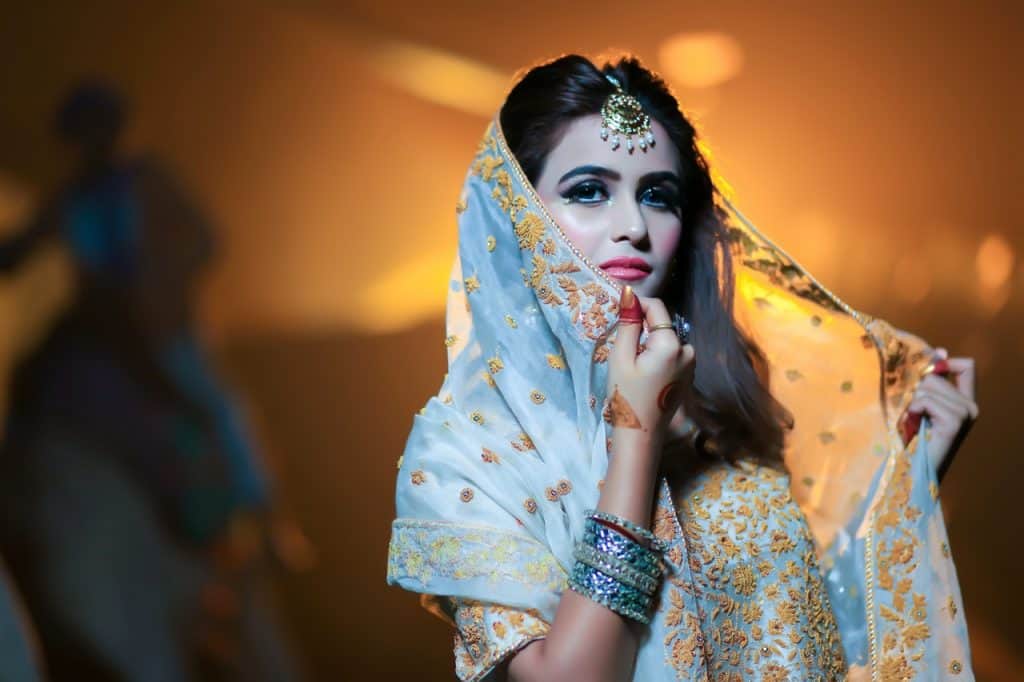 The distinct feature of Paithani sarees is that it is available in both nine and six yards. Furthermore, another particular characteristic of the saree is that it looks the same on both sides. It even looks the same on the border and the pallu.
Another extraordinary highlight is that it forms an unbroken part of a Maharashtrian bride's vesture.  It is because it does not lose its luster, unlike all other silk sarees. It means that it does not wear out or tear out at the folds. These are what makes a Paithani saree famous and well-recognized.
Paithani sarees blouse pattern
A blouse is an essential part of a saree. A saree without a blouse is unimaginable. Well-fitted and intricately designed blouses can enhance the appearance of the saree in various ways. Blouse styles with Paithani sarees come in a variety of patterns.
Among a plethora of Indian ancestral sarees, Paithani saree is a feeling of elegance. It shows true hard work of artisans and creators who use days of hard work to weave it by hand. Thus, it reflects a touch of class. Here are some blouse patterns for Paithani sarees which will perfectly go with your six-yard beauty quotient.
Maharani Style Blouse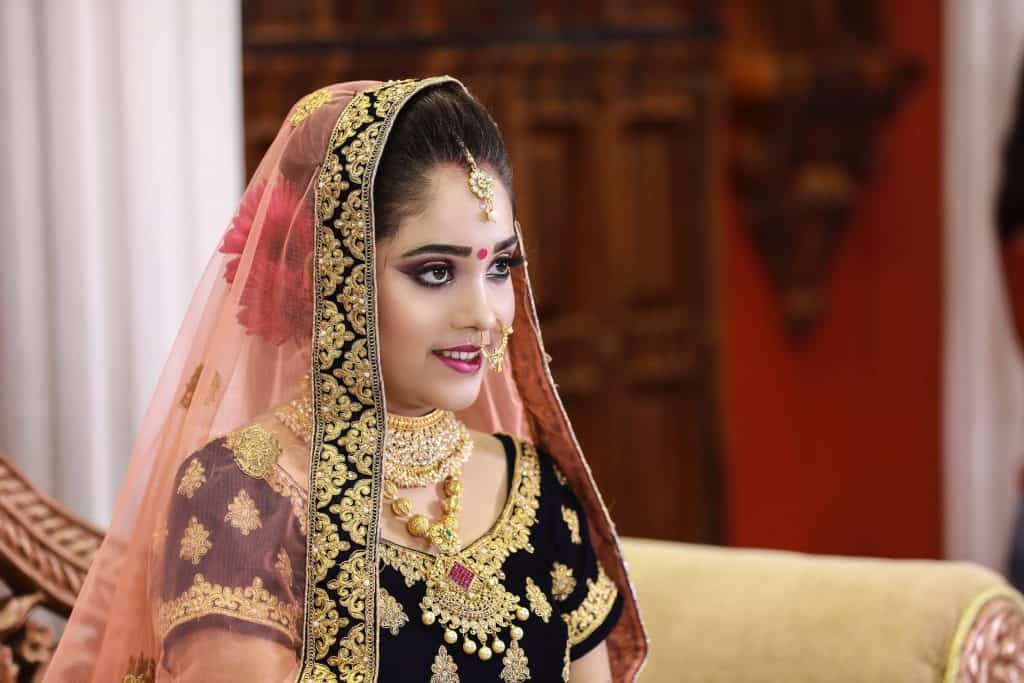 While choosing Paithani sarees over casual sarees, you unquestionably deserve to look no less than a maharani. Therefore, wearing a maharani style blouse with a Paithani saree will make you look graceful, and you will feel like a queen when you walk among the crowd.
Deep triangle-shaped blouse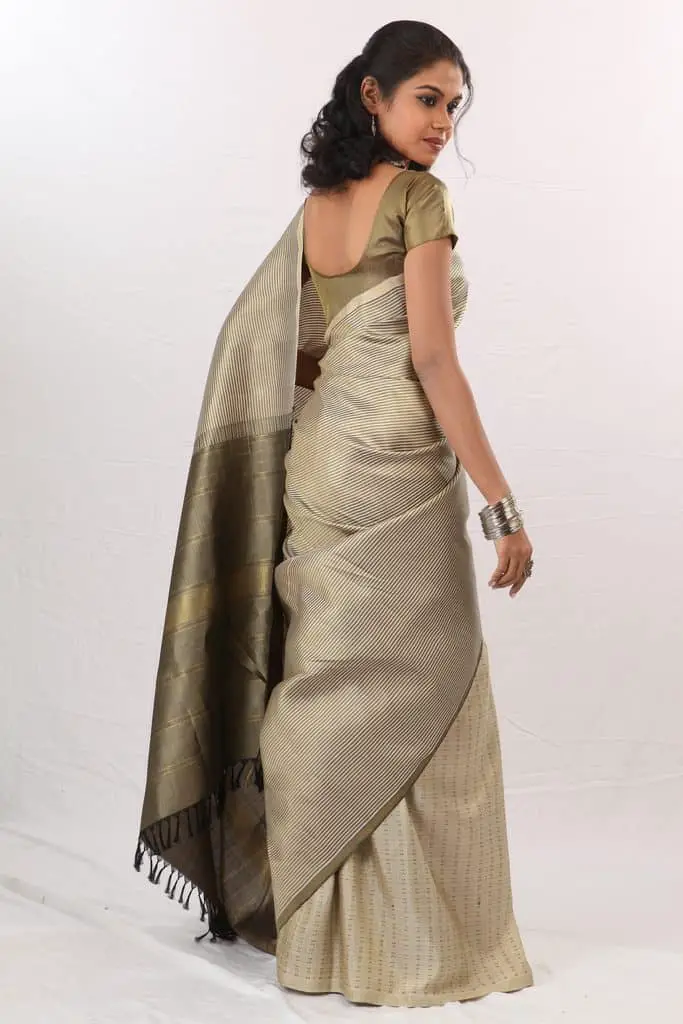 In case, you are planning to wear a Paithani saree for a unique occasion or your own wedding, you can do so by pairing it up with a deep triangle blouse. It will amplify your look to a greater extent, and you will look ravishing in this attire with perfect wedding hairstyle.
Puff sleeved blouse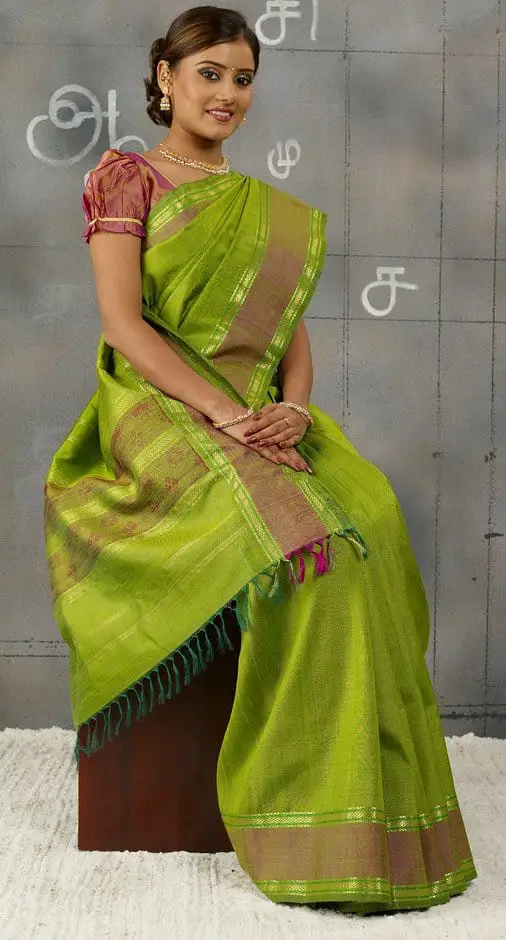 These days with the retro fashion back in trend, you can dress yourself up with the puffy sleeved blouse. It is the modern version of the fashion back in the '60s. This particular blouse will draw everyone's attention, and you will look gorgeous.
New Paithani sarees collection
Below are the popular sarees among the latest collection of Paithani silk sarees.
Blue gadwal saree with dual border
Fuchsia pink Paithani with a black border
Mustard Paithani with a blue border
Golden pearl Paithani with rich pallu
Pink Peach gadwal Paithani with peacock border
Red Gadwal Paithani with peacock border
Bluish purple Paithani with pink border
Two-tone turquoise Paithani with black border
Pink Paithani with green border
A Green Paithani saree in single color
Pink Paithani with rich pallu.
Simplistic or overcast created Paithani sarees are accessible in the store. These Paithani silk handwoven sarees makes you resemble beautiful with their zari edges and complex designed pallu. The specialization of these Paithani sarees are the originated pallus with a kaleidoscopic impression.
These are the ones among the latest running trendy sarees. If you want to purchase one for yourself, you can do so by navigating to some famous websites like Craftsvilla, Voonik etc. These websites comprise the latest collection of Paithani sarees at an affordable range. Therefore, the next time you are looking for buying something latest, look for the same.
How to wear Paithani sarees?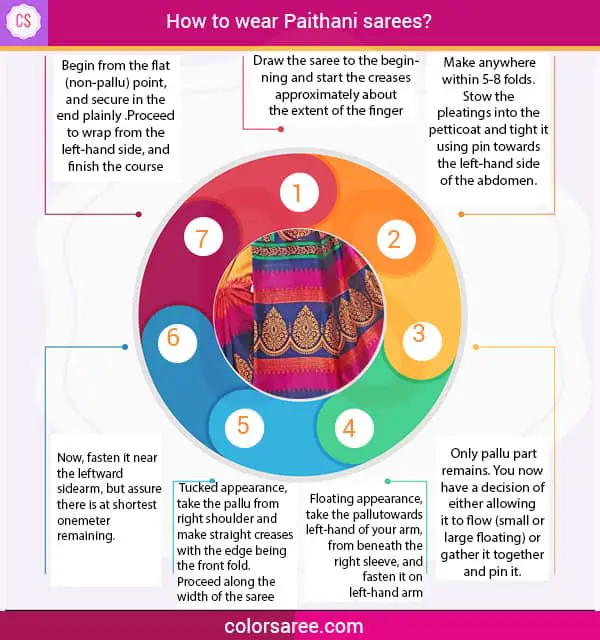 The Maharashtrian draping style of wearing a Paithani saree is same as a regular traditional saree. The only difference lies in the fact that you need to create thin pleats so that the looks even more beautiful and the designs are well defined. Furthermore, if you want, you can create a front pallu or a back pallu. However, a traditional back pallu looks quite elegant with a Paithani saree, not to mention about the traditional matching hairstyle to make the attire complete. Here is a step by step process to wear a Paithani saree:
Step 1: Begin from the flat (non-pallu) point, and secure in the end plainly near the abdomen button. Proceed to wrap from the left-hand side, and finish the course from back till you move to the end where you originally began.
Step 2: Draw the saree to the beginning and start the creases approximately about the extent of the finger range from forefinger to the thumb.
Step 3: Make anywhere within 5-8 folds, depending on the saree fabric. Stow the pleatings into the petticoat and tight it with a fastener pin towards the left-hand side of the abdomen. This method will help the saree remain unimpaired when you walk around.
Step 4: Now, only the pallu part remains. You now have a decision of either allowing it to flow (small or large floating) or gather it together and pin it.
Step 5: For a floating appearance, all you require to do is take the pallu towards the left-hand surface of your arm, from beneath the right sleeve, and fasten it on the left-hand arm. Keep it either at the forearm or move it till the edge.
Step 6: For the tucked appearance, take the pallu from beneath the right shoulder and make straight creases (approximately 5-6 inches) with the edge (if any) being the front fold. Proceed along the width of the saree.
Step 7: Now, fasten it near the leftward sidearm, but assure there is at shortest one-meter remaining.
Watch this video and you will know how to do it more easily:
Paithani sarees price range
Moved on from one span to the other similar to high-priced treasures, these antique sarees can fetch anywhere from Rs.7,000 to Rs.250,000. 
The sarees possess such a special value essentially because they are normally produced from real silk yarn and the zari craft on the edge is customarily rendered from real gold or silver. Paithani Bridal sarees generally possess expensive gemstones, pearls, and jewels stitched onto the hemline or edge.