Introduction
Ikkat is known as a dye pattern which textile experts use to design clothes. The methods of this particularly resist dyeing involve coating some portions of fabric to shield specific areas from penetration of the dye. These sarees are also famous as Pochampally sarees, and that is the reason why people often call them as Pochampally Ikkat.
It is popular as a traditional garment from Bhoodan Pochampally region in the Nalgonda district of Telangana. People often distinguish these sarees by their characteristic Ikkat reprints. Read on to know about Ikkat sarees in detail so that you get an overall idea of the extraordinary saree type.
Ikkat sarees history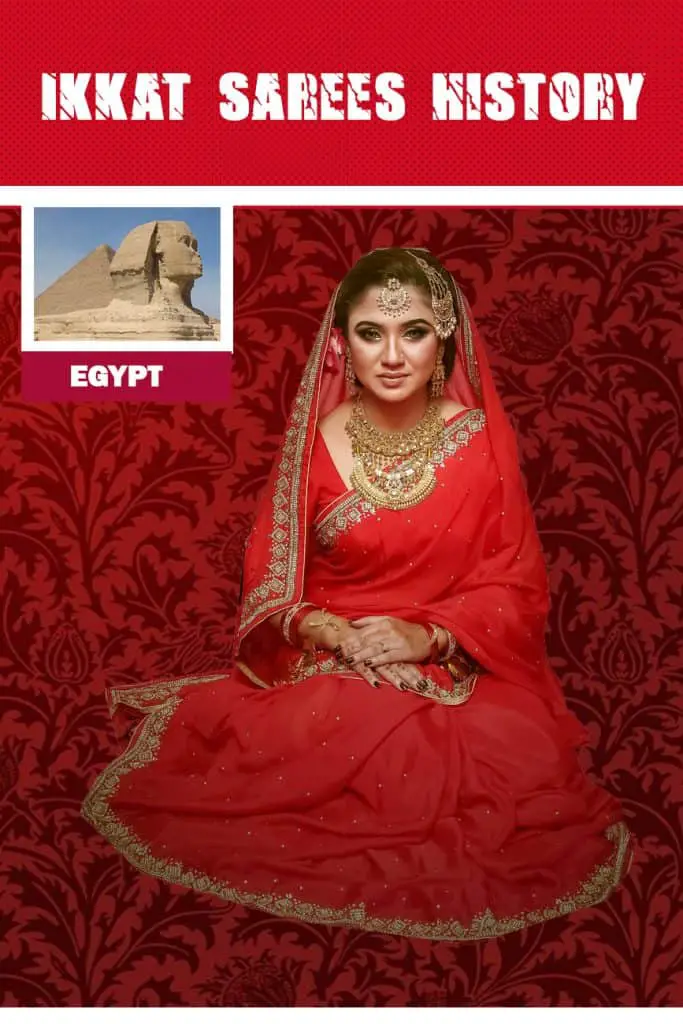 The Resist dyeing method of Ikkat sarees is one among the primitive techniques in the world. It dates back to the oldest fabric samples in Egypt. It is mainly strips of linen from the discovery by historians while unearthing mummies.
These fine strips were primarily dipped in wax material, and further designs and symbols were marked onto them by the aid of a sharp and precise stylus.
Furthermore, the pieces of linen were again dyed with the help of blood and ash and further washed to remove the surplus wax.
The ultimate product contained abstract patterns and designs all over the surface. In China, Asia this method is popular and is widely applied in the T'ang Dynasty.
This particular technique then emerged in India via the Silk Route. These sarees were extremely popular in the 1800s.
Businessmen across the silk route generally associated these designs with affluence and power, which extremely contributed to their popularity and fame.
Now, the technique of Ikkat is popular over at least 30 countries beyond all the continents. Therefore, it is globally famous and stretches beyond five regions of the World Crafts Council.
Ikkat sarees material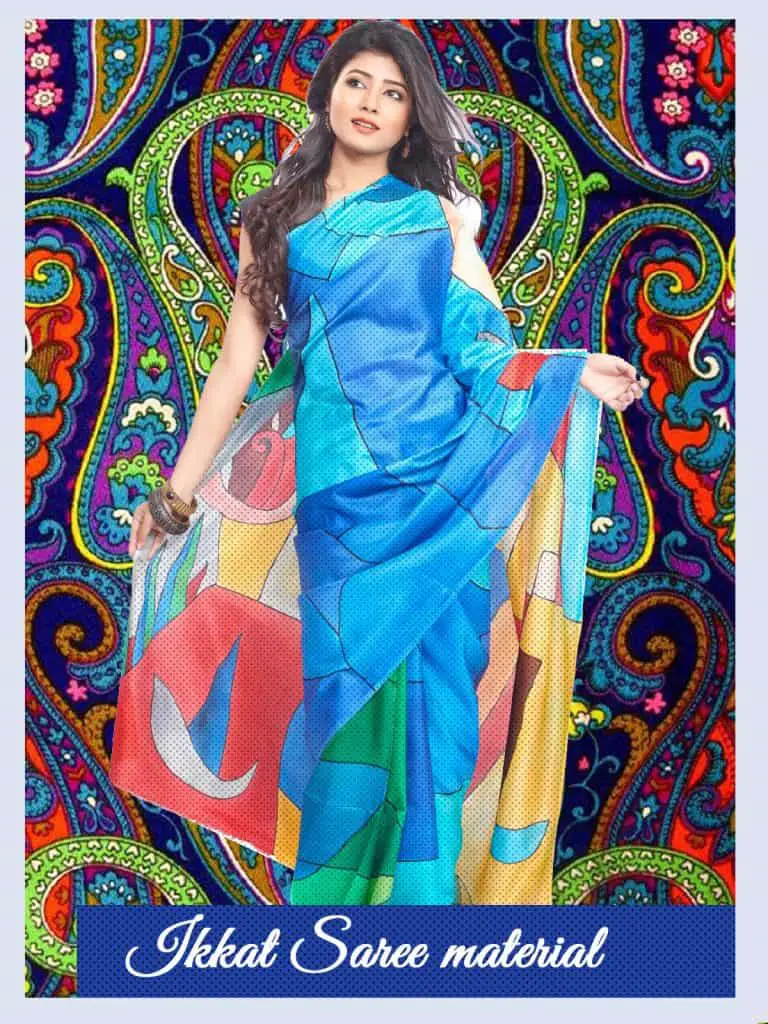 Ikkat sarees are also known as Pagdu Bandhu Baddabhasi which has an enriching history that dates back to almost 1970. The textile makers of Andhra Pradesh blended cotton with silk in the weaving process to create Ikkat sarees.
However, there are other materials on which Ikkat sarees can be created such as Tussar. Over the ages, Pochampally handloom business grew progressive and developed which led to domination in the dye and tie patola industry of India.
Ikkat actually means a bundle of a thread. Ikkat saree manufacturers make this dye form of textile art, but it has a unique taste of its own.
The type of weaving mainly involves dyed threads which actually comprise the entire saree. The threads are creatively dyed and developed to make a design pattern that provides the saree fabric with an extraordinary look. Furthermore, materials like silk, cotton, tussar etc can also be used to create Ikkat sarees.
Latest Ikkat saree designs as per the weaving patterns
Ikkat weaving patterns vary from place to place and there is a striking difference between the various types of weaving patterns and designs. Read on to know the different Ikkat saree designs and types which are trending now in the market:
Double Ikkat sarees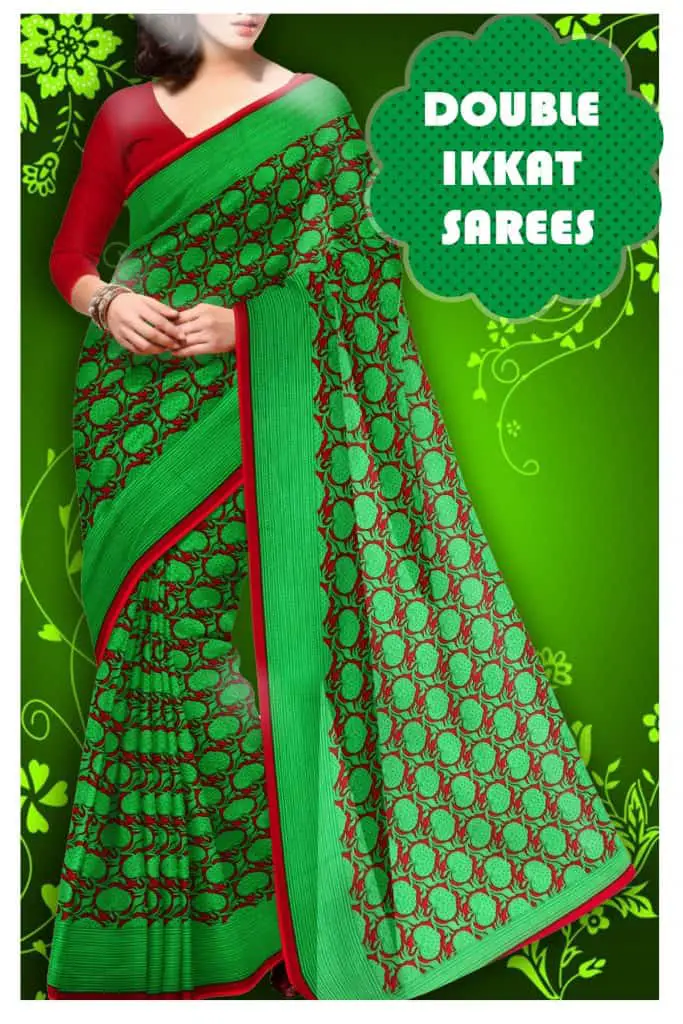 Fashion trends may appear and go away, but Ikkat patterns and designs always stood ahead of time. Double Ikkat Sarees design is the most common among all the other Ikkat saree patterns. In this particular design, both the weft and warp threads are resist-dyed before the weaving process.
Double Ikkat Saree design needs advanced and high-skilled artists and thus they are expensive and pricey. However, the designs look extremely gorgeous when done on sarees. The Pochampally and Puttapaka sarees are Indian sarees where the double design is applied.
Weft Ikkat Sarees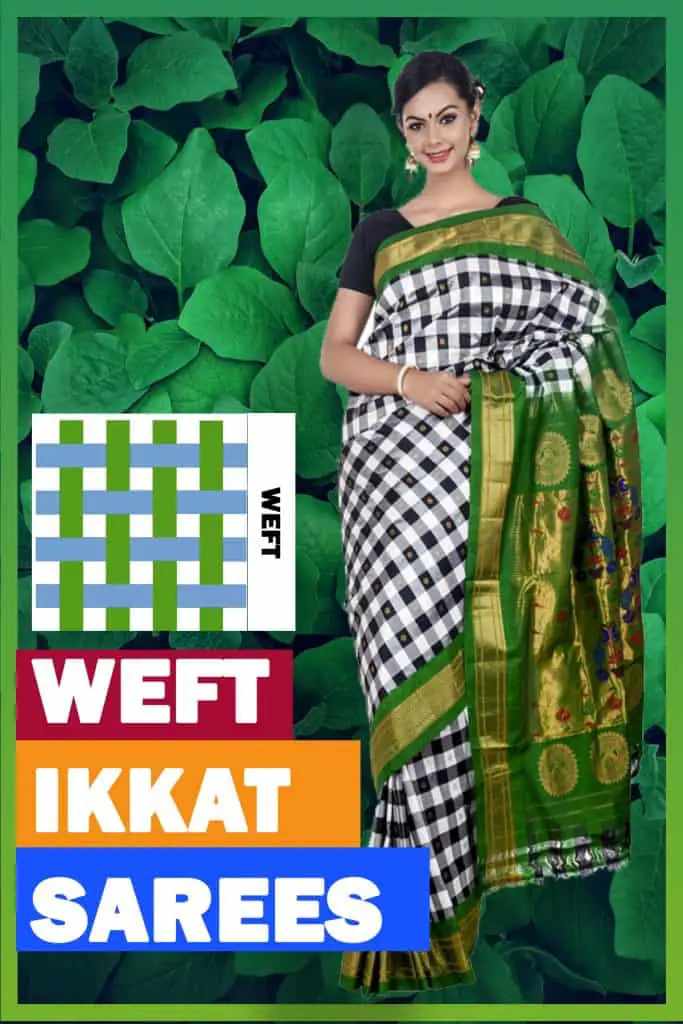 In this pattern of saree, the weft threads are Ikkat dyed. It is quite similar to the wrap Ikkat but involves more skill than warp Ikkat.
Weft Ikkat Saree pattern can only be done after the completion of the weaving process. It necessarily means that the weaver requires continually centering and adjusting the threads to assure that the design is done accurately.
Single Ikkat sarees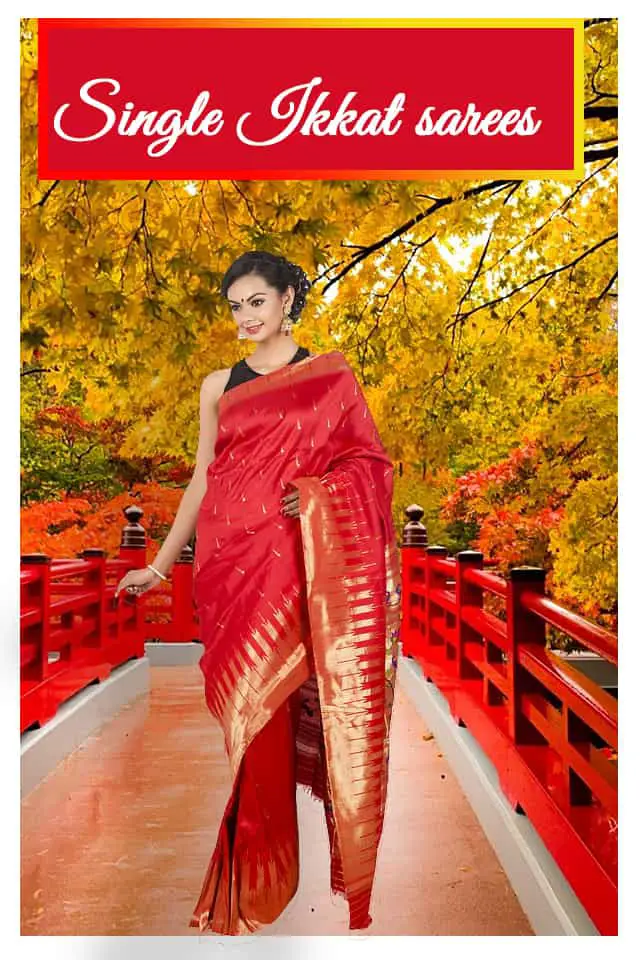 Single Ikkat is one of the oldest patterns and designs involved in manufacturing Ikkat sarees. But, the modern age is witnessing this old form of Ikkat saree in a whole new way.
It is a method of tying the threads to form area of resist and then these sections of yarns are dyed before the weaving process of the cloth.
Single Ikkat material is created by interweaving dyed and tied warp with resisted weft yarns inserted into the plain weft or simply plain weft itself.
Warp Ikkat Sarees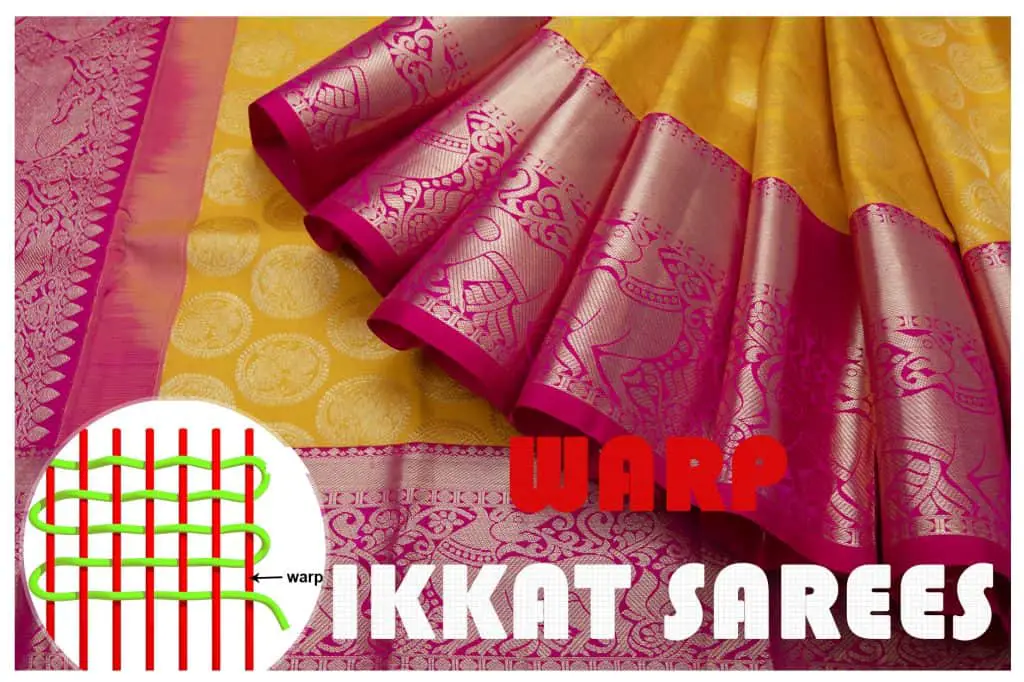 Warp Ikkat is one of the modern Ikkat designs, all the weft yarns are dyed in a solid colour and just the warp yarns are Ikkat dyed.
The yarns are wound on the loon and then the weaving pattern in the weft threads sets the colour and finishes the fabric design ultimately.
Popular Ikkat sarees
Pochampally Ikkat sarees: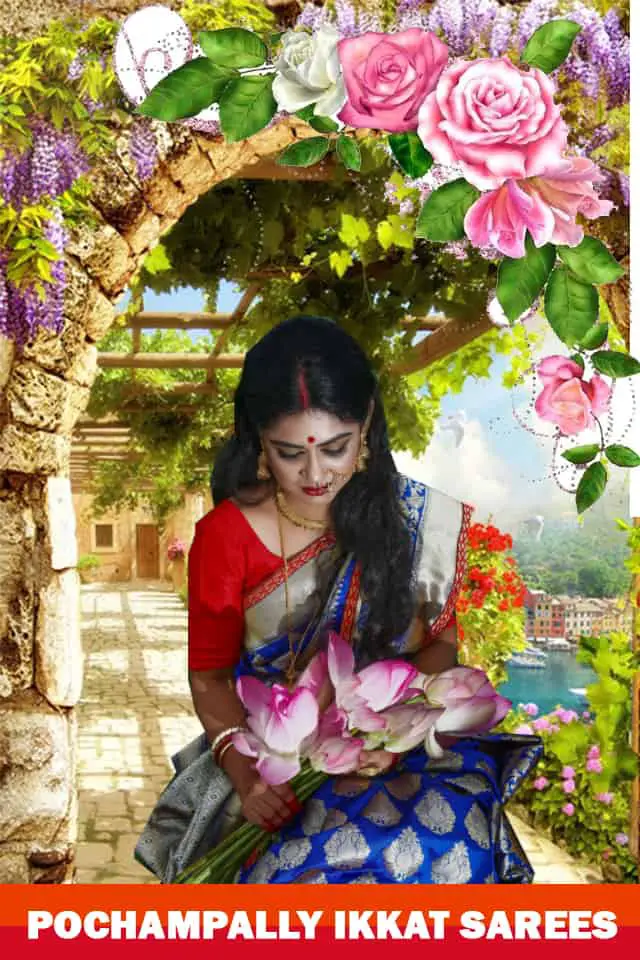 These are sarees which are woven in Bhoodan Pochampally, Telangana. The complex geometric pattern is unique and these weaves makes them stand apart from the rest of the sarees.
The uniqueness of Pochampally Ikkat lies in the making of the complex design and coloring onto the warp and weft threads first and then weaving them collectively to form double Ikkat materials. These are smooth materials and they are not very heavy.
Uppada Ikkat sarees: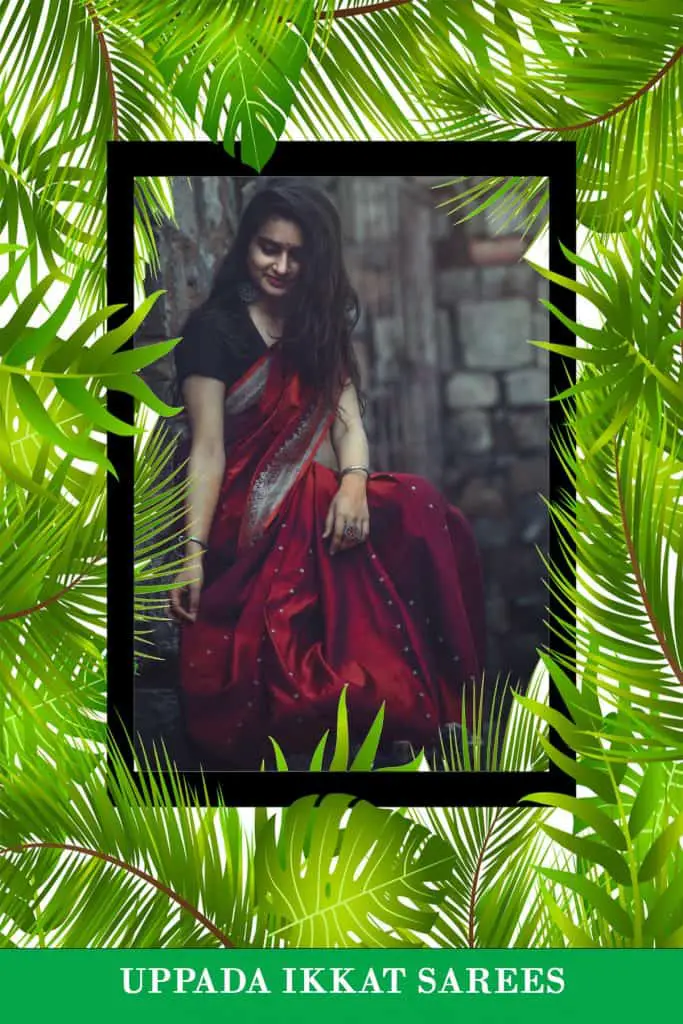 Uppada Ikkat sarees are also popular as Uppada sarees, these sarees come with Ikkat borders or Ikkat work on Uppada material.
Also, they are available in several varieties of patterns and designs in the market, also in multiple color combinations. And these sarees are also cost-effective in comparison to Pochampally ikkat sarees.
Patola Ikkat sarees: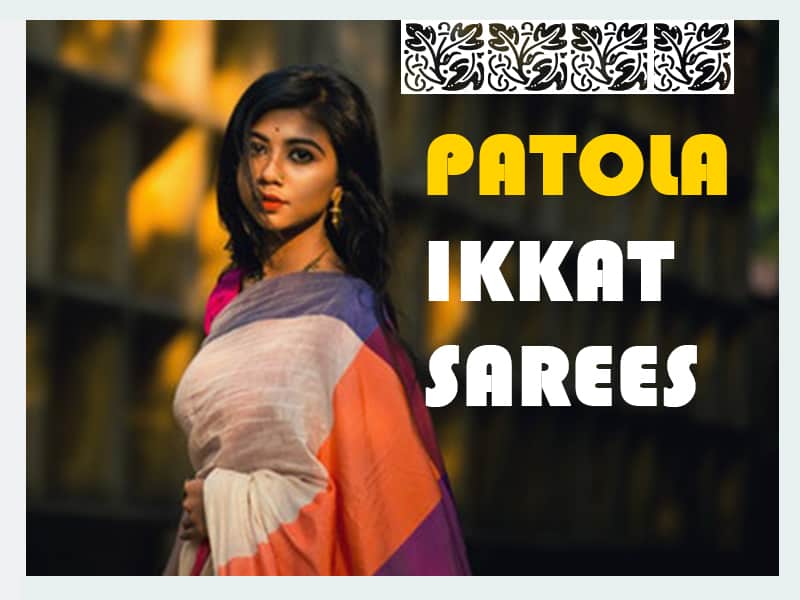 Patola Ikkat saree comes with Ikkat patterns all over the body with contrast pallu and contrast border on either side of the side possessing stripes in between.
Patola sarees generally come with a plain blouse piece and it is likewise, beautiful and elegant.
Blouse designs for Ikkat sarees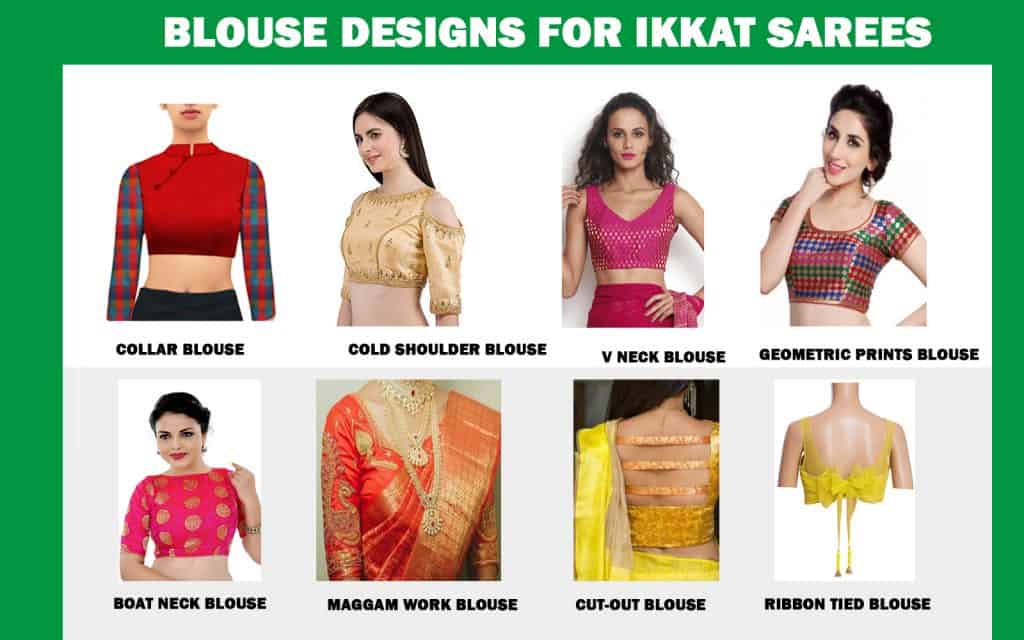 Experiment with varied colours and patterns for a blouse with the classic and trendy Ikkat prints. Fashionable Ikkat Blouses will display the right amount of style and sophistication one needs.
This classic dyed fabric is certain to stay in fashion for long and will certainly leave you amazed and impressed with its versatility.
There are numerous blouse designs to choose from, however, there are some designs that look ravishingly beautiful with Ikkat prints. Come lets us discover what those are:
Shirt Collar Blouse
Cold shoulder blouse
V neck blouse
Boat neck blouse
Cut-out blouse
Geometric prints blouse
Ribbon tied blouse
These are the styles that go well with Ikkat sarees. Revamp your look and take your appearance to a whole new level by wearing one of these designs with your Ikkat saree. It adds the right amount of Indian touch to your traditional outfit and does pick a perfect hairstyle that matches to your saree, you can set the fire on floor.
Ikkat sarees price
By know you might have very well understood the weaving pattern of the saree. It is a complex and detailed process and involves lot of hard work for the weavers creating and manufacturing it.
Thus, the price is a bit on the higher range for good quality pure Ikkat sarees.
"Cotton Ikkat sarees are cost-effective and the price varies from Rs 1500 to Rs 3000."
However, silk Ikkat sarees are pricey due to the material gets used and weaving process.
"The price range of Silk Ikkat Sarees varies from Rs 10000 to Rs 30000."
Furthermore, if you are looking for a designer Ikkat sarees that are specifically picked by celebrities for important functions, then, it might put pressure on your pocket as they are very costly.