The traditional Indian garment that was originally associated with modesty and homely lifestyle has undergone a complete change in modern times. Saree are recognized as symbols of modernity and elegance. They are no more treated to be signs of backwardness and retrogression.
New innovations and techniques have placed sarees on the high pedestal of the most famous ethnic garment. A saree is the only attire that can be worn by all women irrespective of their different shapes and sizes, but yes, due consideration is to be given to the colors that suit your skin complexion. The trend of draping a saree that best suits your complexion is fast becoming popular.
However, it is important for you to choose a color that makes you feel more comfortable and confident. Sometime, most of the people may suggest a color that fits to your complexion, which is technically right, but just don't select it if don't feel comfortable.
"The saree that you wear should bring new charm and joy in you, that should make you feel special and should bring a natural smile on your face. The technical selection of color is secondary, but your comfort and convenience are primary."
Having said that, there are certain suggestions about saree color selection based on complexion. Look at them, try them, feel them, but at the end go by what makes you feel better.
Here is a look at the color combinations that get along different skin complexions:
11 Saree colors for dark skin tone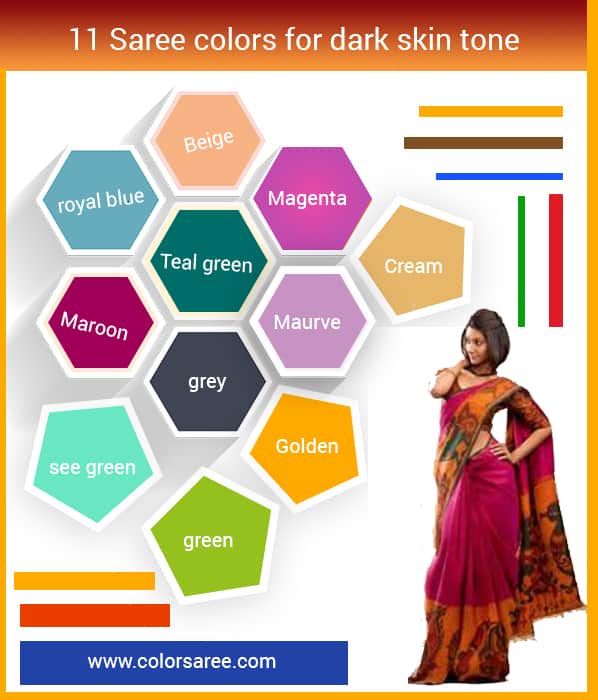 You can purchase beautiful sarees suitable for dark skin tone at Amazon
It was observed that women with dark complexion are more worried about color selection because of the social discrimination between fair and dark complexions. This is very unfortunate and I don't hesitate to strongly oppose this kind of mindset. However, things are changing and people are becoming more matured.
The fact is, there are certain colors that match to a specific complexion and certain wont. This is applicable to fair complexion, as well as dark complexion. I heard many people saying to a few fair complexion people that "Any color will suit to you because you are fair", I can only laugh at them. I saw so many times some colors looking awful for people with fair complexion.
So, the bottom line is, you can look gorgeous and awesome if you chose right color saree that also makes you comfortable and confident irrespective of your complexion.
In general, If the complexion of your skin is dark or dusky, you'd better avoid bright colors as they don't get along the requirement of your complexion. You should go in for light and sober color sarees as they can do be the right choice for you.
Below are the 11 colors that we recommend for dark skin tone:
11 Saree colors for wheatish skin tone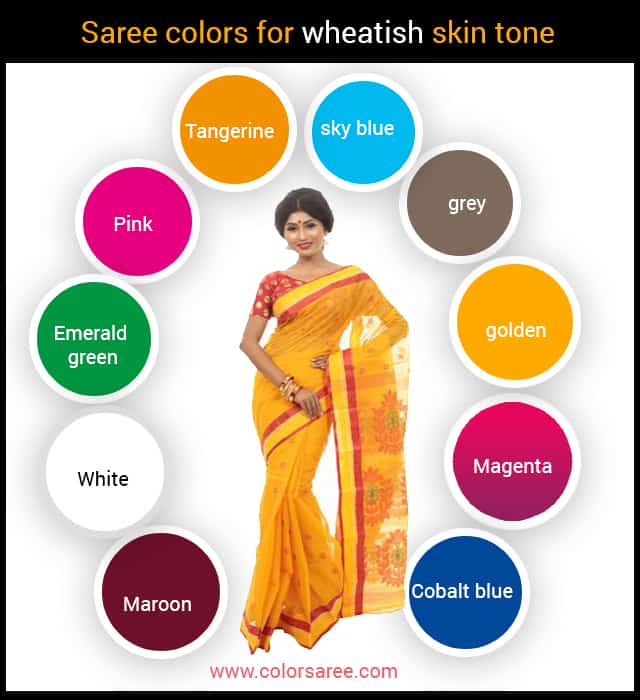 You can purchase beautiful sarees suitable for wheatish skin tone at Amazon
We recommend below 11 saree colors for wheatish skin tone. However, there is a wide range of recommendations for wheatish skin tone. The choice is yours.
In fact, your skin gets along all saree colors and you needn't worry about the suitability of saree color to your complexion. As Indian women mostly have wheatish complexion, muted or rather subdued bright colors go best with their skin colors.
11 Saree colors for Fair skin tone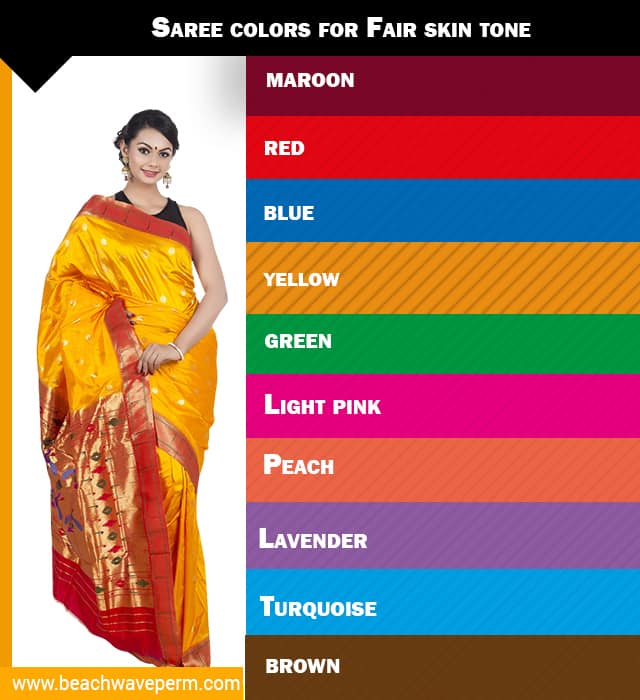 You can purchase suitable color sarees for fair skin tone at Amazon
There is a myth that any color will suit to fair skin complexion, which is not at all true. As much as it is important to chose right color for dark complexion, it is also equally important to choose right color for fair complexion also.
Ladies with fair skin can opt for rich and vibrant colors. Sarees being colorful attire can add to the beauty of a fair skinned lady. If you go in for contrasting colored sarees, your complexion will reach another level. Silk or cotton sarees will do justice to your skin tone. You can add glamour to your appearance by putting on decorative jewellery as per the mood of the moment.
Below are the 11 saree colors we recommend for fair skin tone
11 Saree colors for Brown skin tone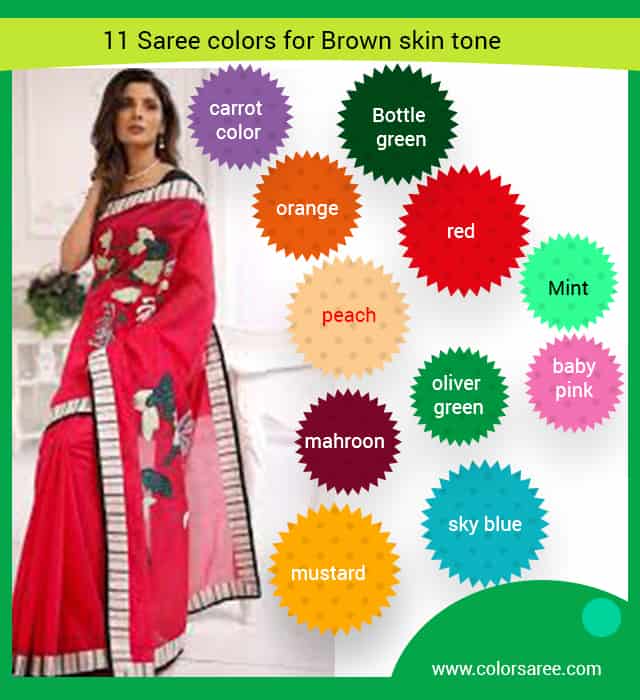 You can check available color sarees suitable for brown skin tone at Amazon
We usually have an assumption that darker colours won't suit for darker skin and only light colors would fit, this is not true. There are quite a few dark colors as well that will fit to dark skin complexion as well.
Instead, both darker, as well as lighter colors, works pretty well for brown skin tones. Peach, Mint can never go out of fashion. Better to avoid white, grey and other faded colors.
We suggest below 11 saree colors for brown skin tone
Conclusion:
Once again, I would like to repeat, never worry much about your skin complexion. Don't get influenced by what other say about complexion. Beauty lies in how you behave and how you present yourself, but not merely on color complexion. No harm in taking some time to chose the best color that fits your complexion, but please go with the color that makes you feel comfortable, convenient, confident and joyful. Keep smiling!
One request – I request you to share your favourite saree colors mentioning your complexion. Please use the comments section below, or you can also email us using the contact form. This will help us to keep adding more appropriate colors for each complexion. You would have spent so much effort to select the appropriate color for yourself before you settle on few, why don't you help others who have similar skin tone? Let us do it together. Waiting for your comment, please.
Disclaimer: We are part of Amazon associates program.