Saree Kuchu – A unique element in draping the saree. In this modern era of fashion, there are women who are still looking for that traditional touch in their looks and outfit. Thus, they are also looking for something new to create out their old and worn out outfits. Saree is one among them.
Putting or adding beads and laces in the edges of the saree are known since the olden days. But, the modern way of doing that is by applying the art of saree Kuchus. It is a way of adding embellishments to the edges of the saree to make it look more beautiful and appealing. Read on to know more about what a saree Kuchu is and how it is done.
What is Saree Kuchu?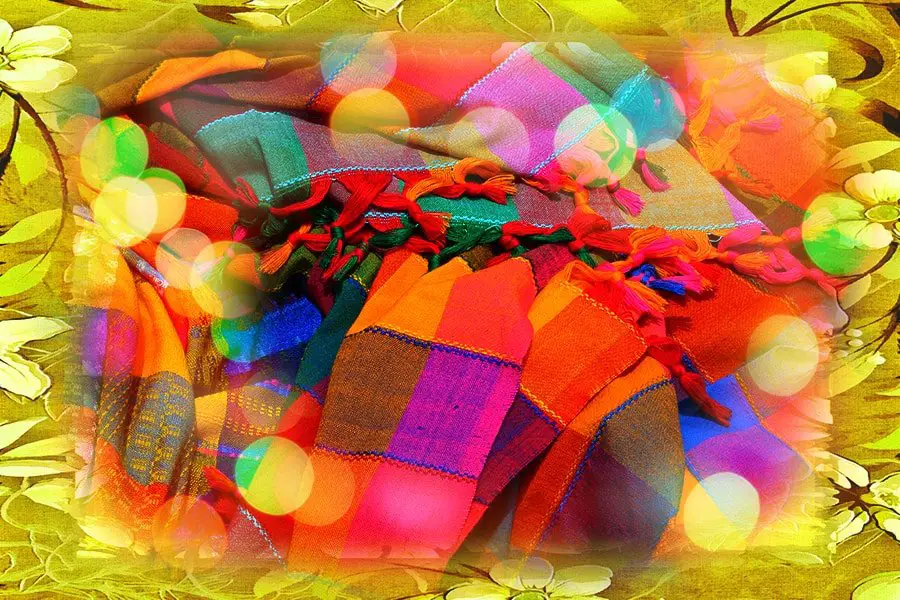 The term Saree Kuchu must have created some curiosity  in you to know what it is. It is a kind of saree embellishment that makes the saree look beautiful than ever before you wear it. It will be a surprise to you if we tell you that saree Kuchu work and saree tassels are the equivalent pieces of items with a distinctive name.
Saree Tussle or saree Kuchu is a traditional form or adorning sarees. It is famous for the making of silk sarees. Nowadays, experts use kuchus for almost every saree types. The way Kuchu elevates the look of a saree is worth noticing and admiring.
These designs are around for a while now, and shortly it has grown to be a notable item in grabbing the attention of saree lovers. These are embellishments made of fabric which is capable of elaborating the look of a saree. Experts apply in the hemline of the saree pallu. But, there are also other ways by which you can place it your saree.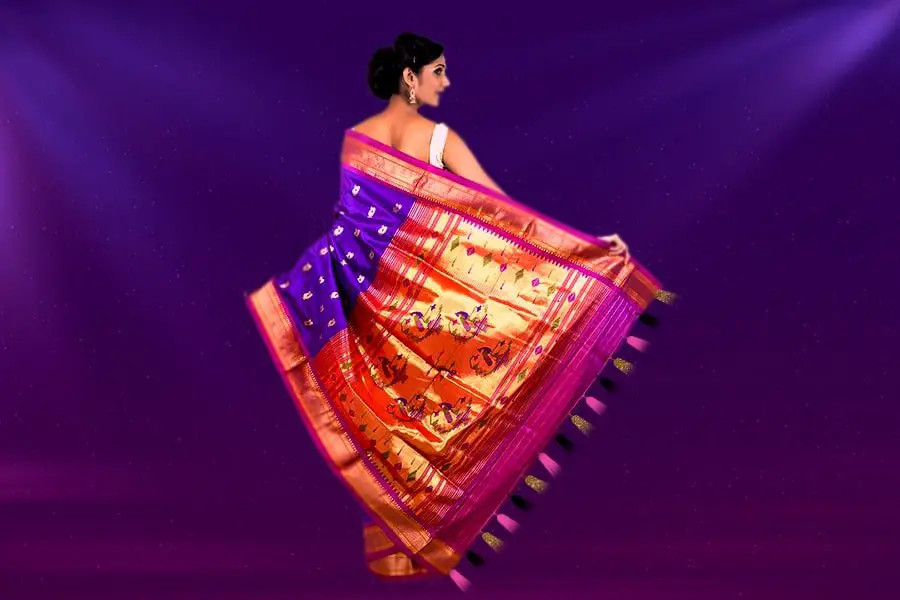 Ranging from teens to adults, everyone loves the way a saree Kuchu improves the look of a saree. If you want to modify your ordinary saree into something beautiful and innovative, you must add Kuchu designs to your saree to improvise its look and appearance.
One thing that you must know about saree Kuchu different designs is the fact that it is not at all expensive. You can get it at a reasonable price as per your budget, and you can also add them to any saree type.
Saree Kuchu allows you to change the overall look of a saree, and it is a balance between traditional and modern look. Traditional Indian wears may not need any supplementary accessories with a simple saree Kuchu design on it.
These fabrics are pieces of glamour that either makes or breaks a saree. Take a look at the further sections to know how you can make a saree Kuchu at home with the least effort at an inexpensive budget.
How to make simple saree kuchu?
Making a saree Kuchu is a very simple and straightforward process. You need to keep in mind a few things in advance before you start making a saree Kuchu. There are various saree Kuchu designs and types available in the market, and you need to choose yours correctly according to your saree type.
Here are some steps that highlight the making or adding process of a saree Kuchu work in your plain and ordinary saree. Go through the steps mentioned below to securely make a saree Kuchu or add tussles in your saree.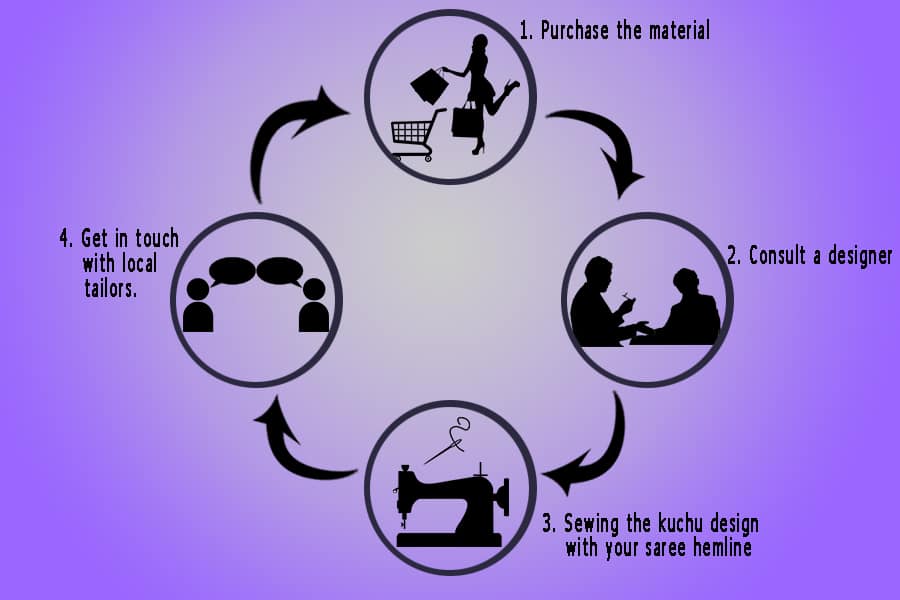 Purchase the material: Firstly, you need to decide the type of Kuchu work you require in your saree. If yours is an average looking regular saree, then you might need to purchase some heavy tassels for adding to your saree. Furthermore, if you favor minimal patterns, you can pick small beads. Visit any famous retail shop or local accessories store to get your favorite saree Kuchu beads and designs.
Consult a designer: The next step for you will be consulting a designer. You need to talk to a fashion designer to know which Kuchu type will look the best on your chosen saree. He/She will guide you through the entire process of Kuchu making and furthermore, it will be easier for you to make it work. Make sure to choose verified designers as the number of fake designers with unauthorized identification means is getting popular these days.
Sewing the Kuchu Design with your saree hemline: The next step is stitching the Kuchu design with the hemline or edge of your saree. Getting sterilized needles for this particular purpose will be a sound idea as it can save you in case you are an amateur and working for the first time. Easily secure and fasten the pattern with the edge of the saree, and sew in a hemline pattern. Keep stitching it until you reach the end of the hemline. Once you finish stitching, cross-checking is very important. Check whether any portion needs any additional sewing or not. Finally, wear your saree and adorn your old saree in a new look.
Get in touch with local tailors: In case you think it won't be possible for you to stitch the saree, you can get in touch with the local tailors and fashion experts. Experts can do what you cannot. Therefore, it will be a sound idea to contact a skillful professional in the town who can help you with this particular work. Furthermore, if you want, you can purchase the materials and deliver to your designer so that it gets customized according to your own choice.
How to make Saree kuchu with beads?
The process of making saree Kuchu with beads is as easy as making a traditional saree Kuchu with tassels. You need to purchase your favorite beads according to the saree type and color. Furthermore, you need to get in touch with some fashion experts to understand which beads will be suitable for which saree type.
Additionally, you also might have to purchase some extra accessories regarding saree Kuchu making with beads. These may include needles, threads, strings. Read on to know which will be the best way to make a saree Kuchu with beads and what is your role to play in this particular case. Follow the guidance here to make your own gorgeous beaded saree Kuchus.
Elements You Need: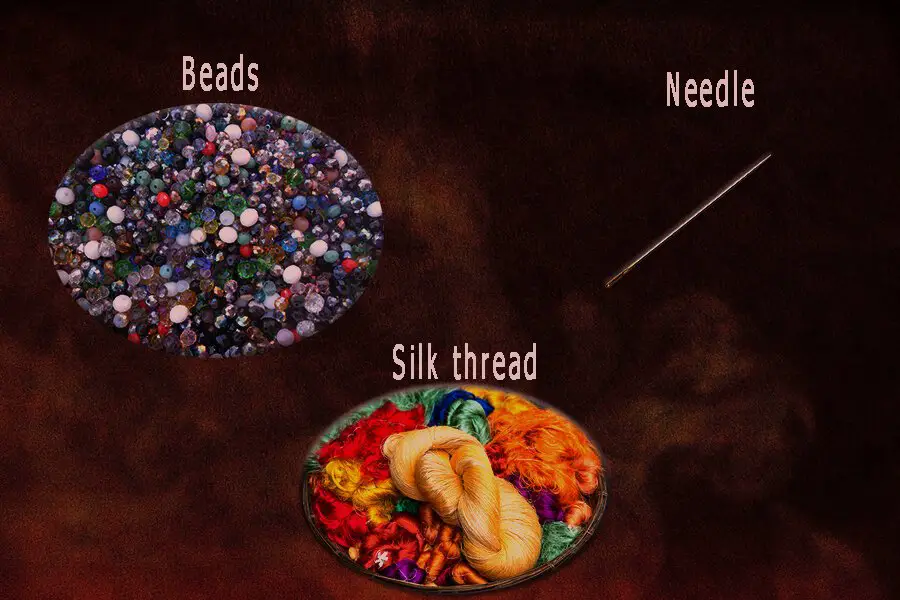 Procedure of making a saree kuchu:
The initial measure is to determine the height you want for your tassel. You require to take twice the height of thread and an extra plus 1 inch. Cut approximately 5 bits of that determined height from the string.
Fasten one edge on each of the stitching yarns. Furthermore, line-up a big bead supplanted by some tinier beads in a chain and later place a larger bead in the tip and attach a knot. You can create various bead patterns as per your preference.
Overlap your strands by half and later include a part of the string into that fold. Finally, tie the entire bungle collectively. Fasten all the ties, if any, in the silk ribbon with bright nail polish and scrape it up when the coat is dry.
Ultimately, you require to end off the task with a beaded cover. You can solely add a large bead within a dangling string on the top.
Your tassels are now ready to be stitched at the edges of your saree hemline border.
The next step is stitching the beads with the hemline or edge of your saree.
How to make saree kuchu at home?
Saree Kuchu new designs can be made at home very easily. All you need to do is have a sound idea about how to do so. Read on to know how can you make a saree Kuchu at home.
Elements you need to make Saree kuchu at home: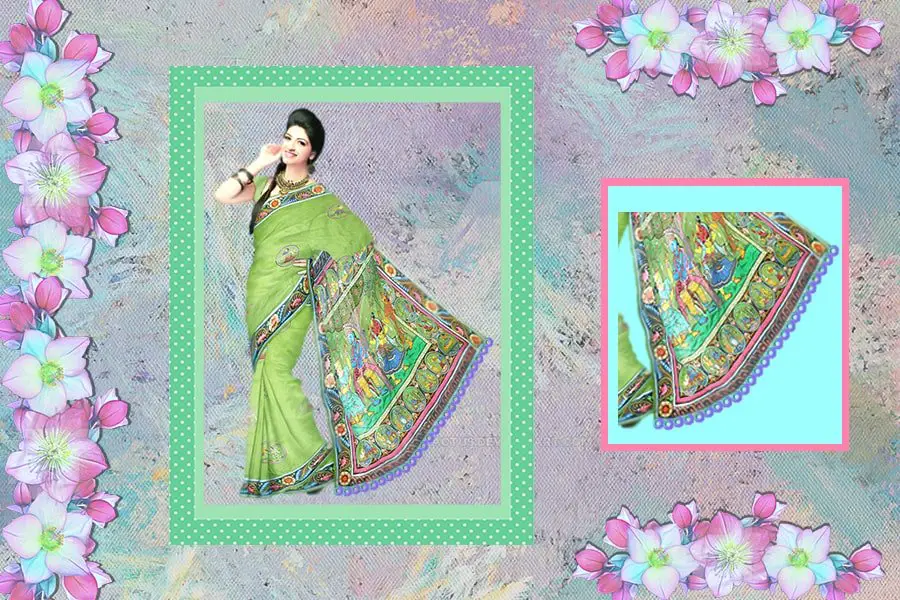 A piece of cardboard
Needle
Embroidery thread in the colors you want the Kuchus
Scissor
Procedure for making saree kuchu at home: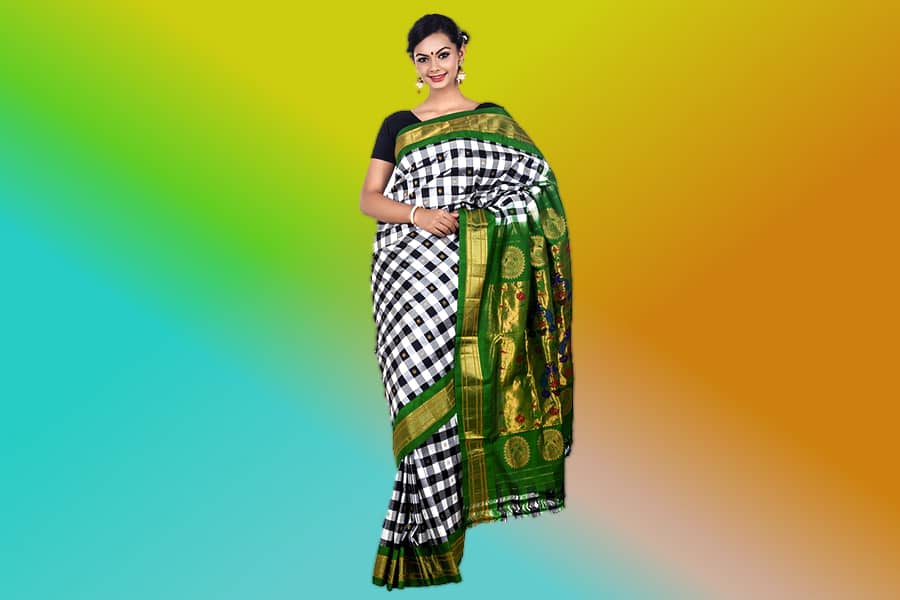 You first need to determine the length of the kuchu you desire to make. Cut a lot of piece board which is simply 1/2 inch higher than your tassel length. You can additionally apply your thumb if you do not desire to apply piece board. You can additionally utilize a fork preferably.
Create a package of strings which are almost 18 inches in height. You can constantly crop the length later. It is satisfying, to begin with, a larger length than to get lost with a smaller length.
Furthermore, you require encircling the string throughout the cardboard part for almost 20 times. You can decrease the number if you think it is becoming too dense. You require holding the thought that the Kuchu will be as solid as the string on both the edge of the piece board.
Additionally, guarantee that you have put the strings on the middle of the board and not spread them out. Do not hold them too close as this will guide towards bending. If you hold them too loose, the rings of the Kuchu will slide out. Assure that the balance is smooth. Stop covering the string once you think you have attained the sought density.
The following measure is a little difficult. You require removing the string wrap from the frame. Cut a section of string from the ring and attach it with the help of a needle. Move the needle linking the string rings and the cardboard. Then, fasten a knot. Move the thread cover from the cardboard without interrupting its style. Once you have extracted it from the frame, scrape away the ends.
Now you require fastening the Kuchu at its neck. The neckband must be at 1/4 inch from the head. Cut 6 inches of a whole portion of needlework string or you can also take an alloy wire to attach and tighten the rings of the Kuchu. Coil the wirework over the rings at 1/4 inch underneath from the newly formed bond. You can additionally utilize good-looking satin strips for this idea.
Ultimately, split the extremities or edges of the kuchu smoothly, providing a pleasing look. Order the strings and you can further attach some beads to improve the look additionally. Utilizing silver, golden or any other hard fiber provides a dazzling sparkle to your Kuchu. Pull up the threads to provide a complete look.
Popular Saree Kuchu designs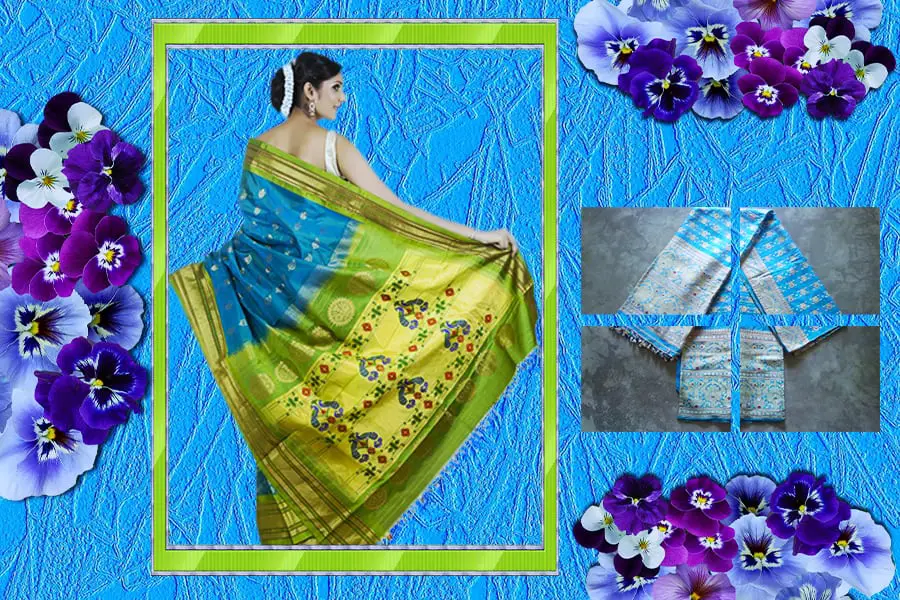 These days, a number of kuchu designs are available in the market and online store to intensify the look of your saree. You can purchase pearl beads from the online stores to revamp your sarees. Also, you can get several laces and Crochet saree Kuchu designs as per your preference.
You can use these designs to remodel your old saree or apply the combination of all these products to create a unique Kuchu of your own. Also, tassels come in a variety of patterns these days. So, you can combine tassels and beads to create a beautiful saree design.
Here are some the most popular and latest saree kuchu designs for you.
Contrasting colors
Color contrast factor is getting popular these days among the designers. Daily you get to see a lot of celebrities in the Television flaunting their beautiful sarees with contrast colors. There is no limit to outlining your old sarees with Kuchu designs.
This factor exclusively depends on the creativity of the person making it. The same is true in the case of contrasting colors. The way you contrast the colors shades depends on how you saree will look. For example, you can use a blue or red colored Kuchu design with a yellow colored saree.
Leafy or Floral Kuchus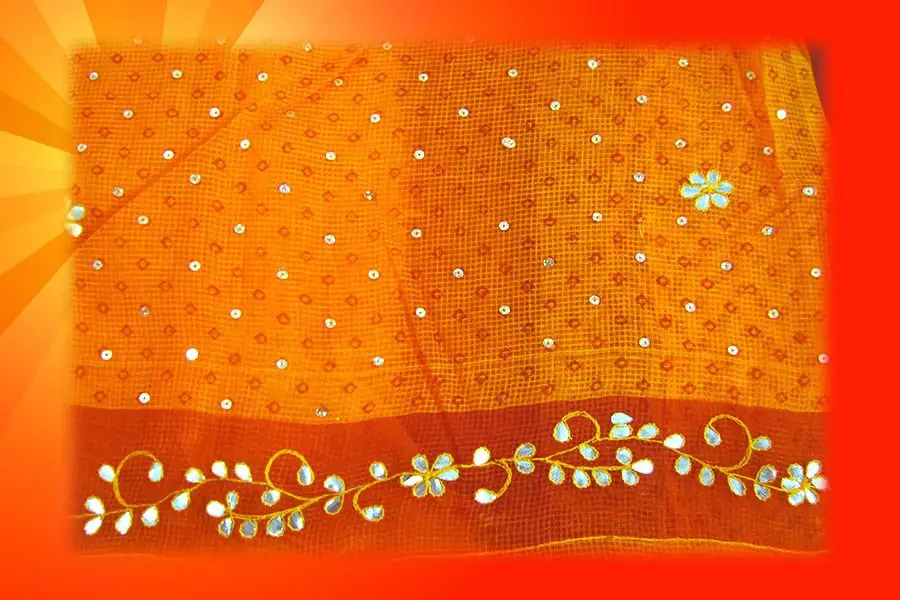 Flowers and leave go well with traditional silk saree Kuchu designs. It is known as a hand-picked choice among flower lovers. Maximum traditional sarees come in flowers, leaves and nature design patterns.
If you precisely go through the online stores, you will see there are a number of Kuchu designs and ready-made tassels for adding to your saree. Pick the one you like and place an order. Get ready with needle and threads to add it on your saree once they arrive.
Pearl Kuchus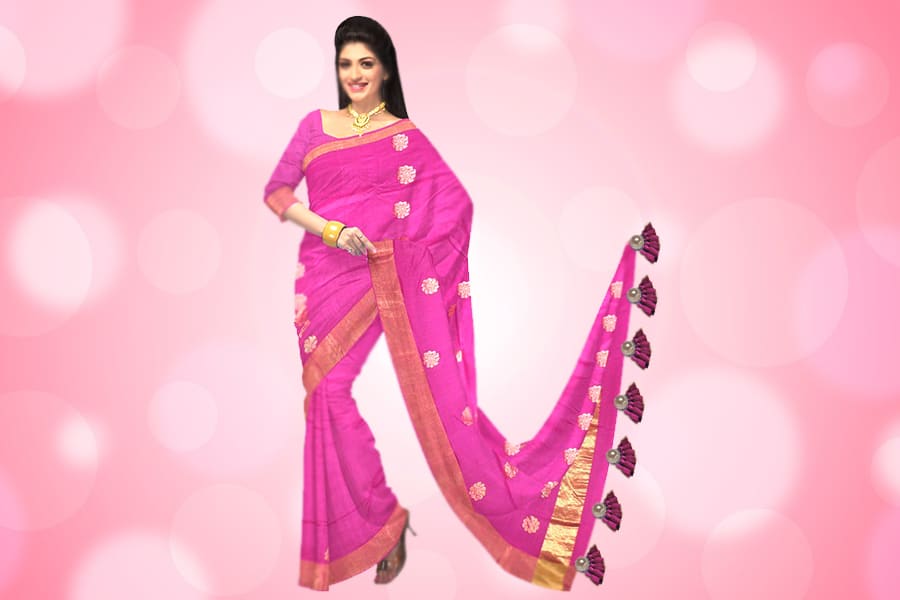 Majority of women opt for pearl Kuchus to provide their sarees a royal look. The lustrous and sheen pearls are readily capable to change the look of your saree.
Krosha Kuchu designs with pearls also look ravishing if you can add it finely. Furthermore, there are various other options to choose from when you are adding pearls in your saree. You can also get more ideas from tumblr and Pinterest to mix and match pearl designs.
Potli Style Kuchu Work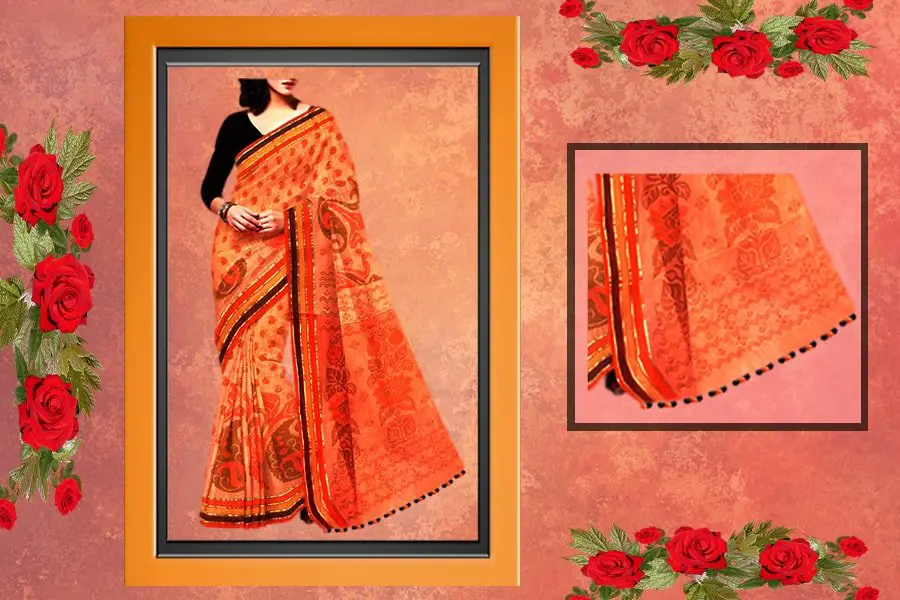 You can enhance the appearance of your silk saree by adding Potli style tassels at the edge of your saree hemline. You can decorate these tassels with golden beads, stones, cut mirror, pearls and any other fancy item or stuff.
It will help you improve the gorgeous look and style quotient of your saree and likewise, make you look beautiful in a whole new way. If you have an ordinary saree, and you want to make it look like a designer one, then the best idea or way to revamp your saree is by adding this Potli style Kuchu in it.
Pallu kuchu work with circular tassels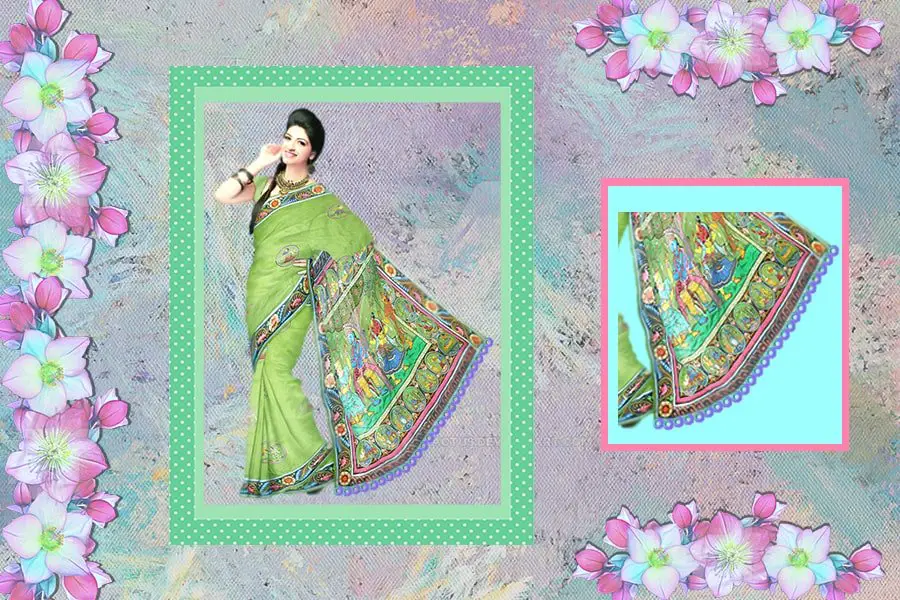 Circular tassels are gorgeous and pretty when it comes to adding it to sarees. You can make your old silk saree look impressive and brand-new with the help of round tassels.
Furthermore, you can make any silk saree look extraordinary with these magnificent circular Kuchu work. If you want to enhance the beauty of the saree further, you can stitch sparkling golden beads around the edge of the Kuchu work.
It is a must-try item for all Indian ladies all it will revamp their sarees in a whole new way. Try it in your silk sarees now, and you are all set for that well-to-do appearance.
Kuchu work with silk threads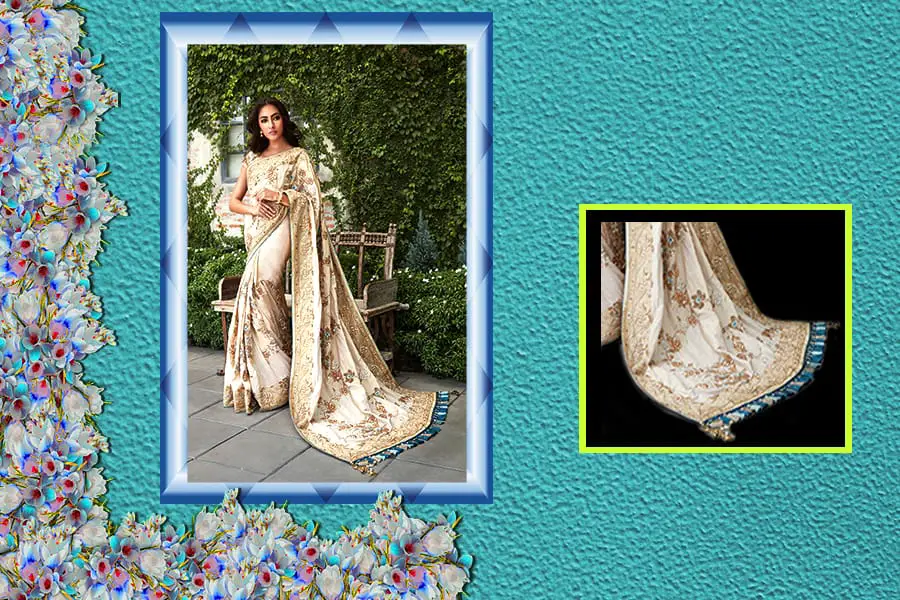 You can decorate any plain saree immensely through clever use of Kuchu work and by making the use of colorful silk threads and pretty beads matching to your saree.
If you own a contrast color saree, then it is a must for you to go for this particular style. It will make people turn their heads twice to take a glance at your beautiful saree.
Furthermore, if you want, you can also add a thread of opposite color in case your saree is one-colored. You will feel ultimate happiness after you reinvent your saree with slight efforts as it will be worth your time and energy.
Simple colorful tassels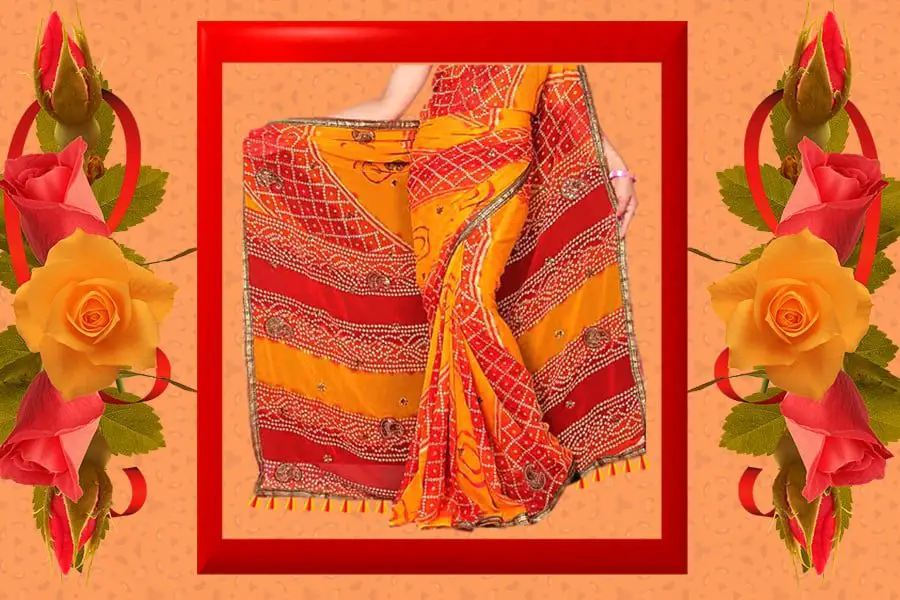 This design is mainly suitable for multicolor sarees. If you own a multicolor saree, then adding colorful tassels is a fabulous idea to revamp your saree. It will provide your saree with a whole new look.
All you need is some vivid pieces of fabric to enhance the beauty of your multicolor saree with the help of an intricate Kuchu work. The invention of this particular design dates back to the ancient days when ladies used dyes to color their sarees.
Therefore, add contrasting tassels in your saree to make it look extraordinarily beautiful and appealing. Your sarees will thank you later for making them look more beautiful.
Kuchu work of rose bud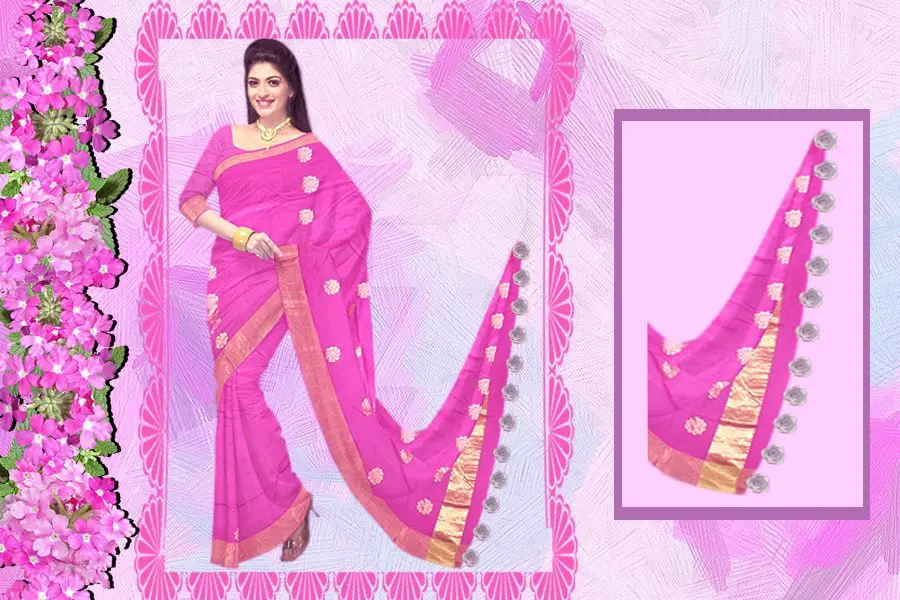 It is a floral process of decorating your sarees. You can decorate your plain saree with the help of an artistic Kuchu work. Floral prints and floral designs are trendy and common these days.
Therefore, you can use this refreshing floral look for decorating your sarees. For example, if you own a yellow saree with a beige border, you can provide it with a trendy, stunning and unique look by stitching yellow, white and beige rosebud. It will look ravishing if you wear it for a light occasion or a birthday party with a suitable hairstyle on your saree. Thus, make sure to try out this particular style.
Striking and elaborate Kuchu work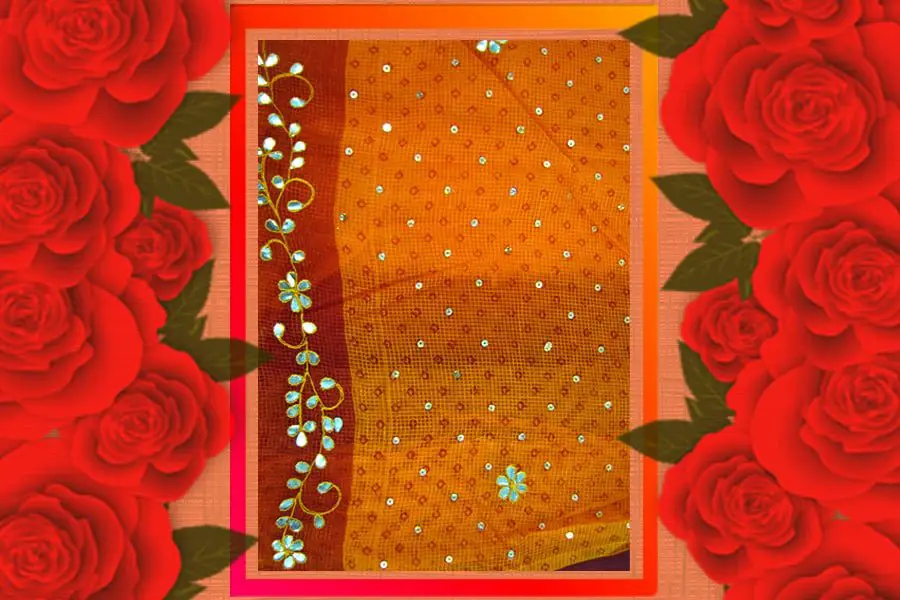 This particular design is for costly silk sarees. If you own a pricey silk saree and want to revamp its look, you can try achieving it with the help of an elaborate and striking Kuchu work.
All you need to do is use golden and silver embellishments to turn your saree into perfect bridal wear. You will be able to provide your saree with a luxurious look, and likewise, your saree would turn out to be the ready-to-compliment outfit.
Thus, apply this striking and elaborate Kuchu work into your saree and make it turn out to be an extraordinary one.
Kuchu work with the complementary dye-thread crochets work
This dye-thread crochets work kuchu design is suitable for handloom sarees. If you own an old handloom saree and thinking of turning it out into something new, then this dye-crochet design is the perfect option for you.
Make your plain handloom saree an engaging one with an appreciative Kuchu work. You can make the use of complementary dye-thread crochet work.
Furthermore, attaching tassels to your handloom saree will provide it with a gorgeous and unique look. Thus, the next time you are wondering shopping for something new for your upcoming party, make sure to revamp your old handloom saree with a complementary dye-thread crochet Kuchu work.
Kuchu work with long colorful threads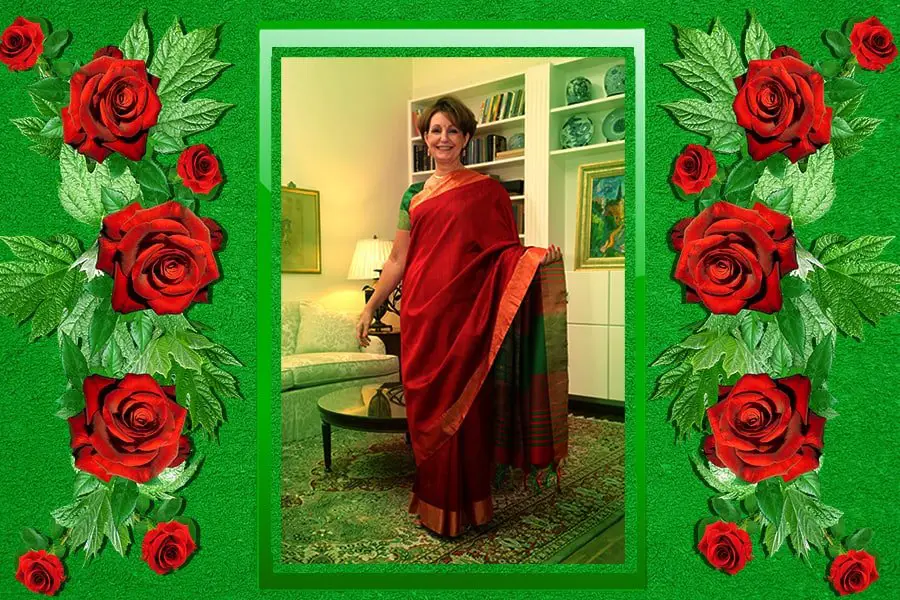 This kuchu  design with long colorful threads is ideal for Banarsi silk sarees. A Banarasi silk saree possesses the ability to improvise the appeal of the one wearing it. If you own a Banarasi silk saree, then it will be the perfect idea to reinvent and revamp your saree by long colorful threads.
Long silk threads have the potential to change the existing look of your saree by adding some extra charm into it. Therefore, make sure to revamp your Banarasi saree by this particular method.
You will not only make people turn their heads, but you will also put an everlasting impression on them making them crave for the same saree. Kuchu design with long colorful threads on banarasi saree is a perfect attire to attend a marriage function or engagement, dont forget to pick a perfect hairstyle suitable for the occasion.
Pretty ribbons Silk Saree Kuchu Designs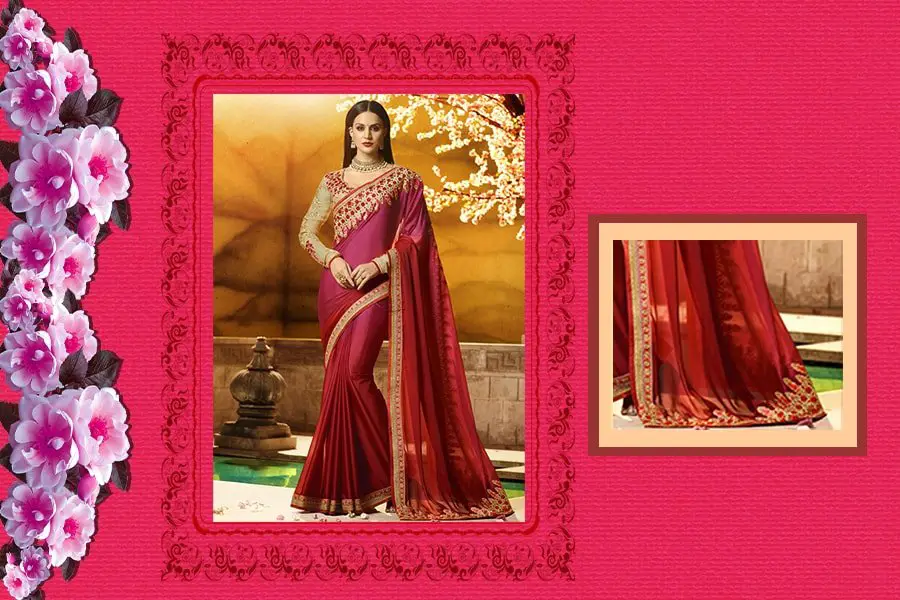 This kuchu design is mainly for South Indian sarees. It is a modern way of designing your sarees. The pretty tassels will make your saree look beautiful and appealing.
South India is famous for high quality, gorgeous silk sarees. You can make your South Indian saree look more delicate and graceful by using distinct silk tassels. All you need to do is attach them with pretty ribbons for an extraordinary look.
Therefore, the next time you are thinking about purchasing a whole new South Indian saree, consider revamping your old saree in this particular manner as mentioned above.
Kuchu work with golden beads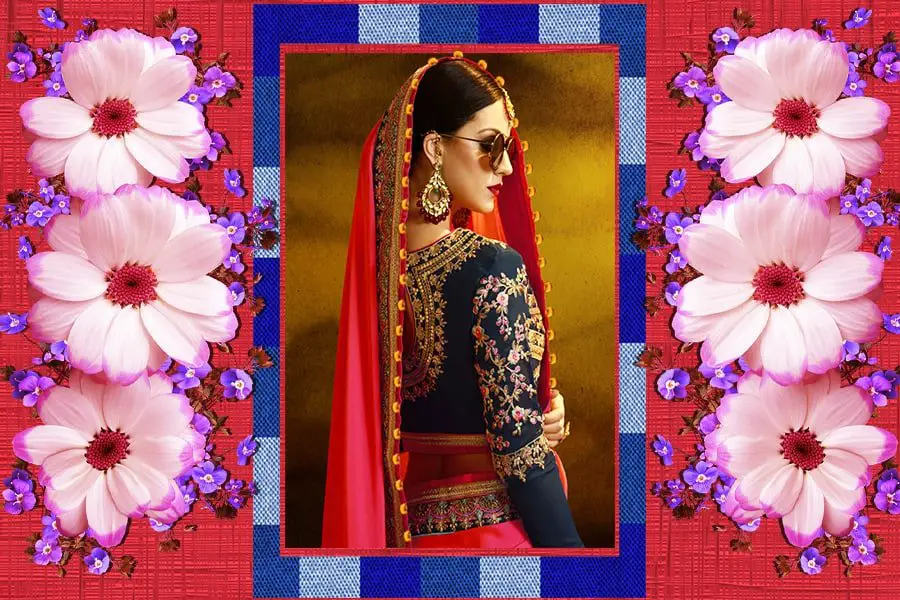 Saree Kuchu designing is all about the pearl, colorful beads, silk threads, tassels, crochet, lace and many more to make an artistic pattern in the corner or hemline of a saree.
Indian women often refer hemline as pallu. Here is your chance to play with your imagination and blend various items at one place. You can make tiny round balls using silk threads or golden beads to provide your saree with a softer look.
Make sure to precisely go through the process of making Kuchu work so that you can distinctly apply any design in your saree. You will surely praise your choice later.
Metal Tassels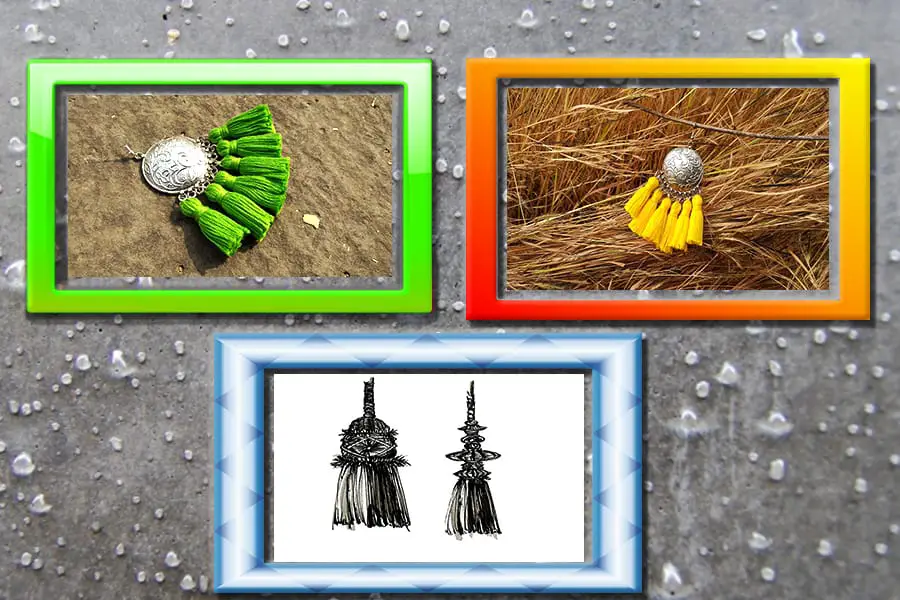 Revamp your already existing traditional sarees with metal tassels. Metal tassels comprise intricate work on fluorite stones. They are available in the market in different colors and combinations of beads and thread work.
You can easily attach it to your saree hemline as you will get them in a ready-to-stitch form. You can attribute them to any saree be it modern, conventional or ethnic.
The only disadvantage with metal tassels is that it is a little costlier than other Kuchu works. But, it is worth purchasing as it will make your plain saree perfect for a cocktail party and it will surely make you look like a diva.
Mini Kuchu on Silk Saree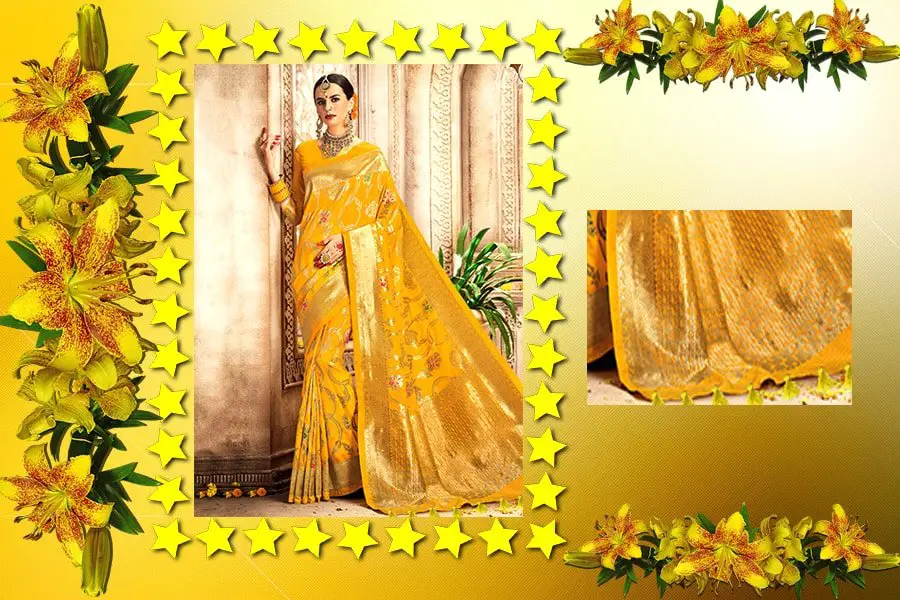 You can consider minimalism as a key to attractive designs. If you believe in this particular fact, you can try adding mini Kuchus to your silk saree.
Mini Kuchu work is mainly suitable for small functions, formal meetings, and office parties. It involves beads work, and here in this design, you can add one bead between two Kuchus to add versatility.
Rather than applying a simple knot, you can use a charming embellishment to fasten the Kuchu from the upper portion. The name of this particular design came from the length of the Kuchu, and that is why people often call it mini-Kuchu.
Conclusion
There is a never-ending list of the Kuchu work's contribution to the world of sarees. It enhances the elegance, grace, and beauty of sarees and takes it to the next level all the time. By using a Kuchu work in a silk saree, you not only improve its style-quotient but also contribute towards the conventional art alive. Buy yourself some gorgeous silk sarees with beautiful Kuchu works and look pretty anytime.