Wedding is one of the most cherished moment in every girl's life. It is something she has dreamt about since her childhood and wants it to be picture perfect. The process of selecting your wedding saree is a great adventure, because what you wear on that special day, will stay throughout your life.
Not just for wedding, but the entire process right from deciding to get married, selecting the groom and then engagement, haldi, mehandi, sangeet to finally the D-Day, saree matters for every occassion. The engagement is the first step towards the journey called marriage, and it is necessary to have the best saree for your engagement.
Importance of Engagement Saree:
Engagement is the ceremony in which the bride and groom officially agree to get married in front o their family and friends. It is a semi-formal occasion.
It is a really important one, as the engagement is the ceremony in which the entire family of the groom will see the bride for the first time, so it is essential for the bride to sweep everyone off their feet.
So, it is necessary to pick a saree which accentuates your body type and enhances your beauty and is comfortable at the same time.
Not just the wedding saree, but the saree you pick for your engagement plays an important role too. Pick a saree with a photogenic colour as wedding photo sessions begin way before the wedding!
How To Select The Best Saree For Engagement:
The best saree is the one which makes you feel beautiful and comfortable at the same time. While selecting your engagement saree you have keep some points like latest trends, your skin colour, body type and also the season of the engagement in mind.
Latest Trends in Engagement Saree:
There are so many styles to pick from for your engagement. If you are more on the conventional side, then you can go for light weight silk sarees and if you want something modern, then fret not, the  options are unlimited. You can go for half saree, lehenga style saree or designer sarees. Georgette, chiffon, lycra and net sarees are currently in vogue when it comes to fancy sarees.
Some brides also prefer heavy work sarees, embroidered sarees and even gold work sarees. Another trend which has stolen the hearts of many brides and is on their wish list is the custom designed saree with the names and even pictures of the bride and groom embroidered or woven in the pallu.
Complexion and Saree Colour:
Though it is no hard and fast rule that you should wear certain colours of saree just because you have a certain skin tone, it is better to pick a saree for your engagement whose colour will complement your complexion and will suit you better. Don't pick a saree just because it ticks this box, only choose it if it ticks the box in your heart! Colour is just a secondary factor. The most important one is the joy a saree gives when you drape it.
Engagement Saree Suggestions for Dusky Tones: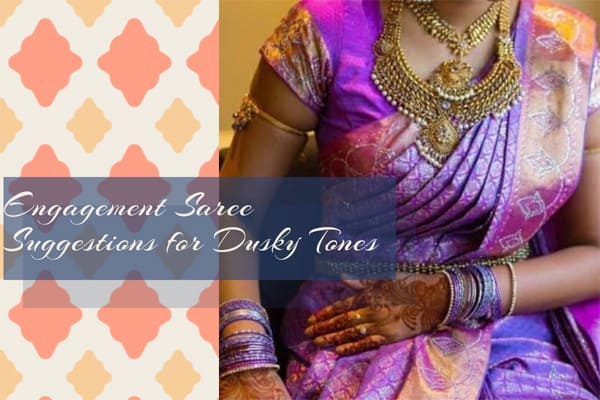 Don't bother yourself with the social discriminations as dusky complexion looks so beautiful. The obsession with fair skin is so  pointless. Beige is a colour which you can rock! Also, colours like mauve, teal and golden look good on you. Classic saree colours like maroon, magenta and royal blue are good choices if you don't want to experiment. And if you want to, then you can pick for contemporary colour like pistachio green, lemon yellow and sea green.
Engagement Saree Suggestions for Wheatish Tones: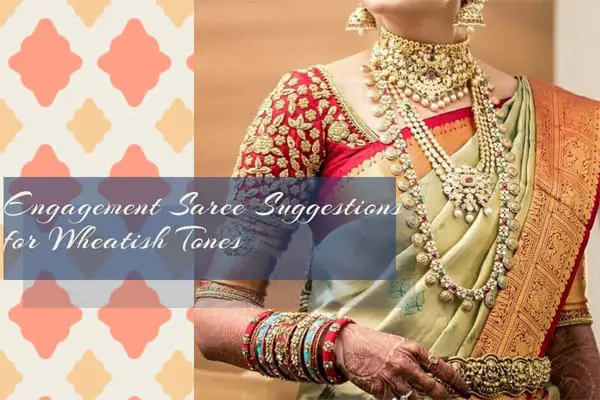 This is one of the most common skin tones in India. This is a complexion which can carry of most of the colours well. Some of the best options are subdued bright colours like fuchsia, tangerine and mustard. Emerald green, cobalt blue and all-time favourite pink are also great choices for your engagement saree. Other colours to try are white, grey, maroon and magenta.
Engagement Saree Suggestions for Fair Tones: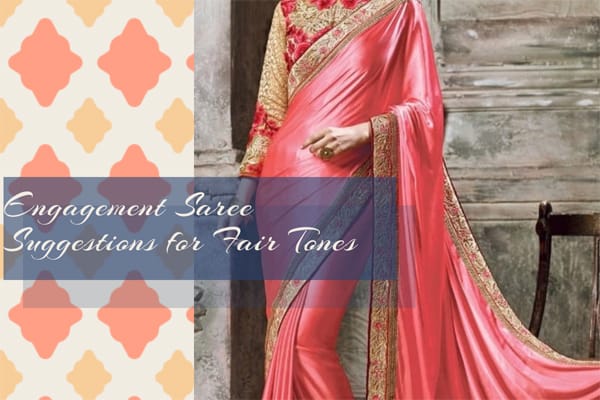 Do yourself a favour and stop believing people who tell that all colours suit fair skin tones. Fair skin does look beautiful and it is necessary to enhance it and don't spoil your look by picking just another colour. It is important to pick the right colour of saree to take your complexion to the next level. The colours which complement your skin tone are classic colours like red, blue, yellow and green. Shades like light pink, peach, lavender and turquoise. Maroon, brown and dark grey also looks good on this complexion.
Body Type and Saree Type:
Your body type plays an important role while deciding the material of your engagement saree. Follow these suggestions to pick the perfect saree according  to your body shape. Pear shaped women (who have heavier body as compared to  their upper body) should go for breathable materials like georgette and chiffon. Women with apple shaped body can opt silk sarees with heavy borders and bold prints while petite women should pick pastel coloured heavy silk or net sarees with puff blouses. The former's friend, i.e., heavy border and bold prints is the latter's foe. Hour glass figured omen can select  a georgette, chiffon or lycra saree with a well fitting blouse to accentuate their figure. Tall and slim women can rock any type of saree.
Top 10 Engagement Saree Ideas: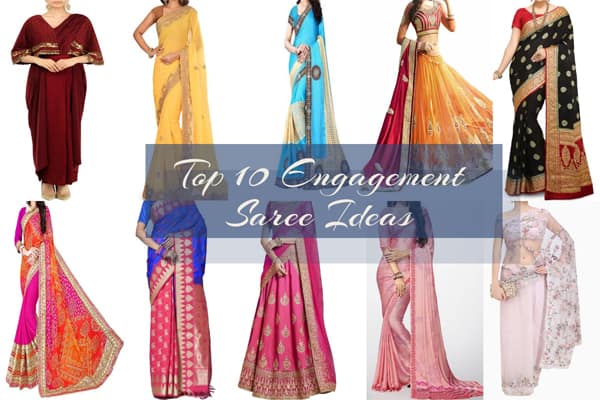 Tulle Saree: Tulle is a material which has recently gained popularity among the brides. It is an elegant material which is light in weight and extremely gorgeous.
Lehenga Saree: A lehenga saree is beautiful amalgamation of the lehenga skirt and saree. If you want to make a statement on your engagement, then this is the best choice for you.
Benarasi Silk Saree: Benarasi silk is the best option if you want to go for a conventional attire on your engagement. It gives you a royal look and is a nice choice to hand down your grandkids!
Designer Saree: Designer sarees are recently in vogue when it comes to engagement sarees. Many custom designs are topping the wish list of the brides who want everything to be unique right from the material to the design of the saree.
Kanchipuram Pattu Saree: Just like the Benarasi Saree, the Kanchipuram Saree is equally popular and a classic piece of saree. A pure Kanchi Pattu Saree can cost up to Lakhs and it can be customised too.
Half Saree: If you don't want the hassle of draping a saree, while retaining the gorgeousness of a saree, then a half saree is the one for you. With so many options to choose for the skirt and the drape, thee brides are spoilt for choices.
Heavy Work Saree: To get a regal look while getting engaged to your Prince Charming, drape a saree which has heavy stone work or kundan work. Gold thread work will add to the magnificence of the look.
Fancy Saree: Fancy sarees are currently trending in bridal engagement sarees. They are available in soft material which are easy to carry. They drape beautifully around the body, thus accentuating the curves of the body.
Satin Saree: Satin saree are extremely soft and glossy. They look simple yet elegant. Satin sarees are available in plain colours as well as floral patterns. If you want to experience gown and saree from a single attire, then a satin saree is the one for you.
Cape with Saree: To bring out the super-woman in you on your engagement day, wear a small elbow length cape made of tulle or net material over your saree. A deep neck blouse will enhance the look.
Blouse Designs For Engagement Saree:
Gone has the time when the blouse would be stitched using the material given at the end of the saree. Now a days, the blouse has become extremely special and sought after piece of cloth that its prices have soared high. Designer blouses, embroidered blouses and custom made blouses are trending. Not just the design, but here is a huge variety available in necklines, back cuts and sleeves. From puffed sleeves to sleeveless there are a lot of options to choose from. The neckline varies from boat neck, classic round neck, pot neck, sweetheart neck, to simple square neck. Designer necks with sequins, kundans and stones are also popular. Engagement saree blouses with deep  back held together by doris and strings knotted have won over the hearts of to-be brides. Tassels are a recent addition to blouses.
Beautiful Hairstyles for Engagement Saree:
Braids:
Braids are a good choice if you want to have easily manageable hair which will stay in place all day long. Some of the different plaits to try are: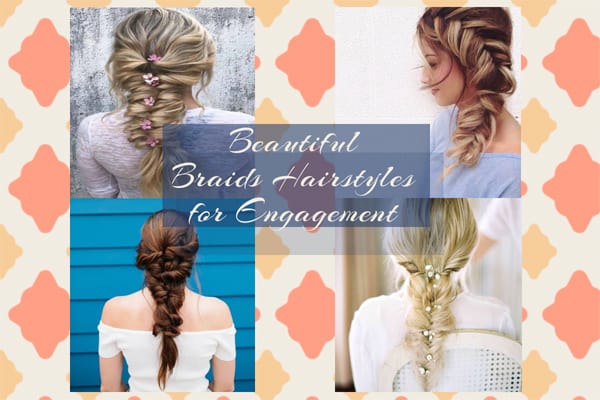 Classic Long Braid with Flowers
Make a pouf or centre partition at the front and then braid the rest o your long and thick plait. If you don't have naturally long hair, then use hair extensions. Wrap string of jasmine flowers around your braid. You can also place flowers in a U shape at the top of your braid.
Fishtail Braid with Pearls
Fishtail braid is a hairstyle which makes your look voluminous and glossy. Pin pearls in the centre of the fishtail braid to get a princess look. You can also use other accessories to enhance the braid. It is easy to make and maintain, thus making it a preferred hairstyle for brides.
If you are looking for romantic hairstyle for your engagement, then braid your hair loosely and let it hang over your shoulder. Some loose bangs at the front and flowers at the back can make you look elegant.
Mermaid braid is a voluminous and twisted hairstyle which gives a classy and graceful look. Make side twists by taking one inch of hair from each side and pin it behind your ear. Braid the rest of your hair in mermaid style and decorate it pin roses.
Up-Do: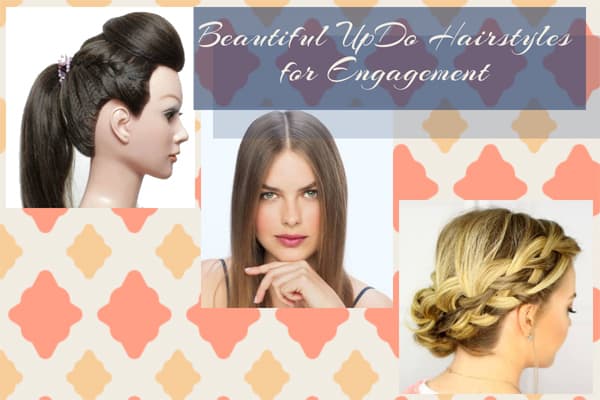 Up-Dos are a good option if you want to show off the design of your blouse and want to have a hassle free hairstyle which is easy to carry. Check out these styles for your engagement:
Pouf is a very famous hairstyle which is very simple to create. Take the hair from your crown, tease it and pin it up with a push. Rest of the hair is left open and it may be curled to enhance the look. You may use hair accessories like chains at the centre of your hair to get a royal look.
Centre Partition Free Hair Style
The  simplest yet most elegant hairstyle is straight free hair with centre partition with a maang tikka at your forehead. If you feel straightened hair is boring, then you can opt for tight ringlets or waves.
This is the style for those who prefer a semi open hairstyle, with a balanced look of class and glamour. In this style, your hair doesn't fall on the face or forehead but is left open at the back. The braids at either sides will give you a chic look. You may straighten the hair or even curl it to enhance the look.
Bun Hairstyles: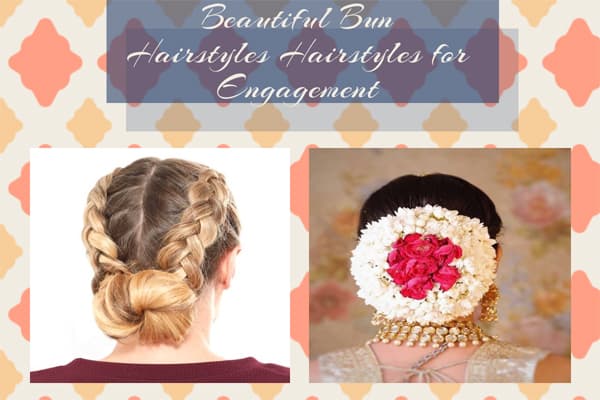 The most ethnic hairstyle to pick for your engagement day is the Juda or Bun. It is extremely elegant and ethnic. It is also easy to carry and is available in many varieties, some of which are given below:
Make a tight low bun and then use natural flowers like jasmine, roses or lilies to decorate it. You can decorate the entire bun by pinning the flowers around and on the bun or just decorate on one side of the bun using a single flower.
Take one inch of hair from each side of your head and braid it towards the centre of your head. Then, pull your hair into a ponytail, braid it and roll it into a bun. Decorate it with strings of jasmine or use embellishments.
Engagement Saree Price Range:
The price range of the engagement saree varies according to the material of the saree. The fancy sarees begin from INR 5,000 while the silk sarees begin from INR 15,000. The price of engagement sarees can soar up to lakhs if they are customised. Designer sarees also come in a variety of price range to suit different brides. Its price depends upon the designer and the boutique.