Assam Silk Sarees
Elegance never goes out of style. Elegance is maintained when draping yourself with our oldest traditional dress, the saree. This pure silk is originated from Assam,the saree thus made is one of the purest silk products. The silk produced is known for its fine glossy texture, and durability.
The specialty of this silk saree is that the entire saree is finely designed with Resham work only. This Assam pure silk is in black color which is crafted with multi-colored Resham work. The pallu, middle and lower part of the saree is weaved with three different designed. The saree is very unique and it will definitely make your day beautiful.
Assam is known for its striking natural beauty, wildlife resource, exquisite tea gardens, amazing culture and last but not the least quintessential textile weaving. This Indian state has been creating a remarkable benchmark in the craft industry for several decades. Assamese culture is known for its finest silk weaving processes. Every saree lover dreams to own at least one Assam silk saree.
Assam Silk Sarees – History
Assam was well known for the production of high-quality silk since ancient times. Weaving is an important characteristic of North East India Neolithic culture and is practiced among all the ethnic groups of Assam. The craft of weaving grew to such elegance in Assam that it was known all over India and abroad.
Kautilya's Arthashastra, political literature of the 3rd century BC, makes references to the highly sophisticated silk clothing from Assam. Kautilya mentioned the production of Dukula, a kind of Silk fabric produced from cocoons in ancient Assam. This Dukula had three varieties each named as muga silk, pat silk, and eri silks.
Various other stories tell that silk came to India through Assam. As per the Sanskrit text Harshacharita, while the coronation ritual of King Harshavardhan, king Bhaskarvarman of Kamrupa gifted many precious items to the North Indian king. Out of this, the most important ones include silk items and other precious jewels.
These included a white silk umbrella, sacks of woven silk and silken towels. There are also references of Assam silk in the records written by Huen Sang where he has written the use and trade of silk in Kamrupa during the rule of king Bhaskar Varman. Ram Mohan Nath in his book "The Background of Assamese Culture" says that: "The Kiratas", were traders in silk, a word that was derived from the Mongolian original word 'sirkek'.
The Indian word 'sari' is probably originated from the same word. "It is therefore clear that in ancient times tradesmen from different parts of Tibet, Central Asia, and China flocked to Assam through various routes, and as they traded mostly in silk, they were generally called Seres – Cirata– Kirata– Cirrahadoi–Syrities.
Genetic research on silkworms shows that Assam silk originated in two specific regions of Assam. One was Garo Hills in the ancient Kamrupa kingdom and the other was Dhakuakhana in the ancient Chutiya kingdom.
The specialty of Assam Silk Sarees
Assam comprises of both tribal and non-tribal populations. The Assamese tribes include the Boro-Kachari, Lalung, Mishing, Mech, Chutiya, Dimasa Cachari, and Karbi Anglong. Just as the bamboo craft was once a male bastion in Assam, textiles were exclusively for female occupation.
This trend is still in vogue in many parts of Assam. For domestic expenditure, a throw-shuttle loom is used in the non-tribal lowlands while commercial weaving is done on fly-shuttle looms with the support of a jacquard device.
Fabrics from Assam include the hand-woven fabrics of cotton, munga, pat, and eri. Muga has a natural golden texture, mildly warm and particularly suited for winters. Zari works on Muga silk fabrics were woven for royalty
The weavers from Assam weave beautiful designs on the borders of their mekhlas, chaddars, gamosas (towels)and rihas (traditional garments used by the women). These patterns generally involve animals, human figures, flowers, birds and diamonds. The designs in Assam are symbolic of the various tribes and ethnic groups of the area.
Women weavers work from a pattern of small designs which are generally geometric patterns embellished with floral tracery in between colored strips and are woven on a loin-loom with traditional colors.
As per custom, the young woman in Assamese society has to give a self-woven bihuan (gamosa or towel) to her beloved as a token of love, and to elders as a symbol of respect on Bohag Bihu (New Year's Eve). These towels are white with patterns at every ends with stylized forms of birds, animals, humans, flowers, foliage, and geometric motifs.
The beautiful tribal mirijim work is generally done on blankets, mattresses and floor coverings in celebration of guests and visiting dignitaries. The work is known for its great beauty, and also have excellence in traditional designs and durability.
Types of Assam Silk Sarees
Saree is the wardrobe staple of India women and it is indeed an honor to own one of the finest Assam silk creations for any saree lover. Assam is popular for being well enriched with a plethora of skilled weavers who work immensely hard with various kinds of Assam silk, namely Eri, Pat, and Muga.
Muga sarees: Gold that rules Assam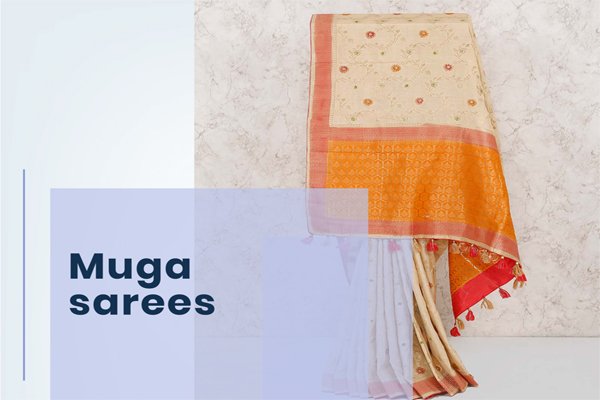 This gorgeous fabric exudes royalty in every sense. Known for its natural yellowish-golden hue and amazing durable conditions, Muga silk is mainly reserved for royalty. The Muga silk sarees are nonetheless quite expensive in nature and also form an intrinsic part of traditional weddings.
This golden silk is exclusively found in this state and is superior to the other forms of silk available in the world. The fine and lustrous look of Muga makes it stand apart from the rest.
The silk produced by Muga silkworms is 100% organic in every aspect and has already stood the test of time. It is said that the beauty and strength of an Assam silk saree can be identified only after years of wearing and washing. The more you wear it, the better it will look. The silk fiber is said to be the strongest and that makes it even more captivating.
Pat silk sarees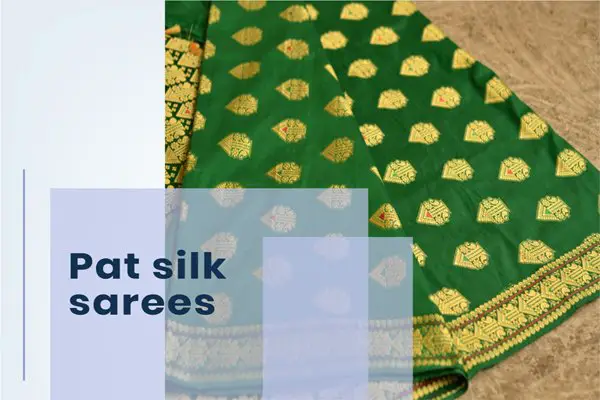 Pat silk is manufactured with Bombyx textor silkworms which feed on mulberry leaves. It is brilliant white or off-white in color also Its cloth can dry in shadow. Pat Silk is produced from Silkworms that are grown on mulberry bushes and hence the Silk is also known as Mulberry Silk.
The fabric is primarily used for local consumption. However, sericulture and Silk weaving community of commercial weavers buy 25 thousand kilograms of twisted mulberry Silk from the southern state of Karnataka in order to produce Pat sarees for clients outside Assam and abroad. Although the Mulberry Silk is light in weight and appears to be delicate, it is very durable in nature.
Sarees are perhaps the most widely sold Pat handloom products due to their sheer color combination, sheen and durability. They are suitable for all ages and Pat sarees are considered to be superior Silk sarees.
The saree is handwoven by adept weavers and hence, they have a very wide appeal for those who admire the craftsmanship. They last longer and can be worn in any season as Pat Silk is very skin-friendly due to its organic composition.
Eri silk sarees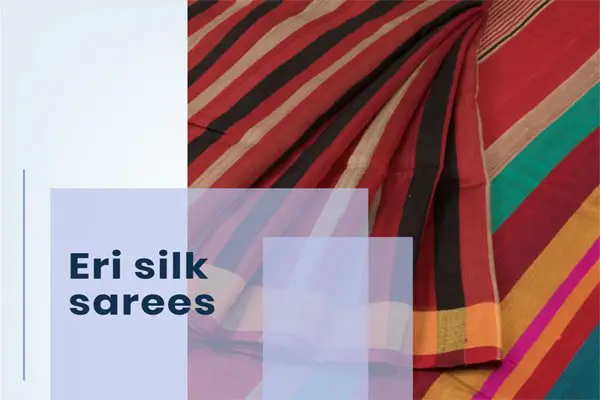 eri silk sarees are made by Samia cynthia ricini which feeds on leaves of castor oil plant. It is also known as endi or errandi silk. Because the manufacturing process of eri allows the pupae to develop into adults and only the open-ended cocoons are used for turning into silk, it is also popularly known as non-violent silk.
It is a staple fiber, unlike other silks, which are continuous filaments. The texture of the fabric is coarse, fine and dense. It is very strong, durable and elastic. Eri silk sarees are darker and heavier than other silks sarees and blend well with wools and cotton. It has a good thermal property, it is warm in winter and cool in summer.
Latest Assamese silk sarees.
You can find different Muga silk sarees in the market with a different color and minimalistic design, its good to use as a traditional attire and also for some functions.
Wearing a simple silk saree itself can give you an elegant look and pairing it with a blouse which is appropriate for function, can elevate your look.
Silk sarees are famous for matching two different vibrate color and choosing one with your skin tone can make you look outstanding.
Its all about choosing the right color, pattern, and design as per your taste, all Assamese silk sarees will give you a rich look.
Blouse design matching to Assam silk sarees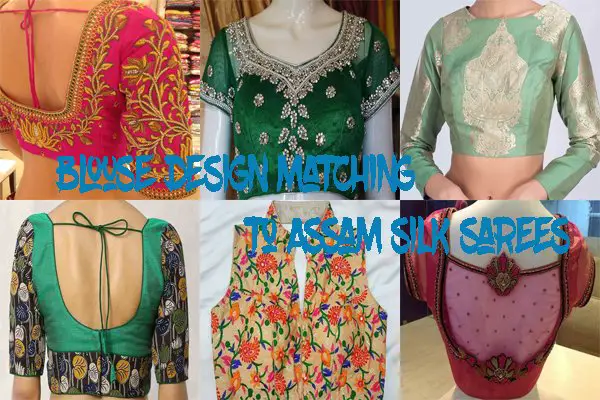 Stone Work And Maggam Embroidery Blouse Design
Beautiful Maggam work and thread work looks elegant on wedding ceremonies. Young girls and even ladies wearing heavy embroidered sarees will look amazingly gorgeous with Maggam and stonework designed blouses.
The designer long waist-length pattern blouse is the best match for young girls wearing a bold silk saree. Maggam works with Kundan art too is seen on the most designer blouse.
Silk And Net Combination Designer Blouse
Net sarees, in combination with other materials, have been in trend these days. And above all, a silk saree with a network looks amazing. Designers experimented net with the designs of blouses too. Designer blouse with a neck made with net fabric is one of the most seen blouses
Silk Blouse With High Neck Designs
A rich look to your personality gives a blouse stitched with a high neck pattern. You can also do patchwork on the neckline or a beautiful border work at the neckline. A golden blouse with a high neck pattern with a designer net sleeve looks awesome on a golden or plain black saree.
Dori And Sequence Heavy Embroidered Blouse
Dori works and sequences have put up its art again in the world of fabric. The look of Dori works gives a very rich effect. Ladies can wear an open pallu sarees with such a designer silk blouse. A plain contrast saree with a dark velvet blouse with roses embroidered with Dori looks elegant on any function.
Kutch Work Blouse
Kutch work has its own rich effect of its artwork on fabric. The thick work done by kutch embroidery looks awesome with a plain saree. The colorful design of kutch work goes best with any color of the saree. The best part of this blouse is that you do not need extra accessories to elevate the outfit.
Silk Blouse With Kalamkari Patchwork
Kalamkari artwork is also one of the most simple sober but a very awesome looking artwork done on fabric. Designer blouses made attractive with kalamkari patchwork look attractive to business parties or seminars. A kalamkari patchwork done on blouse best suits with a plain saree similarly designed with kalamkari work.
Assam silk sarees Price
Assam silk sarees are completely hand-woven. It takes more than a month to complete one Muga silk saree. The borders of these sarees are woven and attached separately along the border lengths. Essentially they use Resham for weaving an Assam silk saree but in a few pieces, you may find a little zari as well. Colorful Resham used in weaving an Assam silk makes these sarees as rich as the Assamese culture.
The price factor is always there. This is a handloom product and it would not cost you any less than 6,500/- for an authentic pure Assam silk saree.