When you think of a Christian wedding, an image of beautiful flowers, long and gorgeous gowns and of course yummy cake pops into your mind.  This image is slightly different when you move to the south of India where you will see the bride walking down the aisle in a beautifully clad saree.
This saree is prominent in Kerala and Goa where Portuguese culture is reflected. It is in these Indian Christian Weddings you will witness an amalgamation of regional cultures and western trends. The saree is usually in white or off white which gives the bride an angelic appearance.
The saree looks elegantly simple and when paired with tiara or golden jewellery, it takes the look to a whole new level. The Indian Christian to-be -brides are spoilt with choices as they have so many varieties and designs of saree to choose from.
History of Christian Wedding Sarees
Bridal Sarees became popular in Christian weddings when Syrian Christians of Kerala preferred community sarees over gowns for their brides. Following Syrian Christian brides and owing to the comfort factor, lesser cost, lifelong usage of sarees and easy availability of sarees in south India as compared to bridal gowns, other Christian brides are also beginning  to opt for sarees for their wedding. The adaptation of sarees in a Christian wedding is an example of the role region and culture plays in religion.
Places Where Christians Wear Saree for a Wedding
Generally Indian weddings are vivid and diverse and the dressing culture varies from region to region. While saree is staple wedding attire down in the south, lehengas and anarkalis are preferred in the north. Christians weddings are stereotyped with gowns, but this does hold true in India.
In many regions like Kerala, Tamil Nadu, and Karnataka, Christian brides prefer a saree for their weddings. While the western countries are still clinging on to frothy gowns, Indian states have gone a step forward and effortlessly blended their own dressing style into the Christian weddings and have created a fashion statement.
Popular Christian Wedding Saree Types
It is not just the white shades and weaves but also the other colors like gold, pink and lace and stone works in the saree which makes the saree come alive and enhances the beauty of the bride.
While most of the big, fat Indian weddings have vivid colors and loads of jewellery, the Christians bring out the beauty in simplicity. They show the world the simplicity is the greatest sophistication and blend it so well with their culture.
Christian Bridal Sarees Collection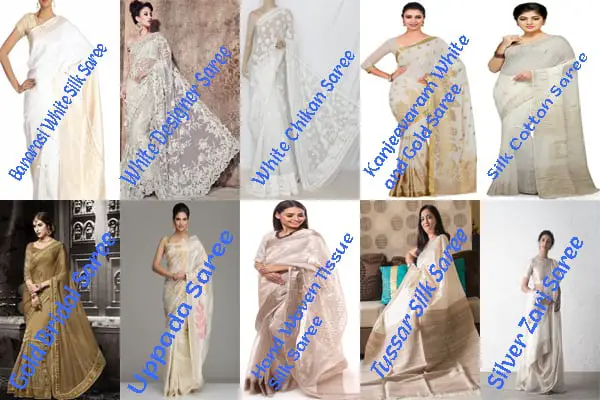 1. Banarasi White Silk Saree
Banarasi silk is the first option everyone thinks of when it comes to wedding sarees. These sarees look elegant and Christian brides prefer white or off-white sarees with a golden border. Small coin designs or other motifs can also be seen on their sarees. These sarees look extremely regal when paired with gold jewellery.
2. White Designer Saree
Traditional and Trendy is the tagline which many brides are after. Designer sarees that have stone embellishments are a trendsetter in the bridal world. Most sarees come in netted cloth or georgette.
These modern designer sarees have pink or gold undertones and along with the beautiful stone work, they will give you the look of  gown or even a better one. Designer sarees are the best option to make your wedding attire look extravagant. Pair it with a tiara and diamond jewelry to look absolutely resplendent.
3. White Chikan Work Saree
From wedding gowns to  sarees, there has been an appreciable shift in the wedding culture, which has now gone a step forward by accepting  Mughalai style chikan work saree from Lucknow, which is basically an Islamic style template into Christian weddings. White sarees with Chikan work is stealing the hearts of Indian Christian brides who steal our hearts with their amazing wedding saree.
4. Kanjeevaram White and Gold Saree
Kanjivaram silk saree is an option which can never go wrong. All the south Indian weddings have a love towards silk sarees and the Christian weddings are not different in this case. A kanjivaram silk saree with gold and white diagonal lines or boxes are a great choice to create an illusionary look on the bride. This saree looks amazing when the bride is adorned with jasmine flowers and jewellery, which are the essentials of every Indian wedding, irrespective of the religion.
5. Silk Cotton Saree
Christian bridal sarees are the best If you  have a summer wedding, then you will need a saree which looks simple, elegant and is  easy to breathe in. This is where the subtle silk cotton Maheshwari saree comes to your aid.  These sarees are woven in ikat pattern and the look can be completed with pearl jewellery. White sarees with beige designs are in vogue when it comes to silk cotton Christian bridal sarees.
6. Gold Bridal Saree
Gold is a royal color and looks amazing on every bride. Tissue silk sarees with thick golden lace border and sequins look gorgeous. From light gold in designer sarees to dark gold in silk sarees, there is a variety of sarees to choose from. Gold thread sarees are also a rich option. Beige or off white sarees with golden border are a classic option.
7. Uppada Saree
Uppada sarees which have a white and gold pattern look dazzling when paired with gold jewellery. These sarees are easy to wear and carry. There are loads of blouse designs to try from and this saree looks classy even in a simple golden blouse.
8. Hand Woven Tissue Silk Saree
Cream coloured hand woven tissue silk saree designed by Ritu Kumar is an elegant saree to consider for your wedding. It has a simple look and is extremely light weighted. This is a great option if you want to buy a silk saree minus the heat and work.
9. Tussar Silk Saree
A simple tussar silk textured saree with in milky white with light golden border is something which every girl desires in her trousseau. The simplicity of the saree gives space to experiment with blouse designs and jewellery.
10. Silver Zari Saree
Silver zari on white or silver silk sarees is a good option and lets you explore with platinum, silver or diamond jewellery. It is a step away from the traditional golden saree but looks exquisite too.
Blouse Designs for Christian Wedding Saree
Blouse is not just a piece of cloth but a major determinant of the overall look of the bride. The perfect blouse can make even a simple saree look stunning, while a wrong choice can spoil the entire look. The simple rule to remember is to wear heavy work blouses with simple sarees and simple blouse with heavy saree, as they complement each other well. Here are some of the most trending blouse designs to pick for your white wedding: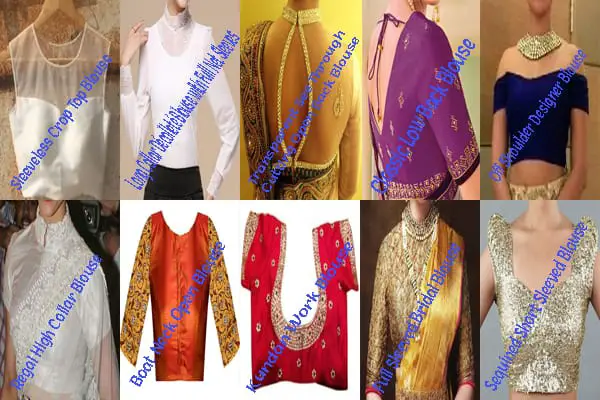 Sleeveless Crop Top Blouse
A sleeveless crop top style blouse in a bright color like orange or hot pink looks glamorous with a simple white designer saree. Floral gota patti thread work enhances the sleeveless design.
Long Collar Décolleté Blouse with Full Net Sleeves:
This is an alluring style which will bring out the beauty of your neck, shoulders and back. It has low cut, embroidered neck. The full hand net sleeves with minimal embroidery accentuates your arms.
Transparent See Through Cutting Open Back Blouse:
If you want to flaunt your gorgeous back, then transparent back blouse is a great choice. The oval open back with a high chocker neck will definitely turn heads. Embroider the edges to make the blouse stand out from the rest.
Classic Low Back Blouse:
An embroidered low back with dori, tassels, zari beads or pearls hanging from a thread will look ravishing on every bride. The low back will accentuate your curves and will bring out the best in you.
Off Shoulder Designer Blouse:
An off shoulder blouse in velvet is the perfect blouse for the contemporary Indian bride. It is a classic style which does not need any extra sequins or embellishments. A chocker neck piece will look great with this blouse.
Regal High Collar Blouse:
A high collared blouse with heavy embroidery, heart plunge neck line and resham work will add grandeur to your wedding saree. If you opted for a simple saree, then this heavy blouse will work well. Contrasting colours will make the saree stand out. While selecting jewellery, keep the ones for neck minimal and focus on other jewels, so as to not subdue the grand design of the blouse.
Boat Neck Open Blouse:
The most famous bridal blouse design of the current period is the boat neck design. An open back decorated with pearls or stones, depending on your saree will enhance the blouse. This is a blouse design which can look great either with minimalistic jewellery or heavy ornaments. It is a versatile one and the sleeves vary from sleeveless, elbow length to full sleeves.
Kundan Work Blouse:
If you want to spice up your white saree, then what is better han getting a heavy kundan work bright colored blouse? Play with contrasts and win everyone's hearts. Match the color of your jewellery to your blouse color and create a gorgeous style statement. This is a blouse which can make even a simple white silk saree extra ordinary.
Full Sleeved Bridal Blouse:
Long sleeves with floral motifs look chic. Boat neck cut does not demand much jewellery, so this is the best choice if you are planning on minimal jewellery for your wedding.
Sequined Short Sleeved Blouse:
A white glass sequined blouse with short sleeves is a good choice for designer wedding saree. Netted sleeves are also the rage now.
Accessories to Complement Christian Wedding Saree
Tiara: Tiaras are worn by everyone now a days, but traditionally it must be worn by a woman only on her wedding day or after her marriage, as it symbolises the loss of innocence and crowning of love. Tiaras are available in stones, pearls and crystals. From simple to elaborate designs, there are options to choose from.
 Gold Jewellery: Sarees and gold jewellery are an age old and classic combination. Pair your silk saree which has golden border with gold close necklace, jhumkas and a golden tiara along with gilded bangles and embrace the traditional Indian bride look.
Pearl Jewellery: Pearl is the best way if you want to keep your look simple yet elegant. Designer sarees look best with pearl jewellery as it enhances the saree. Pearl neckpieces, studs with waist bands will give you an angelic look.
Diamond Jewellery: Diamond and platinum jewellery will add a royal look to your wedding. Designer sarees and diamond jewellery are a great option. Even a simple diamond necklace, bracelet and ear rings will make you look like a queen.
Flowers: The most natural way to look angelic is to adorn yourself with flowers. Jasmine has always dominated weddings because of their fragrance and beauty. Roses are also a nice choice, not just to decorate the place but also the bride. Floral jewellery in place of gold or other jewellery is trending now.
Brooch: Brooch may seem like a simple piece of jewellery but can do wonders to your entire bridal look. Brooches with precious gems like diamond, emerald and ruby make a nice statement piece and can be handed down to future generations.
Clutch: Not just an accessory but also an useful item. Brides can carry fancy clutches to carry their napkins, lipstick for retouch, hand mirror, mobile phone etc. The right clutch can increase the beauty of the bridal look.
Bridal Gloves: Gloves come in different variants like full gloves, small gloves, fingerless and in materials like velvet, satin and lace. The common color is white but loves can be customised in different colors to compliment you saree.
Veil: A veil is a common accessory found in Christian weddings. It is worn to symbolize the purity of the bride. In ancient times, it was said to be worn to ward off evil spirits. Some customs require the brides to wear a face covering veil, while some brides wear it just as an accessory.
Bridal Shoes: Who doesn't love shoes? While walking down the aisle it is important to have comfortable shoes. Make sure you have a nice pair of bridal heels for your wedding dance, which is comfy as well as stylish.
How to Select a Perfect Saree For Christian Bride
Picking the perfect saree for your wedding can be tedious task, but after learning to shop according to your body type, this process becomes simpler. The first step is understanding you body type and shape and buying a saree of a material which brings out your best features. As far as color is concerned, most Christian brides opt for white, off white, beige or such light colors.
Saree for Pear Shaped Body: Pear shaped body refers to a heavier bottom in comparison to the upper body. Georgette and chiffon sarees are the best for these women as it would give a balanced look and make the body look proportionate. Embroidery work and small prints are recommended for this body type along with bright colored blouses.
Saree for Apple Shaped Body: Apple shaped women have a heavy bust and stomach. Long blouses till the waists will help to enhance the look. They should opt for silk and avoid net sarees. Heavy embroidery or zari work sarees compliments their body type.
Voluptous Body: Women with voluptuous body should go for light weighted sarees like chiffon, georgette or net which have a good fall and will accentuate their curves. It also makes them look slimmer. Make sure the saree is not too stiff. Delicate stone work or simple embroidery will do. Blouse with strings or low neck will show off your beauty on your D-Day.
Slim Body: Slim brides can drape silk or organza sarees which will give them a fuller look. Heavy embroidery, brocade or beadwork will look amazing on this body type. Low back, backless, sleeveless and halter neck blouses can be easily carried off by slim women. Bold prints also suit them.
Tall and Slim Body: Go for heavy border and bold prints which diverts the attention from your height. As you are slim, silk looks the best you. A classic white saree with thick golden borders surely deserves your consideration.
Short and Slim Body: These brides should opt for sarees with thin border as it would make them look taller. Small to medium sized prints will look good. Netted sarees, silk and georgette are options to try.
Christian Bridal Sarees Price
The price of the saree depends upon the material and design of the saree. Here is an average cost of Christian Bridal Sarees
| Type | From (INR) | To  (INR) |
| --- | --- | --- |
| Banarasi Saree | 10,000 | 40,000 |
| Designer Saree (depends on the designer) | 5,000 | 2,00,000 |
| Chikan Work Saree | 3,000 | 10,000 |
| Kanjivaram Saree | 15,000 | 1,00,000 |
| Silk Cotton Saree | 1,000 | 10,000 |
| Uppada Saree | 3,500 | 20,000 |
| Tussar Silk Saree | 20,000 | 60,000 |
| Zari Saree | 10,000 | 50,000 |
| Hand Woven Tissue Silk Saree | 5,000 | 15,000 |
| Georgette Saree | 15,000 | 50,000 |
| Chiffon Saree | 5,000 | 20,000 |
| Net Saree | 5,000 | 25,000 |
Conclusion:
Christian weddings and sarees are a wonderful combination and is a fact of awe to the westerners who get see how seamlessly we Indians can accommodate both tradition, comfort and regional fashion in a single attire. Saree is a timeless garment and it is time brides chose them for their weddings. As compared to gowns and lehengas which can be worn only on their wedding, sarees can be worn for every occasion. Isn't it sad to see the gown or lehenga in buying which you sent a lot of time and money in buying, spends it entire life time in your wardrobe? Pick these resplendent sarees instead and flaunt your wedding saree even after half a century of your wedding!