The rich culture and tradition of India is a matter of pride to us and awe to others. There is so much diversity in almost everything and yet we stand united. One can expect diversity in religion, language, habits, food and so on. But who would have foreseen such a great diversity even in methods of draping a saree? In India, one can see more than 30 varieties of draping the long piece of cloth, even though we have 29 states.
From Athpourey saare from Bengal, Nivi drape from Andhra Pradesh, Mekhela chador from Assam, Nauvari saree from Maharashtra, Coorgi Saree from Karnataka to Pinkosu and Madisar from Tamilnadu, we have a huge variety in this aspect.
In this article, we will move down south, into the Tamil Brahmin community and discuss their method of draping saree, The Madisar Pudavai, as it is commonly known (Pudavai is the Tamil Word for Saree). It is regarded as the most difficult methods of draping.
The Madisar way of draping follows the principle of Ardha- Nari, which means Half man and Half woman. In this style, the upper part is worn like the usual saree whereas the lower half resembles a dhoti which is worn by men.
Earlier, the women of the Tamil Brahmin community had to drape their saree in Madisar style on a daily basis. But now, it has reduced to just wearing a Madisar on festivals and occasions such as Marriage, First Baby Shower, called Seemantham, all religious ceremonies and,  poojas.
History of Madisar Saree: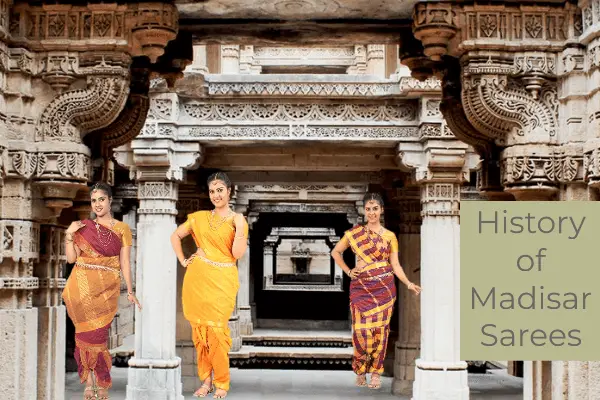 Madisar Style Saree is not restricted just to Tamil Nadu and similar draping styles are prominent in Maharashtra, Andhra Pradesh, and Karnataka. Some pictures even act as evidence of the fact that Madisar was worn by women warriors.
As the style helps in unrestricted movement of the body and is modest yet protective, one need not worry about anything while draping the saree in Madisar style. Apart from this, the Madisar also puts pressure on certain points which prevent the lady from feeling hungry, thirsty or the need to urinate during the day.
As many religious festivals require women to fast for long hours, it is mandatory for the women to drape the saree in Madisar style. Also, the belt-like typing at the hips cushions the lumbar region. It is similar to orthopedic's recommendation of hip-belts for women suffering from backaches.
It also acts as a shock absorber of the uterus explaining probably why our ancestors did not have as many miscarriages as we do, considering the number of off-springs they gave birth to.
Many warriors such as Jhansi Rani Lakshmi Bhai, Kittur Rani Chennama, Onakey Obavva, Ahalyabhai Holkar were portrayed in multiple designs of Madisar sarees.
Owing to its comfort, warriors, fisher women, and Brahmin ladies opted for Madisar style of draping as it is easy to walk, work and perform other day-to-day activities. Particularly, the Brahmin women had a lot of responsibilities in assisting her man while doing the pooja and other rituals. This is just another example of how our ancestor's associated tradition and health along with practicality.
The exact time period of the beginning of this style cannot be traced. However, some texts say that this style came into existence when the upper garment and the lowered garment were fused to a single form during the middle of the 2nd Century BC to 1st Century AD.
Just like the other traditions of India, this too has been handed down from generation to generation since times immemorial. The examples of warrior queens donning themselves in this style tell us that the Madisar style was prevalent for a long time.
Types Of Madisar Saree:
Madisar Saree is commonly draped by women of Tamil Brahmin community. Madisar is generally worn after marriage. It is first worn during one's wedding to symbolize the transformation from a girl to a married woman. The first saree is preferred to be in maroon color. The two sects of this community, Iyer, and Iyengar wear different types of Madisar Sarees.
Iyer Kattu (Kattu is the Tamil word for Tie) :
The Iyers who are worshippers of Lord Shiva, wear the pallu of the Madisar Saree over the right shoulder.
The Iyengars who are ardent devotees of Lord Vishnu, wear the pallu over the left shoulder.
The other types of Madisar wearing ladies belong to Telugu Brahmin community, where the saree is not worn in a trouser style.
Some agree that the Maharashtrian Nauvari Saree Style is also derived from Madisar Style.
The Kacche Saree of Karnataka is also a type of Madisar Saree.
Nowadays, readymade Madisar Sarees are also introduced in the market, which has made the tedious process of draping the Madisar Saree complete in a jiffy.
How To Drape Madisar Saree:
Wearing any saree is an art. Draping a Madisar saree may seem further complicated relatively, but is it really so? Try it for yourself and drape a Madisar saree next time you attend a Tamil Brahmin wedding. To wear a Madisar Saree, select a silk saree or cotton saree of nine yards length of your choice and follow the steps given below.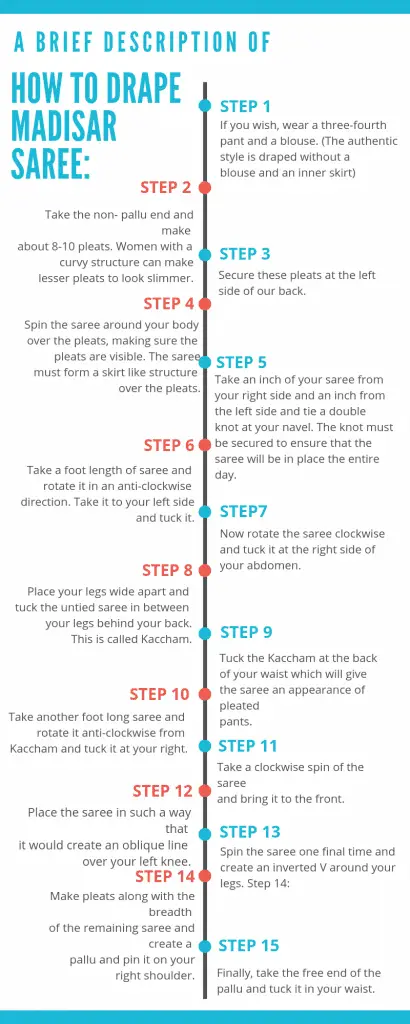 Step 1: If you wish, wear a three-fourth pant and a blouse. (The authentic style is draped without a blouse and an inner skirt)
Step 2:  Take the non- pallu end and make about 8-10 pleats. Women with a curvy structure can make lesser pleats to look slimmer.
Step 3:  Secure these pleats at the left side of our back.
Step 4:  Spin the saree around your body over the pleats, making sure the pleats are visible. The saree must form a skirt like structure over the pleats.
Step 5:  Take an inch of your saree from your right side and an inch from the left side and tie a double knot at your navel. The knot must be secured to ensure that the saree will be in place the entire day.
Step 6:  Take a foot length of saree and rotate it in an anti-clockwise direction. Take it to your left side and tuck it.
Step 7:  Now rotate the saree clockwise and tuck it at the right side of your abdomen.
Step 8: Place your legs wide apart and tuck the untied saree in between your legs behind your back. This is called Kaccham.
Step 9:  Tuck the Kaccha at the back of your waist which will give the saree an appearance of pleated pants.
Step 10:  Take another foot long saree and rotate it anti-clockwise from Kaccham and tuck it at your right.
Step 11:  Take a clockwise spin of the saree and bring it to the front.
Step 12:  Place the saree in such a way that it would create an oblique line over your left knee.
Step 13:  Spin the saree one final time and create an inverted V around your legs.
Step 14:  Make pleats along with the breadth of the remaining saree and create a pallu and pin it on your right shoulder.
Step 15:  Finally, take the free end of the pallu and tuck it in your waist. Thus, the look created would be a pleated pant at the bottom, with a knee-length skirt and a saree at the top.
To drape a Madisar saree you can use a nine-yard long saree of Silk or Pure Cotton. Though the above steps must be followed, to suit one's growing demands in limited time, fashion designers and businessmen have created Readymade Madisar sarees which are available in a variety of material, size, and colors to suit your needs. The price varies according to the quality of the saree used.
Madisar Saree Blouse Designs: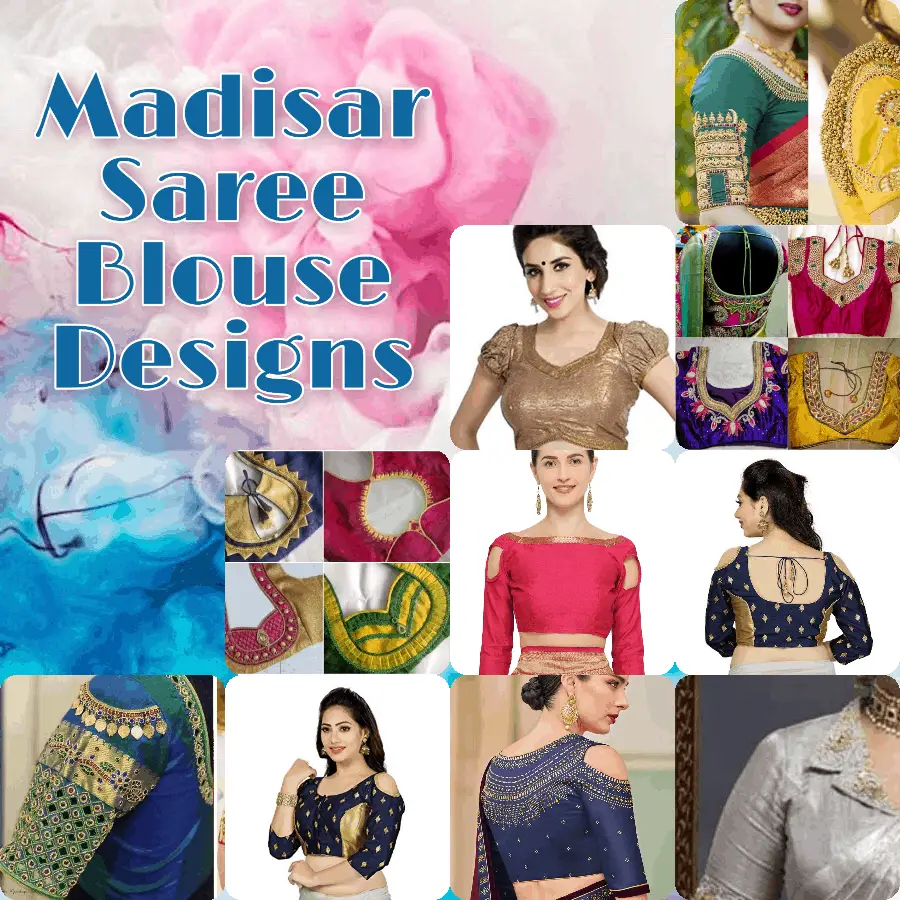 The highlight of draping a saree in Madisar style is that it eliminates the need for a blouse and an inner- skirt. But nowadays, women prefer to pair it up with an eye-catching blouse which surely does accentuate the beauty of being a Madisar Maami, a pefect hairstyle on saree can only magnify the appearance.
The blouse can be designed by giving variations to the sleeves, neckline and/or the back. Some of the trending ways to spice up your Madisar are given below.
Sleeves:
The best way to create a new look is through recreating the conventional sleeves of the blouse. Some of the ideas you can try are:
Brocaded Sleeves Blouse
Cold Shoulder Blouse
Elbow-length Sleeve Blouse
Embroidered Sleeves Blouse
Full- Sleeve Blouse
Puff Sleeved Blouse
Sleeveless Blouse
Thick Zari Bordered Blouse
Neckline:
You can add a trendy twist to the traditional by trying fashionable necklines for the blouse of your Madisar, such as:
Boat Neckline
Round Neckline
Square Neckline
Embroidered Neckline
High Collared Neckline
Embellished Neckline
Low V Neckline
Back:
The boring back can instantly become trending if you try out these new back designs:
Mesh Back
Backless
Embroidered Back
Dori String Ties
Open Back
Buttoned Back
Tasseled Back
Price of Madisar Saree:
The cost of Benarasi sarees begins from 4,500 Rupees and can go up to Lakhs depending upon the quality of silk used.
The price of readymade Madisar saree varies from:
| | | |
| --- | --- | --- |
| Saree Type | Starting From(Rupees) | And Above(Rupees) |
| Cotton Readymade Madisar | 1,200 | 2,000 |
| Silk Readymade Madisar | 5,000 | 15,000 |
Conclusion:
Madisar Saree, an example of a rich cultural heritage of India is slowly dwindling as the youngsters are losing interest and patience to earn this art of draping saree. The authentic way of draping saree is almost forgotten with the entry of readymade sarees into the market.
One must remember that this is not just another fashion trend to follow but it's our culture and tradition which is backed up by medical reasons. So instead of neglecting the practices and traditions of our ancestors, we must learn them and try our best to keep the uniqueness of India alive.