India is a land of diversity. Indian Ethnic wear has been in trend since times immemorial. With the Changing time, the trend is even getting popular in other places too. South India is famous for its unparalleled beauty in clothing and apparel.
South Indian Sarees are known to be a harbinger of festivities. From silk to cotton, these sarees are available in variety of fabrics threaded with intricate and distinctive designs.
Kuppadam Sarees History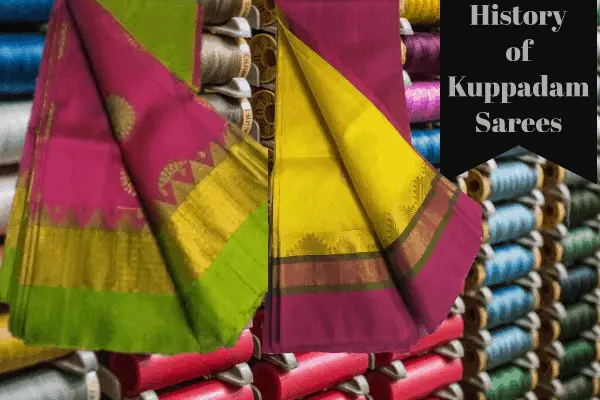 The history of Kuppadam Sarees originates from the state of Andhra Pradesh. Andhra Pradesh is known for the exclusive handloom of Kuppadam Sarees.
This has been created by the 'Chirala Community' of the place and became popular after the year 2002. The making of the saree requires intense hard work and dedication. This is one of the reasons why the weavers of the saree are termed as innovative and hardworking.
Specialty of Kuppadam Sarees
The designs in the saree are minute and distinct along with a unique interlocking design on the woof of fabric known as Kupadam. It is the reason why this form is named Kuppadam.
The counts that are used in the sarees are 120 (length) – 120 (breadth) for soft sarees. Kuppadam Sarees are generally preferred for religious occasions because the border has a Temple motif. On most religious occasions in Andhra Pradesh, this saree is worn and considered a symbol of auspiciousness.
Popular Kuppadam Saree Types
Kuppadam Sarees are available in many forms videlicet:
1. Kuppadam Silk Sarees :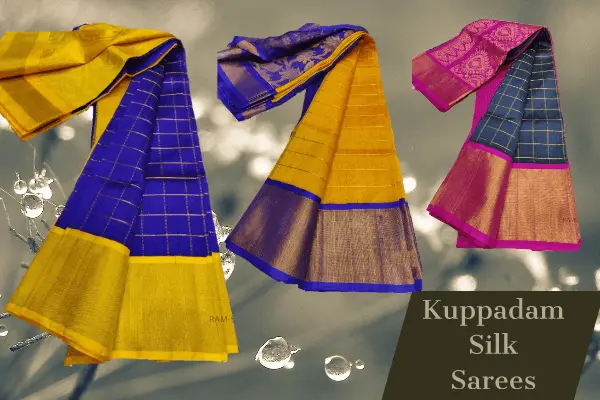 Kuppadam silk sarees are made up of mulberry silk thread. These sarees are preferred for special occasions like bridal functions and religious occasions. The silk of the saree is from South India and the zarurat is from Gujarat. Kuppadam silk sarees cost more as compared to other forms because of the inclusion of fine mulberry silk thread and zari work in the saree.
2. Kuppadam Pattu Sarees :
Pattu sarees are lustrous and are made up of pure mulberry silk threads with pure gold coated silver zari. These are the hallmarks of a pure Pattu sarees. Per unit cost of a Kuppadam Pattu sarees is around rupees 5500.
3. Kuppadam Cotton Sarees :

Kuppadam Cotton Sarees are comparatively cheaper than other forms of Kuppadam Sarees. These are made with pure cotton fabric along with intricate border designs that distinct finish it from other sarees. Kuppadam Cotton Sarees are also comparatively cheaper than silk and other forms.
4. Kuppadam Tissue Sarees :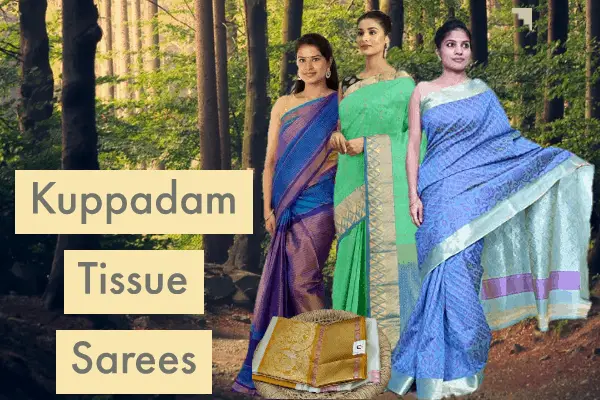 Kuppadam Tissue sarees originate in Andhra Pradesh. Tissue sarees are known for their lustre. It is made up of glass tissue fabric and are lighter in weight. It's lustrous beauty and sheen appearance has the ability to attract people to make it a part of their wardrobe. Such sarees are made up with extremely fine threads of silk.
Cotton silk sarees are also one of the famous sarees. It is made by combining two fabrics which are cotton and silk. Made up of hybrid fabric, cotton silk sarees are comparatively cheaper than pure silk sarees.
Latest Kuppadam Saree Designs
The softness and hardness of the Sarees depend upon the count of threads. Count refers to the horizontal and vertical arrangement of threads woven around the weft and warp of the Sarees. In case of a Kuppadam saree, this count is 120 both lengthwise and breadth wise.
One of the designs of a Kuppadam saree is the Uppada Kuppadam sarees. Uppada is named after a small beach town in Andhra Pradesh. It is situated in the East Godavari district of Andhra Pradesh. Uppada Kuppadam is known for its distinctive designs that are made up of cotton warp.
Kuppadam Sarees Price
Kuppadam Sarees differ in prices based on their type and quality. Kuppadam Silk sarees are more expensive as compared to other kinds. The cost of such sarees range around Rs. 7000 to 9000. Kuppadam Pattu sarees cost lesser than silk. The usual price is around rupees 5000 to 6500. Kanchi Kuppadam sarees also usually cost around rupees 5000 to 6000.
Kuppadam Pattu sarees usually cost around rupees 5500 per unit. Kuppadam silk sarees are comparatively expensive because of the existence of mulberry silk threads in it. This may cost a bit more whereas cotton silk sarees are cheaper as compared to other forms. These are more popular among general people because of its economical nature and affordable price.
Popular Places to buy Kuppadam Sarees
Chirala is known for Chirala handlooms. Being famous as the origin of Kuppadam Sarees, there are many handlooms available for such sarees. Around 5000 handlooms are now producing Kuppadam sarees.
One of the famous places for the purchase of Kuppadam Sarees is Srilakshmi handlooms in Chirala, Andhra Pradesh who are exclusive manufacturers of handwoven sarees. Other famous manufacturer includes Unnati Silks.
Now-a-days people are more prone to buying things online. Therefore, these sarees are available online on various sites.
Conclusion:
South Indian Sarees are a symbol of elegance and auspiciousness. Most of these varieties are preferred for special occasions including weddings and religious events. On account of their intricate and authentic designs, these sarees are being considered across the world. Due to their worthy innovation and immense dedication, the weavers of the Sarees have gained popularity all around the country.