Silk sarees have been an integral part of Indian culture for centuries. The art of weaving silk into sarees has been passed down through generations, resulting in the creation of unique and timeless pieces.
One of the most sought-after silk sarees is the Mulberry silk saree, which is known for its fine texture, durability, and elegance. 
Made from the finest quality silk, this type of saree is known for its sheen, softness, and durability. They are considered to be one of the most premium types of silk sarees available in the Indian market.
HISTORY OF MULBERRY SILK SAREE 
Silk has been around since the dawn of time with Indus Valley Civilisation being credited with its discovery of it. Rearing wild silk from the available caterpillars was a popular culture then.
The inhabitants of the Indus Valley culture cultivated silkworms for their cocoons. 
While the origin of mulberry silk can be traced all the way back to China. The Chinese developed the craft of silk weaving using mulberry silk to make fine textiles and clothes for the aristocracy, and the skill quickly spread across Asia. 
During the Mughal era in India, the craft of silk weaving was developed, leading to the rise in popularity of mulberry silk sarees.
The sarees worn by the Mughal emperors and their queens were famous for their lavish silk fabric and ornate stitching and embellishments.
Silk weaving expanded throughout India over time, with each region's weavers eventually adopting their own signature style.
92% of India's mulberry raw silk comes from the states of Tamil Nadu, Karnataka, West Bengal, Andhra Pradesh, and Jammu & Kashmir. Presently, India is the second largest producer of silk after China.
Sarees made from mulberry silk are now manufactured in several countries, and they continue to have the same cachet and appeal wherever they are worn. Its exceptional beauty ensures that it will always be highly sought for.
HOW IS MULBERRY SILK SAREE MADE?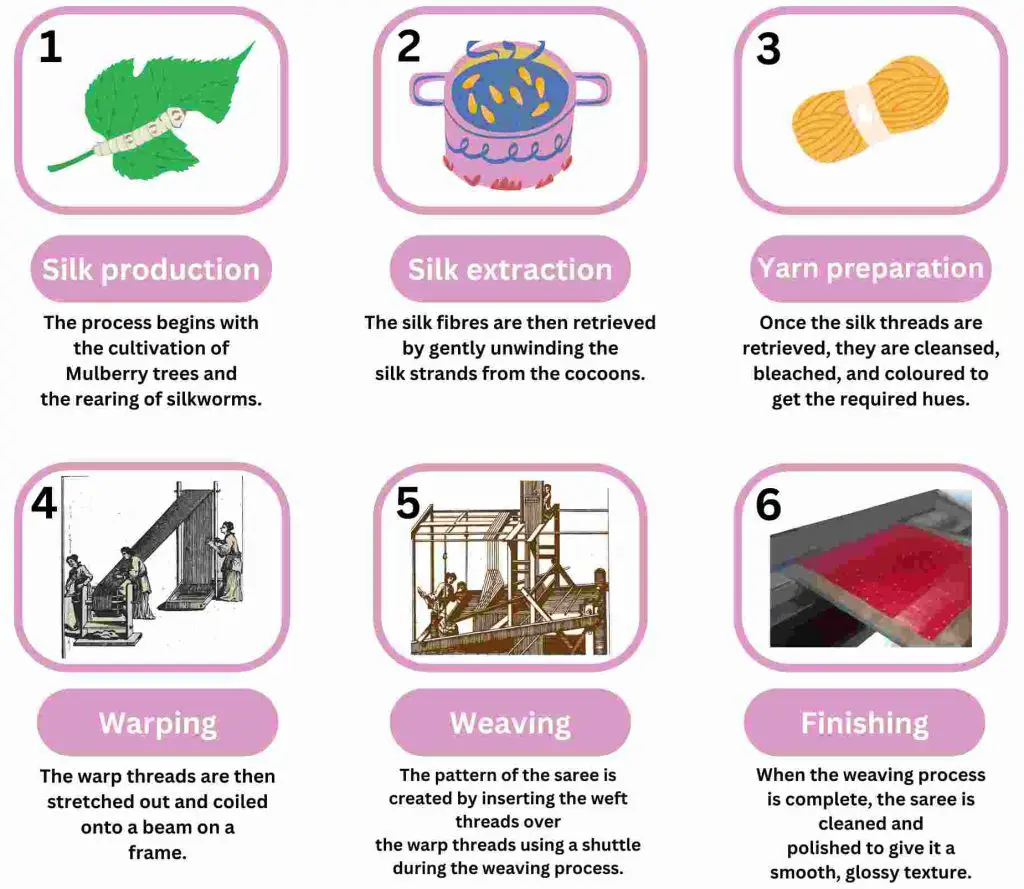 Mulberry silk is a sustainable material derived from a natural process. Bombyx mori, a type of farmed silk worm, spins its silk from the leaves of the mulberry tree, which is its sole source of nutrition.
Mulberry silk sarees are made by a time-consuming and labor-intensive weaving and manufacturing procedure. There are several stages to the process, including:
Silk production: The process begins with the cultivation of Mulberry trees and the rearing of silkworms. The silkworms are fed with Mulberry leaves, and after several weeks, they spin cocoons around themselves to form a protective casing.
Silk extraction: The cocoons are then gathered and boiled to eliminate the silkworms within. The silk fibres are then retrieved by gently unwinding the silk strands from the cocoons. This is referred to as reeling.
Yarn preparation: Once the silk threads are retrieved, they are cleansed, bleached, and coloured to get the required hues. After being spun into yarn, the strands are wrapped into bobbins.
Warping: The warp threads are then stretched out and coiled onto a beam on a frame. This process, termed warping, produces the foundation of the saree.
Weaving: The pattern of the saree is created by inserting the weft threads over the warp threads using a shuttle during the weaving process. Weaving is often performed on a handloom, which permits better accuracy and control.
Finishing: When the weaving process is complete, the saree is cleaned and polished to give it a smooth, glossy texture. This may require heating, pressing, or the application of zari work.
MULBERRY SILK SAREE MAINTENANCE TIPS 
These sarees are delicate and should be cleaned by hand in cold water with a little detergent to preserve their colour. To prevent wrinkling and sun damage, they should be dried flat.
Ironing should be done in a low heat setting, and the saree should be stored in a cool, dry place to avoid any damage from moisture or insects.
MULBERRY SILK SAREE DESIGNS AND COLOURS
Mulberry silk sarees come in a variety of designs and colors, making them a versatile choice for any occasion.
Some of the popular designs include traditional paisley, floral, and geometric patterns, as well as contemporary designs featuring bold prints and abstract motifs.
Mulberry silk sarees may be found in an array of colours, from bright and bold tones like red, pink, and orange to more muted tones like beige, white, and grey.
Embroidery, zari, and sequins are commonplace embellishments, giving the sarees an opulent appeal.
DIFFERENT TYPES OF MULBERRY SILK SAREE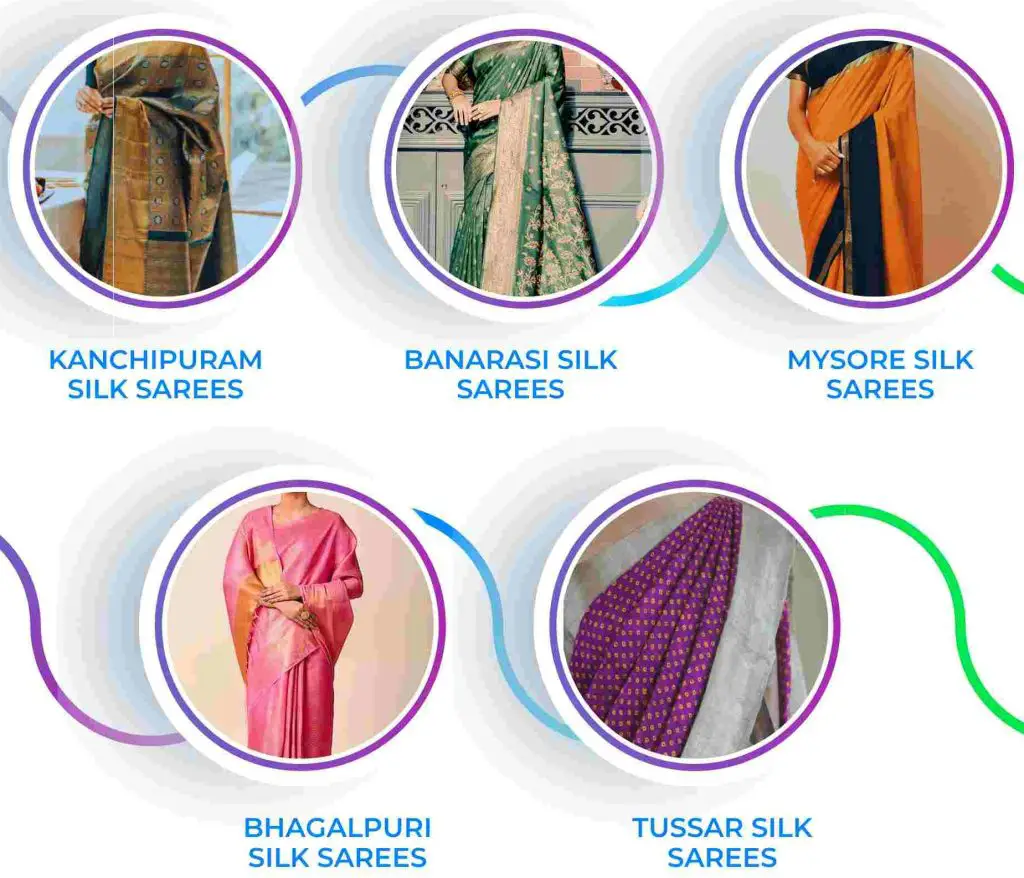 There are several types of Mulberry silk sarees, each with its own unique style and characteristics. 
Kanchipuram Silk Sarees – These sarees are known for their rich colors, intricate designs, and heavy silk borders.
Banarasi Silk Sarees – These sarees are woven in Varanasi and are known for their intricate zari work and exquisite designs.
Mysore Silk Sarees – These sarees are made in Mysore and are known for their lightweight and airy feel.
Bhagalpuri Silk Sarees – These sarees are made in Bhagalpur and are known for their unique textures and patterns.
Tussar Silk Sarees – These sarees are made from a type of wild silk and are known for their rich texture and earthy tones.
WHEN TO WEAR MULBERRY SILK SAREE? 
Mulberry silk's sheen and lustre make it ideal for special events like weddings, festivals, and anniversaries. This silk is too exquisite to be incorporated into everyday wear.
Most of the textiles producing mulberry silk varieties indulge in the creation of silk sarees, or evening garments etc.,
MULBERRY SILK SAREE BLOUSE DESIGNS
1. Gold or silver brocade blouse
A gold or silver brocade blouse may bring a touch of elegance and glamour to the mulberry silk saree. The metallic threads in the brocade fabric can complement the shine of the silk and create a cohesive look.
2. Embroidered blouse
One may choose a blouse with embroidery that matches the color scheme or design of their saree, or they can opt for a contrasting color to create a bold and eye-catching look.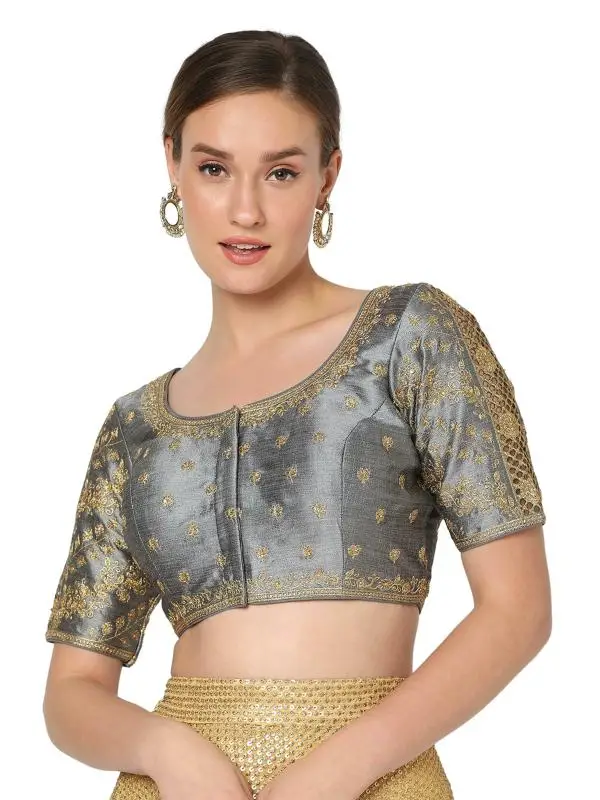 3. High-neck blouse
One may choose a blouse with a simple design or opt for one with intricate details like lace or embroider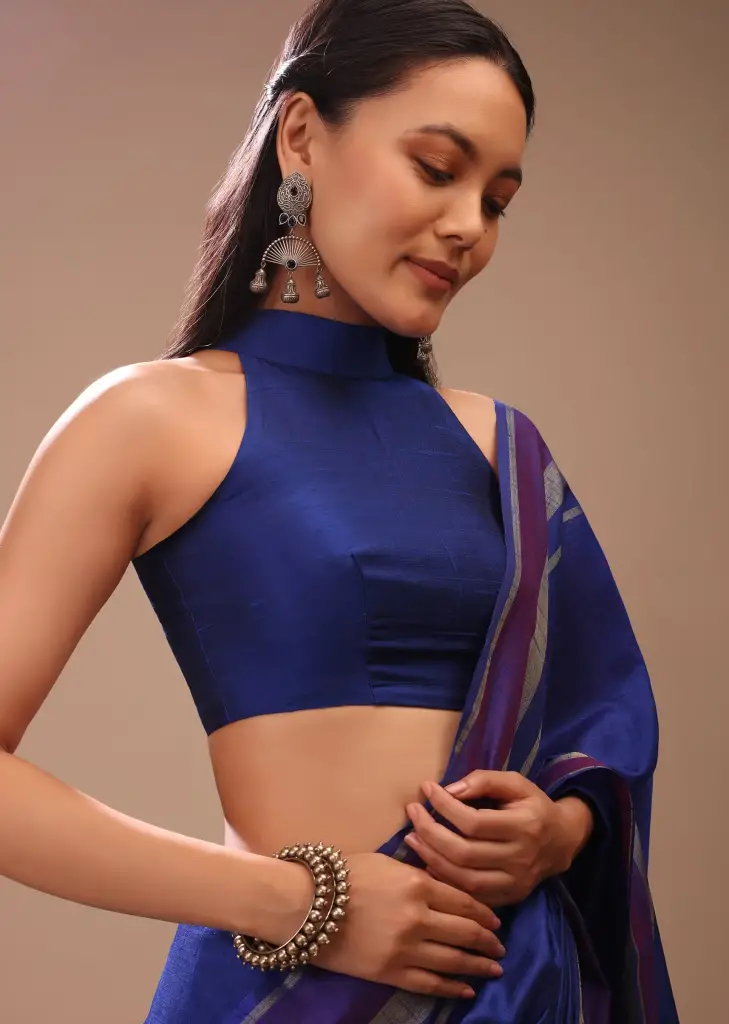 4. Printed blouse
A printed blouse can add a playful and vibrant touch to your mulberry silk saree.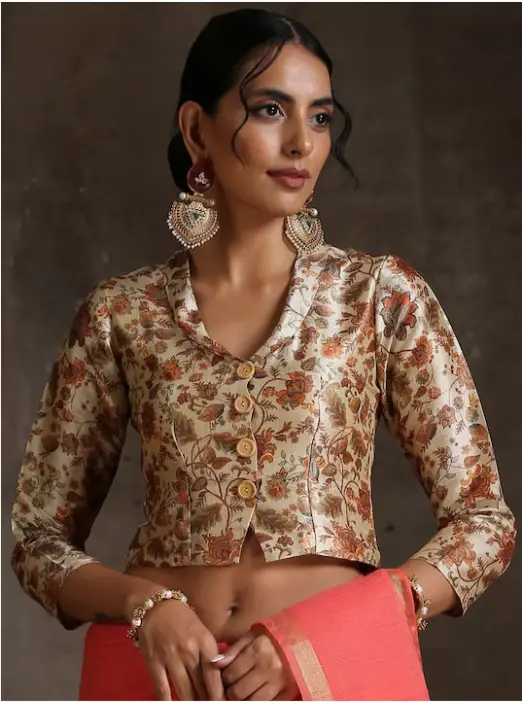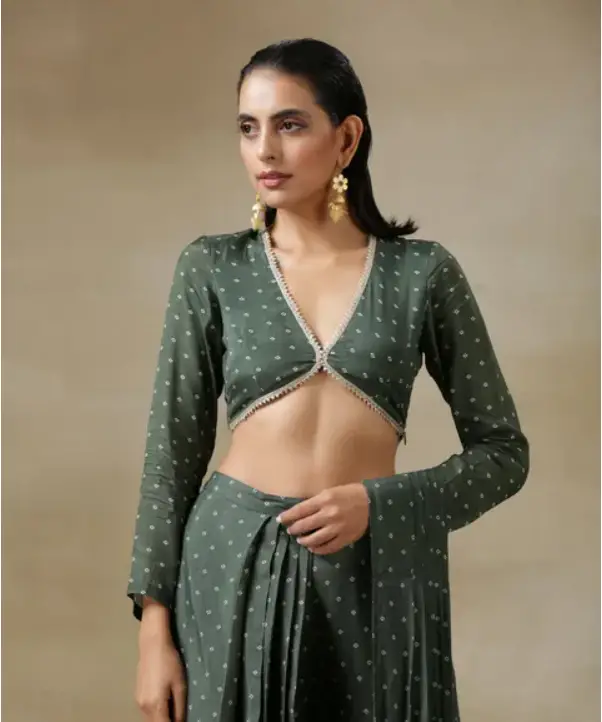 WHAT IS SO GOOD ABOUT MULBERRY SILK?
Mulberry silk is incredibly soft and comfortable, making it perfect for all-day wear. It is one of the strongest natural fibers, making sarees incredibly durable and long-lasting. 
It is hypoallergenic, which means that the saree is less likely to cause allergies or skin irritations and it quite is a breathable fabric allowing the air to flow through it, keeping one cool and comfortable in hot weather.
IS MULBERRY SILK EXPENSIVE? [MULBERRY SILK SAREE PRICE]
Mulberry silk saree may cost anywhere between INR 2,000 to INR 30,000 or more. The price can also vary based on the type of Mulberry silk saree, with Kanchipuram and Banarasi silk sarees typically being more expensive due  to their intricate designs and heavy silk borders.
However, it is important to note that the price of a Mulberry silk saree is a reflection of its quality and craftsmanship, making it a worthwhile investment for those looking for a luxurious saree.
WHERE TO BUY MULBERRY SILK SAREE?
Conclusion:
The fabric made from Mulberry silk is highly regarded all around the world. India is a major exporter due to its status as the world's second-largest producer of mulberry silk.
It is a timeless and luxurious piece of clothing that has been a favorite of Indian women for centuries. These sarees are known for their softness, durability, and intricate designs, which make them suitable for a variety of occasions.
It is a must-have in any Indian woman's wardrobe and is a testament to the rich cultural heritage of India.