Stonework sarees are not new to most people in India. Its history talks about colorful folklores of the royal living, the rich, and the elites.
Stonework has been cherished for years especially during weddings and special events. Today, stonework sarees are no more a dream.
Due to its demand, many manufacturing units have made it affordable to families. These are cherished highly for weddings and special occasions.
THE HISTORY BEHIND STONEWORK SAREES
The era of stonework began from the Iron Age. With the discovery of thread and fur, humans learned the art of attaching stones, bones, fur, and other embellishments to fabrics.
This art was more prominent amongst the people of Egypt, Phoenicians, Hebrews, and Babylonians.
The process of stonework at an earlier age was a time-consuming task as the laborers had to stitch the highly-valued stones by hand.
During the machine launch too, the time taken was more until computers were invented. The actual art of stonework began more popular by Joshua Heilmann in 1828.
Joshua improvised the hand embroidery machines. He gave innovative movements to the embroidery industry.
As we discussed, stonework was first highly regarded and appreciated by the royals for its time-consuming process and valuable stones. As the years passed, stonework clothing became a global business.
SIGNIFICANCE OF STONEWORK SAREES IN WEDDING
Stonework plays a significant role in the bridal wear segment. The stonework bridal wear collection in sarees and lehengas is in great demand regardless of religion.
The entertainment and event industry also heavily relies on stonework wear. Saree symbolizes the bride's beauty and enhances her personality overall.
Thus, stonework Sarees are highly valued in wedding ceremonies, engagement, haldi ceremonies, and many such Indian traditional events.
Initially, stonework was crafted by laborers and artisans. Slowly, the exclusivity of the sarees and the array of varieties in stones caught the eye of fashion designers too.
Stonework sarees soon became an anthem to many designers who display their skills through these valued stones embellished beautifully on different fabrics.
HOW MUCH ARE STONEWORK SAREES WORTH?
The range of stonework sarees is anywhere from INR 1,000 to INR 10,000 or even more. The cost may vary as per the amount of stonework performed.
The making of stonework sarees also decides the worth of these. Stonework sarees can be made by hand or by machine. Handwork is more expensive as the stones are beautifully crafted by laborers manually making every design unique and exclusive to sell.
The other factors that differ in the price of stonework sarees include fabric used, length of sarees, handwork/machine made, and location.
Stonework sarees that are exclusively made by designers and those displayed at malls could be pricier than the ones you buy from their base of manufacture.
TYPE OF STONEWORK SAREES
Crystal work, new stonework, moti stonework, and heavy border stonework are few types of highly valued stonework sarees.
Stonework can be performed on different fabrics in sarees. Certain fabrics need special care and thus the work is performed manually by labors.
On the other side, certain fabrics can easily adapt to stonework done with the support of machines. Some most common fabric types that are used in stonework sarees include crepe, silk, net, denim, brasso, tissue, chiffon, georgette, cotton, and more…
These fabrics are known to keep the stonework for long and are naturally durable to perform various other embroidery work too.
REGIONS WHERE STONEWORK SAREES ARE MOST POPULAR
Sarees are mainly worn in different styles in countries like India, Bangladesh, Pakistan, Nepal, and Sri Lanka. Considering India as the major hub for sarees, many states are leading manufacturers for stonework.
Few regions to name are Kolkata, Jaipur, Gujarat, Karnataka, Chennai, and more…
You can try some amazing e-commerce sites to pick the saree from your favorite region. You will find an array of options to choose from.
Bridal wear stonework sarees are best found in Gujarat and Jaipur. They manufacture and export it globally.
OTHER OCCASIONS IN WHICH STONEWORK SAREES ARE POPULAR IN ADDITION TO WEDDING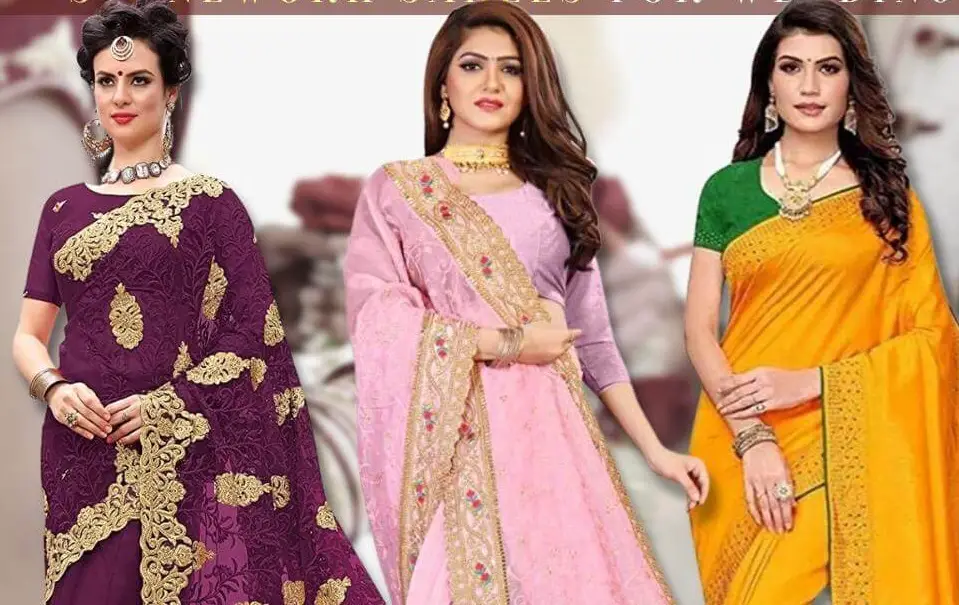 Stonework sarees are the most appreciated for weddings. Other than the wedding, these enhance the beauty of a woman in parties, workplace, get-togethers, festivals, entertainment events, personal occasions, and similar events.
Due to their beautiful pattern and designs, many women prefer to wear it casually as well.
Due to its delicate handling, most people prefer to wear it on an occasional basis. You will find designers using a lot of stonework in their wedding collection, bridal collection, mehendi collection, showrooms, and entertainment fashion shows.
Few major designers who are known for beautifully crafted stonework and are highly appreciated for their work on the big screen include Manish Malhotra, Ritu Kumar, Rina Dhaka, and more…
TIPS FOR STONEWORK SAREES MAINTENANCE
Stonework is a delicate artwork and thus, its cost is high too. You need to be careful of the maintenance tips on handling the sarees carved with stones.
Few maintenance tips on handling stonework sarees include:
Iron delicately. Avoid ironing the saree with an iron set at high temperature.
Dry cleaning is mostly recommended and suggested for stonework sarees over other work.
Avoid washing the saree frequently or it will spoil the fabric quality and handwork.
Similar to other saree washes, stonework sarees need to wash in gentle fabric cleaners.
If the saree is exclusive, expensive, and delicate, avoid using harsh chemicals like bleaching.
Avoid squeezing the water from the saree after wash and gently hang it as is. Let the water naturally dry from the fabric.
Treat the stains (if any) immediately. Wash only that area and let it dry.
You must also follow the instructions if there is any attached by the manufacturer.
BEST STONE WORK SAREES FOR WEDDING
Conclusion:
Stonework sarees are perfect attire to enhance the looks and personality for any occasion. Consider buying a color that suits your skin tone and add up to the jewelry.
Take some time to explore the options online and choose what falls in your imagination, budget, and occasion.