New Model Pattu saree is the current trend for brides! The elegant colors and rich fabric makes every moment of the wedding special.
These sarees are highly preferred by families on various wedding functions such as Mehendi, Haldi, Muh-Dikhai, Engagement, Main-wedding day, reception, and many such similar occasions.
The sarees are especially loved by Indians residing in Southern states. We have a lot to discuss on pattu sarees along with reasons why these are highly valued by Indian families, especially on auspicious occasions.
THE HISTORY OF PATTU SAREES
Pattu sarees remain one of the most preferred on cultural and traditional occasions in India. The new model sarees have kept everyone spellbound by the enchanting looks and graceful styles.
Pattu means Silk. The word is originally from Tamil Nadu. Silk or Pattu sarees are made with patience and a creative mind. Talking of its history, as we discussed Pattu sarees are originally from South India.
The traditional pattu sarees were carved and coated with pure gold. These are still bought out of love today. Due to their versatile qualities, the saree still enjoys great demand.
Due to their ever-rising demand, many designers have changed the traditional style of weaving and given a new meaning to the beauty of modern pattu sarees.
The new model pattu sarees are now available globally with the help of a few renowned e-commerce sites.
SIGNIFICANCE OF PATTU SAREES IN WEDDING
Pattu sarees have been highly valued and appreciated during weddings and similar occasions. Due to their smooth finish, bright colors, and distinct quality, these sarees made of silk enjoy great value.
Even if you go for the typical pattu saree from the South, it only helps you to enhance your overall personality. These look great on anyone regardless of the occasion.
Due to certain amazing features in new model pattu sarees, these enjoy great significance in a woman's life. Let's discuss few to understand what makes these sarees so unique.
TOP FEATURES OF PATTU SAREES
1. Variety
Pattu sarees come in an array of varieties and this makes them unique for every purchase. Few notable names in these sarees include Kanjeevaram, Banarasi, Bhagalpuri, Mysore Silk, and more…
2. Purity:
One amazing feature about pattu sarees is their purity. These sarees as we discussed are made of pure silk mainly Mulberry silk.
Mulberry silk is known for its durability and strength to hold the fabric for long. Moreover, pure pattu sarees are interwoven with golden or silver zari to give an extravagant look.
3. Attractive colors:
The attractive colors in these sarees make it a must for all occasions. Many actresses in Bollywood are known for wearing pattu sarees for their vivid colors and elegant looks. From heavy wedding occasions to office parties, these can be worn on formal or informal occasions.
HOW MUCH ARE NEW MODEL PATTU SAREES? ARE THEY WORTH?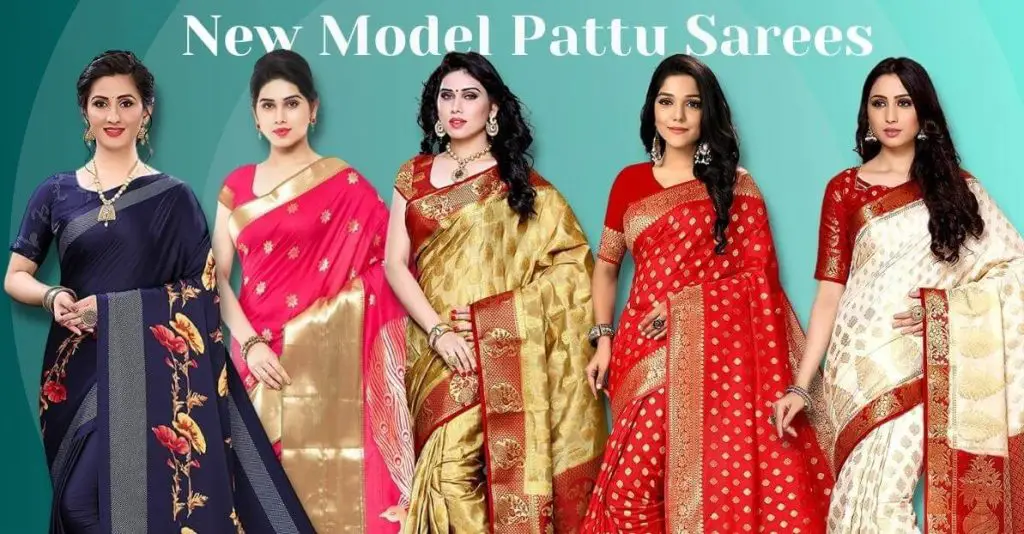 New model pattu sarees are usually expensive than other sarees. The price may vary from INR 15,000 to INR 65,000 or more depending on the handwork, exclusivity, purity of silk, and similar distinct features.
If you go for an exclusive designer Kanchipuram pattu saree in the latest design, it may cost you between INR 60,000 – INR 65,000.
Similarly, the colors also decide the price of pattu sarees. For instance, white and gold pattu saree may go up to INR 70,000. Certain pink pattu sarees may cost you INR 18,000.
The location from where you are buying the saree will also decide the price. A puttu saree picked from the designer showroom will be pricier than the one picked from its place of origin.
TYPE OF NEW MODEL PATTU SAREES
Let's understand a few types of pattu sarees that will help you choose the one most suitable for your occasion…
1. Designer sarees in pattu:
The latest designer pattu sarees come with heavy work on the blouse piece. These are pure handwork and are perfect for parties!
2. Kalamkari pattu saree:
Kalamkari pattu sarees are a perfect blend of traditional craftsmanship and modern looks. These sarees are mostly in floral design and look simply luxurious! These are awesome for ethnic parties or social gatherings.
3. Cotton silk saree:
Cotton pattu sarees are handwoven sarees with Uppada cotton silk. These add glam to the personality with its golden zari work on the borders.
4. Long border pattu saree:
Long border sarees are most loved by brides. These make a grand statement and a grand entrance of the bride.
5. Paithani pattu saree:
Paithani pattu silk sarees are amongst the priciest sarees. These are woven with pure silk and give lavish finishing. The golden zari gives a perfect difference on the border.
6. Banarasi silk saree:
Banarasi brocade silk sarees are a stunner! These come in a rare combination of black and gold with traces of green and pink. These are worn mostly in wedding receptions, social gatherings, and similar occasions.
7. Linen silk saree:
Linen pattu sarees are handcrafted to perfection. These add to the personality of any woman. Linen sarees usually come in bold colors with a zari border.
8. Kudappam silk saree (light-weight):
Kudappam sarees are one of the most loved pattu sarees. Two main reasons why these are highly appreciated are due to their lightweight and affordable quality.
9. Pure silk kanjeevaram saree:
If you are looking for typical traditional opulent pattu sarees, Kanjeevaram sarees are the best! The heavy designs and refreshing colors add perfection to any occasion. Temple visits, religious occasions, and traditional weddings are some common reasons for wearing kanjeevaram sarees.
10. Parampura pattu saree:    
Parampura means handloom pattu sarees that are manufactured with a perfect blend of modern colors and traditional designs. These are perfect for evening time.
REGIONS WHERE PATTU SAREES ARE MOST POPULAR
The craze and attachment for these sarees in states like Tamil Nadu, Karnataka, Andhra Pradesh, and Kerala are more. However, from the entertainment industry to corporate, women from all sectors prefer pattu sarees on their special day.
Kanchipuram is the most popular pattu saree which is originally from Tamil Nadu. Assam is another popular place known for silk sarees. From south silk to traditional and provincial silk, silk sarees play a vital role in special ceremonies.  
HOW TO MAINTAIN MODEL PATTU SAREES?
Avoid using harsh detergents especially the soap bar for the first few washes.
Wash your pattu saree in mild detergent.
Always wash your silk saree's border and body separately.
Avoid twisting and wringing pattu sarees.
Wherever possible, dry clean your patty sarees instead of washing them manually.
Use iron on medium heat only.
Always store your pattu sarees in a dry and cold place.
LATEST NEW MODEL PATTU SAREES
Conclusion:
Choose from an array of options in pattu sarees as per your occasion and flaunt your beauty in your style. You can explore the options online.
India is known for pattu sarees regardless of state or province. Pattu sarees are known for their versatility and thus, people choose these on all occasions. Time to start collecting these for the wardrobe!