Pure chiffon floral print sarees have a deep-rooted culture in history. From maharanis to princesses and from elite to middle class, chiffon has been a major favorite to most women.
Gladly, these are easily available today to anyone who has a flair for wearing sarees.
In this article, you will get to know everything related to chiffon sarees along with their origin, locations where it's most worn, varieties, and many more interesting facts.
THE HISTORY BEHIND CHIFFON FLORAL SAREES
The love for chiffons grew more after these were printed on a large scale by Indian mills. During those times, Chamundi chiffon was in great demand and was considered the finest.
The word chiffon is derived from the French word 'chiffe' which means rag or cloth. If you consider the foreign market, silk chiffons from Europe during the 1700s were the most expensive.
Talking of the origin of chiffon sarees in India, Princess of Baroda, Indira Raje who later became the Maharani of Cooch Behar was the first who converted the large six yards fabric into a stylish saree.
It is also said that her sarees were customized and manufactured in mills of Lyon, France.
Pure chiffon floral print sarees were a status symbol of many royal families in the history of India. French floral was soon a part of the royal heritage in India.
SIGNIFICANCE OF PURE CHIFFON FLORAL PRINT SAREES
Chiffon is known to be any designer's favorite. These add up to the personality as a distinct feature in women and also make women look more graceful, elegant, and stylish.
From French mills to Indian manufacturers, chiffon silk did not take much time to raise demand in India. The French florals are highly popular of all time.
These sarees mark a great significance by combining the mystique French floral designs, recreated in true blue vintage color palettes, followed by brush strokes done by top European masters.
The designers knew to create magic by adding strokes in the flowers regardless of whether it was an Indian rose, the pristine jasmine, soothing lavender, or the pure Himalayan hydrangea.
HOW MUCH ARE PURE CHIFFON FLORAL PRINT SAREES WORTH?
Chiffon sarees during the Royal era were known to be sold at a price of INR 30 to 40 and were imported all the way from France.
The cost of these sarees at present varies anywhere between INR 500 to INR 5000. You may also refer to the online options to check the cost and variety.
Few brands to consider in pure chiffon print are Kalini, Mitera, Geroo Jaipur, Moksha, and more…
The light fabric, subtle colors, enchanting floral designs, and overall work decide the price of these sarees. The other factors that contribute to the cost and worth are the location of purchase, machine work performed, the fabric used, designer (exclusivity), and length of saree.
If you choose a designer saree, the cost will rise as per their brand name and credibility.
TYPES OF PURE CHIFFON FLORAL PRINT SAREES
Some most preferred patterns in chiffon sarees for weddings and special occasions include:
Plain border chiffon saree
Printed chiffon saree
Stonework chiffon saree
Resham work chiffon saree
Zari work chiffon saree
Silk chiffon saree
Embroidered pure chiffon saree
From the Entertainment industry to evening parties, chiffon is one of the most popular, preferred, and lightweight fabrics.
Regardless of what fabric type of chiffon work you choose on fabric, maintaining the fabric will help the saree to sustain its quality.
REGIONS WHERE CHIFFON FLORAL PRINT SAREES ARE MOST WORN
Chiffon has been a major favorite during the royal era. The sarees were highly in demand and most commonly worn by families from Punjab and Rajputs.
There was a time when the queens and princesses in India only wore Chiffon sarees for their graceful fabric and elegant looks.
Today, chiffon is worn by most women as it is easily affordable due to easy availability. Maharashtra and Gujarat are two highly known states for chiffon sarees. Chiffon is in great demand for weddings and evening gowns for party wear throughout India.
OCCASIONS IN WHICH CHIFFON SAREES ARE POPULAR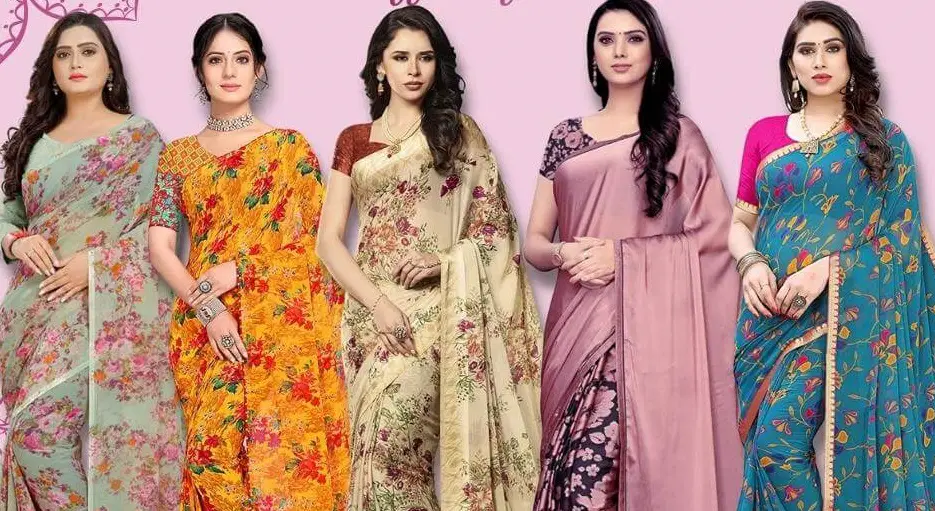 In addition to weddings, Chiffon is a woman's favorite fabric during summers. Its lightweight fabric makes the skin breathe freely even in the scorching heat.
Thus, most people prefer to buy chiffon during summers. For evening parties too, chiffon plays a vital role as it makes any woman look graceful, elegant, and classy.
Chiffon fabric is loved as daily wear at the workplace as well. Women who love to wear sarees prefer cotton sarees or chiffon sarees at workplaces. They just love the array of patterns and designs in pure chiffon print sarees.
PURE CHIFFON FLORAL PRINT SAREES MAINTENANCE TIPS
Maintenance for chiffon depends on the type of fabric you have chosen as well. However, we will discuss tips on how manufacturers advise chiffon users to take care of the fabric in general.
Silk chiffon fabric sarees are highly recommended to go for dry cleaning when these need a cleaning. Machine wash is a no-no as the harsh wash cycle will spoil the silk quality of the fabric.
If your sarees are nylon or polyester chiffon, then you can wash them in the machine on a gentle wash cycle or hand wash them. Always use mild fabric detergent to wash chiffon sarees at home.
People who prefer hand wash cleaning for chiffon sarees must follow a few fabric care tips. For instance, always wash your chiffon saree in cold water. Soak the saree in cold water for not more than 30 minutes or the fabric print will start to fade.
Avoid squeezing or twisting your chiffon saree or it will lose its shape easily. Dry the chiffon saree away from sunlight. The fabric is prone to fade easily under bright sunlight.
Avoid using clip-on pure chiffon sarees while drying them up. Clips have a higher chance of leaving marks on the fabric.
You must also know the pros and cons of wearing chiffon fabric. This will help you to decide what saree fabric you must choose and how often you should go for these fabrics in your daily wear.
PROS AND CONS OF WEARING PURE CHIFFON FLORAL PRINT SAREES
Chiffon is easy to drape:
Chiffon is a light fabric and thus, it is easy to drape it over the body. It enhances the personality overall giving a graceful look.
Chiffon fabric is known to hold the dyes well:
Pure chiffon silk fabrics display beautiful prints as the dyes easily get absorbed by the silk fibers. Thus, you must research the dye quality in other types of chiffon too before buying it.
Sarees made of chiffon are difficult to hold:
Due to its smooth and slippery fabric, it may get difficult at times to hold a chiffon saree. Thus, some women find it difficult to hold it for long.
Chiffon sarees fray easily:
Although chiffon threads are strong, the tight twists may sometimes let it fray easily. Thus, one has to carefully wash and maintain the fabric.
The print and fabric shape fade with time:
The sad part about using chiffon sarees is that these have limited durability. The fabric may lose shape and sag with time. If you have to compare between different chiffon fabrics, nylon & polyester chiffon stay longer than silk chiffon.
BEST FLORAL PRINT PURE CHIFFON FLORAL PRINT SAREES
Conclusion:
Chiffon sarees are in global demand today for their valuable designs and prints. You just need to follow the right tips to maintain these well. Look for options online and we bet you will be spoiled for a choice n pure chiffon floral print sarees.