Rani pink is one of the most admirable choices for Indian weddings. The color of the saree is as bright as someone can wish for a newlywed couple.
Indian weddings demand rich, lavish, and extravagant colors to add to perfection; rani pink is one of these colors in silk sarees.
Instead of looking gaudy, rani pink silk sarees make the best choice as these can make any bride look bright and gorgeous!
With the right combination of makeup and jewelry, a wedding day can become a statement accent.
Other than discussing the significance of rani pink wedding silk sarees on a special day, we will also discuss the various ways you can combine other accessories and the environment with your wedding attire.
SIGNIFICANCE OF RANI PINK WEDDING SILK SAREES
Rani pink wedding silk sarees enjoy great respect and value in Indian weddings. It is not just a color; it is an expression and emotion.
The wedding market understands the importance of color for a bride's family. Not only the bride, but rani pink silk sarees are also worn by bridesmaids and other relatives as they are equally excited for the special day of the bride.
The regal color enjoyed global presence and love by Indians after it was worn by many celebrities too on their special day.
From Bollywood actress Deepika Padukone to Alia Bhatt, these have been a major hit regardless of whether they wore in fake movie weddings or on their special days in real.
Various bridal fashion shows are known to be complete with this special color that inspires thousands of girls to be a bride someday soon.
WHY CHOOSE A RANI PINK SILK SAREE FOR THE WEDDING?
Kanchipuram sarees are known to be the best when you are looking for something specific in rani pink. Various other factors make rani pink silk sarees the top priority for an Indian wedding. Let's discuss a few to understand its love better…
1. Displays meaning of marriage
Rani pink silk saree displays the meaning of marriage. Just like the color, the marriage is supposed to have a bright start. Rani pink color brings good vibes and positivity around.
Thus, it is considered auspicious just like the color red for the wedding.
2. Gives true wedding vibes
Colors like red and rani pink spread excitement and wedding vibes around. If you roam around the wedding clothing market, all you will find is red and rani pink.
These colors add craze, excitement, and hopes for the wedding to be successful.
3. A bride's favorite
Rani pink silk saree is known to be the bride's favorite! Whether it is the main wedding ceremony or wedding reception, you will find this color on the bride most commonly.
Red has been the color for the bride too but, due to its common nature and existence, women consider rani pink to be brighter, vibrant, and exciting comparatively.
4. Rani pink is vibrant and classy
As we discussed, it is undeniable that rani pink is a vibrant and classy choice for the Indian ceremonies. Many women prefer the color for temple visits too.
If you consider rani pink silk sarees, these are known to make anyone look graceful, confident, and elegant.
5. Enhances the look and personality
Rani pink silk sarees can enhance anyone's personality and looks. These sarees are a must in every bride's wardrobe. Whether it is sangeet, roka ceremony, engagement, or the main reception day, the color is known to be perfect for adding confidence to the bride's personality.
GORGEOUS WAYS TO MATCH RANI PINK SILK SAREE IN YOUR WEDDING
From jewelry to the wedding theme, everything has to be perfect and must go with your wedding attire. If rani pink is your choice too, there are oodles of ways you can match your attire with the entire wedding theme.
1. Choose your jewelry in contrast
Don't match your jewelry but, choose a color that is in contrast with your rani pink silk wedding saree. A combination of colorful emeralds and gold jewelry is simply perfect for the wedding.
These blindly add the feel of a bride and make you look irresistible to the groom.
2. Use pink and golden for the wedding décor
Ask your event coordinator to help you find shades of pink for the mandap and overall wedding décor. Silk looks classier when you have a background for the perfect picture.
With subtle combinations of yellow, gold, pink, or silver, in the wedding décor, the elements of rani pink on your outfit look flawless.
3. Coordinate with your groom on the outfit
Choosing the color combination and coordinating with the groom on the outfit is a must. Your rani pink silk saree will give you enchanting looks when you have your groom sharing either the same color or a perfect combination to match your looks.
You both can make a style statement with the final selection.
4. Use lots of florals in pink!
Flowers are always the best and must for any wedding. From south to north India, flowers are used in Indian weddings. Floral jewelry or floral background can be captivating if you combine it with your rani pink silk wedding saree.
5. Don't miss the wedding sandals
The length of your saree doesn't matter while choosing the sandals. You can simply not imagine standing bare feet on the stage even if your saree doesn't display your feet.
Taller women can switch to rani pink or golden jutis/mojaris whereas average height can pick the right heel to match their rani pink wedding saree.
WHERE CAN I BUY RANI PINK WEDDING SILK SAREES?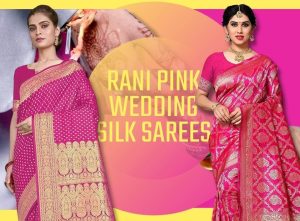 You can explore huge options online or visit your nearest wedding store. If you are conscious of your budget, we suggest you either check a few trusted e-commerce sites or visit a trusted wedding garment store personally to seek more options in rani pink wedding silk sarees.
Those with bigger or affordable budgets can also choose designer showrooms for exclusive rani pink bridal wear. They have a unique collection handcrafted and adorned by the designers.
Silk holds a special place for many families and some people even visit the traditional silk stores to pick the right rani pink silk wedding saree for the bride.
These types of markets can be found in regions like Tamil Nadu, Karnataka, Maharashtra, Bengal, Banaras (Varanasi), and Kerala.
HOW MUCH ARE RANI PINK WEDDING SILK SAREES? ARE THEY WORTH?
Rani pink being the special color for the wedding is easily and readily available at most wedding stores. These start from INR 500 and may reach up to INR 50,000.
People with a fixed wedding budget must look for online options and those looking for exclusivity need to visit designer stores for their desirable rani pink wedding silk saree.
Marriage is once in a lifetime event and thus, it is difficult to compromise on the wedding attire. Even if you visit the typical or traditional wedding market, you will need to check the quality, brand, and value of the saree against the price.
These factors will help you make the right decision in picking the right wedding attire.
LATEST RANI PINK WEDDING SILK SAREES
Conclusion:
We hope we gave you the information you were looking for specifically in rani pink wedding silk sarees. Wedding is the most special occasion for any bride and bride's family, thus colors like rani pink have been traditionally preferred for ages to make weddings look happier and perfect.
We are sure you will get the right one for you for a perfect wedding celebration!