The Koorai saree is a classic example of the Tamil Nadu culture and heritage in South India. The Koorai sari is traditionally an embellished saree with gold thread and beading.
They are an updated take on the classic Kandangi saree woven from silk and cotton. Koorai sarees are well-liked not just in South India but all across the world.
This article will serve as a comprehensive guide for learning about Koorai sarees.
KOORAI SAREE MEANING, HISTORY AND EVOLUTION
Kornard is an anglicization of koorai nadu, a region in India where textile is produced. As Koorai Nadu was formerly an integral part of Chola Nadu and since this point had already developed luxurious cotton garments, demand for the Koorai saree was high. 
In Tamil Nadu, the Koorai saree has a long history that dates back to the medieval period. During the reign of the Chola dynasty, in the ninth century AD, the custom of having brides wear the Koorai saree for their wedding ceremonies began.
The Koorai saree evolved from the Chola dynasty's penchant for aesthetics, as evidenced by their reputation as avid art and culture patrons.
It has also been suggested that the origin of the word "Koorai" or "Kurai" lies in the fact that the garment serves to envelop the wearer, particularly the female wearer.
Yet, the Koorai saree now symbolizes the mangal sutra, a traditional part of the marriage ritual for South Asian women.
Despite the lack of historical documentation, it is clear that the Koorai saree has had a unique position in the hearts and thoughts of women for generations. 
Purchasing new fabrics and gowns for weddings may have been a common practice in "Koorai Nadu" in the good old days.
Koorai Nadu sarees have a long tradition of being worn by brides as a symbol of happiness and prosperity in their marriages.
KOORAI SAREE DESIGNS AND UNIQUE FEATURES 
Koorai nadu, a traditional handloom weaving town close to Mayiladudharai, are where the famous Koorainadu silk saris are made.
These sarees mimic the appearance of silk sarees thanks to a wrap and weft construction that employs a ratio of 2:1 pure silk to fine twisted mercerized cotton yarn. 
Its distinctiveness lies in the fact that about two-thirds of the sari, woven in tiny checkered patterns and a seer Pallu that looks like a silk sari rather than cotton, is made from silk, allowing it to be remarkably lightweight.
As the saris are monotone in design, simple looms are employed. It takes a weaver around 10 days to complete a single saree.
The sarees of today come in a wide variety of hues, including the traditional ones such as Arraku (maroon), maal (yellow), pachai (green), karuppu (black), and Sigappu (red).
They are constructed from higher quality materials, such as the 40s, 60s, and 80s count cotton and silk. Synthetic dyes are used to color silk.
On her wedding day, the bride traditionally wears a Koorai saree, six yards in length. The pallu and saree borders are where the zari work is located.
Adding to the saree's overall aesthetic, the pallu is a signature feature of the Koorai.
The double side pallu of an original Koorai nadu, typically contrasting from the rest of the garment, is its most distinguishing characteristic.
Throughout Tamil Nadu's history, different weaving communities have attempted to copy the style of the sarees made in Koorai Nadu. Kanchipuram, Kumbakonam, Arani, and Salem were all weaving centers for Koorai nadu sarees. 
KOORAI SAREE FOR MARRIAGE AND OTHER OCCASIONS
Traditionally, koorai sarees are only worn for special events like weddings, engagements, and other celebrations of good fortune. Visits to temples and other religious poojas are also commonplace. 
KOORAI SAREE COLOURS
Koorai sarees typically come in vivid colors, including red, orange, yellow, green, blue, and purple. Intricate patterns, such as florals, paisleys, and geometric forms, are frequently paired with these hues to create a one-of-a-kind style.
They are available in a wide variety of modern patterns that are particularly well-liked, in addition to the more conventional styles.
These patterns frequently incorporate eye-catching color combinations and graphic motifs like polka dots and stripes.
TYPES OF KOORAI SAREES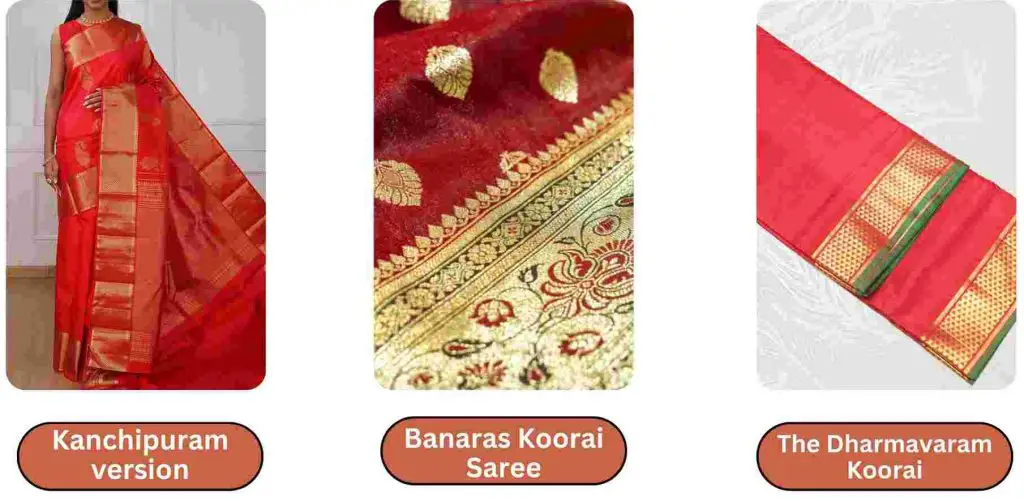 Koorai sarees come in several variations, each distinguished by the silk used, the amount of zari work, and the embroidery style; some of the most well-known are:
1. Kanchipuram version
One of the most well-known varieties of Koorai sarees. The city of Kanchipuram is well-known for its silk sarees. Kanchipuram Koorai sarees are crafted from pure silk and include elaborate gold and silver zari embroidery.
2. Banaras Koorai Saree
The Koorai saree from Banaras is renowned for its excellent zari work, much as Banaras is celebrated for its complex zari work. Pure silk is used to create the beautiful Banaras Koorai saree, which comes in a rainbow of colors.
3. The Dharmavaram Koorai
This Koorai saree is one of a kind because of the intricate embroidery and patterns used in its creation. The zari work on the saree creates a one-of-a-kind design, and it is composed of 100% silk.
KOORAI SAREE BLOUSE DESIGNS
1. Classic blouse with a touch of Elegance
Sometimes, the ideal blouse to pair with a Koorai saree is a basic yet sophisticated one. Putting on a simple cotton blouse in a contrasting or complementary hue can bring out the best in the saree's design.
This store provides these classic blouses with elegant evergreen sarees.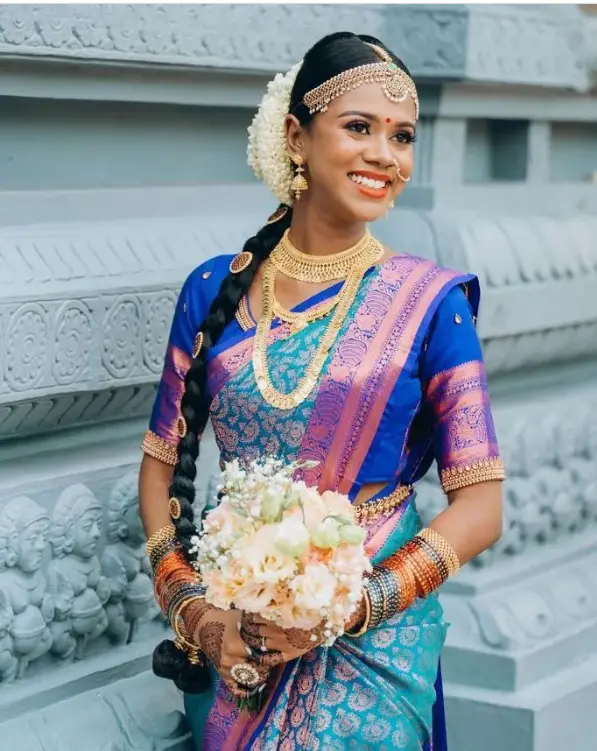 2. Blouse with puff sleeves
Puff sleeve blouses with border detailing on cuffs with are a great way to spice up a plain Koorai saree with added color and style.
Below is the link to one such store that focuses on selling beautiful blouses.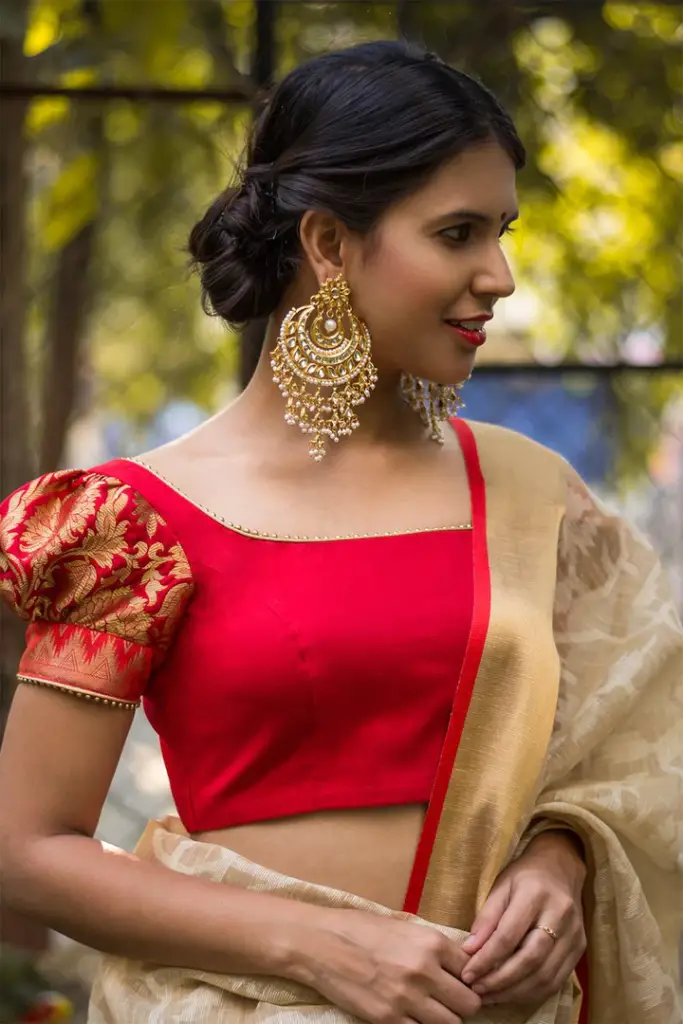 3. Blouses with Embroidery and heavy embellishment
A Koorai saree can be dressed up with a blouse with intricate embroidery. A shirt with delicate embroidery in a hue that goes well with the saree pattern is a good choice.
Listed down below is a link to one such store that provides such blouses.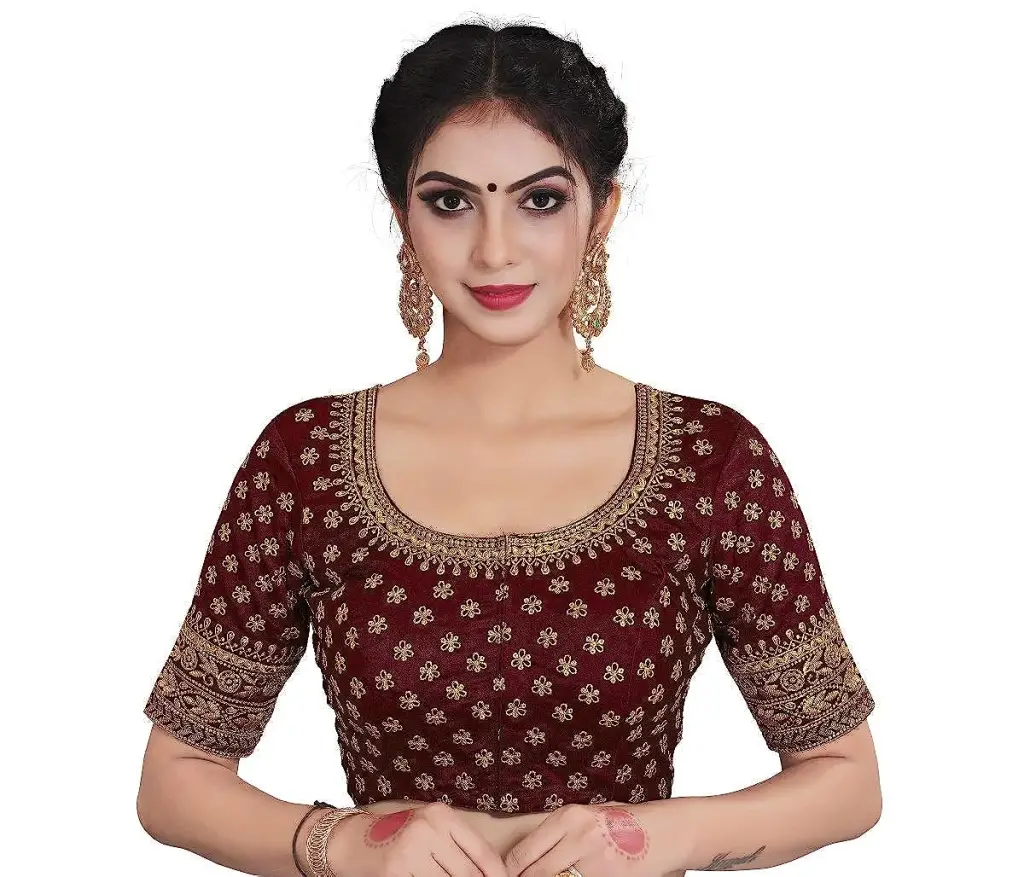 HOW TO STYLE YOUR KOORAI SAREE?
The Koorai saree, representing innocence, beauty, and refinement, is a favorite of brides and visitors alike. But there are several other aspects to remember while draping a Koorai saree: 
1. Blouse
While accessorizing with a Koorai saree, the color of the blouse is essential. When wearing a saree, the blouse might be a contrasting color to draw attention away from the saree's monotonous white.
Blouses for Koorai sarees are often bright colors like red, green, blue, and pink. 
2. Adornments 
When it comes to accessorizing a Koorai saree, jewelry plays a key role. The jewelry of South India is renowned for its elaborate patterns and actual gold content.
Necklace, ear cuffs, bangles, and a waist chain are the standard components of a Koorai saree's jewelry ensemble. A waist chain is another essential item; this can range from basic to ornate, from hanging beads to charms.
3. Hairstyle
Wearing the hair in a bun or braid is a typical South Indian hairstyle. Flowers, jeweled hairpins, and the maang tikka are just a few other additions as well. 
4. Makeup 
The finishing touch to any Koorai saree look is a flawless makeup application. The makeup that has been known for complementing the koorai saree is the one with dramatic eyes, vivid lips, and dewy skin.
5. Shoes 
When accessorizing with a Koorai saree, footwear is frequently disregarded. Gold or silver juttis and sandals are common in South Indian culture. 
For instance, this is one of the most classic looks, from hairstyle to jewelry, while draping a Koorai saree.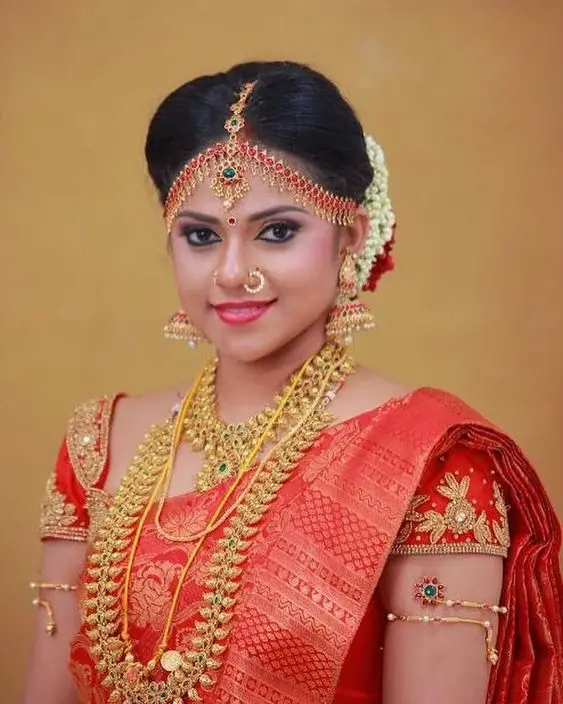 GEOGRAPHICAL PRESENCE & POPULARITY OF KOORAI SAREES
Koorai sarees have their roots in the southern Indian state of Tamil Nadu. One may find these beautiful sarees across Tamil Nadu and the rest of South India, especially in Karnataka, Andhra Pradesh, and Kerala.
The rest of the country and the world are also beginning to notice this traditional saree.
Hindu weddings in the Tamil culture are known for their lavish use of gold and crimson in all the decor. Everything in it, no matter how seemingly little, has a history and significance going back generations. 
The koorai pattu is one such custom passed down through the years. Although red is the most common, the koorai pattu can be any color representing the family. 
KOORAI SAREE PRICE
A cotton Koorai saree with a thin gold border can cost anywhere from INR 2,000 to INR 5,000. Silk koorai sarees, on the other hand, are often more expensive starting from INR 20,000.
Certain areas of India like Kanchipuram, Mysore, and Banaras are well-known for the high quality of their silk and the complexity of their weaving procedures, which may drive up the price of a saree from those areas.
Koorai sarees can range from very cheap to very expensive depending on the cloth's quality, the pattern's complexity, and the quantity of gold or zari used in the weaving. 
WHERE TO BUY KOORAI SAREES?
Online shopping for Koorai sarees may provide a plethora of selections, price comparisons, and, ultimately, the most outstanding value. Here are some of the best stores: 
WHAT IS THE SIGNIFICANCE OF KOORAI SAREE? [UNKNOWN FACTS] 
Origin of the Name – The "Koorai" flower, native to southern India, is the inspiration for the name "Koorai" sarees. Koorai sarees are sometimes called "Purity Sarees" since the white flowers they feature represent innocence.
The Art of Weaving – Koorai sarees is handwoven by skilled weavers who have mastered the art of weaving. The weaving process involves interlacing silk or cotton threads and weaving intricate designs using gold or silver zari.
Modern Designs. Although Koorai sarees have a long history, contemporary designers are experimenting with new shapes and patterns to give them a more modern feel. Koorai sarees have appealed to millennials since they are available in various colors and designs.
Variety of Fabrics – The most popular material for Koorai sarees is silk; other textiles, including cotton, chiffon, and georgette, are also used. Cotton Koorai sarees are typical in hot and humid climates, whereas silk Koorai sarees are more appropriate for formal events.
Environmental friendliness and longevity: The saree is woven by hand with organic colors and ingredients, making them an eco-friendly option.
Conclusion:
To South Indians, koorai sarees are more than just attire. Its exquisite patterns and decorations are works of art that represent virtues like purity and sophistication.
In addition to their already considerable fascination and mystery, Koorai sarees are further enhanced by the many interesting details we have uncovered about them.
These represent chastity, beauty, and opulence and are highly regarded by the family and friends of a South Indian bride, making them an essential part of her trousseau.
Koorai saree work beautifully for weddings, anniversaries, and other significant life events and religious rituals.