Sarees are an Indian traditional garment that have been worn for generations. With the introduction of new materials and production methods, the saree has experienced a tremendous alteration.
The usage of bamboo silk, a material that has grown in popularity in recent years, is one example of such a shift.
Bamboo silk sarees are manufactured from the harvested fibres of bamboo plants. These plants are abundantly cultivated in Asia, giving them an eco-friendly and sustainable alternative to conventional materials.
HISTORY OF BAMBOO SILK SAREES
In the early 2000s, bamboo silk was promoted as a greener alternative to traditional silk, which is when sarees made from the material first appeared.
Although bamboo's use in textile production is nothing new, the revelation that it may be used as a substitute for silk is.
China produced the world's first bamboo silk sarees, but India quickly accepted them due to their low cost and long lifespan.
It's possible to get a bamboo silk saree nowadays from a number of different nations, including India, China, and Vietnam.
THE ART OF WEAVING OF BAMBOO SILK SAREE 
Weaving is an ancient skill that has been done in various regions of the world for ages. In India, weaving sarees is a highly complicated and demanding procedure that requires a great level of skill and knowledge.
Each bamboo silk saree requires many hours of labour and meticulous attention to detail.
The process of bamboo silk saree weaving begins with the preparation of the bamboo silk yarn. The yarn is then weaved using a variety of methods and designs on a handloom.
Depending on the design's complexity, it might take anything from a few days to several weeks to create a saree.
The use of natural colours is a distinctive characteristic of bamboo silk saree weaving. Local sourcing of these colours contributes to the sustainability of the production process.
Weaving bamboo silk sarees is both a craft and an art form. Each saree is a one-of-a-kind masterpiece that reflects the skill and imagination of the weaver.
The elaborate patterns and motifs are frequently passed down through generations of weavers, therefore conserving traditional skills and cultural history.
CHALLENGES FACED BY WEAVERS OF BAMBOO SILK SAREES 
The technique of weaving bamboo-silk sarees is not only a time-honored heritage, but also a vital source of income for many villages in India.
Several weavers operate in tiny, family-owned enterprises, passing on their expertise and abilities from generation to generation.
Notwithstanding the elegance and quality of bamboo silk sarees, the business faces a number of obstacles. One of the greatest obstacles is competition from mass-produced, less expensive synthetic materials.
These materials are frequently of inferior quality and can be made more quickly and cheaply, making them a popular option among many buyers.
To solve these issues, several weavers and craftsmen are emphasising the distinctive features and durability of bamboo silk sarees.
In order to reach a larger audience, they are also adopting new technology and marketing tactics, such as online markets and social media.
BAMBOO SILK SAREE MAINTENANCE
Bamboo silk sarees are also known for their durability. They are strong and resistant to wear and tear, making them a long-lasting investment.
They are easy to maintain and can be hand-washed or dry-cleaned, making them a practical and convenient choice for everyday wear.
UNIQUE FEATURES OF BAMBOO SILK SAREES
Bamboo silk sarees have several unique characteristics that set them apart from other sarees. They are lightweight, soft, and have a silky texture that drapes beautifully. 
With appropriate maintenance, bamboo silk sarees are extremely durable and may endure for many years. The fibres are durable and resistant to abrasion, making them suitable for frequent usage.
Moreover, they are an eco-friendly alternative to other forms of sarees.
Bamboo silk saree can be found in a range of colors and designs, from simple and minimalist to elaborate and heavily embellished.
The intricate embroidery, sequins, and beads used to embellish bamboo silk sarees are often done by hand, adding to their beauty and uniqueness.
WHEN TO WEAR BAMBOO SILK SAREE?
The versatility of bamboo silk has made sarees a go-to garment for everything from special occasions to everyday wear.
The fabric's light weight and breathability make it ideal for warm weather, while the silk's lustre and sumptuous texture make it appropriate for more formal settings.
One may choose a bamboo silk saree in the perfect colour and pattern for their occasion among the wide selection available.
Bold colours and elaborate motifs may offer a sense of elegance and refinement to an outfit for formal events like weddings and religious ceremonies.
Lighter colours and simpler motifs can create a comfortable yet elegant look for more informal events like family gatherings and day trips.
BAMBOO SILK SAREE BLOUSE DESIGNS 
When it comes to choosing a blouse design for a bamboo silk saree, there are a wide variety of options available that coordinate well with it. 
Simple Round Neck Blouse: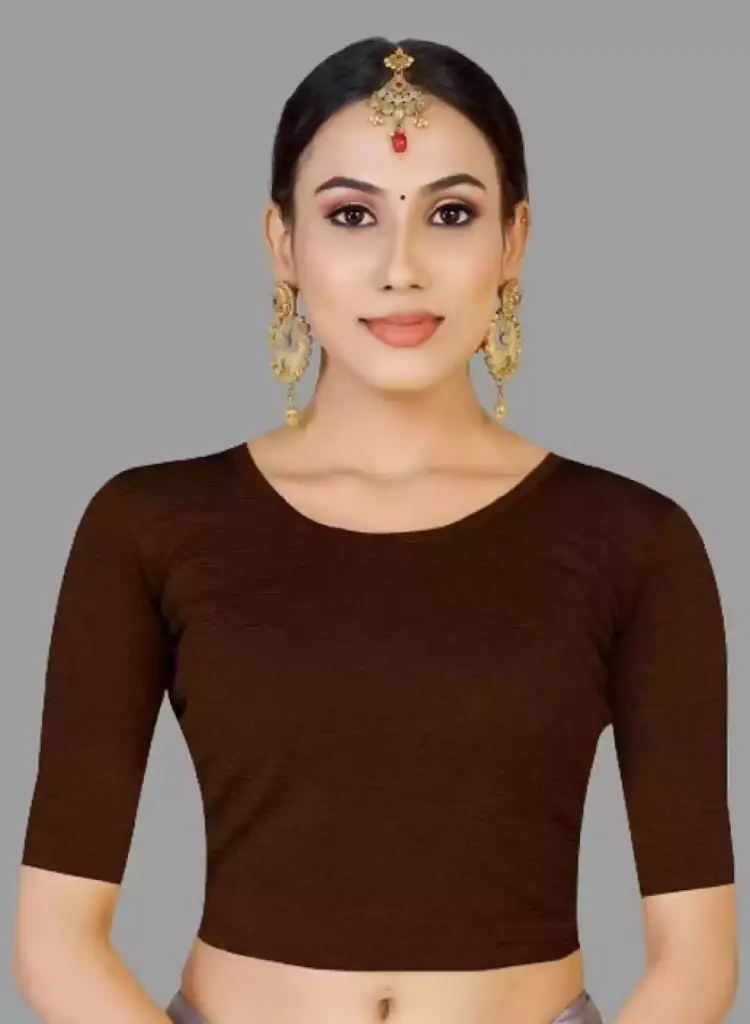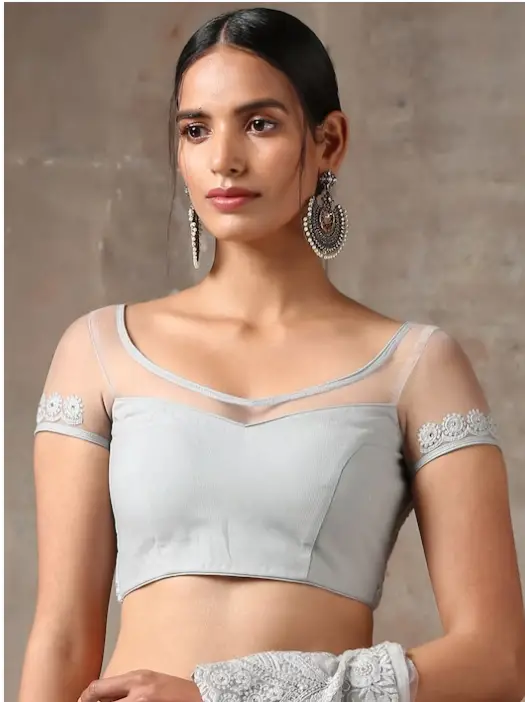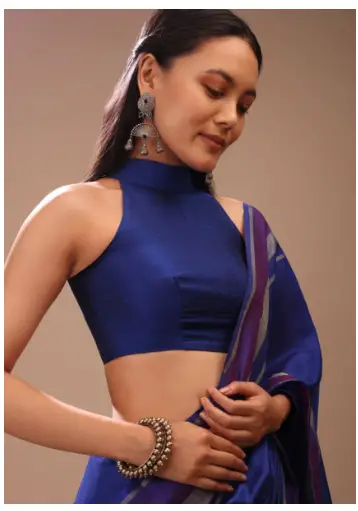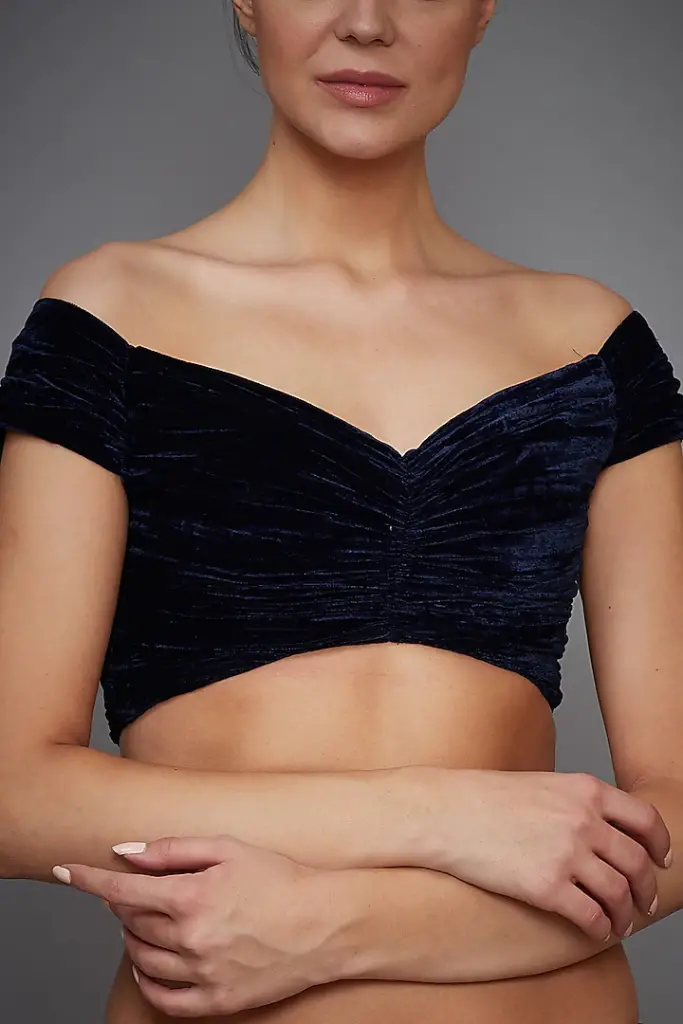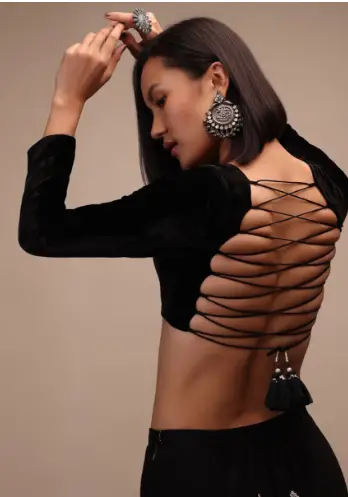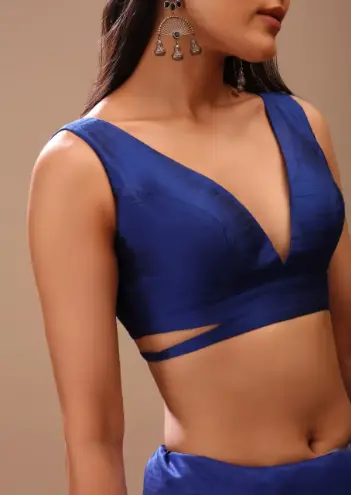 BAMBOO SILK SAREE PRICE
The price range of bamboo silk sarees can start from around INR 2,000 and can go up to INR 50,000 or more for designer or exclusive pieces.
The price range of bamboo silk sarees can vary depending on various factors such as the quality of the fabric, intricacy of the work and design, and the brand. Listed down is a rough breakdown of the price range of bamboo silk sarees: 
Basic or plain bamboo silk sarees: INR 2,000 to INR 5,000
Printed bamboo silk sarees: INR 3,000 to INR 8,000
Embroidered bamboo silk sarees: INR 5,000 to INR 15,000
Designer bamboo silk sarees: INR 10,000 to INR 50,000 or more
PLACES TO VISIT FOR BAMBOO SILK SAREE ONLINE SHOPPING
LATEST BAMBOO SILK SAREE TRENDS
Bamboo silk sarees are a sustainable and luxurious alternative to traditional silk sarees since bamboo is a fast-growing plant that requires less water and pesticides than other crops.
It is also biodegradable, meaning that it can break down naturally over time, reducing its impact on the environment. 
As the demand for sustainable fashion continues to grow, bamboo silk sarees are likely to become even more popular, supporting local economies and communities, and preserving cultural heritage for generations to come. 
In addition, bamboo silk sarees are also known for their cultural significance. The use of bamboo silk in sarees is a way to preserve traditional weaving techniques and cultural heritage while also promoting sustainable fashion.