Begumpuri sarees are a traditional form of saree that originated in the hamlet of Begumpur in the Hooghly district of West Bengal, India.
These sarees are well-liked because of their distinctive texture, sturdiness, and basic yet exquisite design. Every woman must own a Begumpuri Saree, which emits charm and accentuates elegance.
It has the most desirable patterns, weaves, and colours, with sarees being the most popular.
Each thread carries a great deal of beauty and grace and echoes a multitude of hidden legacies to the wearers.
This article examines the history, significance, and popularity of Begumpuri sarees, as well as their manufacture and design variants. 
HISTORY OF BEGUMPURI SAREES
Begumpuri sarees have a long history dating back to the 19th century, when the hamlet of Begumpur adopted the weaving practise.
Begumpur's weavers mastered the technique of weaving cotton sarees renowned for their quality. The village's location on the Ganges makes it an ideal spot for cotton farming and weaving. 
Begumpur's weaving history was founded by a weaver called Ghulam Husain, who moved from Dhaka, the current capital of Bangladesh.
Hussain was a competent weaver who had mastered the handloom technique for making cotton sarees.
He instructed the local people in the craft of weaving, which became a vital component of the village's culture and economics over time. 
This trade, which is now over 250 years old, has been passed down from generation to generation. It is believed that the weavers collaborate with their families and work in such synchronisation that it resembles a company.
HOW TO MAKE BEGUMPURI SAREES?
The entire weaving procedure from beginning to end is laborious and time-consuming. To get the texture and drape of sarees, a great deal of work is put into preparing the raw material.
Weaving is accomplished using a traditional handloom that is manually controlled by trained craftspeople. If the pattern is basic, it takes 1-2 days to create each saree; otherwise, it might take up to 5-6 days.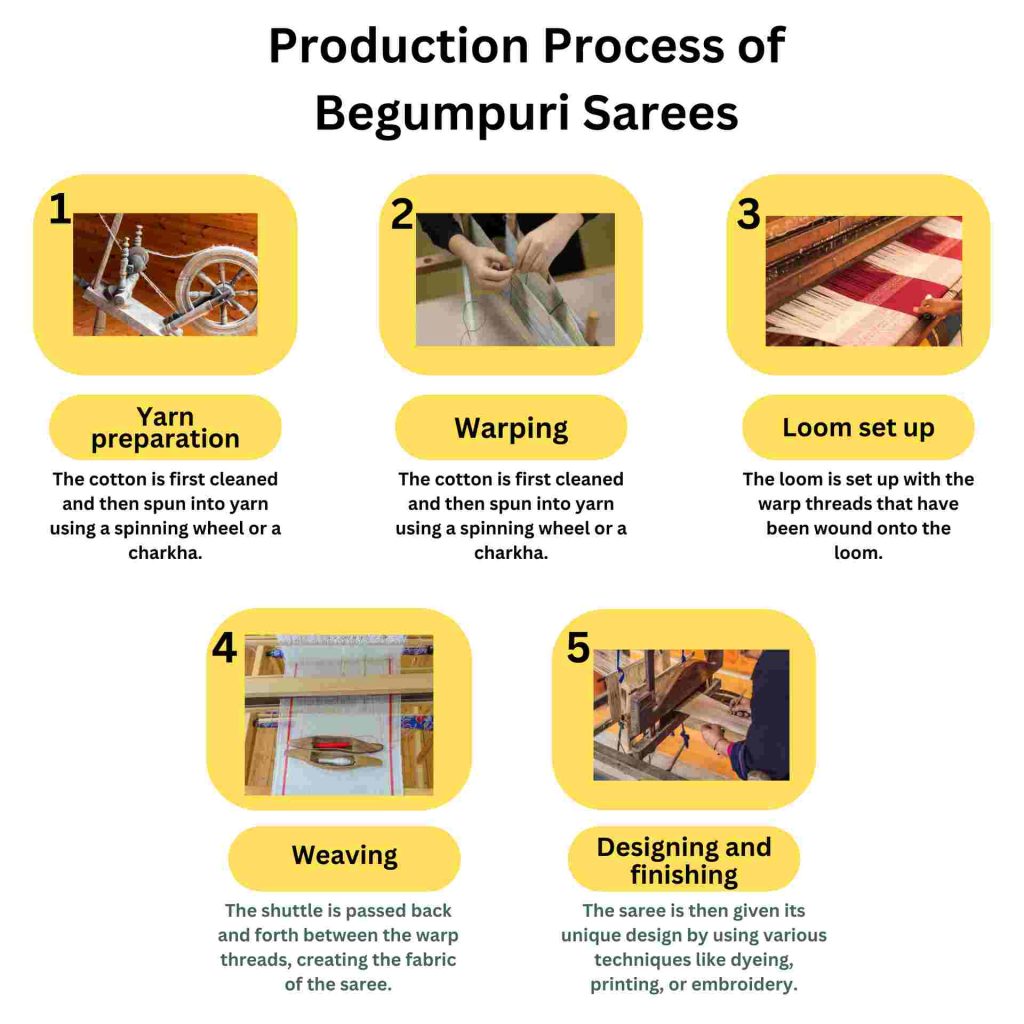 Yarn preparation: The first step in the process of weaving Begumpuri saree is the preparation of the yarn. The yarn used for weaving this saree is made from cotton and is usually of a finer quality. The cotton is first cleaned and then spun into yarn using a spinning wheel or a charkha.
Warping: The next step is warping, where the yarn is wound onto a warping board or a peg to create a long chain. The chain is then transferred onto the loom for weaving.
Loom set up: The loom is set up with the warp threads that have been wound onto the loom. The threads are then separated and attached to the heddles, which are used to create the pattern in the saree.
Weaving: The actual weaving process begins with the insertion of the weft thread, which is passed through the warp threads using a shuttle. The shuttle is passed back and forth between the warp threads, creating the fabric of the saree.
Designing and finishing: Once the fabric is woven, the saree is then given its unique design by using various techniques like dyeing, printing, or embroidery. The saree is then finished by trimming the edges and attaching the pallu, which is the decorative end of the saree that drapes over the shoulder.
HOW TO DISTINGUISH GENUINE BEGUMPURI SAREE?
Begampuri Saree can be distinguished by the presence of designs and 'chiur' (designs made by wooden pattayas) technique of weaving in some varieties.
Contrast colours are usually arranged in the body and borders. Some varieties are woven with 'khejurchuri' though it is originally derived from Dhanikhaligharana.
The 'chiur' (designs formed by wooden pattayas) style of weaving is distinctive to the Begampuri Saree. Often, the body and the borders will be done in contrasting colours.
While it originated in Dhanikhaligharana, 'khejurchuri' is used to weave certain types.
MAINTENANCE OF BEGUMPURI SAREE
Cotton is used to create Begumpuri sarees, which is recognised for their simplicity and durability.
To preserve the beauty of a Begumpuri saree, one should wash the saree by hand in cold water with a light detergent, avoiding hot water, excessive scrubbing, and wringing.
After washing the saree, hang it in a shady spot to dry, and then iron it on a low heat setting while it is still moist. Avoid placing the saree in a plastic bag and keeping it in a cool, dry location away from direct sunlight.
Dry-clean the saree occasionally to maintain its appearance. 
SPECIALITY OF BEGUMPURI SAREE
The Begumpuri saree is renowned for its distinctive texture and light feel, making it suitable for warm and humid areas. The following are some unique characteristics of a Begumpuri saree:
Fabric: Begumpuri sarees are made from pure cotton or a blend of cotton and silk. The cotton used in these sarees is of high quality, and the fabric is handwoven on a pit loom, which gives it a distinct texture.
Weave: The weave of Begumpuri sarees is unique, with a thick border and a plain body. The border of the saree is usually about five to six inches wide and has a distinct design, while the body is plain.
Design: The saree is usually plain, with a contrasting border and pallu. The border of the saree is usually decorated with motifs like temple designs, stripes, checks, or floral patterns.
Colours: Begumpuri sarees come in a range of colours, with bright hues like red, yellow, and green being the most popular. However, you can also find pastel shades and earthy tones in these sarees.
Additionally, in the heat of the Indian summer, there is no better saree than the Begumpuri cotton saree.
The border of a Begumpuri saree is immediately distinguished by its elaborate stripes spanning the length of the fabric and its red-and-black serrated edge design, a timeless classic that has branched out into various different colour combinations.
Due to the loose weave, these sarees are renowned for their exceptional drape and beautiful translucence, making them associated with refinement.
WHEN TO WEAR BEGUMPURI SAREE?
Begumpuri sarees are adaptable and appropriate for a variety of events. They are a popular choice for weddings, festivals, and religious rituals in India, as well as other traditional and cultural events.
The saree's lightweight and airy material makes it excellent for warm weather.
They are suitable for both formal and informal occasions. They are ideal for business attire, formal meetings, and corporate functions.
The saree's basic design and subtle elegance provide it a professional and refined appearance. It is popular among college students due to their portability and wearability. 
BEGUMPURI SAREES STYLES
Begumpuri sarees are typically used for ceremonial events like weddings and religious rituals due to their simplicity and elegance. There are several Begumpuri saree types, each with its own pattern and colour scheme.
Plain white sarees with a small border are the most common form of Begumpuri saree. Its basic yet attractive style is excellent for formal events and may be enhanced with jewellery and other accessories.
Block-printed Begumpuri sarees are another popular pattern. These sarees contain complex block designs of traditional Indian themes such as floral, paisley, and geometric patterns.
Block-printed sarees are available in a variety of hues, from vibrant to delicate and pastel.
Begumpuri sarees are also available in a variety of different forms, such as embroidered sarees, woven sarees with elaborate patterns, and zari-woven sarees.
Each style variant is popular with women of all ages and has its own distinct attraction.
BEST BLOUSE DESIGNS FOR BEGUMPURI SAREE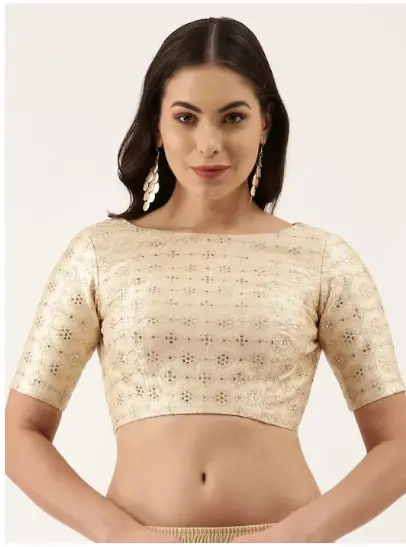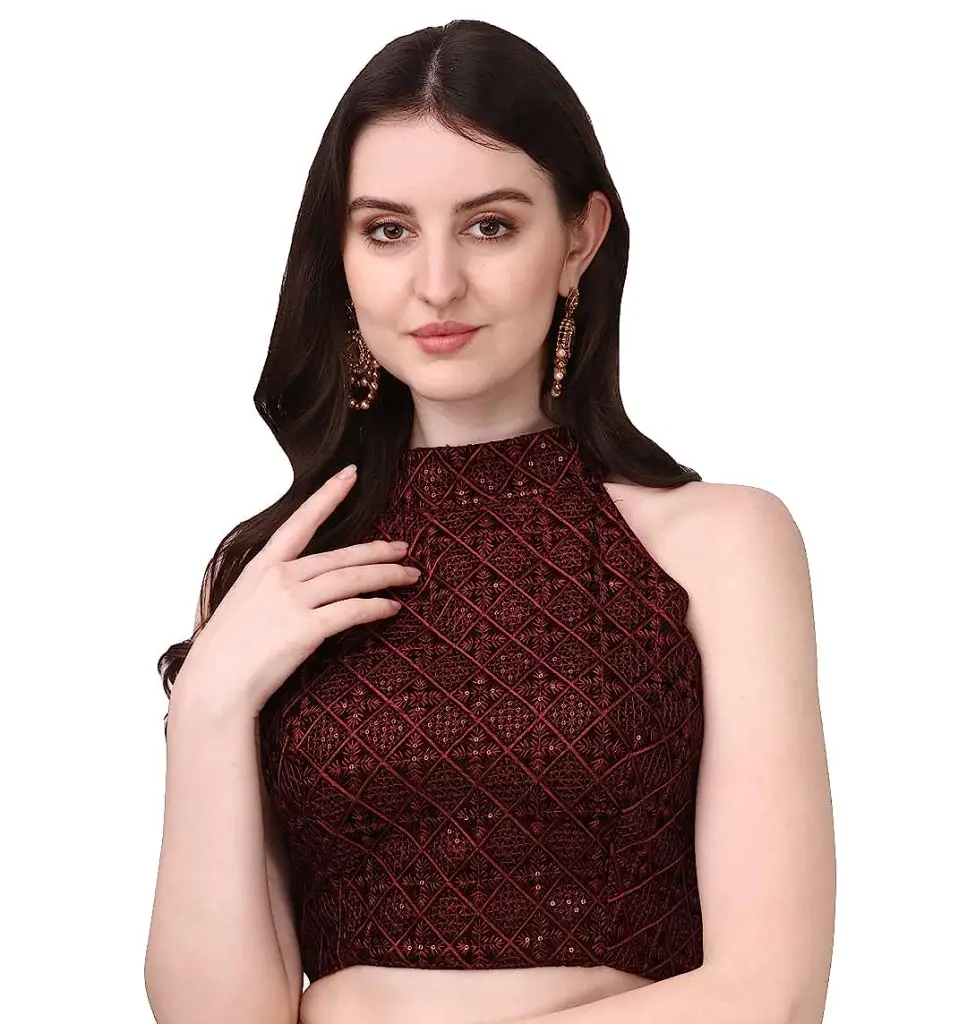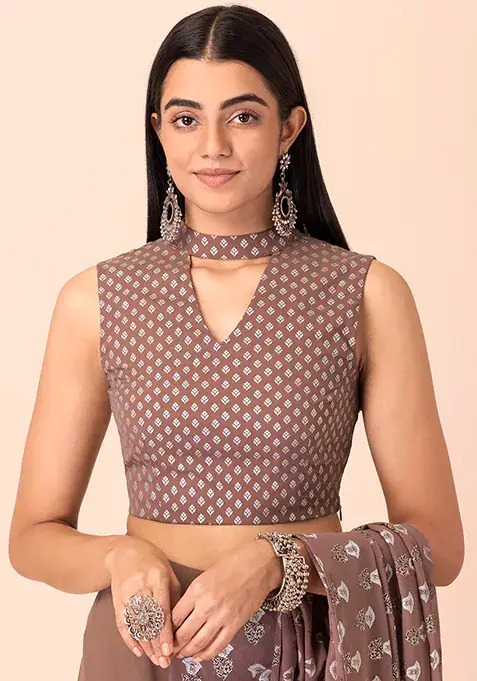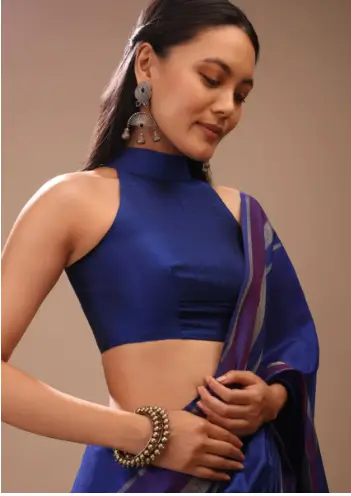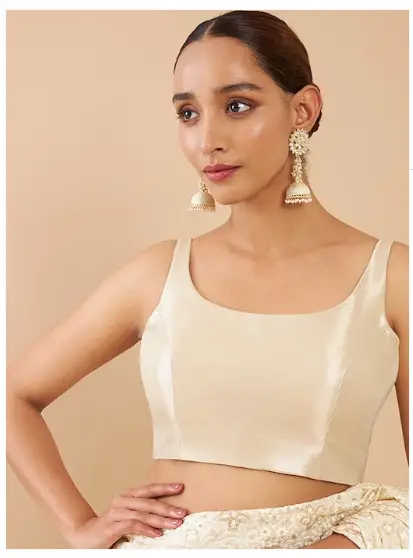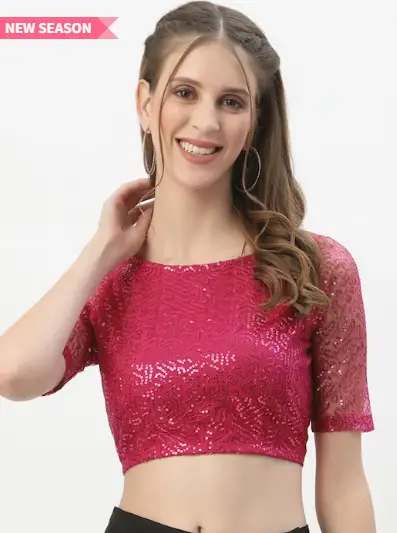 BEGUMPURI SAREE PRICE
A Begumpuri saree of superior quality can range in price from INR 600 to INR 5,000 or more.
In India, the price range for Begumpuri sarees can vary based on the fabric's quality, the complexity of the design, and the brand.
However,  Handloom sarees are usually more expensive than machine-made sarees. The price also varies based on the type of fabric used, with cotton sarees being less expensive than silk blends.
It is always recommended to buy Begumpuri sarees from a trusted seller to ensure the quality and authenticity of the product.
WHERE TO BUY BEGUMPURI SAREE?
LATEST BEGUMPURI SAREE TRENDS
In recent years, there has been an increase in interest in handwoven fabrics, and Begumpuri sarees have acquired favour among many people who value the workmanship and traditional processes employed in their creation.
As they are created using locally farmed cotton and natural dyes, these sarees are also popular among individuals who appreciate sustainable and eco-friendly fashion.
The weavers have also refined the skill of weaving cotton sarees that are light, airy, and easy to wear, making them appropriate for West Bengal's hot and humid environment.
Several fashion designers have included Begumpuri sarees into their designs, which has led to their international popularity.
These sarees have been featured on runways throughout the globe, and their success has led to a rise in demand in international markets.
In conclusion, Begumpuri sarees represent India's rich cultural history and traditional weaving practises. Begumpuri sarees are an enduring article of apparel that emphasises the beauty of handwoven fabrics.