The Liva Saree is a popular ethnic garment in India that is known for its soft and comfortable fabric. Liva Saree is a type of saree made from Liva fabric, which is a high-quality, fluid-like fabric.
It is a natural fabric that is derived from wood pulp, making it eco-friendly and sustainable. Liva fabric is lightweight, soft, and has a natural sheen, which makes it perfect for sarees.
The Liva Saree is a modern twist on the traditional saree, and it has gained immense popularity among women for its unique features.
WHO IS THE OWNER OF LIVA BRAND? [JOURNEY OF LIVA SAREE]
Liva saree is a type of saree that is made from a fabric called Liva. Liva is a brand of viscose fiber that is produced by Aditya Birla Group, a conglomerate based in India.
The Liva fabric is made from wood pulp, which is processed using a unique technology called "fluid fashion."
The history and origin of Liva saree can be traced back to the Aditya Birla Group's efforts to innovate and create sustainable textile products.
The group realized that the textile industry was one of the largest polluters in the world, and they wanted to develop a fabric that was eco-friendly and sustainable. 
The Liva brand was launched in India in 2015, and it quickly gained popularity among consumers due to its unique properties such as breathability, comfort, and ease of maintenance.
Liva fabric is made from natural fibers, which are processed using a patented technology called "Green Gold," which ensures that the fabric has a soft feel and drapes well. 
Since its launch, the Liva brand has become a popular choice among clothing manufacturers and designers who use it to create a wide range of garments, including sarees, dresses, and kurtis.
Today, Liva sarees are widely available in the Indian market and are appreciated by consumers for their comfort, style, and affordability.
LIVA SAREES IN DIFFERENT REGIONS OF INDIA
Liva sarees are popular across different regions of India, and each region has its unique style and design. For instance, Liva sarees from West Bengal are known for their unique print and weaving patterns.
These sarees are made using Tussar silk, a fabric that is known for its natural texture and sheen.
Liva sarees from Gujarat are known for their bright colors and unique designs. These sarees are typically made from cotton or silk and feature intricate embroidery and mirror work.
In South India, Liva sarees are known for their simple and elegant designs. These sarees are typically made from cotton or silk and come in a range of colors and patterns.
TYPES OF LIVA SAREES 
Printed Liva Saree:
Printed Liva sarees are the most popular type of Liva saree. They come in a wide range of prints, including floral, geometric, and abstract.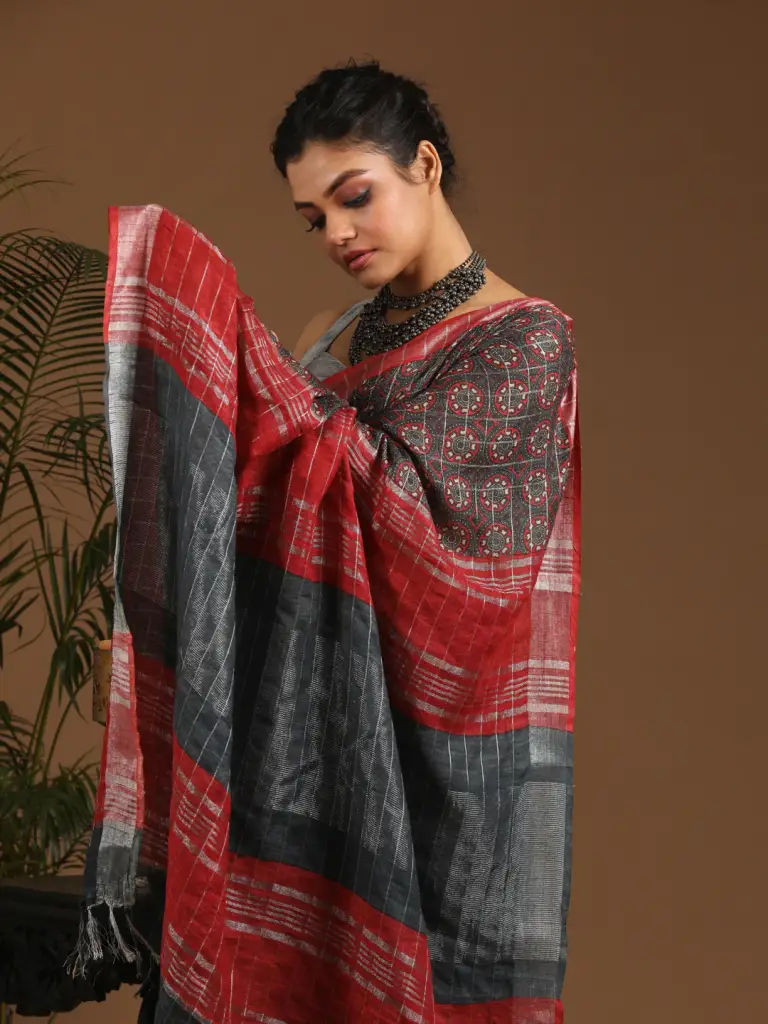 Embroidered Liva Saree:
Embroidered Liva sarees are perfect for weddings and other formal occasions. They come with intricate embroidery work on the border and pallu, which adds to the overall elegance of the saree.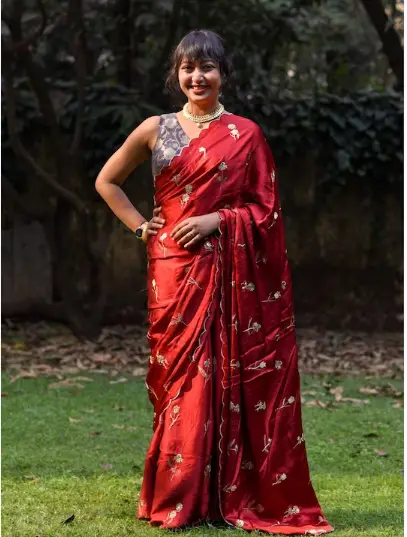 HOW TO DISTINGUISH GENUINE LIVA BRAND SAREES
Fabric composition: Liva fabric is made from natural fibers, such as wood pulp, which are processed using a patented technology called "Green Gold." Liva sarees typically contain a high percentage of natural fibers. Look for the fabric composition mentioned on the saree, as Liva fabric is made from natural cellulose fibers.
The feel of the fabric: Liva fabric has a soft, smooth texture and drapes well than other sarees. 
Liva trademark: Liva is a registered trademark owned by the Aditya Birla Group. Some Liva sarees may have the Liva trademark printed on the fabric or on the tag.
Price: Liva sarees are premium products, and their price reflects their quality. If the price seems too good to be true, then it is likely that the saree is not genuine.
STYLING A LIVA SAREE 
Liva sarees can be styled in various ways, depending on the occasion and personal preferences. Some of the popular styles are: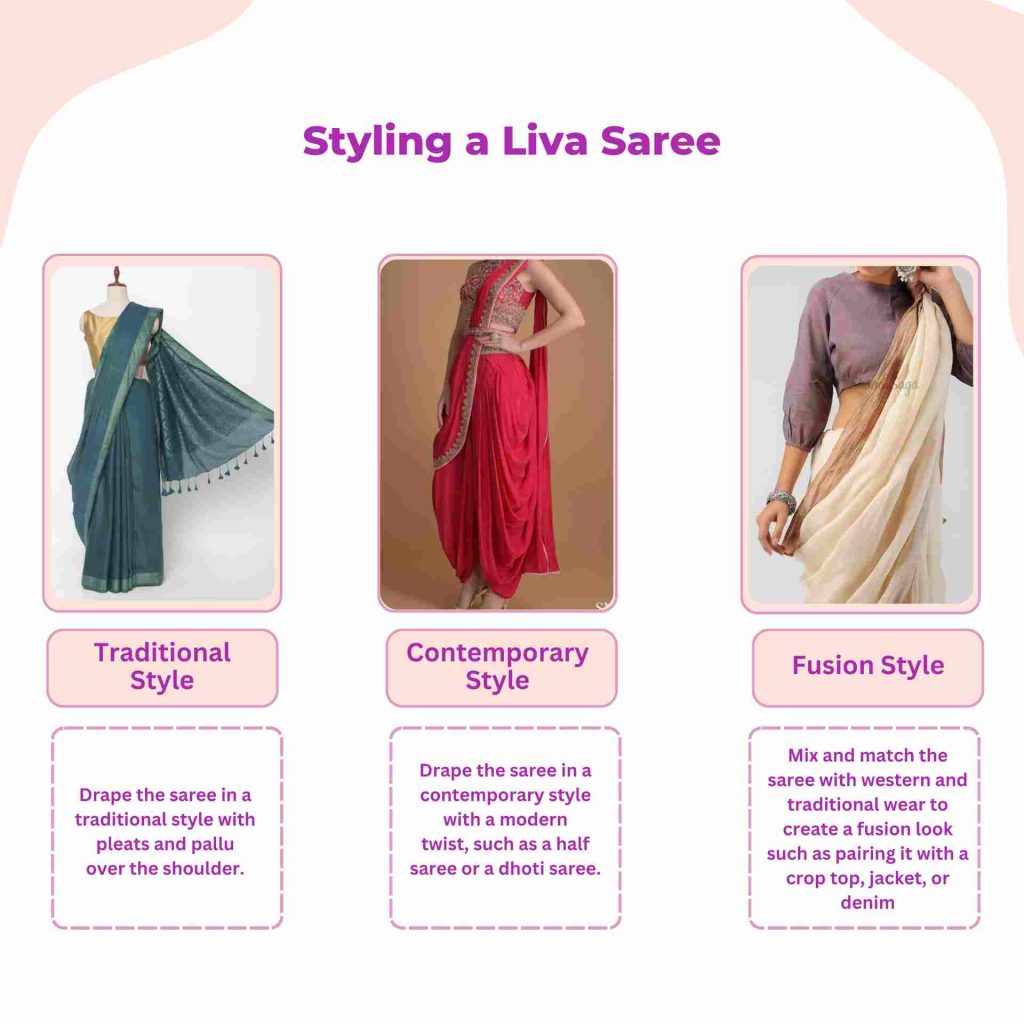 Traditional Style: Drape the saree in a traditional style with pleats and pallu over the shoulder. 
Contemporary Style: Drape the saree in a contemporary style with a modern twist, such as a half saree or a dhoti saree. 
Fusion Style: Mix and match the saree with Western and traditional wear to create a fusion look such as pairing it with a crop top, jacket, or denim 
LIVA SAREE BLOUSE DESIGNS
When it comes to choosing a blouse to coordinate with a Liva saree, there are many options. 
Sleeveless blouse: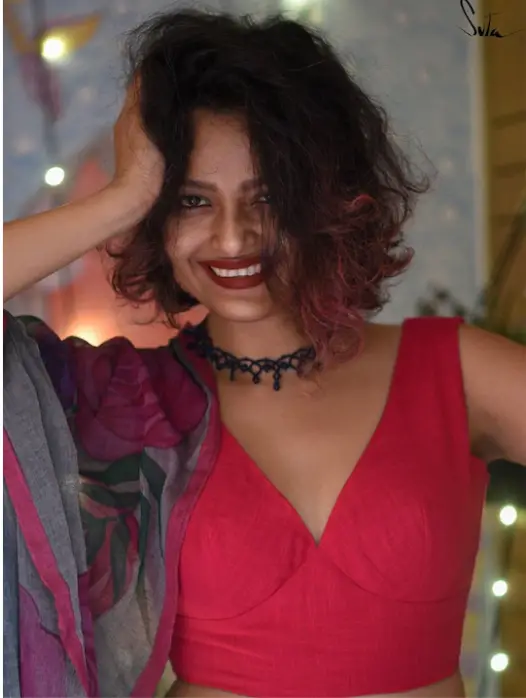 Collared blouse: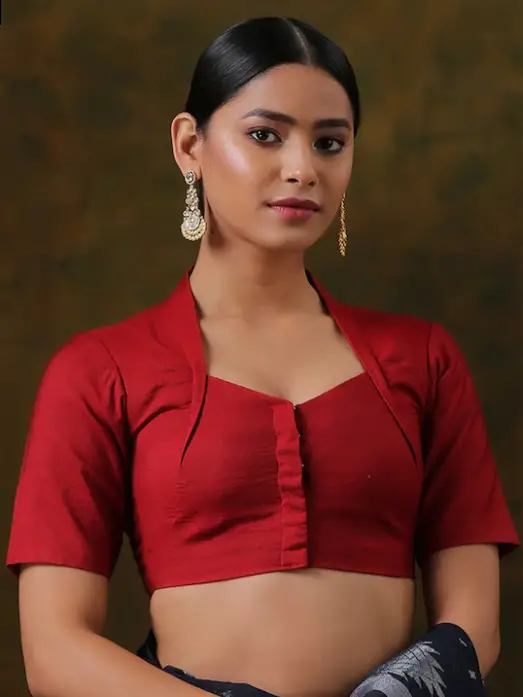 High-neck blouse: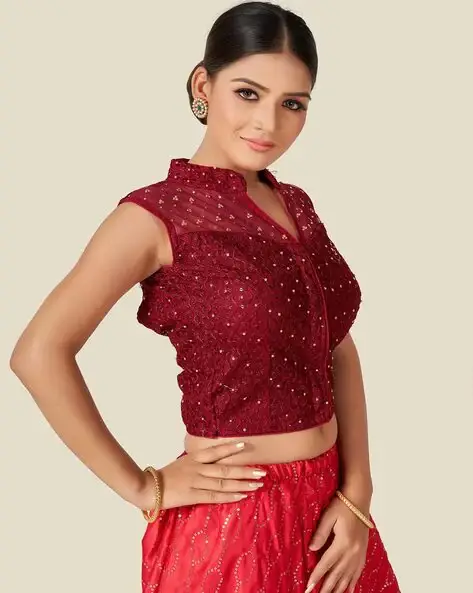 Halter-neck blouse: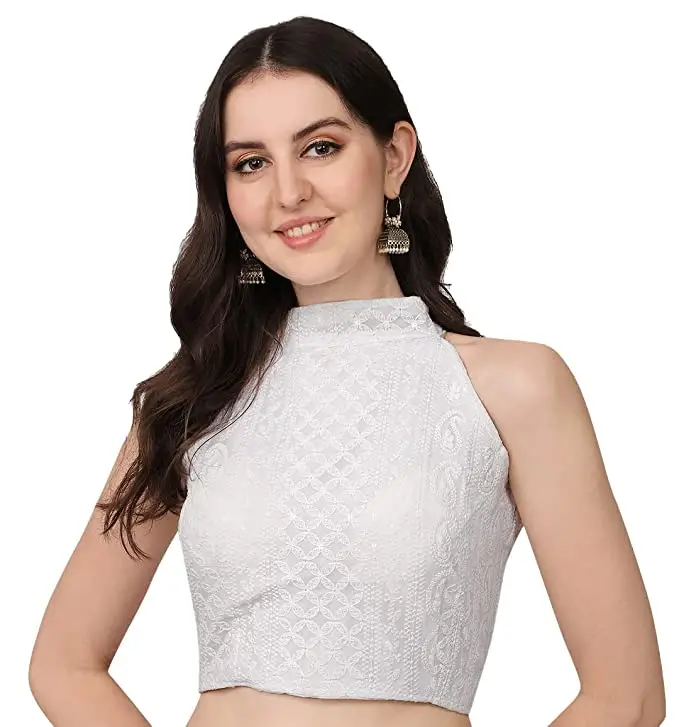 UNIQUE FEATURES OF LIVA SAREE
There are many advantages of wearing a Liva Saree, some of them are as follows:
Comfortable: Liva Sarees are incredibly comfortable to wear, they are perfect for Indian summers as they are airy and do not stick to the body, unlike traditional sarees.
Durable: Liva fabric is known for its durability, and Liva sarees are no exception. They are long-lasting and can withstand regular wear and tear without losing their shape or color.
Eco-Friendly: Liva fabric is derived from wood pulp, making it a sustainable and eco-friendly option. It is biodegradable and does not harm the environment.
Easy to Maintain: Liva sarees are easy to maintain and require minimal care. They can be machine washed, and the fabric dries quickly.
Versatile: Liva sarees are versatile and can be worn for various occasions like weddings, festivals, and parties. They come in a wide range of colors and designs, making them perfect for different occasions.
MAINTENANCE OF LIVA SAREE
Maintaining a liva saree is relatively easy, and it requires minimal care. Liva sarees can be machine washed in cold water.
Avoid using hot water or bleach, as it can damage the fabric. They dry quickly, and they do not require any special treatment. Hang them in a shaded area to prevent the fabric from fading.
Liva sarees are prone to wrinkles, so it is essential to iron them carefully. Use a low to medium heat setting to avoid damaging the fabric.
They should be stored in a dry and cool place to prevent moisture from damaging the fabric. Avoid folding them too tightly, as it can leave creases on the fabric.
SUSTAINABILITY OF LIVA SAREES
Liva sarees are known for being environmentally friendly and sustainable. The fabric used to create Liva sarees is made from natural fibers, which are biodegradable and do not harm the environment. Additionally, the process of creating Liva fabric involves minimal use of water, chemicals, and energy, making it an eco-friendly option.
Liva fabric is made using a unique manufacturing process called eco-enhanced viscose. This process involves using wood pulp to create cellulose fibers, which are then converted into Liva fabric using a closed-loop process.
The closed-loop process ensures that all chemicals used in the manufacturing process are recycled, reducing waste and minimizing the impact on the environment. 
Furthermore, Liva sarees are produced in compliance with international standards of sustainable textile production.
This includes certifications such as Global Organic Textile Standard (GOTS), Oeko-Tex Standard 100, and Forest Stewardship Council (FSC) certification.
LIVA SAREE PRICE
Generally, liva sarees are priced between INR 1000 to INR 5000 or even higher for more intricate designs and embellishments.
The price range of Liva saree can vary depending on various factors such as the design, fabric, and embellishments. The cost may also vary depending on the region, brand, and store where the saree is being sold.
However, Liva sarees are generally considered to be more affordable than sarees made from high-end fabrics like silk or organza. 
STORES TO BUY LIVA SAREES ONLINE
POPULARITY OF LIVA SAREES
Liva sarees have gained immense popularity among women of all ages in India and across the world. One of the reasons for the popularity of Liva sarees is the range of designs available.
Liva sarees come in a variety of prints, colors, and patterns, making it easy to find a saree that suits one's taste and style.
Additionally, Liva sarees are known for their draping ease and the comfort they provide, making them an ideal choice for women who prefer comfort without sacrificing style. 
Liva sarees have also gained popularity because of their affordability. Despite being made from sustainable and eco-friendly materials, Liva sarees are priced reasonably, making them accessible to women across different income groups.